When it comes to building a successful online business, competitor website analysis is critical. A great product, great marketing strategy, and professional team are all essential, but they're not enough to put you ahead of the game. 
After all, if you're not monitoring your competitors' online activities, you have no way of knowing what they're up to, and what moves you should make in response. This means you might not be making the best decisions about how to improve your own strategy and become a leader in your niche. Fortunately, learning about your competition is more straightforward than you might think. In just a few minutes and with a few simple strategies, you can locate and analyze your competitor's websites and give yourself a better idea of what you should be doing to keep up.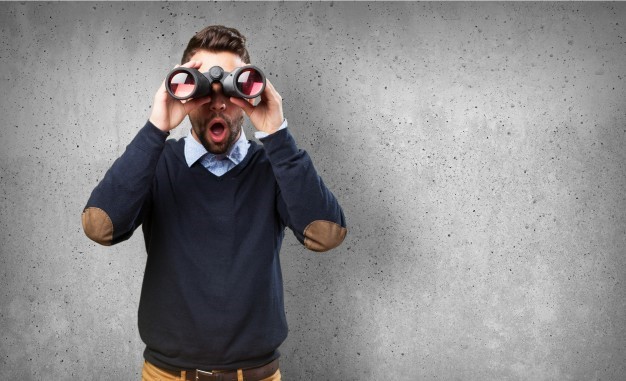 Why You Should be Monitoring Your Competitors
Knowledge is power, they say. While some people feel like keeping track of what your competitors do is equal to spying on other companies, or treating them like your worst enemies, it's definitely not. Instead, it's merely equipping yourself with the knowledge you need to make smart decisions while building your business.
Here are just a few of the reasons why tracking your business rivals matters so much:
 
- You'll Learn What not to do. Once upon a time, someone ripped off my small business. I'd known her for years. She watched me establish my company. Absurdly enough, she took my business model and plugged it into her own "cheater brand." It stung, but I eventually realized that, by following her, I could learn a lot about what not to do. While I was providing professional, compelling, thought-leadership dense content, she was filling her site with low-quality material that wasn't relevant to her audience. While I spent a lot of time and effort building a social presence, she just skipped that part. I learned from her mistakes and it helped me stand firmer in my brand, my services, and my connection with clients.

- You'll Uncover New Opportunities. Just like monitoring your competitors' websites can help you learn what not to do, it can also uncover exciting new opportunities. Are other players in your field targeting that one keyword? Are they advertising in a way you've never seen? Are they blogging more consistently than you do? Such knowledge is valuable and can help you tap into new markets you never knew existed.

- You'll Discover Backlinks. Are your competitors getting more backlinks than you? Do they outrank you in search engines? Tools like Ahrefs and Openlinkprofiler help you learn who is linking to your competitor website and discover whether there might be opportunities there for you to build backlinks to your site as well.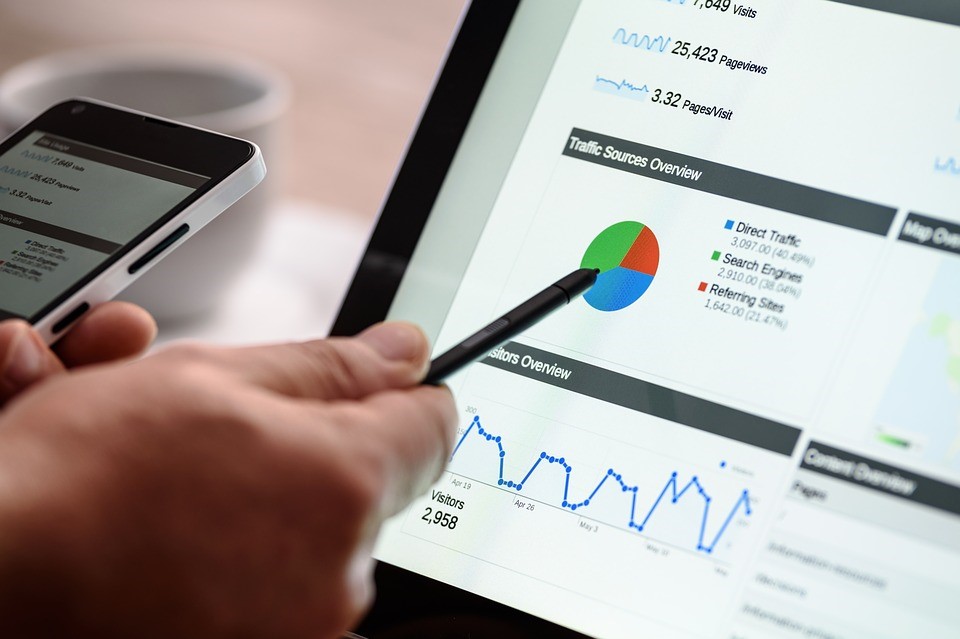 Want to learn what your opponents are doing with their websites? Here are seven ways to dig deep:
1. Run the Domain Through a Tool
Today, there are dozens of competitive research tools designed to provide helpful insight. One of these is Serpstat. Serpstat offers growth-hacking for SEO, PPC, and content marketing, and it's one of the easiest ways to get an idea of how your competitors stack up to your digital presence.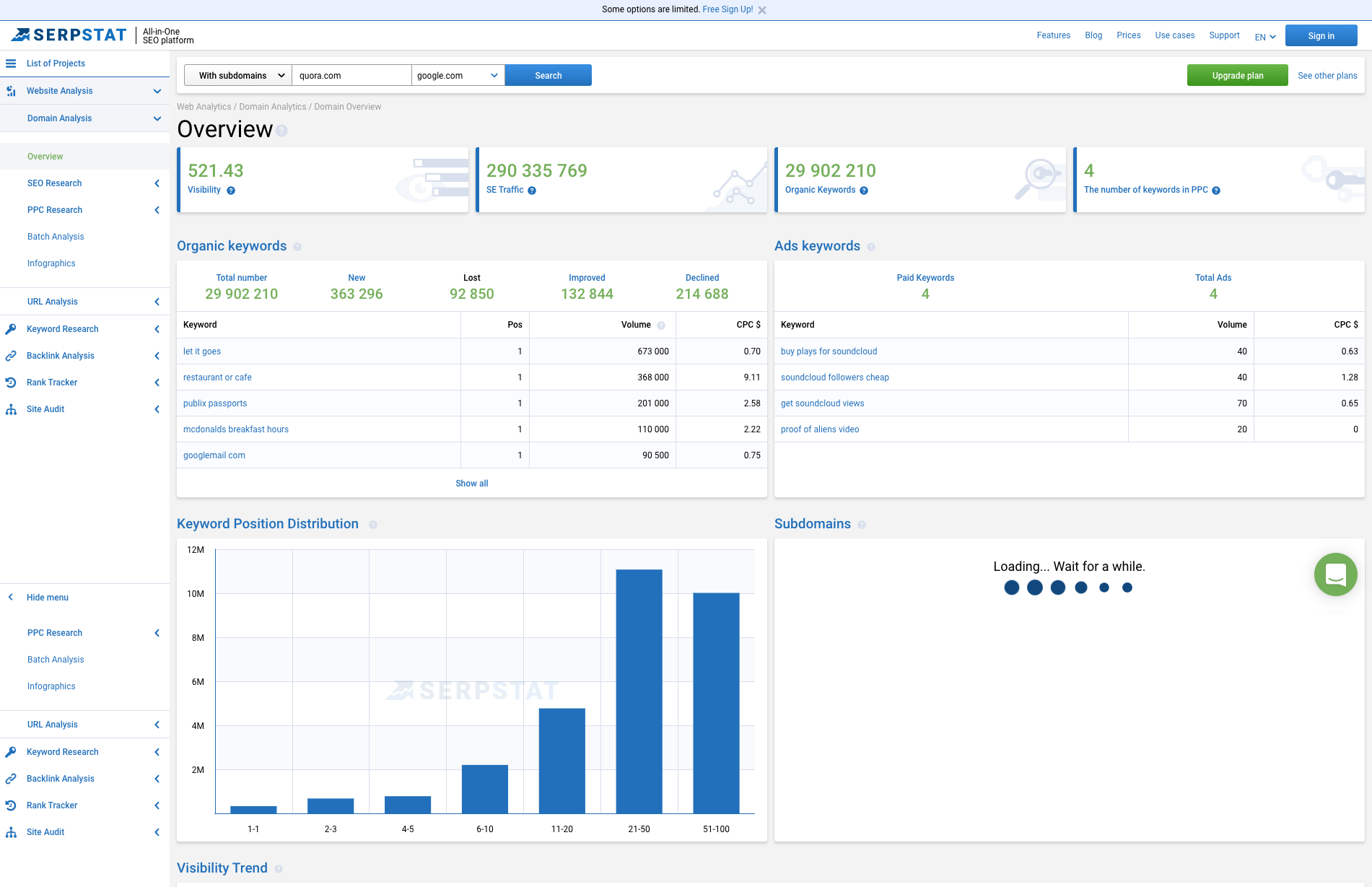 You can also use a tool like SimilarWeb. Similar Web provides free, competitive data on virtually any site on the web. To do this, the company mines data from a worldwide panel of web users, millions of robotic "crawlers" designed to scan the internet and various Apps stores, algorithms, and more. While the service is free, the free functionality is limited. If you want to create a more detailed report, you'll need to move to a paid plan.
2. Set up Alerts
Google Alerts is a simple-to-use tool that allows you to create "alerts" and have reports sent directly to your inbox. With this system, you will get notifications each time a competitor is mentioned online, or whenever someone links to their site. You can also set it up to monitor keywords and find out which keywords your opponents are targeting, and how they're using them. Google Alerts is free and can be fantastic for monitoring competitor backlinks, social media, and keyword mentions.
3. Grade Their Marketing
Use a tool like Website Grader to monitor mentions, social media activity, SEO, blogging success, lead generation, and more. Developed by HubSpot, this handy tool allows you to grade any website in under half a minute. The tool reviews more than 30 factors and gives the site in question a score between 1-100. Use it to review your site, take your time to review others and see how they compare.
4. Search Local Listings and Databases
One great and low-tech way to see if your competitors have been doing their homework is to search local databases and listings to see if they're listed there. To find these databases, merely input your target keyword and "Database." For example, "SEO professionals database." You may also choose to add your location, if you run a brick-and-mortar business. Quality backlinks from these database sites can be a serious boost for your SEO. Identifying databases and listings which don't include your competition is also a great way to dominate a platform.
5. Evaluate Their SEO
One of the most significant factors in getting your site found online is SEO. If your website misses the mark on SEO, it's going to be hard for users to locate it in search results. Luckily, you can check your SEO score and that of your competitors. It's designed to help you figure out the organic and paid search rankings of any site, mobile or desktop. All you need to do is put in the URL. Serpstat can also help you learn how a competitor site ranks for SEO.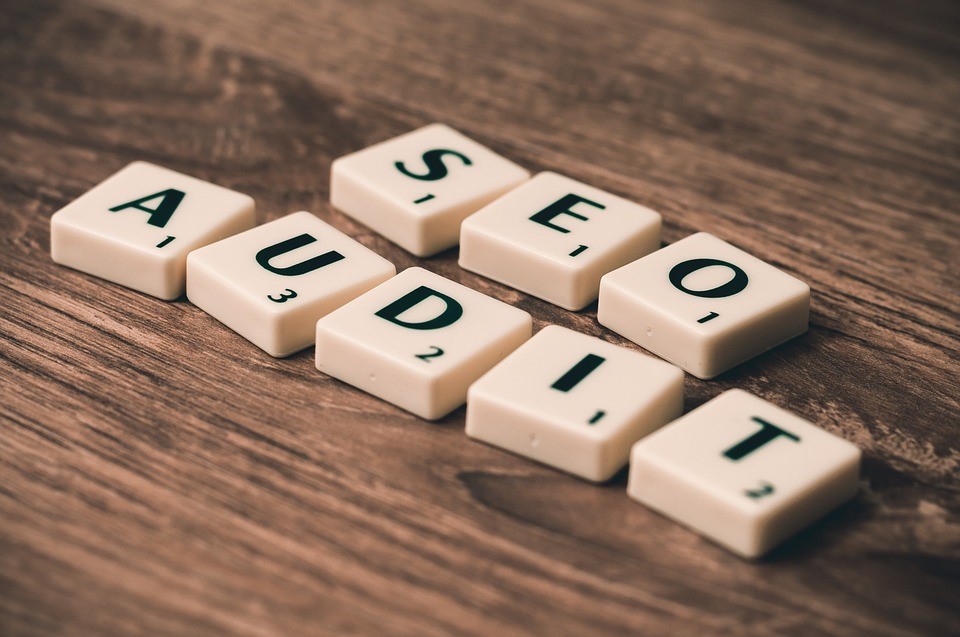 If you find that your site is lacking in SEO, look for a tool that can help you improve your out-of-the-box SEO rankings. If you've built your website with Ucraft, you can use the SEO app and optimize your site in just a few clicks. Otherwise you should be ready to conduct SEO audits and put in extra effort to improve your ranking in search engines. Whatever the case, you should also take time to regularly update your website with fresh content, as Google will love you for it.
6. Do a Visual Appraisal
To figure out how your sites stack up visually, do a quick checkup. Don't forget to be objective here. I remember the first time I looked at one of my competitors' websites. It gave me a bit of anxiety at first, but then I quickly identified areas where I could improve how it looked and felt. Look at their site from the lens of navigability, visual appeal, branding, logo, and more. When you scope out your competitor's website, you identify areas where you could take advantage of key web design trends and more!
7. Consult Alexa
Alexa is one of the best tools out there for analysis and competitive metrics. Alexa Rank is currently one of the most significant indications of website popularity globally, so it's worth paying attention to. Alexa can also help you estimate behavioral data, including bounce rate, site time, and demographics. You can use the full toolset with a 7-day free trial and have unlimited site info reports, once you've subscribed for the plan of your choice.
Build Your Web Presence by Monitoring Your Competitors
When I first started my online business, I didn't ever want to think about my opponents. Today, though, I monitor my two primary competitors almost daily and adjust my digital strategy accordingly. When you take this approach, you get the insight and power you need to make smart decisions and to grow your business according to the climate within your industry. When you take this approach, you get the insight and power you need to make smart decisions and to grow your business according to the climate within your industry.

What you must remember when you build a website and start any type of online business is that you don't live in a void. You influence the market just as the market influences you and all the players in the field. Always monitor your competition's KPIs just as you monitor yours! I hope you learned a few useful things reading this article.

Good luck!