Print-on-Demand Store With

Printful
Get the number one print-on-demand dropshipping app and choose from over 200 Printful products to sell on your online store. Use our drag-and-drop website builder, add the Printful app from your dashboard, and start selling custom-designed apparel, accessories, and homeware.
Printful is a print-on-demand order fulfillment and warehousing service that allows retailers to sell custom-designed items and accessories worldwide.
Once you connect your Ucraft online store to the Printful app, your customers can order personalized items from your eCommerce site. These orders automatically go to the Printful in-house or partner facility for production; then, Printful ships the finished products to your customers - all under your own brand.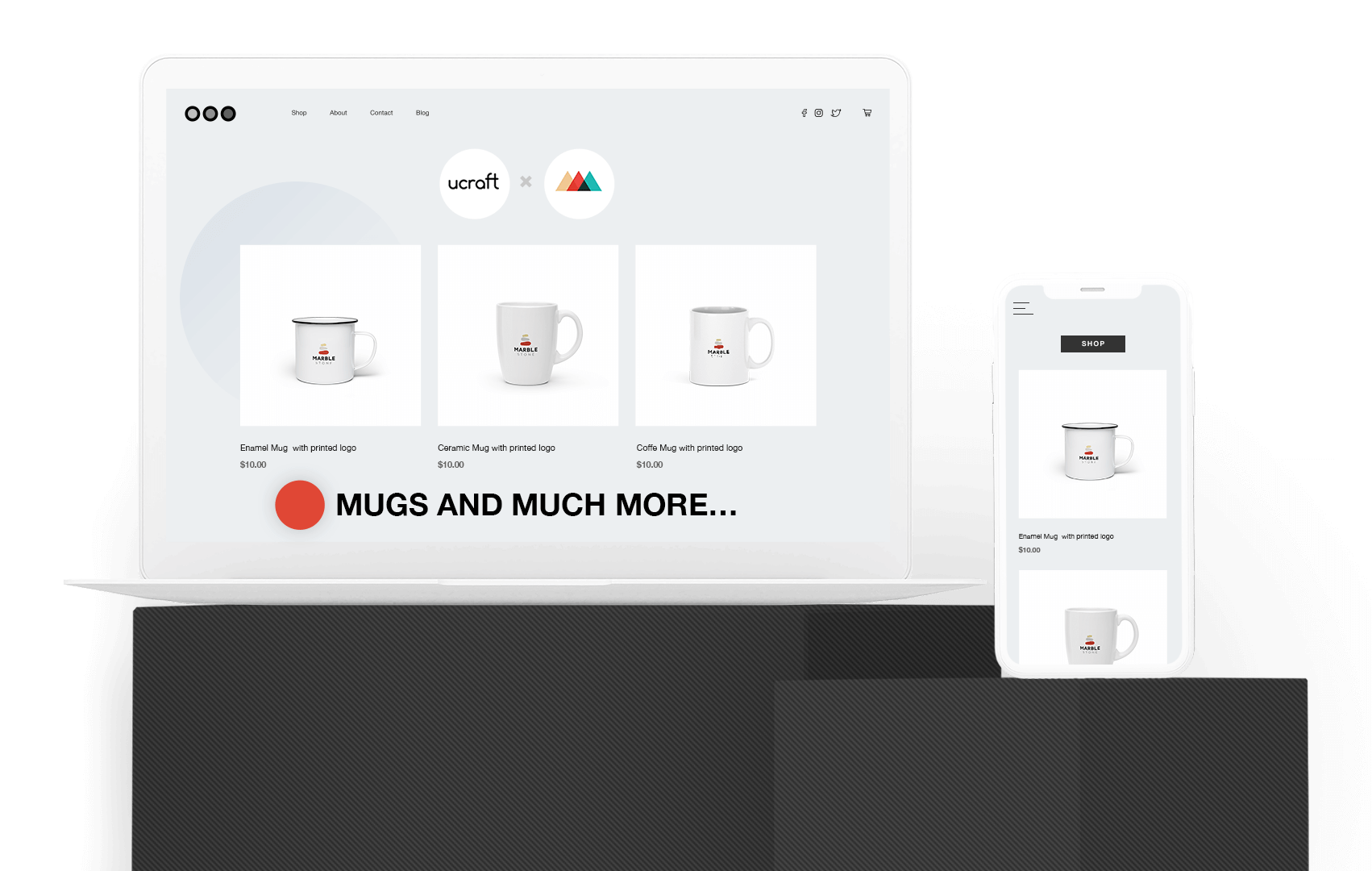 Products You Can Create and Dropship with Printful
Printful allows you to design and sell a wide variety of products: clothing, hats, accessories, stickers, wall art, home-goods, mugs, and pillows, to name a few. Printful carefully prints the ordered products in their fulfillment centers and ships them worldwide.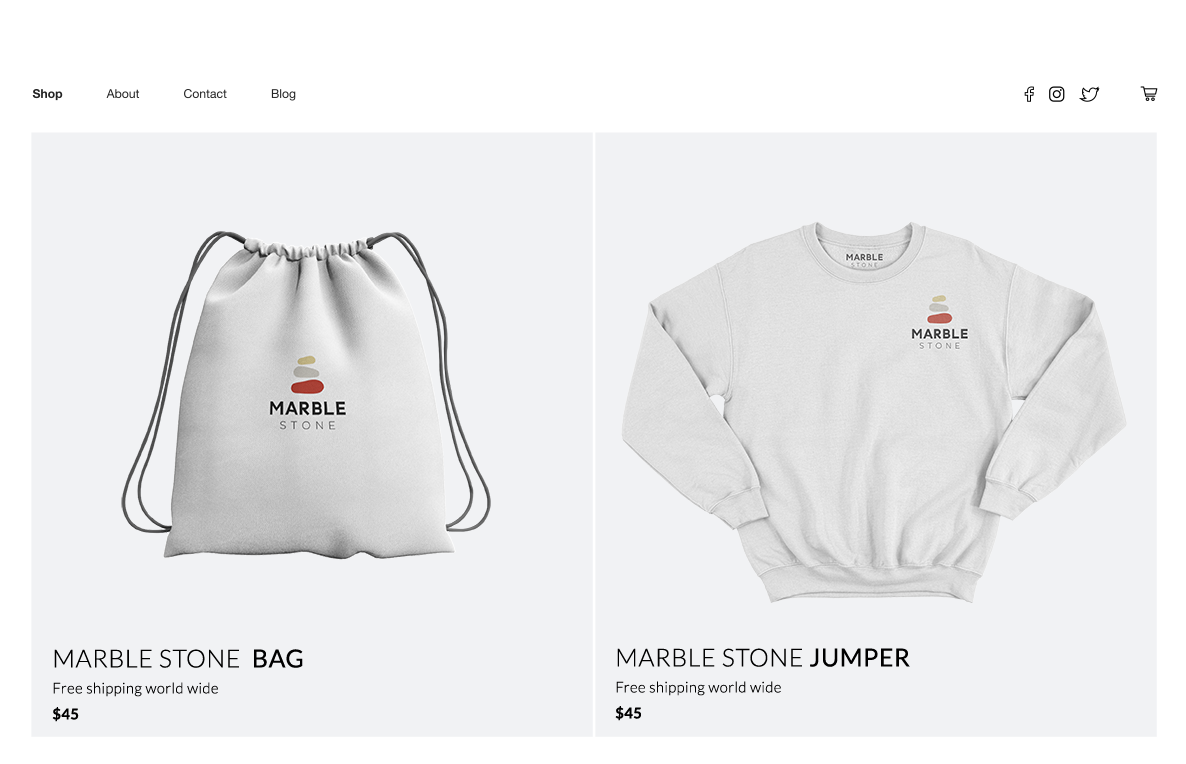 Why Build a Printful Store with Ucraft?
With a Printful store, your Ucraft eCommerce platform can turn into a profitable business in no time. Design your products, sync them with the Printful app, and let Printful do the rest. Once your orders start coming in, Printful will fulfill them, manufacture them, and ship them to your clients. Save money, save time, while still making a profit.

Drag-and-Drop Ucraft Online Store Builder
Creating an online store with Ucraft is simple. Customize a template with our drag-and-drop website builder, connect or purchase a domain, and start selling custom products with Printful.
Easy Printful Store Integration with Ucraft
Connecting to Printful only takes a few clicks. Download the Printful app from your dashboard, follow the steps, synchronize your products, and start selling.
Only Per-Order Printful Payments
Printful does not require setups, minimum orders, upfront or monthly fees. You simply pay for each order.
Ucraft Marketplace Integrations
With Ucraft and Printful, you can start selling your products on Amazon, eBay, Google Shopping, Instagram, and Facebook Messenger.
Outstanding Product Catalog
Sell over 200 different print-on-demand products, ranging from clothing and accessories to home décor and jewelry.
Creative Design

and
Product Personalization
You can use your unique designs to personalize your products and drive sales. Pick a Printful mockup from your dashboard and add it to your Ucraft store.
Free Template Designs with Printful Design Collections
Get creative and build your collections with the free designs, clipart gallery, or premium images offered by Printful.
Automatic Order Fulfillment
Printful produces the items purchased from your store once the order is received and ships them to your customers under your name.
Worldwide Printful Products Dropship
Printful processes all orders coming from your Ucraft store. It takes care of packaging and ships the items to customers worldwide.
Printful delivers items to your customers under your brand name. Use the Ucraft free logo maker to build a unique emblem and color scheme. Add the logo to your Printful store to display it on all your custom products.
Printful offers 24/7 support to retailers and customers who build an online store with Ucraft, as well as a Help Center, which you can access from their dashboard. You can also contact our support team for any questions.
In case some shipments get lost, Printful will take care of the issues. Plus, when you build a store with Ucraft, Printful also offers shipping methods with tracking.
How Does Printful Work with Ucraft?
Printful handles all of the manufacturing, inventory, and shipping. When a customer places an order, Printful will receive it, produce the custom item, and then deliver it on demand to your customer. Printful only charges you for production costs; you can set your retail price, and everything extra is your profit!
How to Add Printful to Ucraft
Follow these steps to start a Printful store on your Ucraft website:
Go to the eCommerce panel on your Ucraft dashboard;
Choose Printful from your Apps section on the left and install the app;
Create a Printful account with an e-mail and password, and sign up;
Activate your account through a verification e-mail sent by Printful;
On your Printful dashboard, start choosing the type of products you want to sell, upload your custom designs and create the items;
Once you finish setting up the items, set the details and the price; Submit your items to your Ucraft online store, and Printful will take care of the rest!
Join Printful Sellers on Ucraft 
Do you want to run a successful online business? Add the Printful app to your Ucraft online store and start selling print-on-demand products worldwide. Join our community of retailers and grow your brand without upfront investments or hidden costs. 
Learn more about building a Printful store on Ucraft, how the service works, and the benefits of launching a Printful print-on-demand and dropshipping business.
What is the difference between print-on-demand and dropshipping?
Dropshipping is a retail fulfillment model online stores use when they do not want to store inventory. As an online store owner, you do not have to handle the products you sell on your store when you use the dropshipping method. A customer orders a product from your store, and your dropshipping service/supplier fulfills the order and ships it directly to your customer. With a dropshipping business model, you can sell clothes, apparel, electronics, accessories, etc., from a third-party supplier. Check out our free web hosting page for more information!


On the other hand, print-on-demand dropshipping solutions – like Printful – are just a part of the more extensive method. With a print-on-demand business model, you work with a dedicated supplier (Printful in this case) to customize white-label items (t-shirts, beanies, mugs, etc.) with your designs on them. Then, you sell these custom items on your online store on a pre-order basis under your brand. For example, when a customer orders print-on-demand shirts from your Printful store, the order goes directly to them. Printful will then print the item, package it under your brand, and ship it directly to the customer. 
Essentially, POD is a form of dropshipping. However, a dropshipping business model implies selling a wide range of products; with a POD model, you can sell a limited variety of custom-designed white-label items. Some of the most popular Printful stores sell jewelry, stickers or posters, clothes, accessories, or homeware.
Should I use Printful? What are the benefits?
The print-on-demand and dropshipping business model Printful offered to Ucraft users is very accessible, especially to beginner entrepreneurs who want to build an online store and test different products. With Printful, you can choose, market, and sell different categories of items that best serve your target audience's needs. Here are some other benefits that Printful users should be aware of:
No upfront capital is required. With Printful, you can launch an online store on Ucraft without having to invest in upfront stocks. You will only pay for an item after a customer has placed an order on your Printful store and paid you for said product. Without upfront investments blocked in inventory, you can manage a successful eCommerce business, where Printful produces, packages, and delivers the products under your brand. 

Easy to start and build. With a Printful store on Ucraft, you do not have to worry about paying or managing a warehouse for your stocks. Since you don't store inventory, there is no stress surrounding orders, packaging, shipping, tracking inventory for accounting purposes, handling returns or inbound shipments, ordering new stock, and so on. 

Low overhead expenses. One of the most significant benefits of a Printful store is that you can turn it into a home-based business, as you do not have to operate with stocks, warehousing, accountants, etc. Moreover, you will have to deal with very few expenses and payments. 

Flexibility and versatility. As long as you have an internet connection and a laptop, you can run this remote business from any location. As your store grows, you can use the Ucraft marketplace integrations to sell your Printful products on other markets, such as Amazon, eBay, or social media. 

A wide selection of products to sell. Printful allows you to choose from over 200 different products that feature your designs and branding. Since you do not need to stock inventory, you can experiment with a range of different products and see what works best.

Scalability. You can start small, with just a couple of Printful mockups to sell print-on-demand shirts. If all goes well, you can scale your online business to become a testing ground for a brick-and-mortar store. Before you commit to investing in inventory, selling print-on-demand products is a great way to identify if there is a market for your designs.

Easy marketing and branding. Use the Ucraft free logo maker to personalize your brand and make it visible. Upload your new logo via Printful and display it on products you want to sell. Moreover, you have the choice of inserting a Printful label on your clothing and accessories to market your brand professionally.
Does Printful deliver high-quality services?
Yes! Printful offers one of the best print-on-demand and dropshipping services in their niche. While they do not have a massive default product range, they do strive to offer quality items, excellent printing and embroidery services, as well as fast, risk-free delivery to your clients. Printful shipping is trackable and comes with no hassle.
Where are Printful products manufactured?
For the most part, Printful offers products made in the USA. This can become an essential part of your branding and marketing strategies, as studies show that over 60% of Americans are willing to spend more money on products made in the USA. This can easily improve customer satisfaction and loyalty.
Do you have to pay for Printful?
Signing up with Printful is free. You need to have a Pro Shop account on Ucraft to add the Printful app to your eCommerce store and start selling your items in the Printful store. Other than that, there are no subscription costs or additional fees. You only pay Printful when a customer makes an order.
How do I make money with Printful and Ucraft?
First, you need to access your Printful store from your Ucraft eCommerce dashboard. Next, you can use Printful to upload a photo or a design of your own and create entire collections of products to sell. Then, establish the price of each item you want to sell via your Printful store on the Ucraft platform. It is good practice to choose products you could trade with a 50% profit. 
For example, you make a profit with Printful by selling a $13 print-on-demand shirt for $26 - a 50% markup. Since you do not pay for stocks, salaries, or delivery services, your profits can grow strong and steady. They say that print-on-demand dropshipping is a great business model for artists and designers who can sell their art on personalized merchandise. However, you do not have to be a pro to make money with Printful on your online store. You can use the Printful clipart or premium images to create unique clothing designs, homeware, and other accessories.
How long does it take for my Printful products to reach their destination?
Once a customer places an order with your online store, Printful usually delivers the product within four business days, depending on the order's destination. For US deliveries, the shipping time is usually 3-4 business days. For Canada, the average shipping time is 6-10 days. For international deliveries, the average delivery time can take up to 20 days.
Where can I send my products via the Printful store dropshipping service?
Printful deliveries are available worldwide, excluding countries with legal restrictions or shipping carrier limitations. The countries where Printful does not ship your products include Cuba, Iran, Syria, Crimea, and North Korea.
What is the Printful return policy? Do they handle returns?
In case of misprinted/damaged, or defective items, you should submit a claim within four weeks after the client received the product ordered from your Printful store. In the situation of a lost-in-transit package, you should also file a claim with Printful within four weeks after the estimated delivery date. As per the Printful return policy, they will also cover all claims deemed an error on their part. When it comes to returns, the default address is the Printful facility. When Printful receives a returned shipment, they will send an automated e-mail notification to you. You should also know that Printful donates all unclaimed returns to charity after four weeks. If you do not use the Printful address as the return address, you will become liable for any returned shipments you receive. If you want to learn more about the Printful return policy, check out this guide.