Have you ever seen a movie trailer that instantly turned you into Fry yelling, "Shut up and take my money?" Movie trailers are there to entertain us, entice us with some of the plot's juiciest details, and ensure that people flood the cinema at the premiere. A "Coming Soon" landing page has almost the same purpose. It is the teaser of what is coming next (a product, a website, an app, etc.), prompting us to interact with the page to stay informed and benefit from the launch in the future.
"Coming Soon" landing pages are extremely popular these days, as they can generate off-the-charts leads and conversions. However, not all marketers reach their KPIs with their click-through landing pages when they plan to launch a new website, a product, a service, etc. For this reason, we are here today to make things more transparent and more manageable. Let's see how you can design a killer "Coming Soon" landing page that converts!
What is a "Coming Soon" Landing Page?
A "Coming Soon" landing page – also known as a launch page – is a temporary landing page announcing the upcoming launch of a new product or service. Whether you are announcing a new website, the grand opening of your online store, a new product in the collection, an upgraded business package, or a charity campaign, the "Coming Soon" page has one purpose: conversions. You want visitors to become future buyers.
In other words, your landing page needs to spike interest and compel visitors to act on something. At this point, most marketers make the mistake of investing all they have in the first part, almost forgetting about the second. It is not enough to have the most stunning "Coming Soon" landing page template; you need to focus on encouraging active engagement. Usually, a "Coming Soon" landing page encourages its visitors to submit an email, download an eBook, register for an event, get a discount code for a product pre-order, etc.
Building such landing pages for every new product/service is a marketing strategy to incorporate in your business plan, regardless if you are an eCommerce store owner or an artist. But what are the ingredients of a successful "Coming Soon" landing page, and how can you rise above the competition?
The Anatomy of a Killer "Coming Soon" Landing Page
If you remember our guide on creating a click-through landing page to achieve your conversion goals, you know landing pages need a specific mix of ingredients to work. "Coming Soon" landing pages are not a different breed, so here are the elements that you should consider when you design one:
Landing page branding and design – make sure your landing page displays your brand image and identity elements (from your company logo to your color scheme, fonts, copy, etc.)
Clear value proposition – tell visitors up-front what their benefits are;

Product's core benefits – emphasize the major benefits/features of your upcoming product/service;

A single, compelling Call to Action – you can use only a button or a tagline and a button, but ensure you do not confuse the audience with multiple CTAs;

Social proof – display your top supporters, collaborators, and/or clients to build a strong relationship with your audience. As you know, people trust other people and not brands;

Compelling, high-quality images – add some hero shots to your landing page to spice up the design. Also, give people a sneak peek into your upcoming product/service. Video presentations/teasers work well, but make sure they don't distract visitors from the CTA;

Finally, refrain from using stock photos. When it comes to product/service launches, pay pro photographers for such projects;

A form to fill – ask users to submit their email in exchange for a downloadable product, a discount, front-row seats to an event, and other incentives;

Social media buttons – ensure your fans can easily share your amazing offer with their friends.
When you build a landing page of any kind, you cannot rely on a one-size-fits-all recipe to guarantee 100% success rates. However, you can tweak all these elements (and throw in some of the tips we share) until you find that perfect blend that works for your business. As always, don't forget about the secret weapon: A/B testing for landing pages. So let's see some more tips and tricks on building a "Coming Soon" landing page to convert leads into customers!
1. Your Value Proposition Should Fix a Problem
Your value proposition should inform the audience how your upcoming product/service launch will solve a specific problem. For example, some brands offer early-bird discounts, freebies, access to some otherwise unavailable services, and so on. Therefore, tailor your value proposition in tune with your public's pain points and expectations.
2. Do Not Overwhelm Your Audience
When you choose any landing page template, make sure it is clean and simple. Edit and optimize it with your brand elements, but do not overwhelm the audience by stuffing the page with unnecessary components. Keep these two directions in mind:
First, let your visitors know why they will like your product (e.g., give X reasons)

Secondly, compel them to stay in the loop (subscribe to a newsletter/event) to get all the perks you're offering.
At this point, you need to summon those content writing skills you mastered to create a compelling headline, a short description, and a CTA. Keep all of them above the fold in a neat layout. For more information and guides on designing a landing page, we recommend reading our UX design best practices.
Another article is about wireframes and prototypes. Consider landing page creation the same with website design, but on a smaller scale. Both online assets should deliver a uniquely positive, engaging experience to your visitors.
3. Include Only One Form
While other landing pages can get away with two or three forms or CTAs, a "Coming Soon" landing page should always stick to one. When you launch a new website or a product, you need your audience's attention laser-focused on one thing: submitting their email in exchange for your special incentives. As you know, less is more, and the fewer distractions a user has to deal with, the greater the conversion rates.
Pick a nice, clean, attractive fill-out form but do not exaggerate with the information you request from your users. Most times, an email is enough.

4. Eliminate All Navigation
This one is Landing Page Design 101. Never give your users the chance to navigate anywhere outside the "Coming Soon" landing page. Also, refrain from adding any "About Us" or "Contact" links leading to your website.
Keep your clients on the conversion path by leading them (through the CTA button) to the place where they have to finalize their interaction with your page.
5. Use a Countdown Element
As a kid, did you ever ask your parents how long "soon" actually meant? Well, your audience wants to know what "soon" means to you. Any countdown instills a sense of urgency, so consider using the Ucraft Countdown Element if you decide to create your landing page with us.
If you don't have an exact date and time for your launch, give your audience a relative but intelligible timeframe: "In stores for Christmas," "Arriving this summer," etc. If Hollywood and fashion stores taught us anything, it was that we could never say "no" to a time limit.
Speaking of countdowns and the urgency promoted by ticking clocks, consider exclusivity with an expiration date. You don't have to mention the word "exclusive" in your headlines or product description, but try suggesting it with your CTAs. Lines like "Request an Offer," "Get Your Invite," or "See Your Discount" usually work like a charm, giving people the feeling of personalization.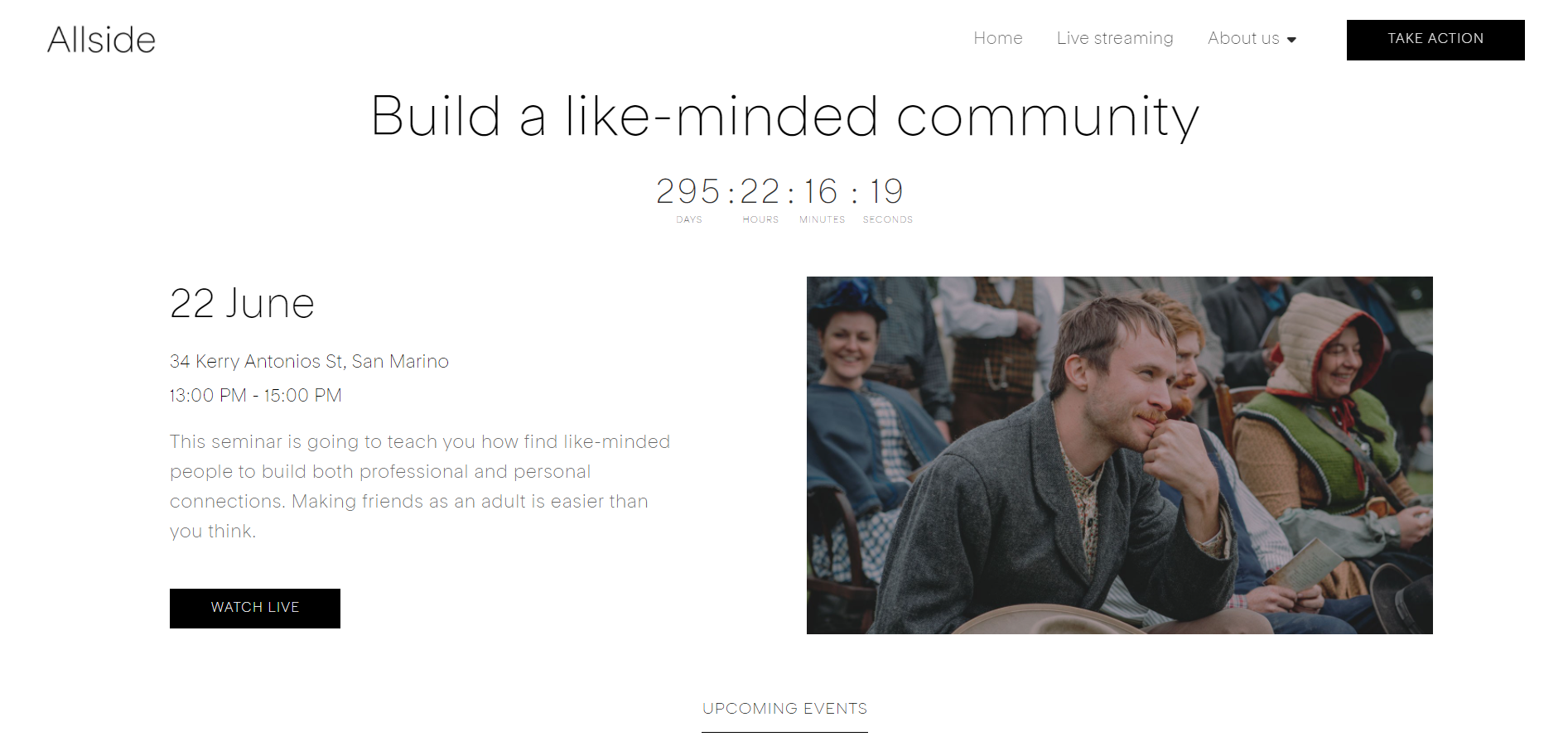 6. Make the Page Shareable Across All Networks
A "Coming Soon" landing page fulfills at least two purposes:
Convert leads into buyers and

Create a buzz about your new product/service
Buzz and social media go hand in hand, so make sure you add some social sharing buttons. Here is a pro tip to boot: offer a giveaway to all those who share the landing page. Whether they retweet it, showcase it on Instagram, or post it on Facebook, make sure they get some extra incentive for the extra work!
7. Thank Your Audience
The easiest way out would be to create another landing page saying "Thank you" to your audience for their visit and email. It will help if you put some effort into it, though. This landing page should also offer something exciting, such as an extra incentive in exchange for an additional social media share or a referral.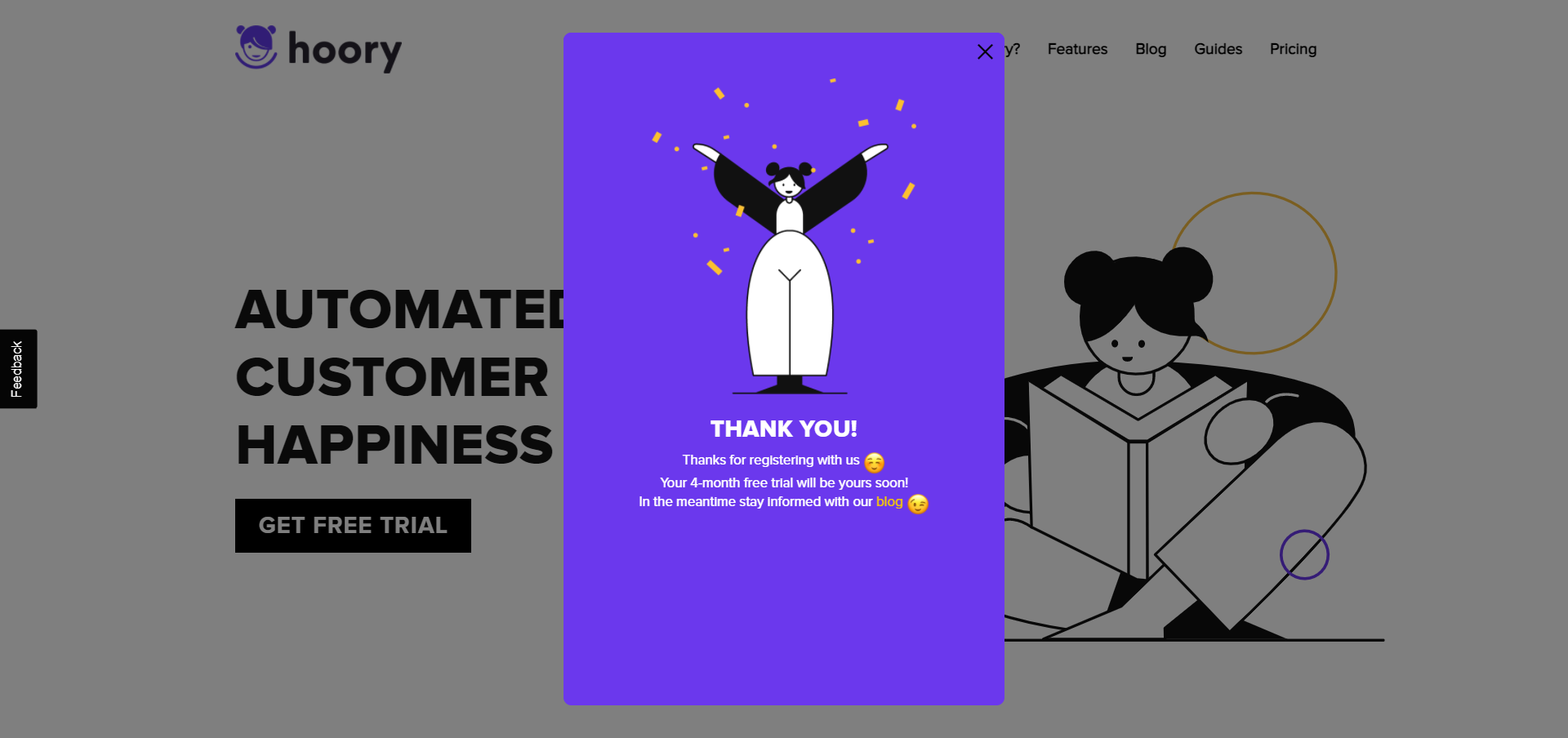 Before You Build Your Next "Coming Soon" Landing Page…
…here are some tips to remember:
Pick a landing page template and theme that spark emotion and enthusiasm in your audience;

Mind your copy. Write, re-write, edit, and go over the entire thing again. The business promise you make, preferably in the form of a headline, should give visitors no choice but walk the conversion path with you;

Decide on the tone of voice, vocabulary, and calls to action you are going to use. For some brands, casual discourse, slang, and familiarity work best. The same approach would probably be deadly to a law firm. Know your audience!

Make sure the page is mobile-friendly and available on all devices. Now, more than ever, mobile responsiveness can make or break your business;

When offering incentives, take the path less traveled by. Usually, prizes, discounts, and giveaways are your run-of-the-mill perks. Nevertheless, engage in a brainstorming session with your marketing team to find other freebies you could offer your audience (free trials for paid service subscriptions, physical gifts, product samples, etc.)

Track the performance of your landing page. Most companies invest time and effort in designing one, only to forget about it until the launch day arrives. Don't make this mistake! Use your website performance tracking tools to analyze your page's traffic and conversions, SEO issues, shares, etc. Adjust it accordingly.
We hope this short guide helps you better understand how to build a "Coming Soon" landing page that converts. It's time to get to work! That product/service deserves a fantastic launch, with countless users getting ready to reap its benefits.
The clock is ticking. Create a landing page now!