Most musicians will probably agree that the most challenging part about being one doesn't lie in creating new music, but instead reaching the target audience and promoting your music effectively.
Before the early 2000's, the road towards success, while not easy, was relatively straightforward. An artist would be discovered, signed by a label and then the label would handle everything else. With that infrastructure no longer in place, aside from multi-platinum artists, an emerging and/or independent artist needs to be a jack-of-all-trades. Alongside creating new material, you have to oversee everything from designing posters, booking gigs, creating your own art website, and maintaining an active social media presence.
This brings us to Instagram and its value for budding musicians. Now, to figure out whether Instagram is a helpful platform for you, you'll need to take a look at the target market of this platform. 71% of Instagram users world wide are 35 or younger. It's a pretty wide margin, yes, but such a huge percentage means that Instagram is likely work for you and your music, regardless of the genre, as long as the younger audience is interested in your sound.
Aside from popularity, Instagram offers plenty of features that allow you to build a loyal following and engage your audience, such as Instagram Stories or IGTV. With that in mind, here are seven tips that will help you find your way to your fans and promote your music on Instagram the process. 
1. Promote Your Music on Instagram Stories and IGTV
One of the most popular features on Instagram right now is the Instagram Stories feature, particularly if you are trying to address a millennial audience. The platform holds incredible marketing potential, with as many as 500 million users creating and viewing Stories daily. Because their format is relatively short, using Stories to promote music may seem counter-intuitive at first. However, throwing in the right 15-second clip of one of your songs can do wonders for engagement. Everyone likes a good teaser! So, what can you promote using IG Stories?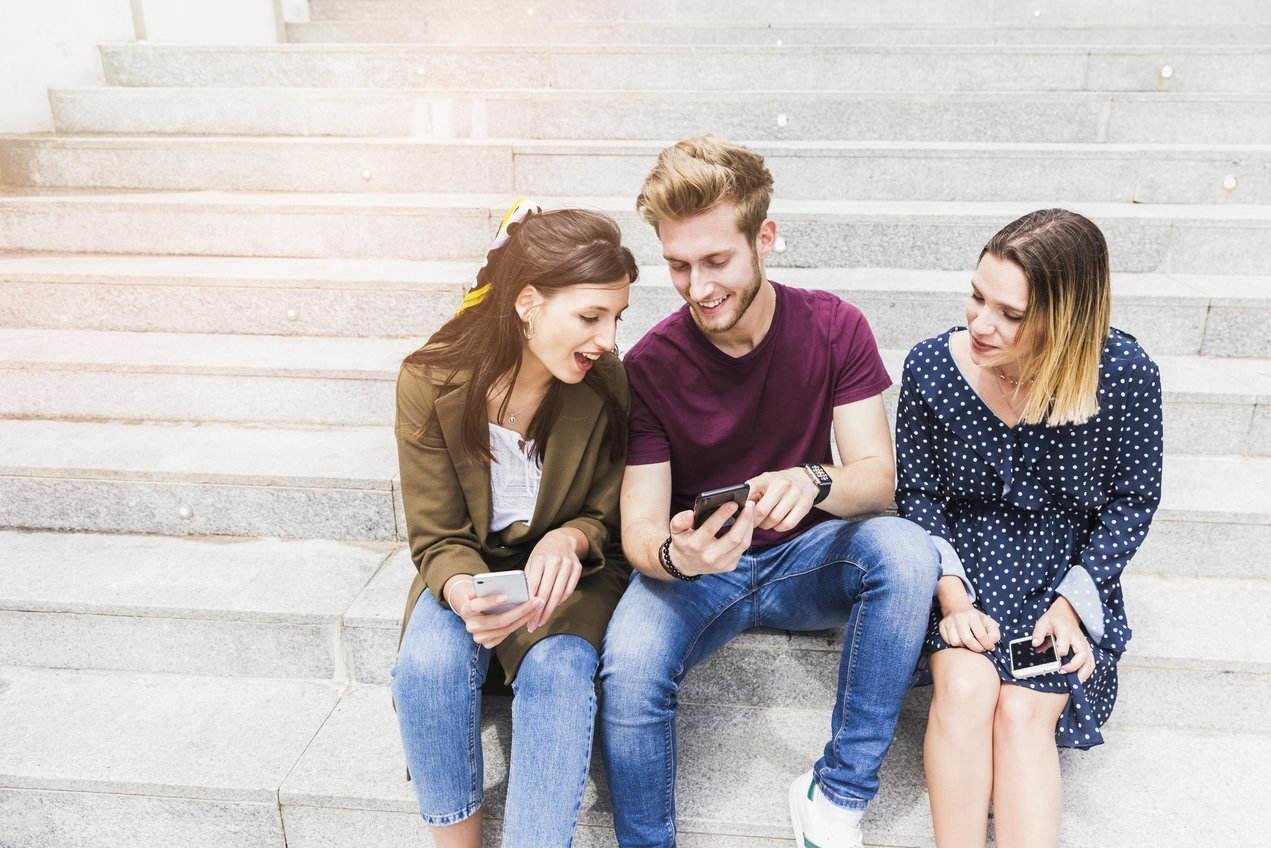 Well, pretty much anything, and that includes:
Upcoming gigs
 
The release of your new single, EP or album
 
Songs from your back catalogue
 
Your official merchandise
 
Anything else you can think of 
 
What's good about Instagram Stories is that they offer plenty of room to experiment and tweak your approach, since they disappear after 24 hours. That way, you don't have to stress about not doing it right every single time, or at least until you get a feel for it. As for how you can use them, here are some examples:
Pick a song first, then create a video
 
Create a video first, then pick a song
 
Add a static image or a GIF to a song
 
One of the best features of IG Stories is that they put you at the top of users' Instagram feeds. However, you will still have to fight your way to the top, which is why it's so important to create strong visuals to go along with your music. You can use hashtags in your Stories as well, and you should definitely use location tags, which you can post by using the Instagram sticker (you can only add one location tag per image or video). Apart from music and visuals, you can engage your audience by running polls, hosting Q&A sessions, creating quizzes and more,  which can help you gather valuable feedback from your audience.
Now is also a great time to dive into IGTV, which allows you to upload longer video content on Instagram. Apart from being able to play videos that are up to 10 minutes long (or up to 60 minutes if uploaded from a computer using a verified account), IGTV is also unique because it's designed with the vertical video format in mind. With this kind of setup, the app creators leverage the fact that you're holding your phone vertically, thus contributing to an improved user experience.
The feature is only a year old but, in theory, it could give YouTube a run for its money. Now you have more room to connect with your audience by uploading entire music videos, Q&A sessions, album progress vlogs, as well as more detailed behind-the-scenes videos.
2. Create a Compelling Instagram Bio
A lot of musicians don't spend too much time on their bios, which is a shame, because these introductory snippets can be very useful if you optimize them. Here are some suggestions!

Tell your story

While it's true that you are not given a lot of room in your bio, you can still tell your story. Instead of going the generic route and speaking just about what kind of music you play (because you are not the only one), try and infuse your bio with a personal story that is unique to you and you only. It's the thing that will set you apart from other fellow artists on the Instagram music scene.
Also, when writing your bio, don't be afraid to use language and jargon that is familiar to your fans. You want people to instantly realize what kind of profile they are looking at, and you want to express your genuine voice. 
 
Promote a link 
Optimizing your bio is also crucial because you get to use a single link. You can choose to link to: 
Your official website
 
Your other social media profiles
 
One of your landing pages where your fans can purchase your music or merchandise
 
Streaming platforms where your music is hosted
 
A page where they can get some of your music for free in exchange for their email (if you want to create an email list to promote your stuff)
The only downside is that you only get one link, so you will have to change it from time to time, depending on your priorities. For instance, you can use the link to send your followers to a page where they can download your new single or album, take part in a contest, or see the latest products added to your merch page. You can also link to the most recent interview, a blog post you've just written, or your latest music video on YouTube. Whether it's new merch or a freshly dropped album, use the bio link for what you're most committed to promoting at the moment. 
Pay attention to the profile picture

As for your profile picture, it should represent who you are and reflect the kind of music you play. For instance, if you are playing grunge, going with grainy and/or black and white images would be a complementary idea. And they don't have to be professional photos, although it would help.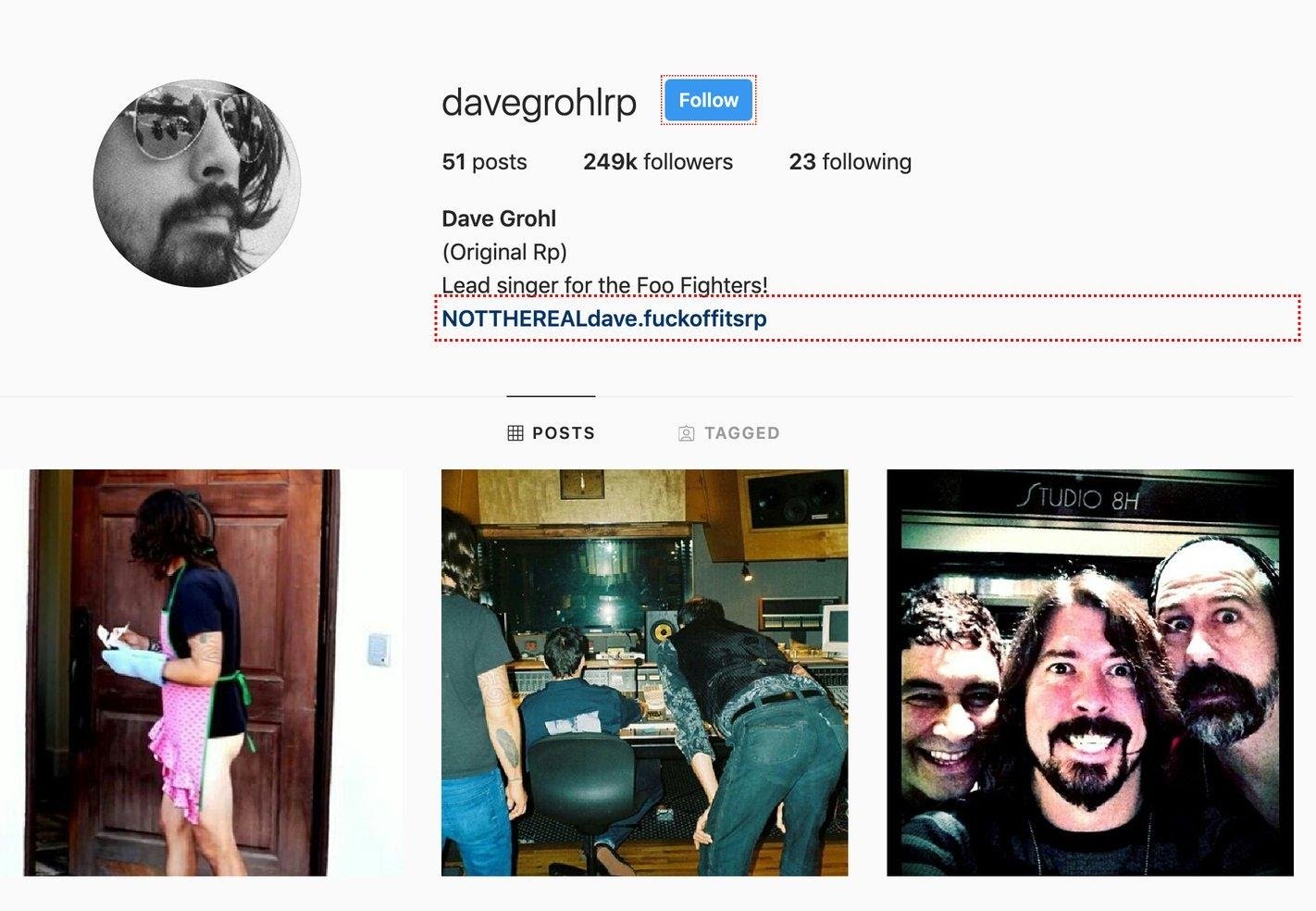 Let's take Blink 182's IG account as an example. Obviously, these pop-punk legends need no introduction, so their bio text contains only "Crappy Punk Rock since 1992,", which puts their trademark humor on display. And then they link to Ticketmaster's website where you can buy tickets for their shows – plain, simple and effective. 
3. Craft Outstanding Visual Content
This one should go without saying, because Instagram was conceived as a visual-based platform. While it used to be a platform for stills only, Instagram can now host a variety of media, including videos and GIFs. Your Instagram posts allow you to get really creative and showcase your work as well as to provide your audience with a behind-the-scenes look. And we're not just talking about backstage photos, but also images that will show your fans how you spend your time outside of music.
This means you should include images from the tour bus, places you played on tour, interactions with fans or other musicians, as well as your time inside the studio - perhaps recording a new song or album. This will make your fans feel engaged and included - as if they are part of your journey.
One of the better examples of how you should approach building an engaged Instagram following and your visuals, is Alter Bridge's IG account. Alter Bridge is a hard rock juggernaut from Orlando, Florida, yet they are pretty down to earth and open when it comes to their visual content.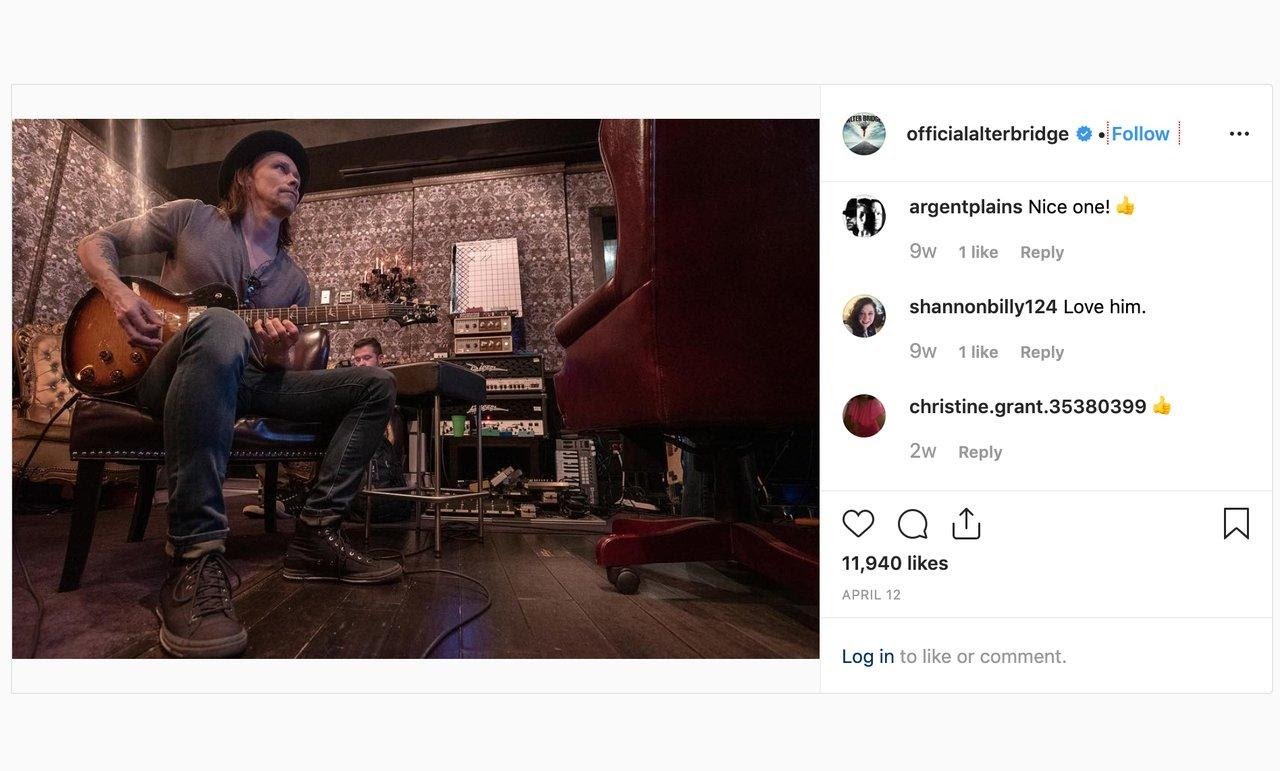 Alter Bridge uploads high-quality stills from concerts, festivals and exclusive behind-the-scenes footage, in addition to your usual selfies and tour photos. But for their last couple of albums, they've shared a detailed visual account of their entire recording process, and they have done so in an appealing way. For instance, the image below shows the tracking progress for their latest album, planned for release this fall: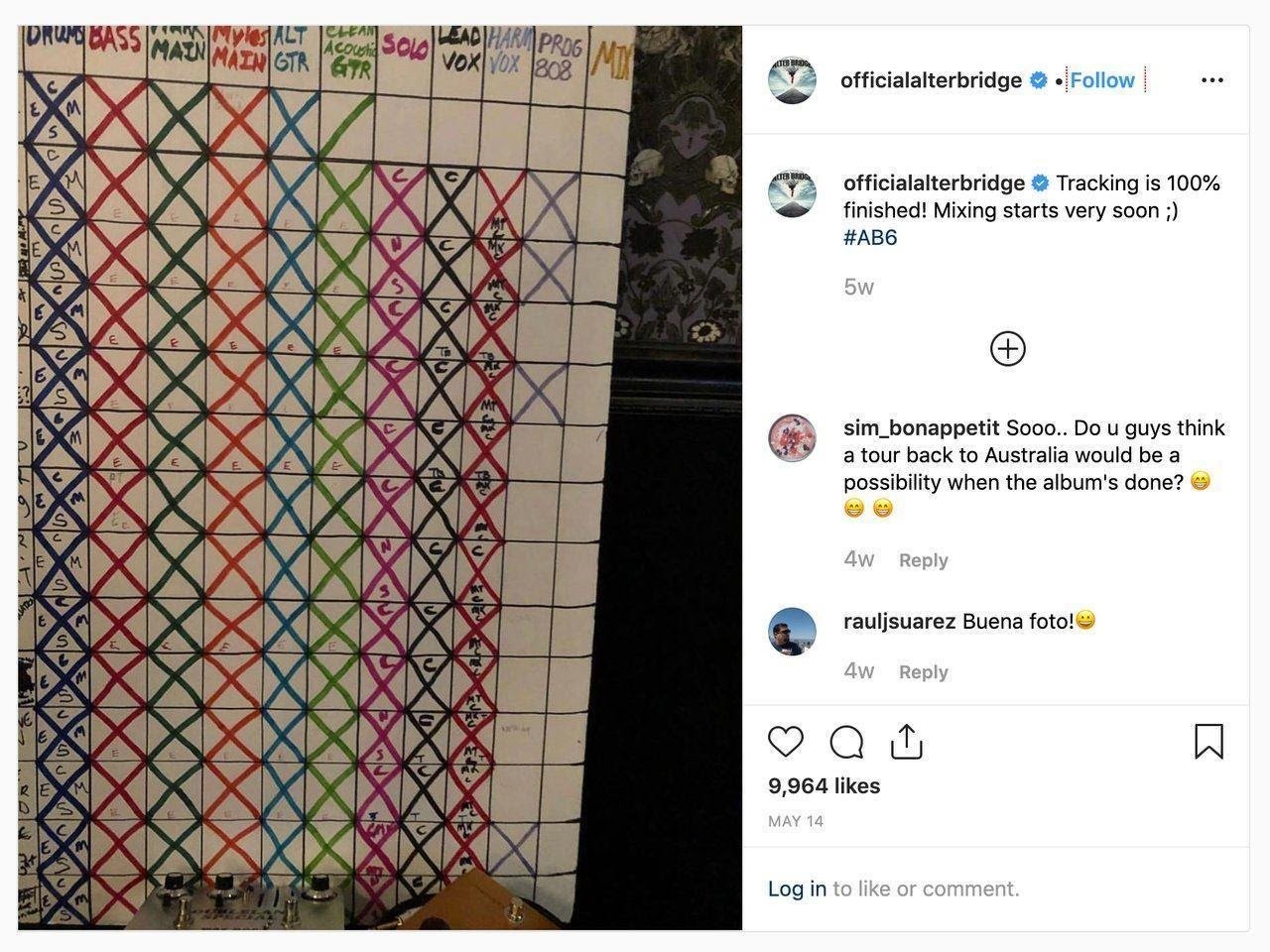 It's simple yet effective because it keeps the fans hyped for new songs that are coming  soon and offers to get an early glimpse into tentative song titles.
Alter Bridge is not huge on Instagram, but their social media activity has allowed them to build an extremely loyal and active fan base. As a result, the solo for their song "Blackbird" has been chosen as the greatest guitar solo of all time. Apart from the quality of their music, it was their active fan base which enabled them to beat the likes of Led Zeppelin, Jimi Hendrix, Van Halen, and Guns N' Roses. 
4. Use Hashtags to Your Advantage
Instagram influencers and models know that the platform is all about the hashtags, so why not follow their example as a musician?
Hashtags remain the most popular tool for discovering new content and artists. Instagram's algorithm will recommend tags that your audience may be interested in based on the posts they've liked in the past. If it remains like that, hashtags are only going to become increasingly more relevant.
As for hashtag limits, you get 30 per posts, and that includes hashtags you add inside the comments. This means you should aim for at least 20 with each post. This will allow you to target not just the most popular ones like #music, #rock, or #pop, but also those which are specific to your niche and to your own body of work.
So which hashtags can help you get the ball rolling?
We suggest using the likes of #InstaMusic and #InstaVideo, because they were used on over 33 million posts combined and they're unique to Instagram, as well as #InstaMusicVideo, #MusicMonday, #LiveMusic, and #InstaArtist. You can also piggyback off the #tbt hashtag, as long as you can connect it to your music in some relevant way. Also, you always need to include general hashtags like #music, #video, #band, #musician, and #song. In addition to that, you should add genre-specific tags like #rock, #guitar, #grunge, #aesthetic, #dj, #beat, #hiphop, and so on. You can find more detailed lists here. As for Instagram Stories, you get 10 hashtags per story.
So how do you find even more hashtags you should use? Apart from using common sense, there are some hashtag tools that you may want to dive deeper into, such as Display Purposes and Sprout Social. Display Purposes functions in a pretty straightforward manner. All you need to do is enter a relevant keyword or phrase, and it will come up with a list of corresponding hashtags you can use.
However, you will also need to identify which relevant hashtags people frequently search, and that's where Sprout Social comes in. If you are using Instagram to find hashtags, it will primarily suggest those that get used the most, which may not work for you since you need to get discovered. Another option would be to look at similar artists who have been able to generate organic engagement and see which hashtags they are using. 
5. Use Instagram Ads
The trickiest part about creating an Instagram ad is getting people to stop scrolling and take a look at it. You have eight seconds or less to capture their attention. Granted, this will be very hard to achieve if you're simply using  music videos as Instagram ads, especially when most people are watching videos with the sound turned off.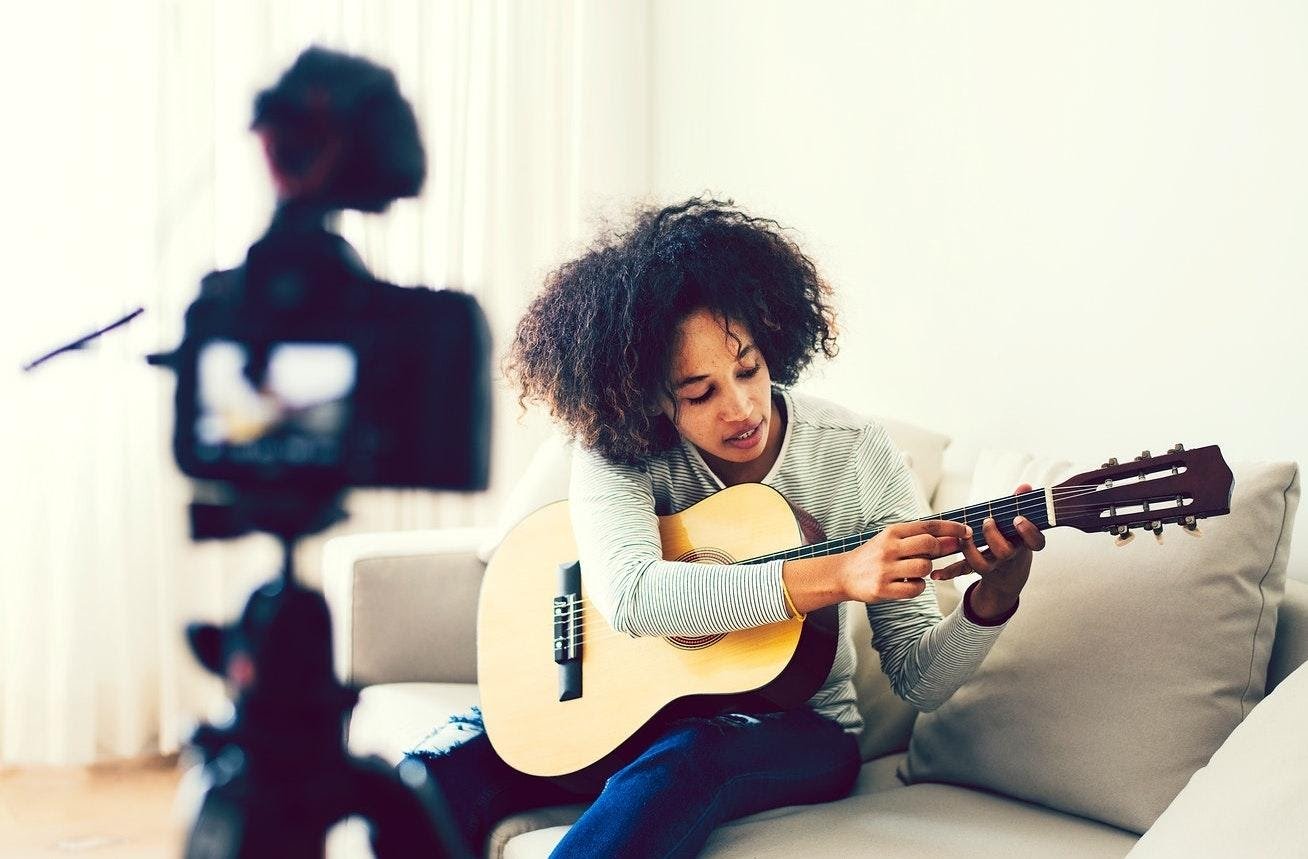 The solution would be to do some hardcore editing, after which you should have a short clip of your original video. Then you add logos and captions to the snippet to get potential followers to pay attention. One of the things which may work like a charm is to mention similar, more famous artists in the genre inside the caption, along the lines of "for fans of…", and target an audience which listens to that particular artist. It will spark their curiosity and they will be more likely to stop and give it a listen.  
To run a successful ad campaign, it's best if you convert your profile into a business account. You will get all of the same features, plus some extra ones, like analytics, which will allow you to track how the audience is responding to your content.
 
6. Promote Yourself

If you are worried you are tooting your own horn on Instagram a little too much, don't be. That's the whole point of social media for musicians, especially for those who are just starting to make a name for themselves. Aside from spamming your followers' feeds with your posts, everything else is fair game. This means you shouldn't shy away from promoting new songs, albums, or even new gear, such as guitars or amps. In order to get noticed, you will need to post regularly, so self-promotion comes with the territory.
If there is anyone who knows about Instagram music promotion, and self-promotion for that matter, it's DJ Khaled. It even spills over into his songs and guest appearances, what with the yelling out "DJ Khaled" in just about each one of them. Musical preferences aside, his Instagram game is on point. He has over 15.5 million followers, and most of his posts are about him.
Here's a shot of his with his certified gold album: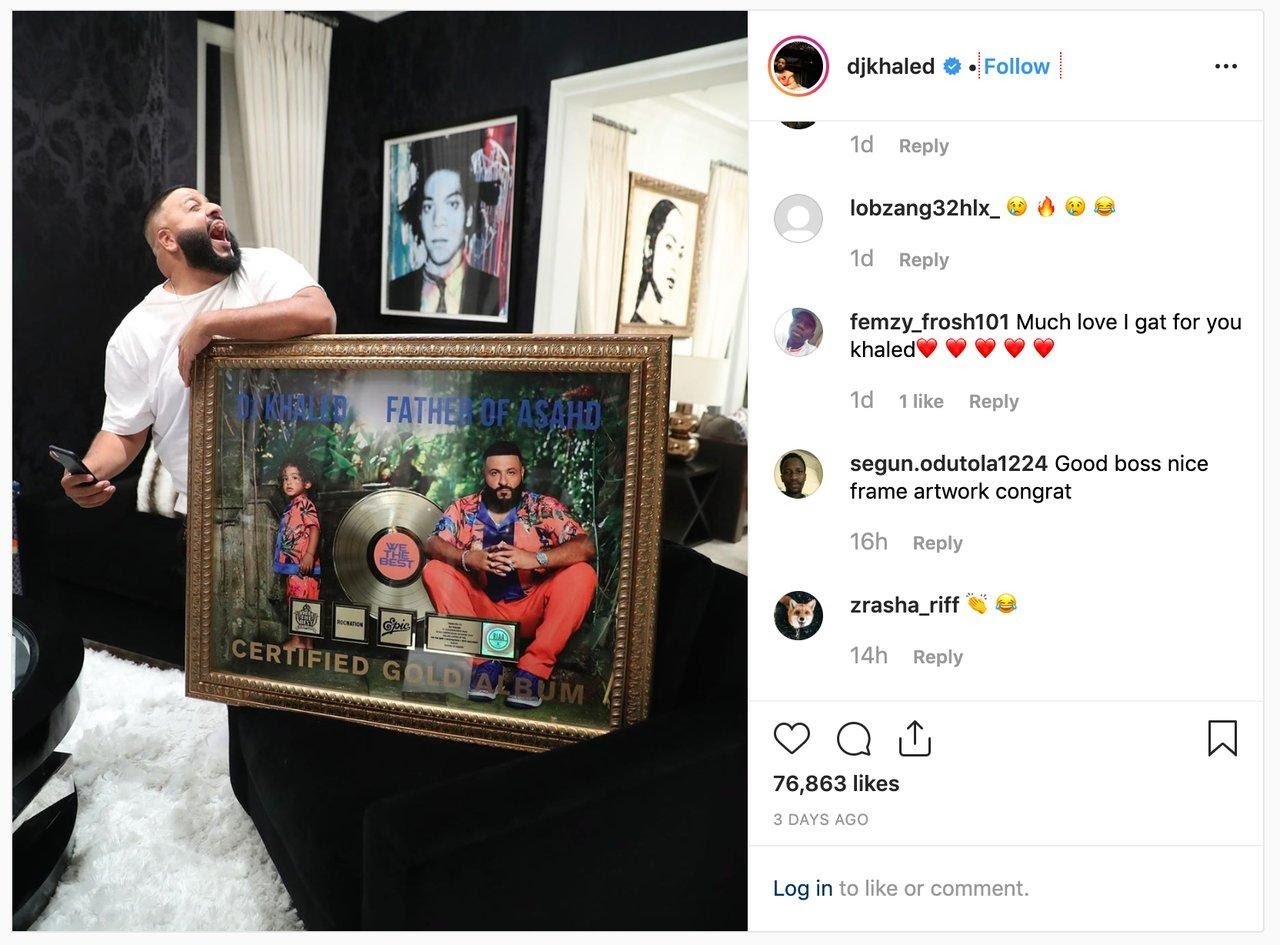 And here is another one: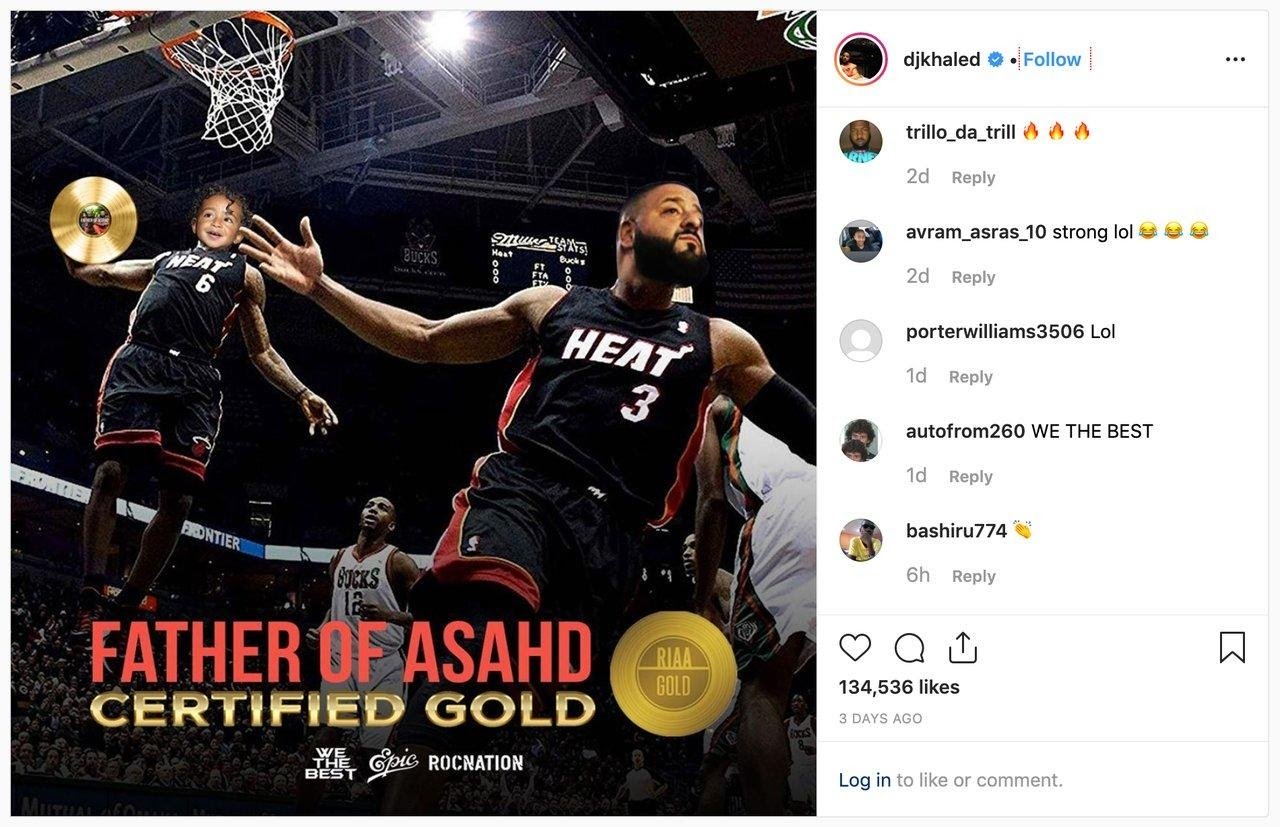 Now, he might have gone over-the-top with his larger-than-life persona if it wasn't for a good dose of humor in each post. But, you get the idea. If there's a good enough reason to share something with your audience and promote it, don't hesitate to include it in your posts. 
7. Go Live

Going live and streaming one of your gigs or providing your followers with a behind-the-scenes look at your creative process is an incredibly effective way to connect and engage. Not to mention it's a creative way to market your new single, album or tour. 
You can provide a more interactive experience for your fans by organizing a Q&A session or making a big announcement regarding future plans. Also, addressing your fans by their name is something that will definitely go a long way toward establishing you as someone who cares about your audience. And if you can do all of this on a regular basis, you will be able to see your fan base growing steadily. 
 
Final Word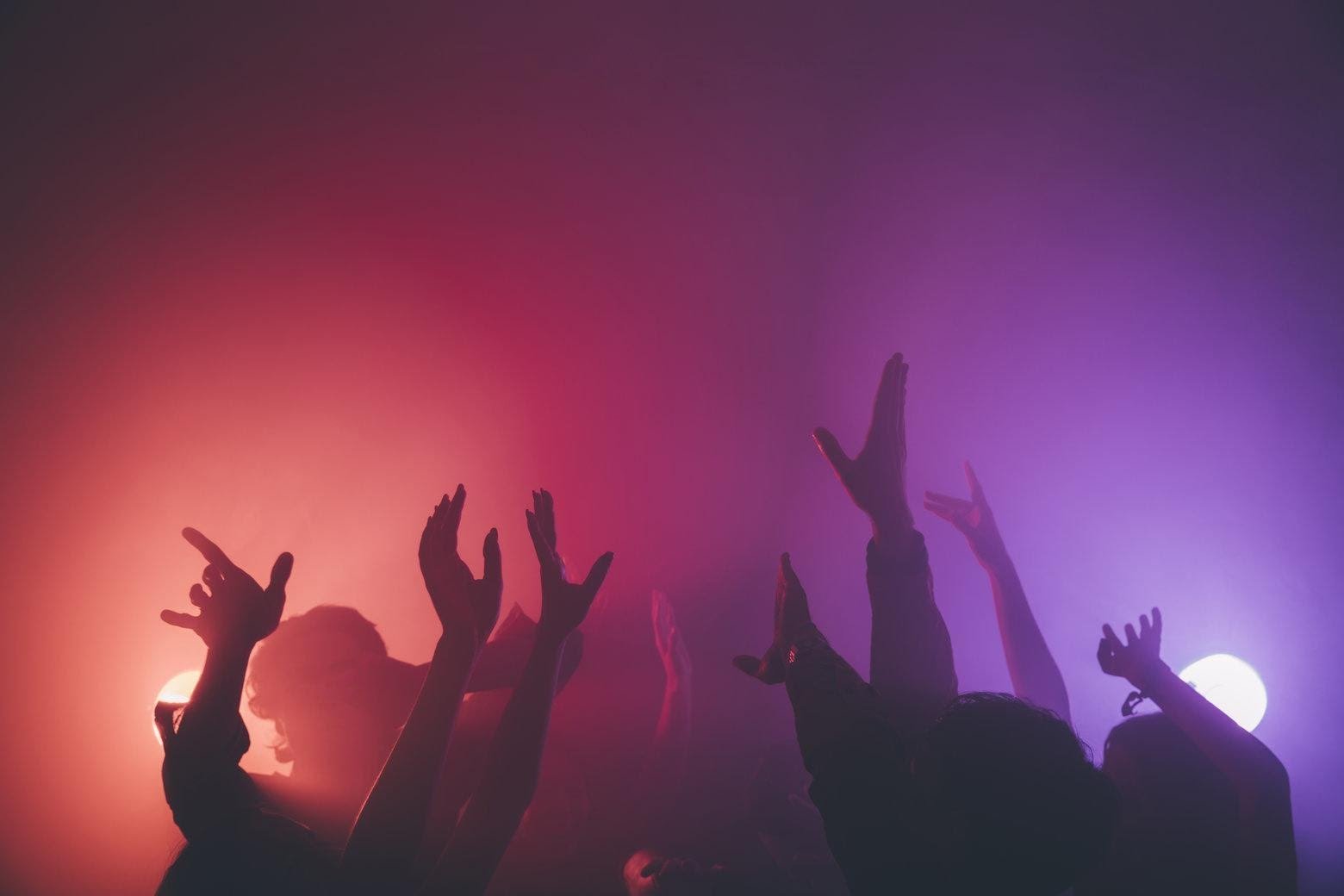 So, is Instagram for musicians? As you can see, if used right, Instagram can be a very powerful tool in your arsenal for promoting your music and connecting with the people interested in hearing it. Start implementing these tips today and get the word out. Good luck with promoting your music on Instagram - we are rooting for you!