You created your business and built a website. How do you spread the word and drive traffic? Many resources teach you how to promote your website. From successful SEO practices to email marketing and blogging, the sky is the limit. However, you probably don't have a hefty budget to spend on marketing. We are here to help! The list below contains 50 places to promote your website for free! Yes, we did say free online advertising! Let's discuss website promotion and the best places allowing you to do it!
Why Do You Need Free Promotion Websites for your Business?
This list of 50 free business promotion websites is essential for you. Use this guide to advertise your business free and save substantial amounts of time scouring the Internet on your own to find a place to promote your site. Moreover, if your business has been online for some time now, you should also skim through our list. You may have skipped some good platforms that could drive a decent amount of traffic to your website.
All companies, big or small, benefit from free online advertising. However, promoting your website can turn into a costly activity. For someone running a small business, online advertising is usually out of reach. But we are here to give you a head start. This list of 50 free places to promote your website and business this year will equip you with enough channels for significant online visibility. So let's get started!
Promote Your Website in Online Directories and Review Platforms
Online directories and review websites offer businesses plenty of opportunities when it comes to free online advertising. Some platforms have international reach, while others deal with local listings and marketing.
On the other hand, you should research such promotion websites thoroughly, as you have to pick them depending on the type of business you run. For instance, if you want to advertise your eCommerce store, you want people to find you on Google, but is it relevant for them to stumble upon you on Yelp?
Review websites and online directories are among the most popular website promotion venues. They deliver free advertising by incorporating your business details into their data banks. Such free promotion websites offer a link back to your business website and help you with your website SEO. The links are usually "no follow," but they will drive traffic to your online business when users go to your website to learn more about your products or services.
1. Google My Business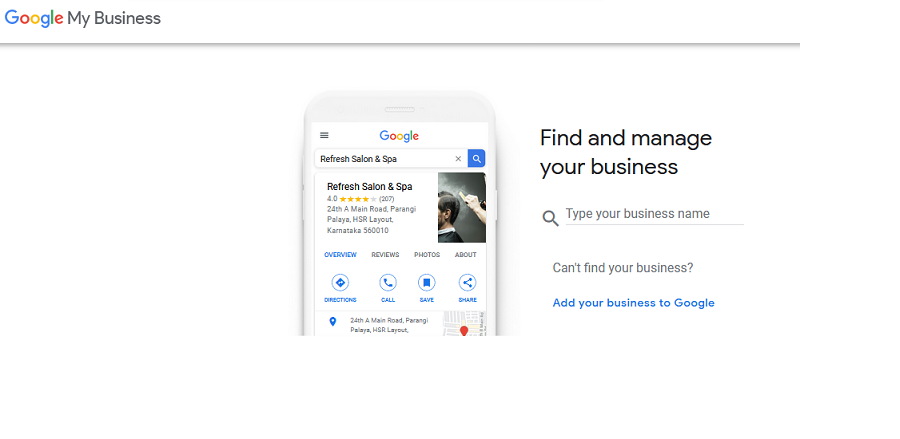 Google My Business improves your traffic and SEO.
One of the first things you should do when you start a business is to go over to Google My Business and fill out all the information about your company. Whether you run a local café or an online store, it is essential to have correct info about your business presented in the Google search. If you rely on Google for website traffic, then you cannot miss this opportunity to promote your website for free.
From an SEO perspective, having your business present in this place gives you the chance to get a free Google-rich result, making it easier for people to contact you, visit your website, leave a review, and much more!
2. Bing Places for Business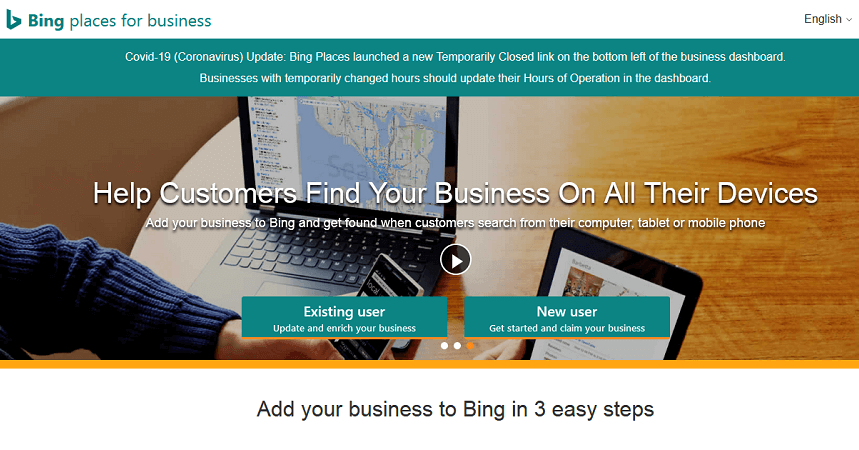 Bing Places for Business promotes your website for free on all devices.
Although it has a smaller market share, Bing covers a significant portion of web searches. That's why you should register for this service. Bing Places for Business works almost the same as Google My Business, just for the Bing search engine. As free places to promote your website go, Bing Places for Business might offer you some advantages over the competition, as well.
Since fewer people use Bing for their searches, you have a better chance of standing out in search results. Moreover, you will address a compelling internet-based market and drive new traffic to your website that you would otherwise ignore.
3. Apple Maps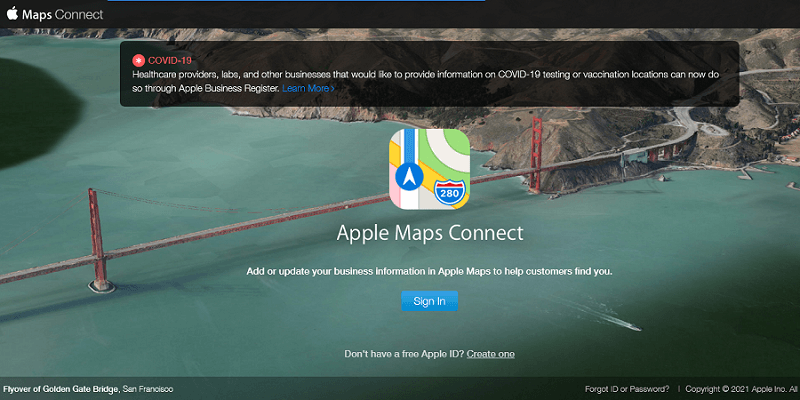 Apple Maps is the go-to place for businesses to promote websites for free.
You certainly heard about Google Maps, but Apple Maps is coming strong from behind. It comes preinstalled on every mobile Apple device, and statistics say it gets more than five billion requests every week. If you listed your business in Goggle Maps – and we recommend you do –, the next logical step is to use Apple Maps for the same reason: free online advertising.
Promote your website on Apple Maps and get a massive share of the Apple users' market! As free places for website advertising go, it cannot get better than this. However, keep in mind that you should have a free Apple ID to list your business here.
4. The Better Business Bureau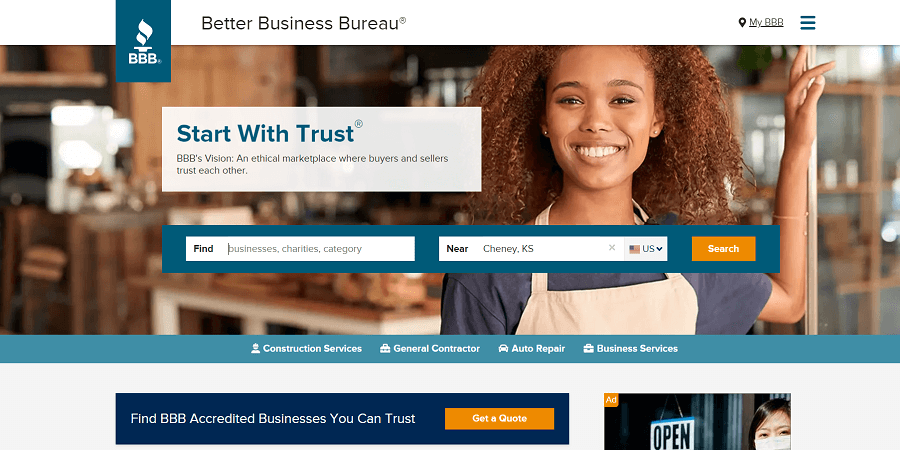 Get your business in front of customers by registering with the B.B.B.
The Better Business Bureau was cool before we started using computers and the Internet as a daily habit. It is the place where all reputable brands and businesses are. It is one of the oldest business review platforms. Although some controversies surround their rating system, they proved to be a good intermediary between companies and customers.
Keep in mind that this platform serves only companies and customers from the United States, Canada, and Mexico. On the other hand, almost every country has a similar official directory offering businesses genuine opportunities to connect with potential customers, partners, investors, etc.
Back to this free place for website promotion, a company's presence on the B.B.B. is a standard of good practices. The more positive feedback you receive with them, the greater your chances to develop a successful business.
5. Manta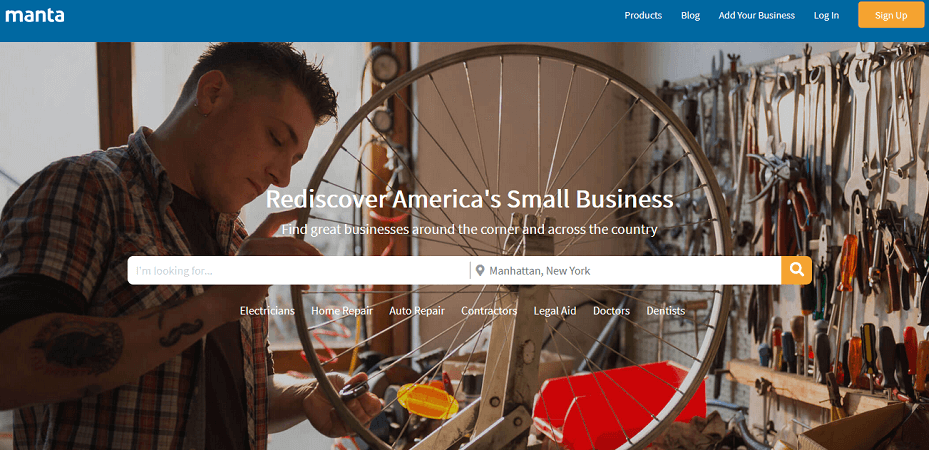 Manta is one of the best places to promote your website for free.
Another small business directory, Manta, is a great place to promote your website if you have a small business in America. However, you can list your business here for free if you are from another country as well.
Manta registers over 13 million monthly users. It provides businesses with specific industry categorization, which makes this website easy to navigate. Moreover, you can exploit their online tools to boost your free online advertising efforts: Google Ads, SEO, social media, and other useful features and instruments for optimal website promotion.
6. Merchant Circle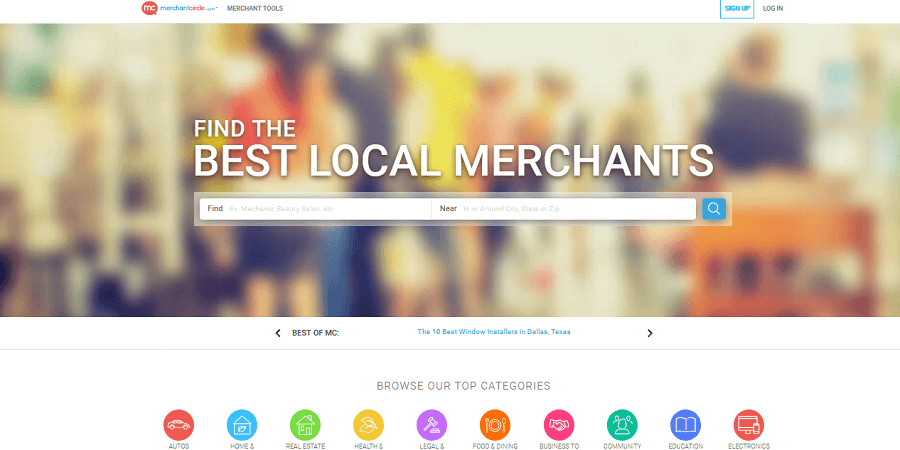 The Merchant Circle is a great opportunity for entrepreneurs running eCommerce businesses.
The Merchant Circle is a platform connecting merchants with potential customers. Connecting two million merchants and one hundred million consumers annually, this platform allows you to choose among multiple plans.
It is a great place to promote your website for free, especially if you just built an eCommerce business and you want customers and potential business partners to find you. You can register your online store or service providing company in a specific category and use the platform at its maximum potential.
The free plan gives you access to most of the platform's features, while the paid plans clean your page of distracting ads and allow you to post more than one link to your website, among others. Nevertheless, if you want a free place to promote your website professionally, Merchant Circle is a great option. They provide you with digital footprint expansion, automated marketing tools, social media opportunities, search engine marketing, and more.
> Do you want to build an eCommerce business? Get started now!
7. Yell
Yell is the largest online directory for free business promotion.
If you run a business in the U.K. or have a company U.K. branch, you know Yell is for Great Britain what Yellow Pages were for the world before the Internet was cool (or even in existence).
Yell allows you to promote your website by getting a free listing. They also have a dedicated Yell app allowing customers to find, contact, and review businesses on the go. The tool is more powerful than the eye can see. Big businesses have access to advertising, pay-per-click campaigns, social media advertising, SEO tools, and more.
However, you can get an exciting range of free digital marketing tools. In other words, if the U.K. market is part of your online business strategy, don't hesitate to promote your website for free here!
8. Yelp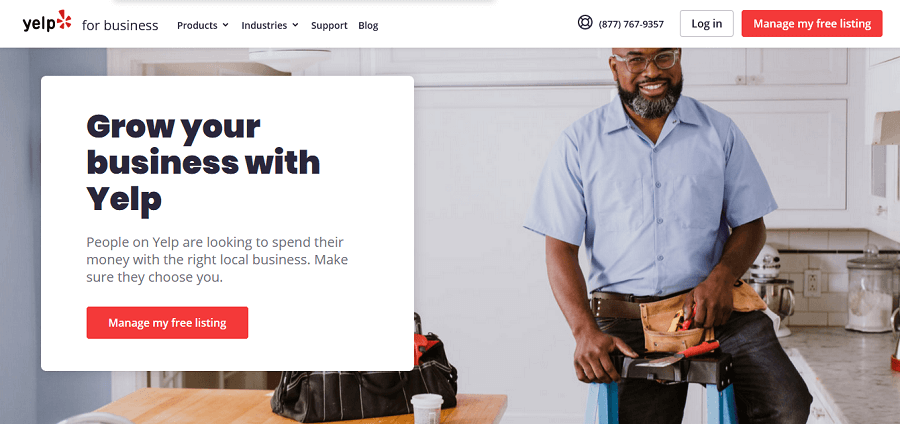 Promote your restaurant or other business on Yelp but manage customer reviews wisely.
Next on our list of free advertising sites is Yelp. Although this platform is more popular with restaurants, you can also use it if you do business in other industries. If you claim your business on this platform, it is important to check it frequently to see what your customers are saying about your brand. Companies that manage their reviews mindfully gain more popularity and brand awareness on the platform. So don't forget to encourage your existing customers to drop by and leave a few kind words!
Keep in mind that Yelp reviews are double-bladed swords and people use the platform for nefarious reasons. Nevertheless, suppose you are confident in your products' and services' quality. In that case, Yelp acts as a free website promotion tool and social media platform that can drive your business's traffic and engagement.
9. TripAdvisor
Use TripAdvisor to promote your website and hospitality business for free.
Suppose you chose a gorgeous website template for your hospitality business, and now, you run a cozy, welcoming inn, hostel, or guesthouse. If you are not on TripAdvisor, you don't exist, according to some. How are tourists going to find you, review your services, or recommend your place to others?
TripAdvisor is the place to be for any business related to travel and tourism – restaurants and other connected services included. Promoting your website on TripAdvisor is free. They will also help you reach a large qualified audience and make your business stand out from the competition with plenty of free marketing tools!
10. Angi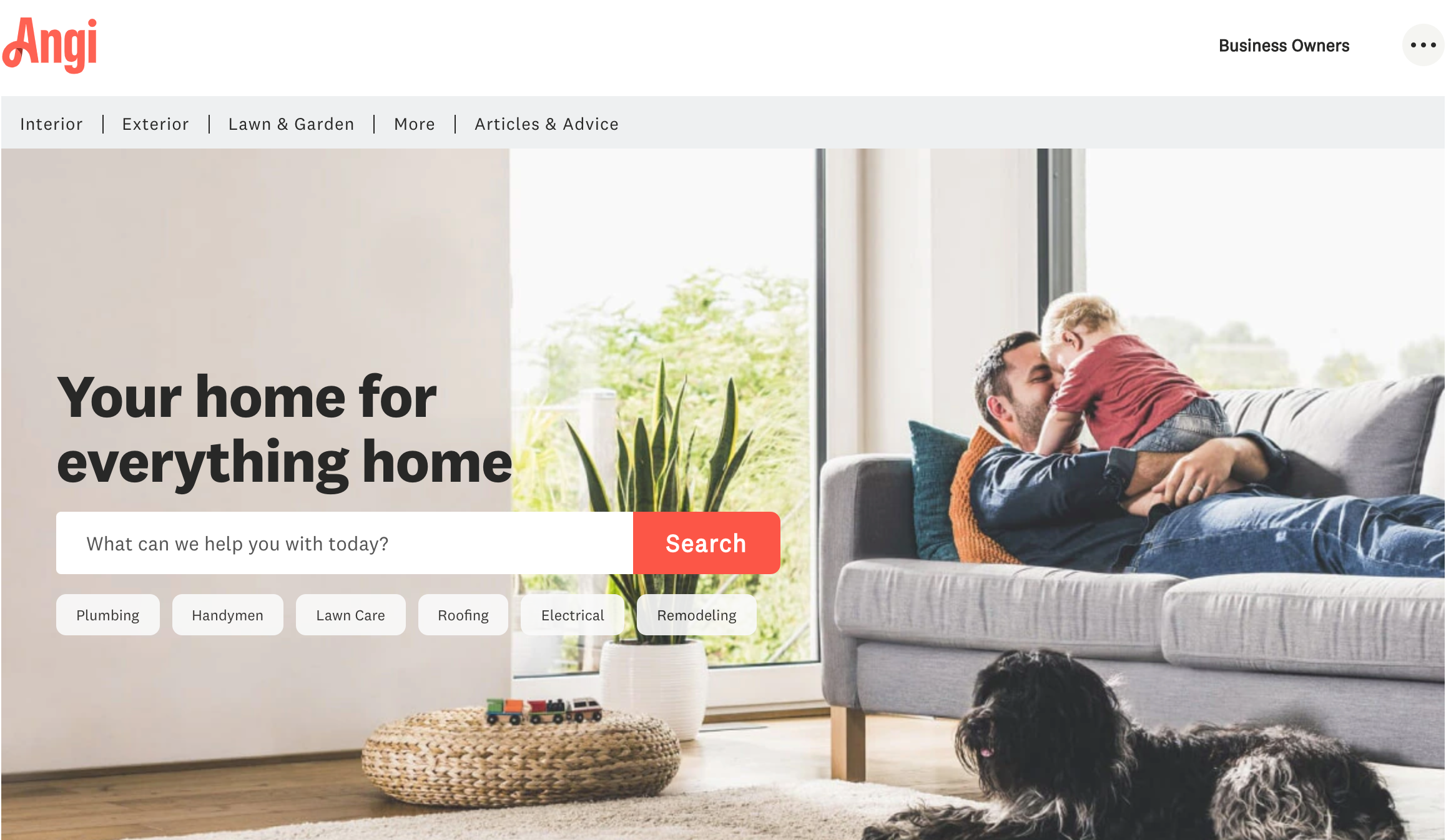 Use Angi to promote your service-providing company.
A well-established and reputable website directory, Angi provides verified user-generated reviews of local businesses across the U.S. The main objective of this directory is to advise users on where they can find reliable services. If you use their Green plan, you will find one of the greatest free places to promote your website and company. Angi is especially valuable if you run a business in repairs, landscaping, plumbing, home cleaning & decorations, health & wellness, pet care, auto repair, and more.
11. Gartner Digital Markets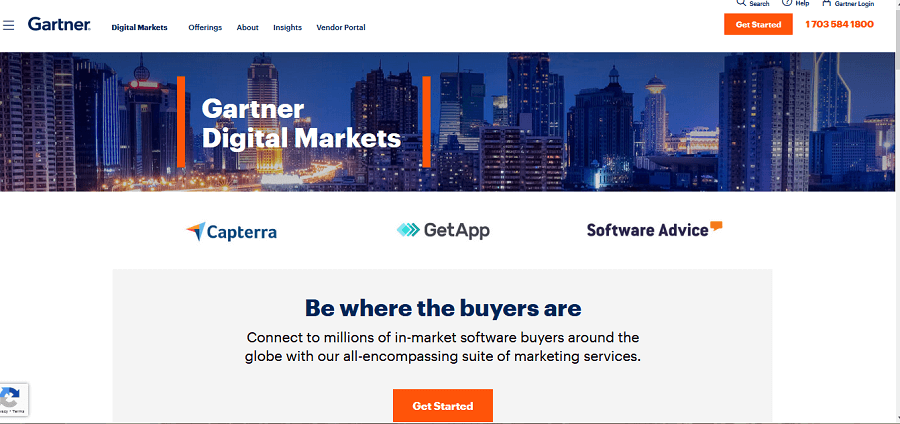 Great place to showcase your apps and software eCommerce store.
If you've just published an app or created software, Gartner Digital Markets is the place to promote your product for free. You will most likely feature your business on the GetApp platform, but you should also consider Capterra or Software Advice when you draft your software products eCommerce business plan.
Gartner Digital Markets specializes in business apps and software so that it could be more than just a traffic channel for you. It may be a potential lead generation channel. If you want your software displayed on G.D.M., all you have to do is request a free basic listing.

12. SaaSGenius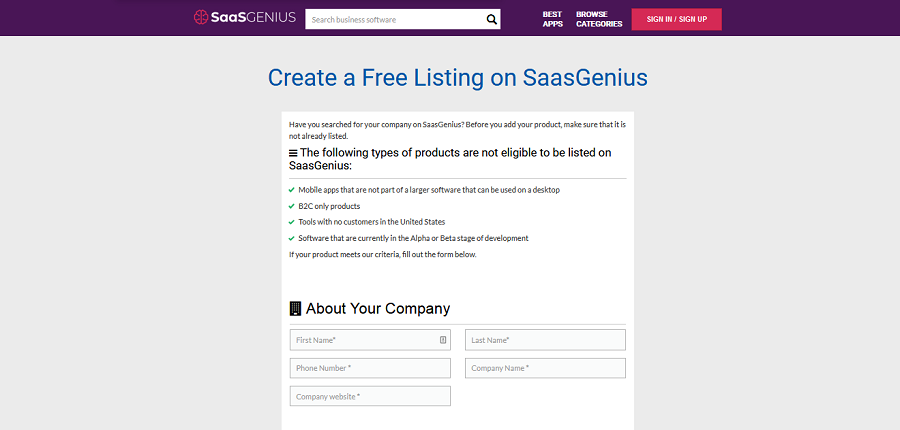 Promote your SaaS solution, software, or app for free on SaaS Genius.
One great online directory specialized for SaaS solutions, apps, and software is SaaS Genius. It would help if you took some time to populate your profile so that it doesn't look unfinished in comparison to others. This platform is a free place to promote your website where users can find and compare different SaaS solutions and make their decision based on these findings. This listing can bring you some serious customers, but make sure you follow the directory rules before creating a free listing.
> Do you want to build an eCommerce business? LEARN MORE!
13. eLocal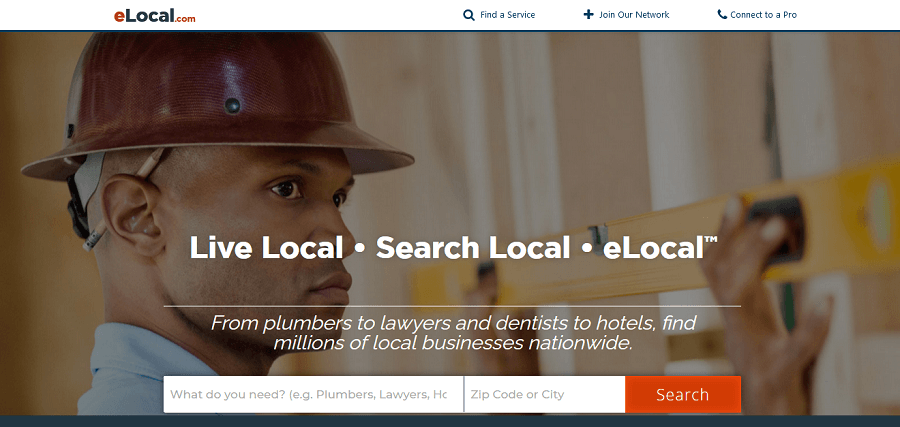 eLocal helps you promote your website quickly and free.
Just like Manta and Angie's List to some extent, eLocal is a business directory allowing users to find millions of businesses across the United States. You can promote your website for free here, whether you have a plumbing business, sell dental office equipment, or help people get auto insurance. Listing your business on eLocal is free, and it takes about five minutes. This directory helps you with traffic, but it is also an excellent free tool for generating leads and sales.
14. E.Z. Local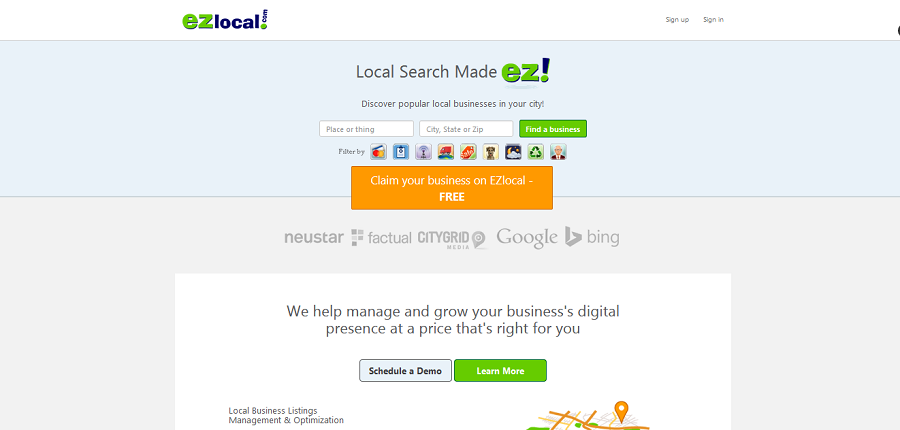 Stand out of the competition with free local business listings on E.Z. Local.
Next on our list of best free promotion websites is E.Z. Local, an online business directory. The platform helps businesses gain visibility and use their tools to boost traffic and leads for your service website or online store. We recommend checking their professional SEO tools, social media management, reputation management, search engines' top placements, and more, among some of their best features. While a basic listing is free, you might want to verify some of their other pricing plans as your business develops.
15. Local.com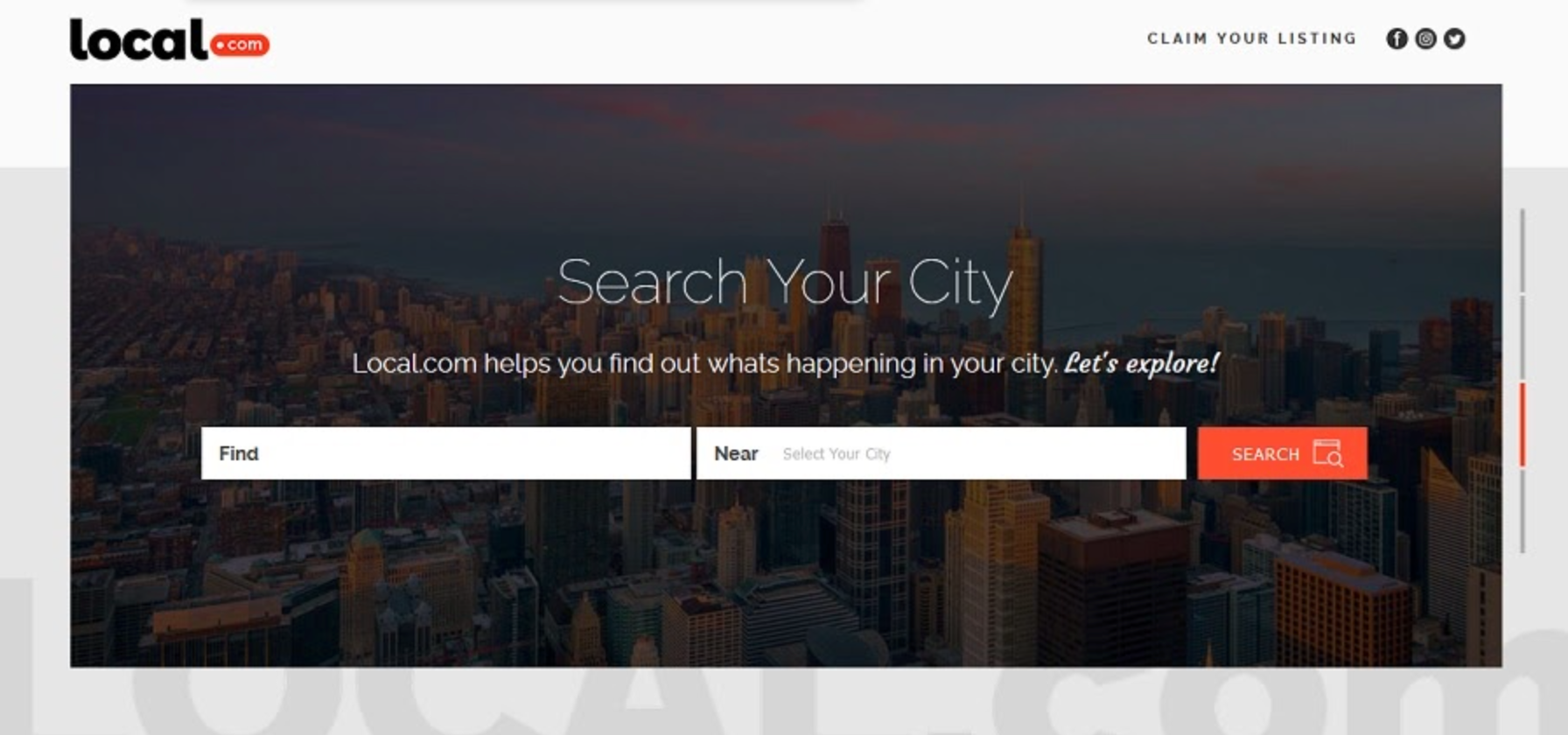 With Local.com, you get business listings on 40+ promotion websites.
Whoever said free promotion websites and business directories are obsolete they are wrong. Such directories are becoming stronger than ever. For instance, Local.com offers users and businesses plenty of opportunities to find each other.
People who are looking for certain businesses, stores, services, or events get information about driving directions, other customers' reviews and ratings, phone numbers, addresses, and more. The platform runs a successful collaboration with the Yext Answers Search Platform so that you can claim your business listing on Local.com and tens of other websites.
16. Hotfrog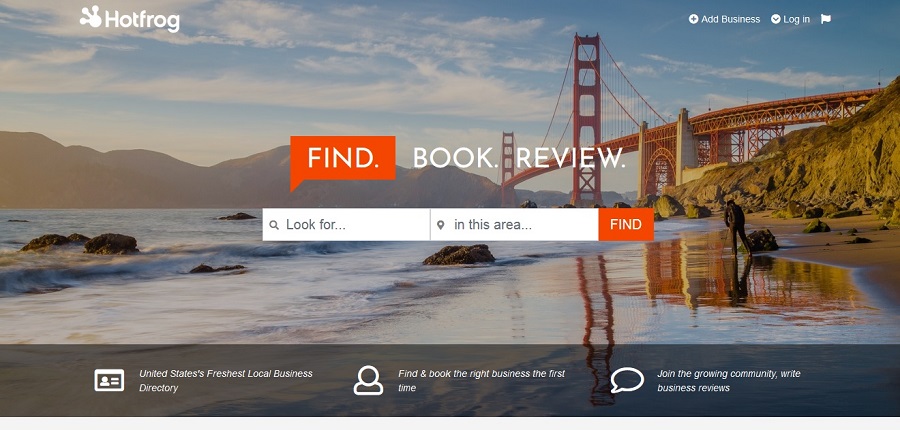 Promote your website for free on Hotfrog!
According to Hotfrog, 2.7 million people make more than 430,000 inquiries to businesses on the platform every month. As promotion websites and free online advertising go, you should not miss this one. It works like almost all other free places to promote your website that we discussed until now.
You can read their blog as well – a cornucopia of resources and actionable advice, useful particularly to new business owners. Either you want to list your brand new gift shop teeming with compelling popular products or a digital marketing company, Hotfrog is one of the best promotion sites in the United States.
17. Brownbook.net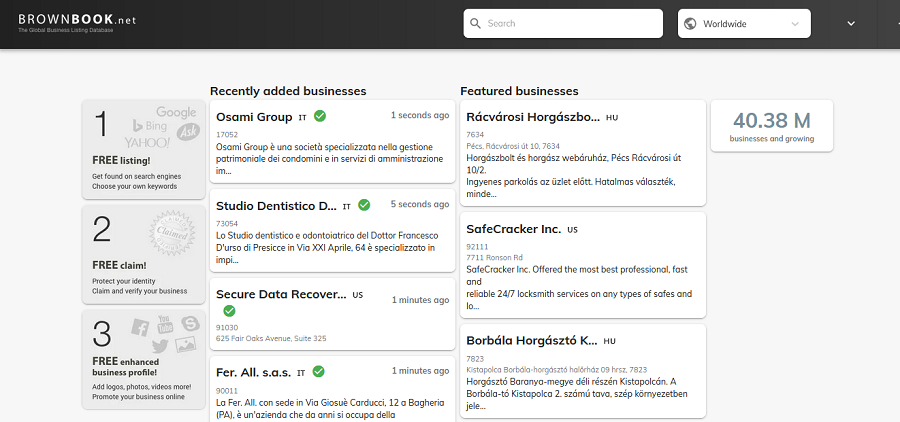 Brownbook.net is an international directory for businesses.
With over 40 million businesses present on their platform, Brownbook.net distinguishes itself among the top players in the field of worldwide business listings. Registration is free. The platform allows you to use your keywords for search engine success, as well.
As free promotion websites go, this platform requires no effort or stress on your part. Just have your branded logo, photos, videos, and other marketing materials at the ready!
18. Tupalo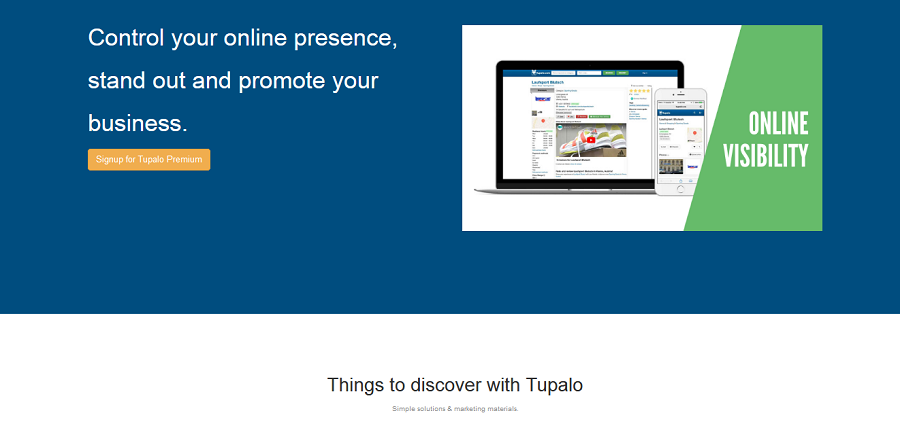 Tupalo allows European and American companies to promote their businesses.
Do you conduct business in Europe or the United States? Tupalo operates from Vienna and allows customers to find businesses (spots) in Austria, the Netherlands, Denmark, Poland, Sweden, Finland, Switzerland, France, and the U.S.A. If you don't have a budget for a premium account, you can start with their free plan. They offer you minimalistic widgets for your website and a link to your online profile.
19. Wikipedia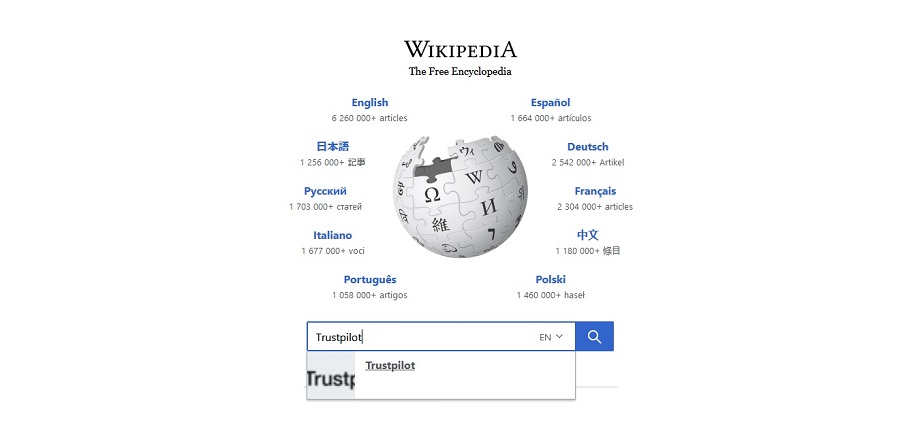 Build a professional company page on Wikipedia.
Probably one of the best-known sites on the Internet, Wikipedia is still – after so many years – one of the top places to create a page for your business and include a link to your website. It is because Wikipedia is often the first place people go to check out anything – companies included.
20. Trustpilot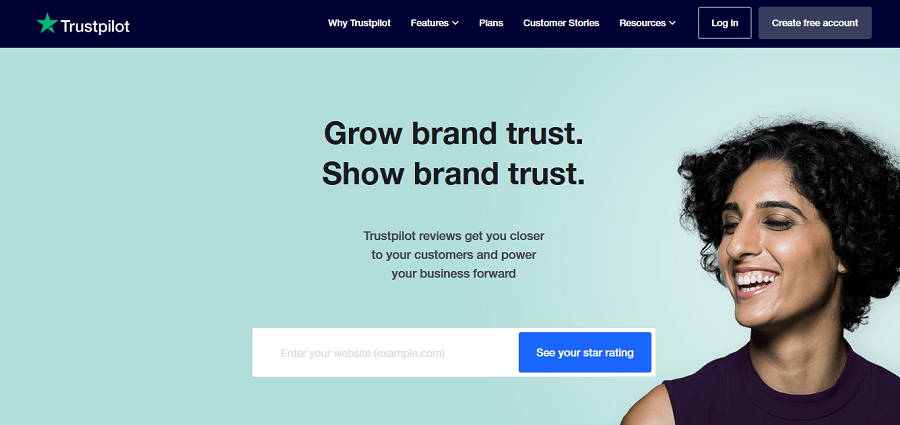 Give your customers a voice and your website traffic and leads with Trustpilot.
Next on our list of free places to promote your website, Trustpilot is among the most powerful and influential ones. If you look at their statistics, you will find that around four million new reviews go online on the website every month. The platform is an excellent tool to promote your business and give your customers a voice.
21. G2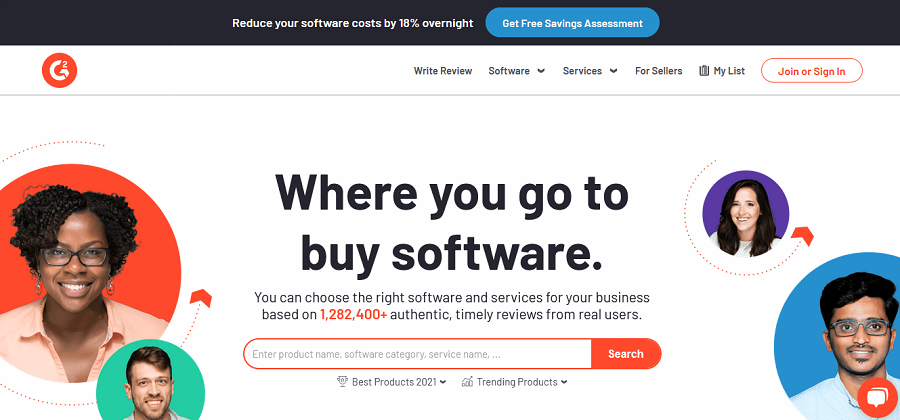 Let your customers discover and review your apps and software on G2.
Previously known as G2crowd, G2 is one of the largest tech marketplaces in the world. With over three million people visiting G2 regularly to discover and review new software products and business services, it is a great place to promote your services and redirect people to your website.
If your online store deals with app/software creation and selling, you need to list your website on G2. Of course, you can start with the free plan and work your way upwards with the other plans.
22. Sitejabber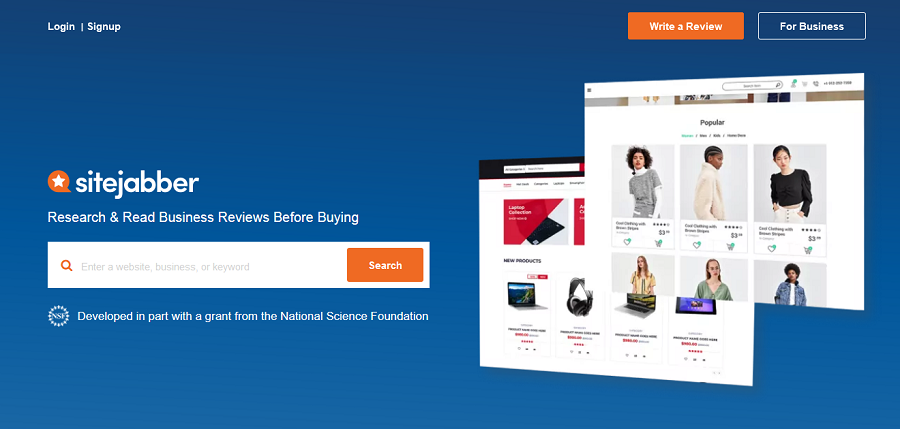 A strong reputation on Sitejabber drives trust, traffic, and sales.
With more than ten years of experience and over 3 million users' reviews, Sitejabber is a platform that helps consumers find secure online businesses and avoid scammers. It has the reputation of being "the Yelp for websites and online businesses," allowing consumers to write reviews and businesses to respond to them.
Also a great promotional platform for your website, the platform offers free business listing opportunities and plenty of features to help you drive traffic and leads.
23. NextDoor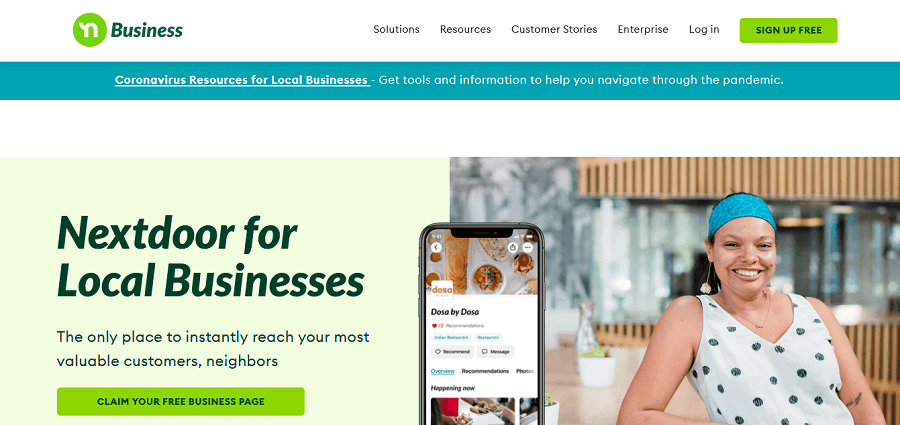 Make a name for your small business in the neighborhood with NextDoor.
With fifty million business recommendations by neighbors on NextDoor, this business directory is a breath of fresh air for small businesses. This platform is one of the best free places to promote your website and build a brand presence or following in your neighborhood. Whether you own a store, you are a real estate agent, a dog walker, or a hairstylist, you have to be here.
The platform helps you make valuable community connections and grow your local customer base while driving clients to your website as well. The platform assumes the responsibility to verify all the members, so businesses and clients meet real people who live in a neighborhood.
Best Free Promotion Websites for Any Business: Social Media Networks
Although social media platforms have been all the rage for quite some time now, many business owners still don't understand these platforms' full potential. Sure, you probably have a few accounts set up to promote your business, but that's not nearly enough.
There's a whole slew of new (and old) platforms that you can leverage to make your business more visible in your niche, so join those communities and start a conversation with your potential customers. Here's a list of free promotion websites and social media networks you should consider using free online advertising.
1. Facebook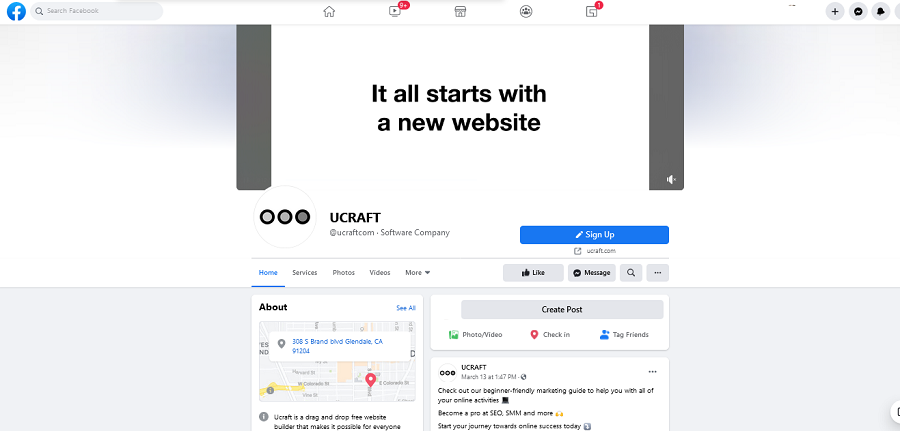 Build a Facebook page for your business and start building a loyal audience.
If you have not created one already, a Facebook page for your business is the place to start when it comes to your website/company's free online advertising. When creating your page, make sure you choose the right category for your business and fill in all the information and the 'About' section to make it more informative.
Of course, you should consider paid advertising and sponsored posts with Facebook. However, having an engaging page to generate leads and users' loyalty is a great start for beginner entrepreneurs.
2. Twitter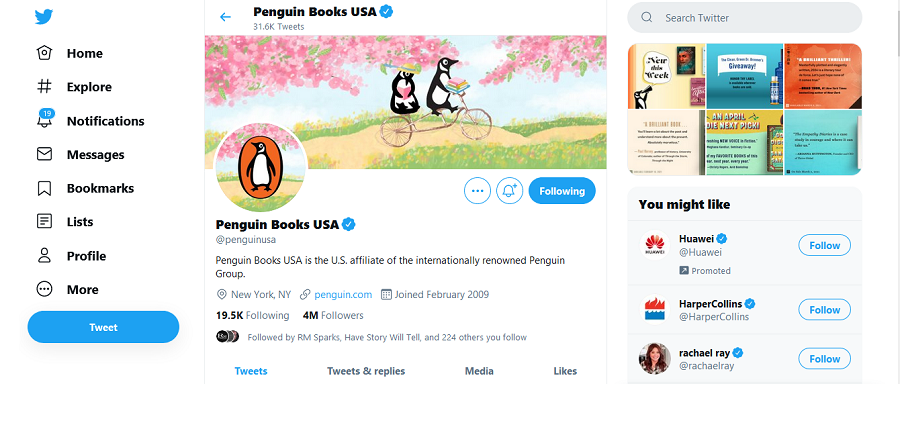 Be mindful about what you post on Twitter and gain a loyal following.
As you know, Twitter users are the ones who find out first what is going on in the world, from business news to political shenanigans. If they love and follow your business, you will get impressions, re-tweets, followers, shares, and all the good stuff social media has to offer. If you are doing business in the tech sector, then being present on Twitter is a strike of genius. However, this platform is not only for tech companies.
You can achieve significant Twitter "juice" if you run a fashion store, a restaurant, a service company, and everything in between. Here you can post news about your business, articles that you've published on your company's blog, fun staff for user engagement, bits of business storytelling, and so on.
Keep in touch with industry-relevant influencers and customers easily! However, take time with your Twitter posts, as, as you probably know, you have a tough crowd on your hands, and you need to treat them mindfully.
3. YouTube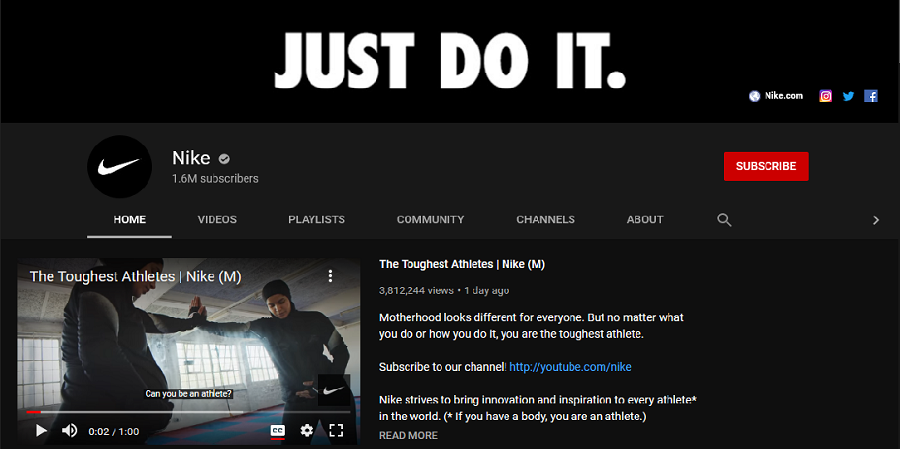 If you put in some thought, you can promote your website on YouTube too!
Many people don't consider YouTube to be a place where you can promote your website. Still, it's the perfect place to upload both promotional and tutorial videos (especially now that YouTube has replaced traditional media as we speak). You might think that you cannot promote your website with video marketing, but remember, video surpasses written content in many industries.
Take a walk outside the box and keep your audience close with company presentations, product teasers and commercials, behind-the-scenes sneak peeks, interviews with your collaborators, team members, clients, etc. As long as you deliver quality videos relevant to your business and your users' interests, you are good to go.
4. LinkedIn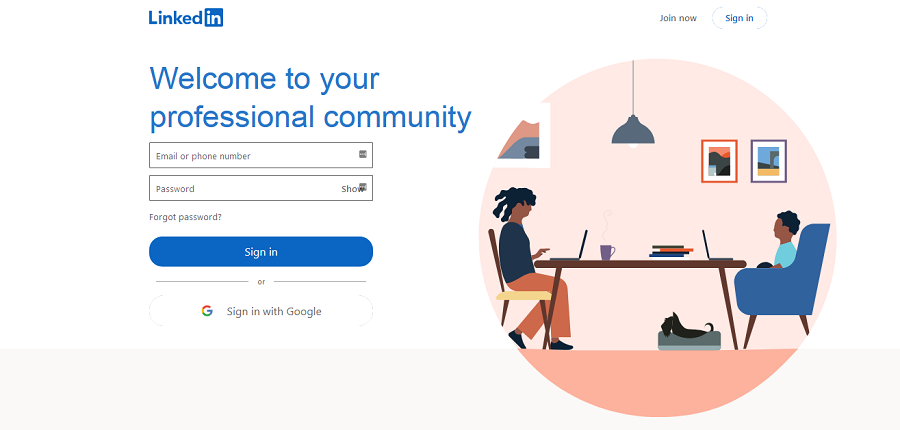 If you put in some thought, you can promote your website on YouTube too!
Every respectable business needs to have a LinkedIn profile. With around 500 million users in membership, this business-oriented social network serves as a platform where people find work, partners, and vendors. It is perhaps the most famous place for free business advertising, talent hunting, and growth opportunities.
Do you want to become an authority in your niche? Connect with prospect collaborators and clients, write well-researched articles, and use all the network's features to promote your website, products/services, entrepreneurial profile, and more!
5. Instagram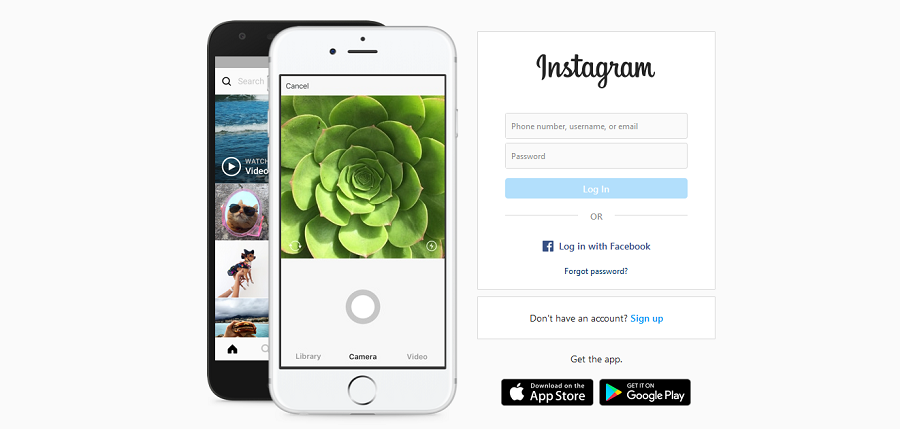 Instagram allows you to humanize your business and get invested followers.
Instagram was once a platform to share fun bits of users' personal lives. Now, it is one of the most valuable platforms for free website promotion and user engagement. Running a profile on Instagram can drive traffic to your website and give your brand a more "humane" feel.
Whether you want to promote your music on Instagram, your restaurant, bookshop, photography website, or anything, Instagram is the place to be these days. Just be mindful of the hashtags and the website links you are trying to promote. Try to be less on the nose with guerilla advertising and have some fun with the platform. Use all the social network's features to tell real business stories and grow your fan base into loyal customers.
6. Pinterest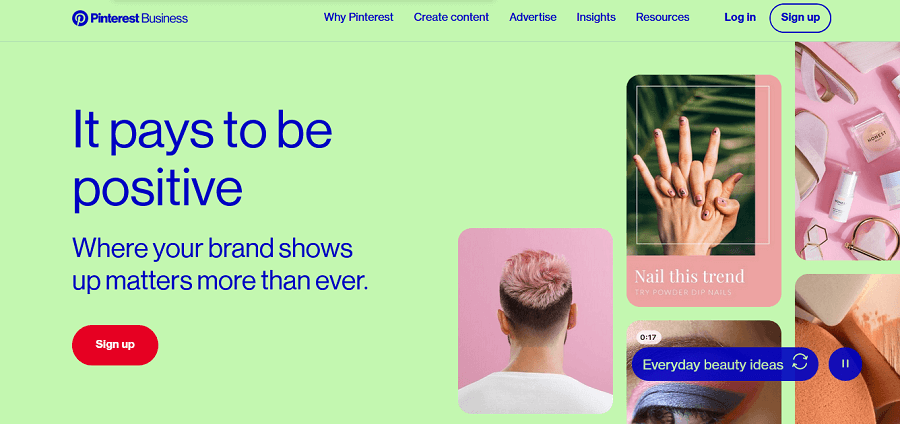 Create stunning imagery and descriptions to harness the full Pinterest power.
Pinterest is a great platform for fashion/jewelry/D.I.Y./design-oriented ventures. Or so it was a few years back. Now, Pinterest is an excellent social network to promote (mindfully) any business. Your marketing efforts here revolve around producing attractive, original photos or graphics to accompany your blog articles, how-to guides, tutorials, business stories, products, etc.
Pinterest is one of the largest and most popular traffic drivers across all social media networks and free promotion websites. However, make sure you only create quality images and write compelling descriptions.
7. Reddit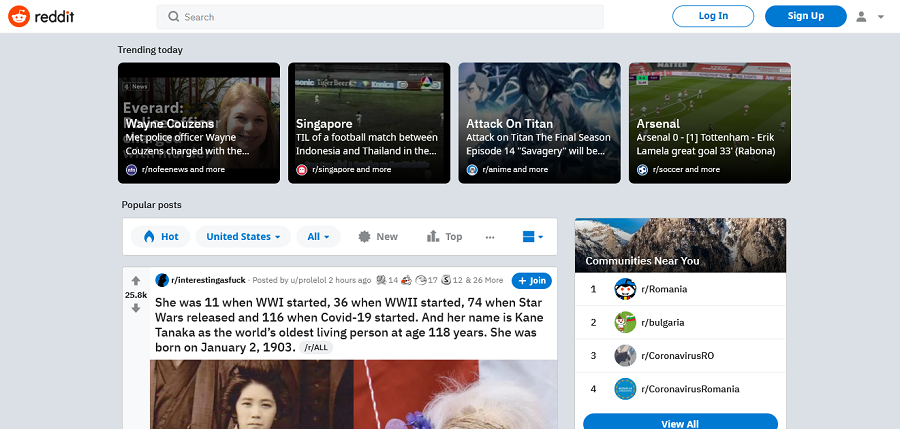 People on Reddit are hard to please, but you can use the platform for website promotion.
Something between a social media platform and a social news aggregator, Reddit can be an amazing way to promote your website. Keep in mind that it will not let you get away with guerilla marketing attempts. Don't let the high volume of links posted on this network fool you. Redditors are perhaps the toughest crowd on the Internet when it comes to marketing. This community doesn't allow shameless self-promotion, but they will give you valuable feedback. If you play your cards right, Reddit users can become your most loyal customers.
The platform works well if you don't give off the impression that you want to sell people something in particular. It is a good way to promote your blog, a portfolio, a news website, and so on. Spend time on Reddit and engage with the users. Just dropping a link and checking the reactions a week later is not a good way to approach the fiery pits of Reddit. Choose your subreddits wisely.
8. TikTok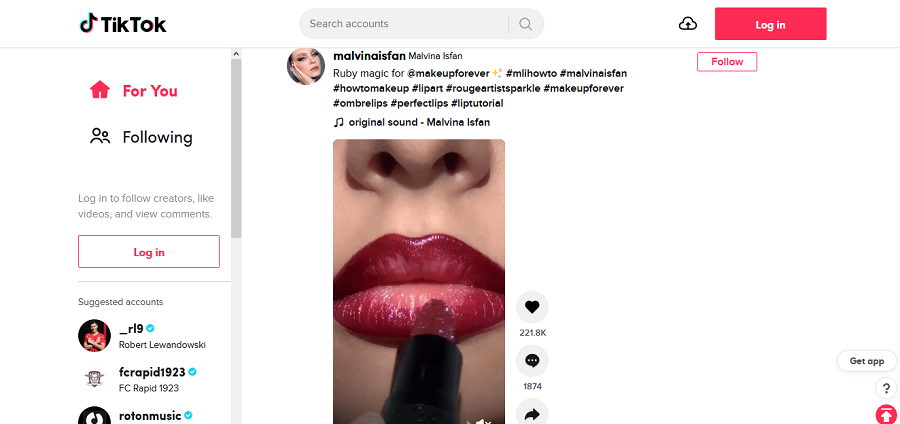 Use the power of TikTok to promote your website for free to a young, active audience.
Formerly known as musical.ly, TikTok is a short video sharing platform where users can incorporate funny videos and music to tell a short story.
Initially used by teenagers, TikTok now has a wide audience of adults who take advantage of the platform's promotion side. If you have a fun, whimsical brand image and a young audience, TikTok is among the best places to promote your website for free, engage your audience, and convert it into loyal customers. You can post how-to videos promoting the products you sell online, business stories, tutorials, and more.
9. AngelList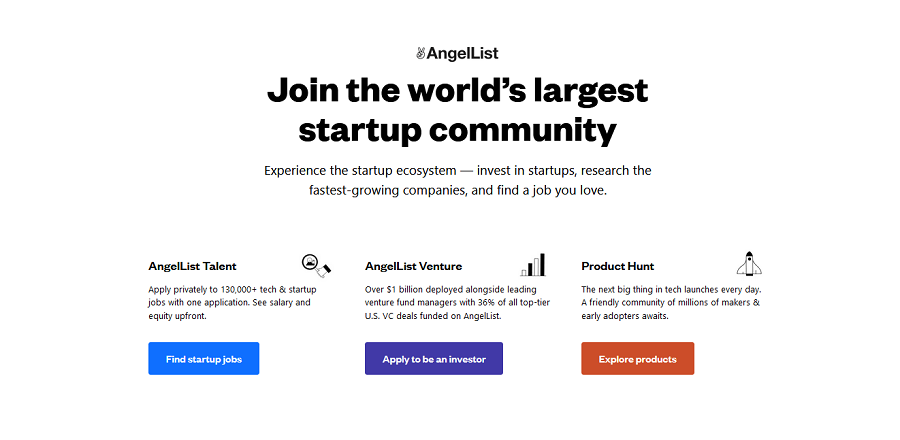 AngelList allows you to connect with potential investors and business partners.
Although the AngelList started as a platform for matching startups and investors that want to fund them, it has become a tech company database over the years. If you are in the entrepreneurship game, you have to create a profile on this platform. You should do it, especially if you want to gain angel funding or recruit talent for your startup.
10. We Heart It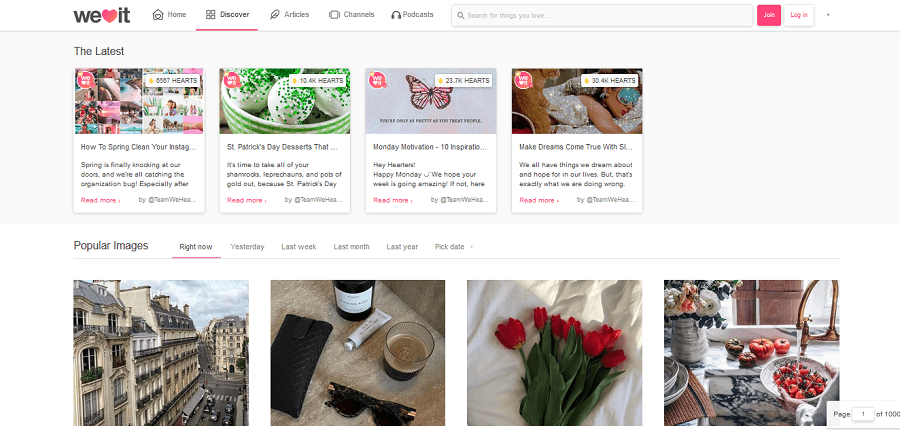 Post stunning visuals on We Heart It and get a loyal following.
Here is another image-based platform/social network and is a good choice for brands that rely on beautiful visuals. Users come to We Heart It in search of inspiration, so if you plan to utilize it, make sure your images are truly inspirational and not just your basic advertisements. It is a less known opportunity to promote your website for free, but use it nonetheless.
11. DailyMotion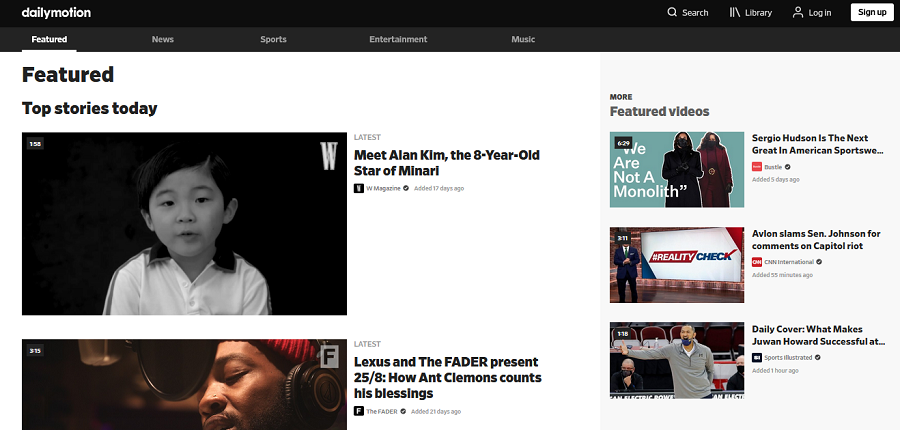 Create fun, catchy, and viral videos to stand out on DailyMotion.
Does your website rely on video materials and live streams? Then DailyMotion is one of the best promotion websites to use for free online advertising. If your company already has a few promotional videos, then you should create an account on this network.
DailyMotion has a strong community and millions of monthly visits. With this in mind, you might consider making some funny, engaging, or creative videos and make them go viral on this platform. You can start with the Free Starter Offer or pack and work your way to more complex features in the platform's portfolio.
12. Vimeo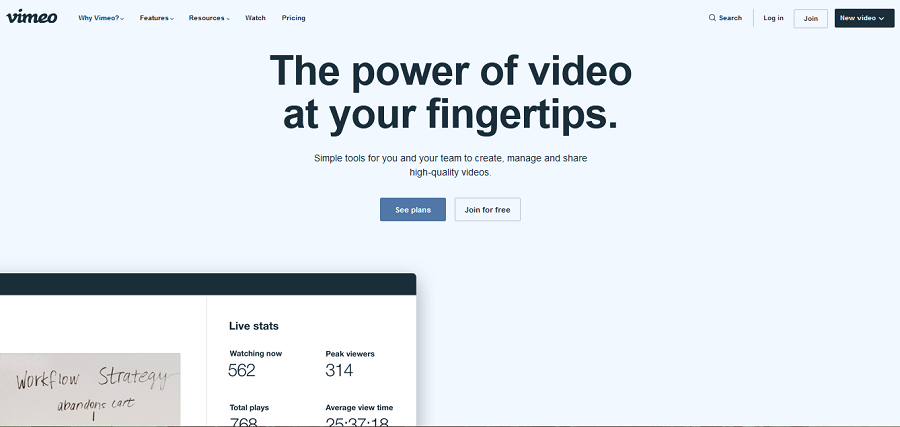 Use Vimeo's video-sharing platform to make your website and business famous.
Another video-sharing platform that you can use to boost your free website promotion efforts. Vimeo became popular because it was the first platform to support H.D. videos, and brands still use it today. From company presentations, product demonstrations, teasers, and user-generated content, the sky is the limit with Vimeo.
13. XING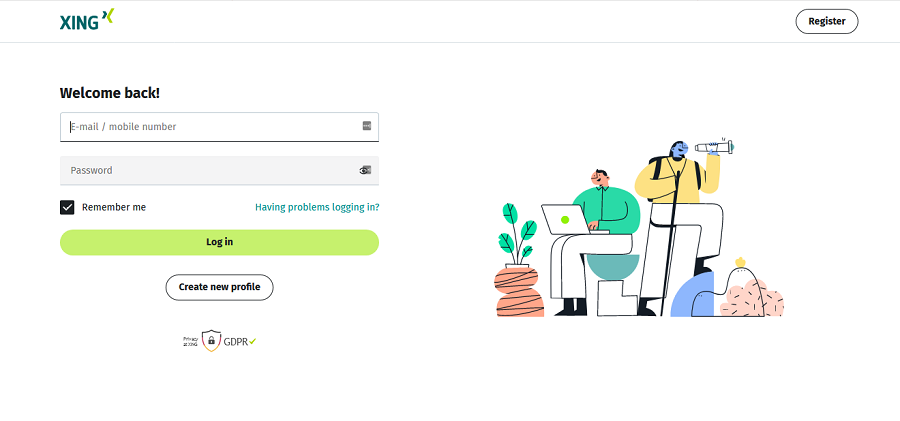 The German alternative to LinkedIn.
The last entry on our list of promotion websites in the shape of social media networks is XING, a Hamburg-based social network for professionals and businesses. XING is somewhat of a competitor to LinkedIn and can help set up your profile to drive traffic and business.
Start with the free membership and move on to the XING ProJobs and XING ProBusiness plans to take your business to the next level. With almost 15 million registered members, XING may allow you to connect with partners, customers, future employees, investors, etc., in ways other professional social networks do not.
If you have a website for your business but still don't have a blog, then you should consider starting one as soon as possible. Not only will your blog drive more people to your website, but you can also use the content you create to promote your site across multiple platforms. Remember, your content should always provide value to the readers to want to share it. Regardless of the subject of your articles, videos, or photos, social media platforms are always a good place to promote your website (content) for free.
> Don't you have a business blog yet? Start one now!
Press Release Promotion Websites
When something happens in your company that is newsworthy, publishing a press release is necessary. If you plan to distribute your press release for journalists to notice, you should keep in mind that it is better to write as a journalist yourself.
It means to keep self-promotion to a minimum. Concentrate on the facts and benefits for your users instead. When your press release is ready, you need to submit it to as many places as possible. That's where we come in. Here are the platforms that let you promote your website (news) for free!
1. PRLog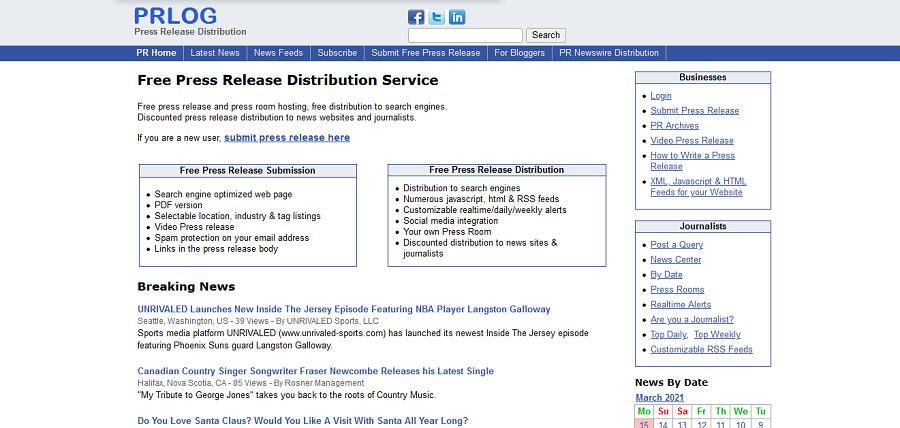 Submit your company's press releases for free on PRLog.
It is an easy-to-use platform where you can submit your press release for free if it is under 500 words. It is more than enough to get your point across and explain to the world what is new in your company. If your company released a new product, organizes an event, or has very important news to share, post your articles on PRLog and easily drive traffic to your website.
2. PR.com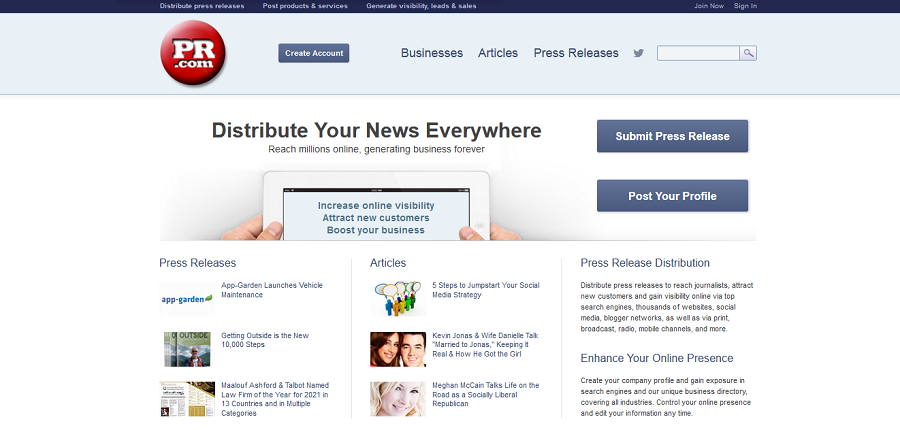 PR.com is a good platform to distribute press releases and drive traffic to your website.
Between the other promotion websites for distributing P.R. released and news, PR.com is an interesting hybrid. The platform refers to itself as "a cross between a public relations and advertising entity." PR.com is a good option for distributing press releases and building a name for your business.
With the free account, you can distribute press releases and submit job postings. If you grow your business enough to afford the Gold or Platinum memberships, you get a full business profile, directory listings, and more.
3. Newswiretoday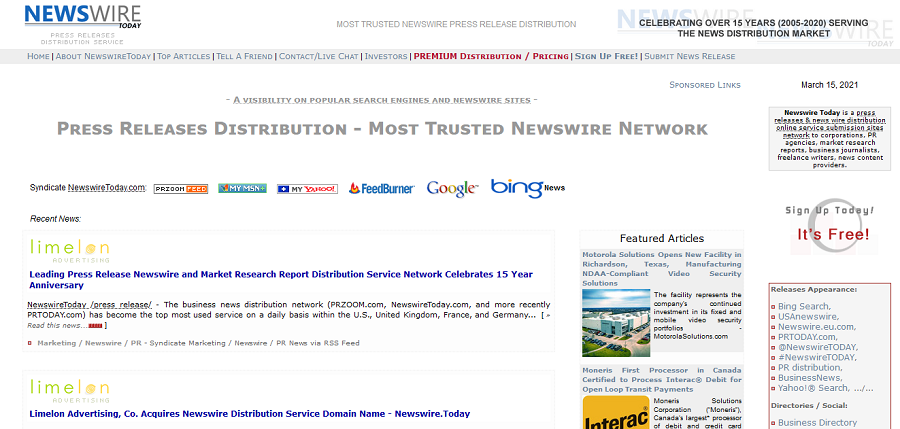 Be mindful about what you post on Twitter and gain a loyal following.
If you want the whole world to know what your company is up to, Newswiretoday might be a solution. This press releases aggregator's downside is that it will not offer you many features with the free plan. Other than this, Newswiretoday is one of the best-regarded P.R. platforms in the industry. You will enjoy the benefits of a solidly integrated network even with a free plan, although we recommend you budget the Site Launch Boost package.
When it comes to press release sites, online marketing experts and SEO specialists recommend you do not exaggerate using them. If you don't have news every week and a budget to make sure such news reaches the right people, your content will most likely get lost in the great Internet noise. Even if you use such promotion websites for your link development strategy, it is best to consult with an agency regarding the use of too many P.R. websites. Some links could do more damage than good.
Free Classified Ads Sites for Website Promotion
When you want to gain exposure, posting your company name and website on classified ads sites may be a good idea. It will improve your SEO efforts and market your business to potential customers and leads. We know, Craigslist gained a controversial (and scary) reputation online in recent times. Still, it doesn't mean you cannot harness the power of free classified ads for solid website promotion and free online advertising.
1. Locanto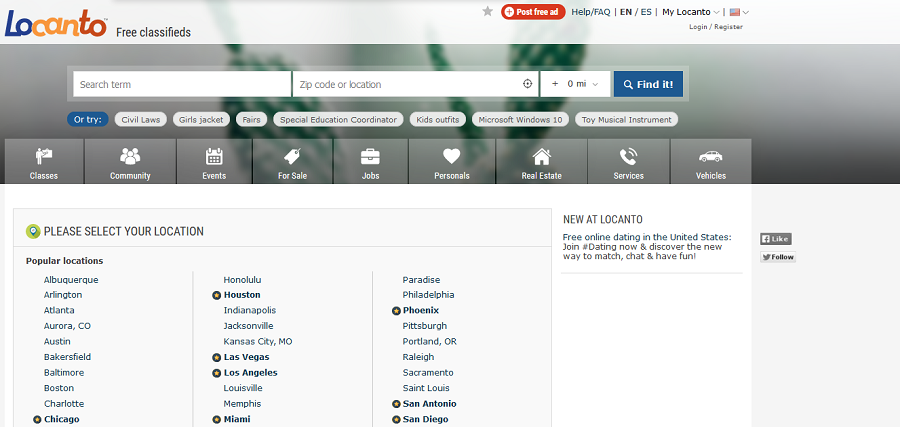 If you want to know how to promote your website, Locanto is one of the many answers.
Here is a worldwide online classifieds network whose ads are available in about sixty countries. The upside of using Locanto is that you get to have HTML code for your website, product/company pictures, and other links. The free ad stays on the website for sixty days. Among other benefits, Locanto comes with a decent internal search engine, minimal analytics to help you understand how your ad works, and social media sharing opportunities.
2. Facebook Marketplace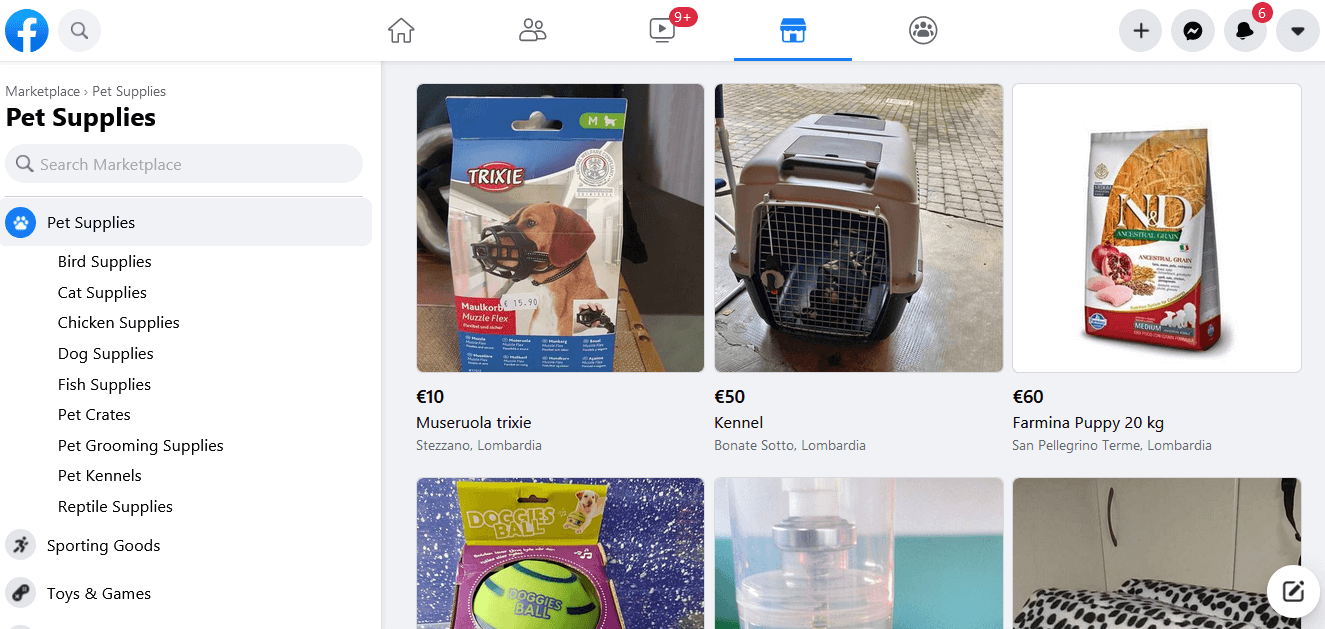 Use the full power of Facebook to promote your business.
While most ads on Facebook Marketplace come from individuals, you can post your company's ad as well. You will have more success chances if you pay for a sponsored ad.
However, if you are a beginner and don't have a hefty budget for a solid SMM strategy, you can start by placing ads on this marketplace and hoping to gain leads and customers. Make sure you edit your product/service descriptions well.
3. Geebo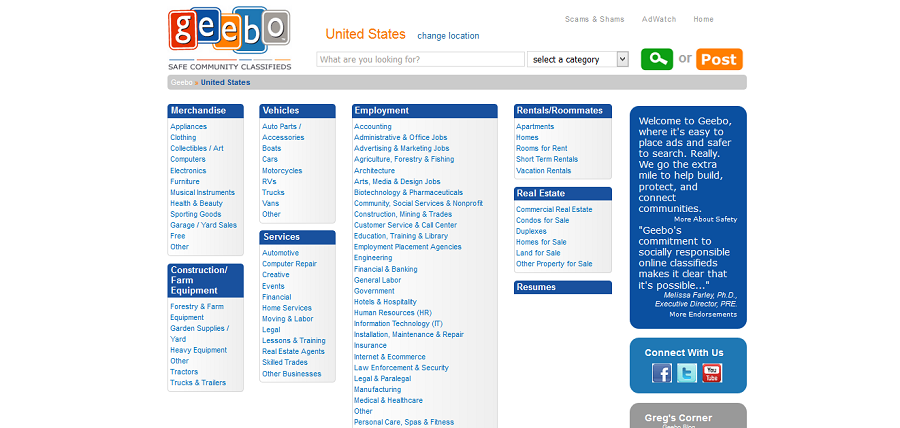 Geebo offers safety for all sellers and buyers.
Use Geebo to stand in front of potential customers, leads, and business partners while you also get a backlink to your website. Geebo's design is a bit outdated (but not too much). Otherwise, their selling point is their safety and cleanness. The classified ads site screens the ads, buyers, and sellers. For this reason, it will take some time before you see your ad online. On the other hand, by checking everything going on there, Geebo offers professionalism and safety to all users.
4. Ad Post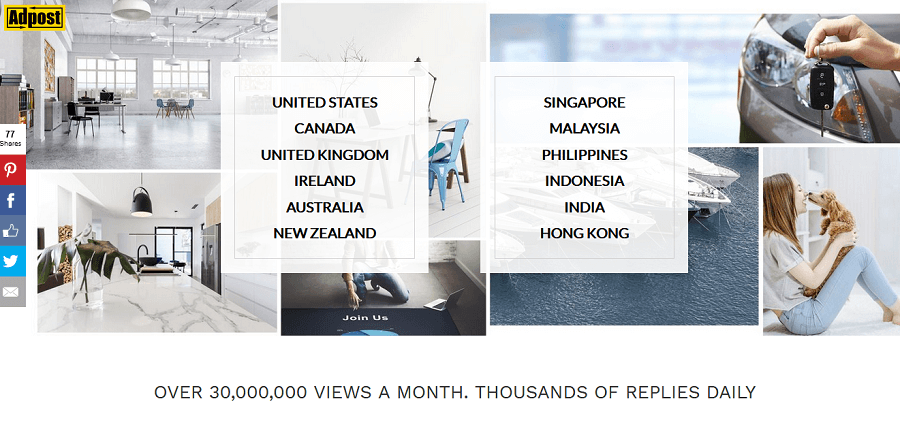 Don't skip Ad Post in your website promotion efforts! They have over 30 million users a month!
The downside of Ad Post is that you will not likely get a clickable link back to your website. If a user wants to reach your website, they will probably have to copy and paste the URL in their browser. The upside is that this classified ad site has about 30 million page views per month. Posting an ad is free here so that you could try it. Another great news is that you could go international with your ad, so it's worth a shot.
As a short conclusion, you can use free classified ad sites to promote your website and business. However, you should choose wisely the ads platform. Not many offer a backlink to your website. Moreover, your ad might get lost among thousands of ads posted by people and companies every day.
Promote Your Website via Content Aggregators and Content Management Platforms
In a competitive market, where tons of brands compete for user attention, fetching content can make a huge difference. Whether you post well-written blog articles, opinions, lists & tops, etc., you need to find places where you can share engaging and viral content with a larger audience. That's why we suggest you check out this list of places to promote your website for free via the written content you create.
Before you begin, keep in mind the following issues:
Some content platforms praise the irreproachable content quality and will not go for any S.E.O. scheme or shameless promotion;

Posting content on such aggregators does not mean instant traffic to your website or online visibility. You will have to try your best, especially if your content goes through a users' vote system;

Content curation and social bookmarking websites are incredible places to promote your website as long as you follow their rules to a capital T;

While having some backlinks on these websites is a good thing, your content might not reach that "hot" status you desire for it. People might not even see it. Do not despair. Polish your content writing skills until you create a piece that users will want to read and share.
So let's see a short rundown of promotion websites where you can subtly promote your business and naturally guide users towards your website.
1. Quora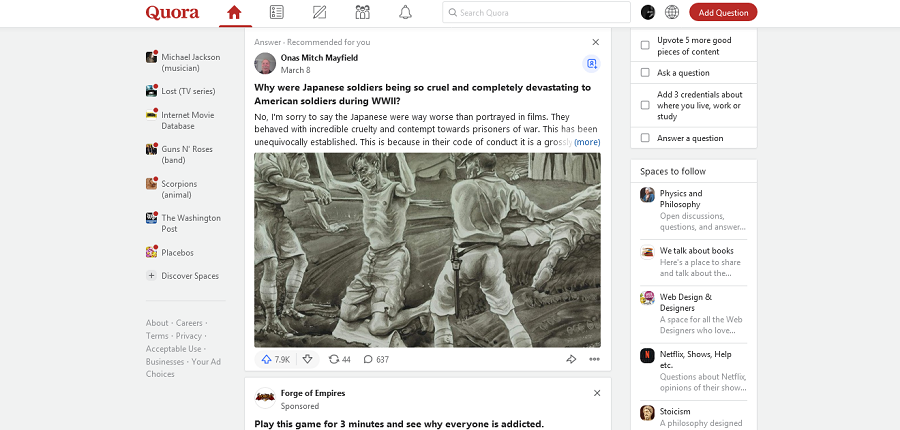 Quora users are a tough crowd, so don't use any shameless self-promotion technique for your website.
This platform encourages refined and intellectual discussions on a wide variety of topics. Dropping links in the conversation is a frowned-upon practice. However, the best way to approach website promotion on Quora is to build a solid, credible, and trustworthy presence. Creating a great network and becoming a reliable source of information is the best way to go about this platform.
2. Digg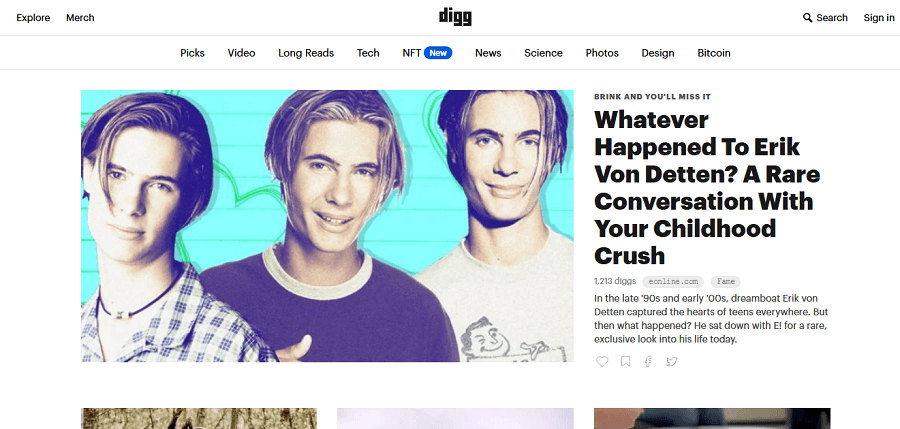 One of the largest news aggregators in the world, Digg uses readers' voting, so mind your content.
Digg is indeed a news aggregation platform featuring articles coming mostly from established news outlets, so getting your content on the front page might be difficult. The platform also works on a users' vote system, so if readers enjoy a piece, they will push it to the website's top.
It seems hard to make a name for your company or drive traffic to your website in this context. However, with millions of users digging articles on the platform, you should give yourself a chance.
As promotion websites go, Digg is one of the biggest and toughest to conquer. Build a solid content marketing strategy before you start dropping links there.
3. Medium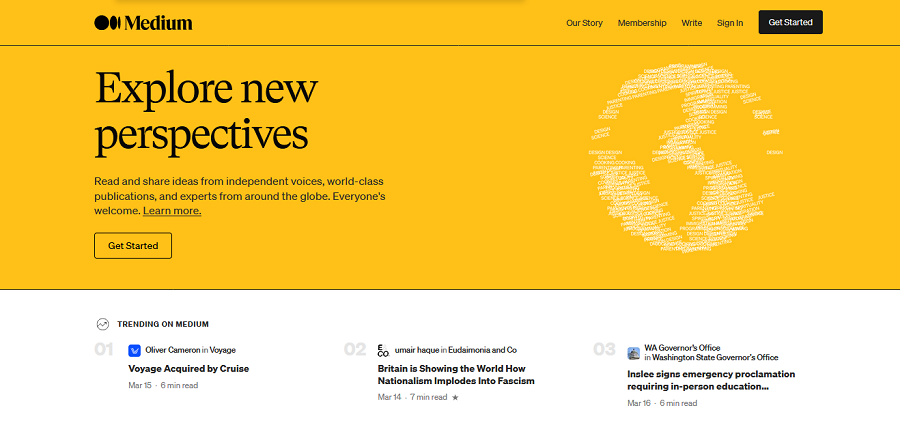 It is an honor to have engaging content published on Medium, so take your time with it.
For any content creator, publishing on Medium is a badge of honor. Among the many content aggregators and promotion websites, Medium stands out with high-quality pieces people love to share on social media. However, you need to write engaging, potentially viral, and useful articles to have a chance at this. On the other hand, if you write excellent pieces worth sharing, Medium is one of the best free places to promote links to your blog articles, shop, a branded landing page, etc.
4. Mix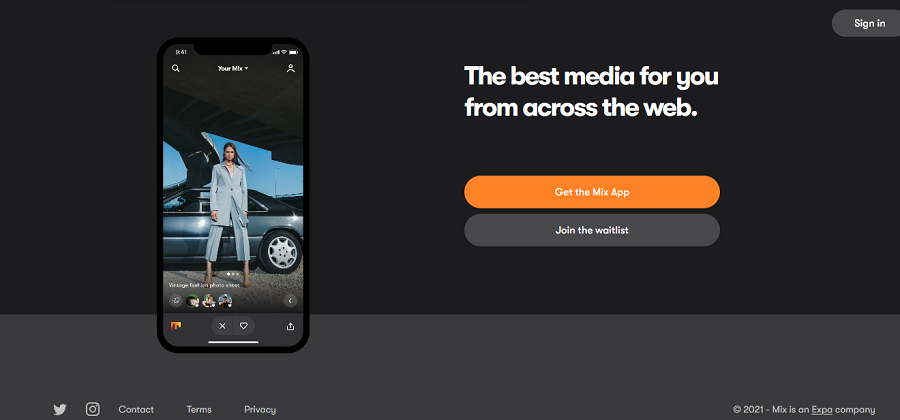 Mix is a content aggregator you could use to promote your content.
We all know Mix – it absorbed StumbleUpon together with its users. Now, the platform became the go-to choice for people who want to find commercial or entertainment content, music, articles, and so on. It is a great opportunity to promote your website for free and save content created by others to stimulate your imagination and boost your content marketing efforts.
5. Buzzfeed Community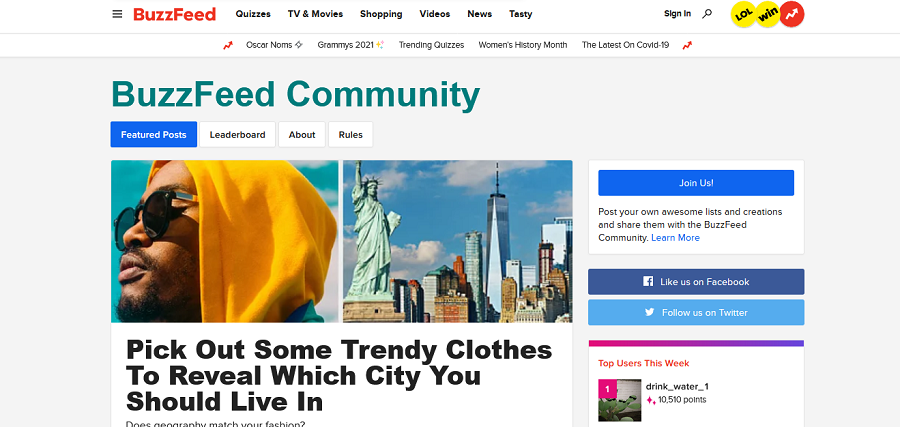 Buzzfeed Community relies on users' votes so make an effort to write outstanding content.
Having an article loved by the Buzzfeed Community enough to push it on their top pages is a dream come true for any content creator. Buzzfeed is a very tough crowd, and you will have to write many articles until you nail the perfect one. Check out the trends and see what readers like more. Understand how the platform chooses articles to display front and center. Write catchy content without even thinking about website promotion.
6. Scoop.it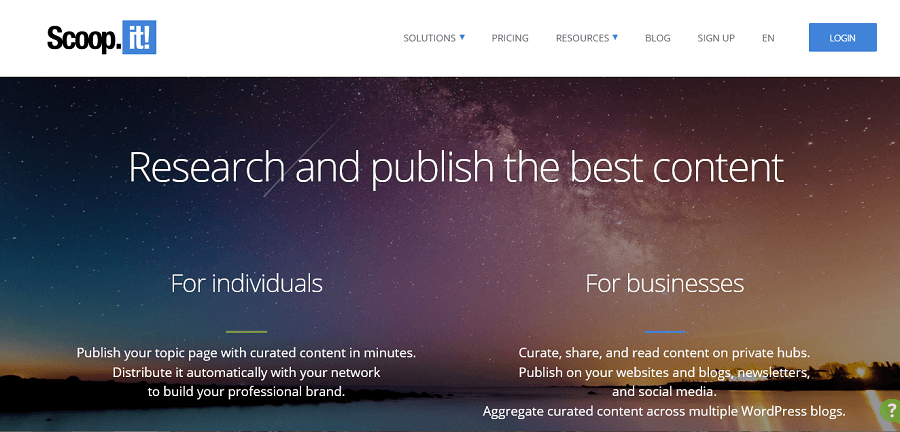 Scoop.it is a great opportunity for business promotion if you create great content.
What do you want more from a content curator, curated content, more content to publish on your blog, brand-building opportunities, influencer networking? Scoop.it is a great place if you want website promotion, rankings, traffic, and new business growth prospects. The free plan is to get you started. As you will acquire a budget and taste for the Scoop.it power, you will probably move on with the paid plans.
7. Flipboard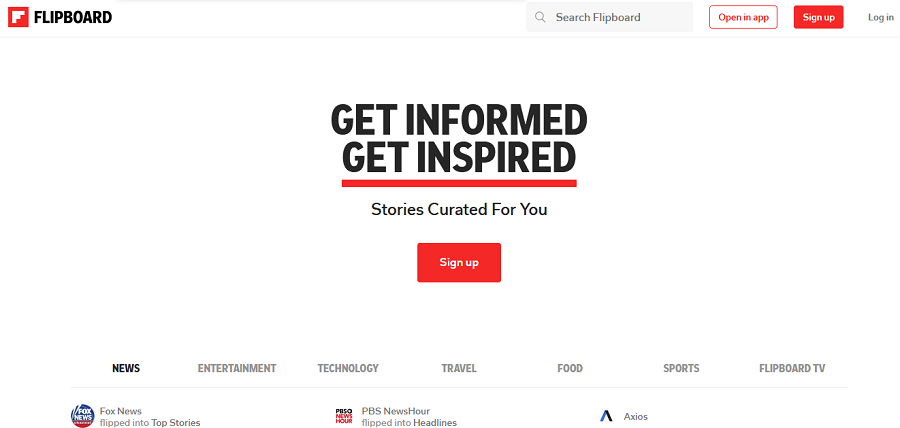 Another great content/news aggregator is Flipboard to promote your content.
Just like Digg, Flipboard is a content and news aggregator. As a business, you can take advantage of the platform's streamlined and smooth processes. If you want to become a publisher and promote your website by producing quality content, you will have to go through a series of verifications. Other than that, if all is well, you will see traffic coming from the platform.
Bottom Line
Now that you have gone through this list of free promotion websites and learned how to market your business across multiple platforms, the only thing left is to put in the work and create a strong online presence. Make sure the promotion websites you found are relevant to your business. Moreover, you should perform a thorough check of content aggregators and free classified ads sites to ensure backlinks from them do not hurt your website.
But now it's your time to tell us about your favorite promotion websites where you can showcase your business for free. Are you present on other directories than the ones we presented? Would you recommend our community additional content aggregators or free classified ad websites? We'd love to hear your suggestions and include other places to promote your website you know are valuable.
If you still don't have a business website or need a website makeover before you start promoting it, we have more good news. Create an eye-catching website with Ucraft by using our simple drag and drop website builder, designed with our users in mind. You don't need to have any coding skills, only inspiration and a few minutes of your time. Simply choose a predesigned template and start building a successful business website!
---
14-day free trial. No credit card required.