Everyone wants to drive viewers to their sites and tell their stories, but how do you get them there? SEO, ads, luck? Many would argue that the goal of SEO and paid advertising is to get more visitors to a site, and the most critical way to increase your site traffic is by using keywords. Read on to learn how to do keyword research, and how keywords can help boost your site's performance on search engines, all within your budget.

Here's to getting higher up in search results and sourcing qualified leads!

 
First of all, what are keywords?

Keywords are exactly what their name suggests - words or phrases that are used to match your content with the terms people are searching for. For example, when we go to Google and type in something like "buy leather bags online" or "best burger bar in Chicago", those are the examples of keywords. They can be a single word like "dating" or a phrase like "dating site uk". You should do keyword research to find your keywords and include them in the content of your website in order to start getting impressions and traffic from search engines.
Who needs keywords? Everyone who owns a website!
Before digging deeper into keywords and Google keyword research, we suggest you watch this short video that features tips on how to choose the right keywords in Adwords.
All businesses looking to draw traffic to their website can benefit from keywords, and anyone running paid search engine ads definitely needs to be aware of their keywords. Even websites that have a very specific niche and/or are not frequently visited need to have keywords that serve their purpose. If you can't figure out what a site is about once you're on it, that's clearly a bad sign! Search engines read your content and extract keywords out of it. They use keywords to categorize websites, decide how high up in results certain sites will show up as well as which ads will be displayed on the SERP. In addition, search engines also decide if a site will show up at all.
How to choose the right keywords?

The broader a keyword is, the more people are likely to use it. BUT WAIT! While this may seem like something that would draw a lot of eyes to your site, there is also a bunch of sites using that keyword, and this can result in your site getting lost in the masses and being seen by people who aren't looking for the thing(s) you are offering.

While Google has amazing tools for scanning your site and finding suggested keywords, starting off by simply writing a list of keywords from generic to more and more specific can help you visualize your prospective keywords. Put yourself in the shoes of someone going to a search engine and try to figure out what type of phrases they typically look for, what combination of words makes the most sense, etc.
Don't guess keywords, discover them easily!

There are plenty of great tools that will give you a clear picture of what people search to find a service similar to the one you provide!
What is Google Keyword Planner?

This is a great keyword research tool brought to you by the pros at Google. The tool scans the web and suggests both simple and specific keywords that are best suited for you. It also provides you with statistics on the number of times people have searched for each keyword as well as keyword suggestions. Moreover, the tool gives you data and insights about cost-per-click and changes that may occur to that price so that you can plan your budget. Since it nearly automates the entire process, digital marketers and small business owners should try it out.
Discovering the best keywords for your business!

Let's say you have a burger bar in Chicago and a website that showcases your burger bar, the menu and your location on the map. Now you want people to find you on Google and visit your restaurant.
*Note, that it's crucial to include the word Chicago in your keywords, as you want local searchers to find you!

I have added "burger bar in Chicago" to the Keyword Planner Tool, as I think that's the most relevant keyword to my business.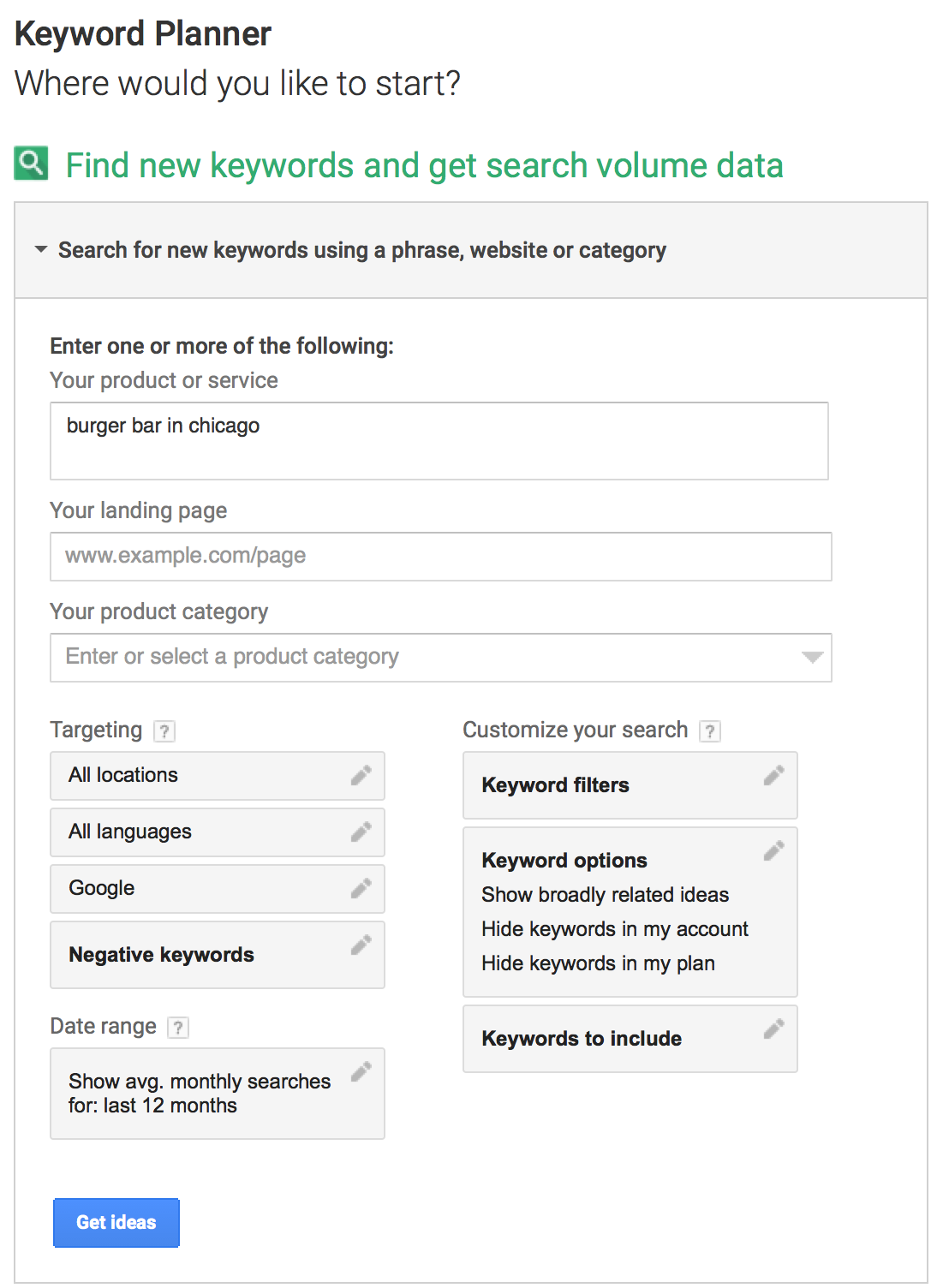 Now, let's analyze the results provided by Google.

According to the results, we didn't choose the best keyword, as it has a very low monthly search volume (10 - 100), but Google Keyword Planner is smart enough to suggest keywords similar to the one I have added initially.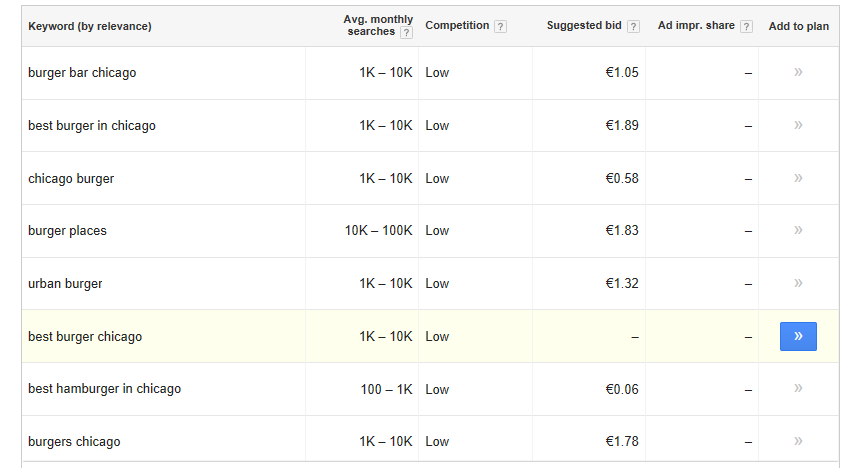 Let's analyze relevant keywords one by one:
"burger bar Chicago" is relevant to our business, it gets 1K - 10K monthly searches and has low competition level, so we might want to add this to our basket of keywords.
"best burger in Chicago" is also relevant to our business and has an average monthly search volume of 1K - 10K and low competition level, so we might want to go with that as well.

 
How and where to use keywords?
 
"chicago burger" is also relevant with its 1K - 10K monthly searches and low competition, so we should add it to our list of keywords.
"burger places" is relevant too and has a high monthly search volume (10K - 100K) and low competition level, but since it's a very broad search term and doesn't target people in Chicago, we might NOT want to use it.
"urban burger" isn't relevant to us, so we won't be using it.
"best burger chicago" is relevant, has 1K - 10K monthly searches and low competition, but I would rather use "best burger in Chicago" instead.
"best hamburger in chicago" seems to be relevant due to its search volume of around 1K and low competition, but I don't want to add this to the basket because we sell burgers, not hamburgers.


 
Take notes with pen & paper or start a new Google Sheet
Now that we know which keywords will work for us, we might want to save this for later use. Let's write those keywords down on a piece of paper or in a Google Sheet. Don't forget to write down the number of monthly searches and competition level. A piece of paper is better if you want to run a brainstorming session with your team, whereas Google Sheets is great for later use because you can later add other keywords for your secondary pages (e.g. 'Menu' or 'Location').
 
Long-tail keywords vs. short-tail keywords

The more specific your keywords are, the easier it will be to rank well for them, which in turn means that searchers will find your site. These specific search phrases are called long-tail keywords, whereas those that are generic (i.e. less specific) are known as short-tail keywords. Let's take a look at an example.

"Burger bar" is very generic, there are countless results for this search query. On the other hand, "burger bar in chicago" is a lot more specific. Of course, there are even more specific keywords than those shown in the latter example, but you get the gist. When it comes to short-tail keywords, you also need to know that they are more competitive, as everyone wants to rank for them. By using long-tail keywords, you'll attract qualified leads, those you're looking for. That said, filling a specific niche is a lot better than fitting into a broad and competitive category. Take us for example. You may have found this blog post by searching for "what are keywords" rather than "keyword". Hopefully, this is the type of content you have been looking to find.
After conducting keyword research and deciding which keywords might work for you, you need to use them on your website. There are several places within one page where you should include your keywords.
Page Title: The page title, also known as a title tag, is written in the source code of the page like this – < title >The title of the page that contains your main keyword< /title >. The page title appears in your browser tab and on the search engine results page, aka SERP. You definitely need to include your main keyword here, but make sure this keyword isn't the only word in the title and add some additional text to make it human-friendly.
URL: The web address for your page (e.g. www.ucraft.com/blog/what-are-keywords-seo-ads-luck) is a great place to include keywords, as it's both search and human friendly. Let's take two made-up URLs as an example. If we compare mysite.com/blog/?p=364492 with mysite.com/blog/top-places-to-visit-this-summer, we can conclude that the former URL makes no sense.
H1 Tag, aka Heading Tag: This is the headline of your page that tells your visitors what the page is about. Keep in mind that your H1 tag should include your main keyword. In addition, it should be eye-catching and bigger than the surrounding text.
Page content: This is the entire content within your website that tells your story and shows the benefits as well as features that make your business unique. Needless to say, this is the right place for your keywords to shine. However, you need to make sure you don't go overboard, as keyword stuffing is one of the many deadly sins of SEO.
Image Tag: This is often not visible on your page and is hidden in your html. It is bound to the images used on the page and tells the search engines what those images are about. (e.g. < img class='article-img' loading='lazy' src="file-name-including-keyword.jpg" title="Title of the image including the keyword" alt="Description of the image including the keyword">).
Meta Description: A meta description is a tag in HTML that summarizes a page's content. This 160 character snippet gives search engines and their users a short description of what the website is about. Make sure you have different meta descriptions for each page that include your keywords.
 
Wrap-Up

Now that we know what keywords are and how to use them, let's go over some of the key points again:
Define your keywords first and then create a piece of content
Use keyword research tools to find your keywords
Look for long-tail keywords with low competition level and include them in your content to help people and search engines better understand your website, product or service
Don't target broad keywords with high competition level
Include your keywords in the Title Tag, URL, H1 Tag, Meta Description, Main Content and Image Tags.
When using Ucraft, you will be able to optimize your website and make it search engine friendly, but before you go and do that you first need to master the basic SEO terms. There is no better place to start than with keywords.

Best of luck!