Let's face it: the best way to bring your business ideas to life is with a website. But the world wide web is a pretty saturated place at this point, and you are unlikely to win over your customers if your website isn't optimized, attractive, navigable, or lacks direction.
We've compiled a few ideas you can use to create a winning website alongside some of the best templates to get you started.
1. Affiliate Website Ideas
An affiliate website is a platform that promotes products or services from other companies and earns a commission on each sale made through the website. This type of website is ideal for individuals that want to earn money from blogging or writing. There are many different types of affiliate websites, including review websites, comparison websites, and niche-specific websites.
When it comes to affiliate websites, the more users you end up converting, the more commissions you earn from the business you're representing. It's essential to keep your design simple and clean to instantly draw attention to the links and products you are promoting. Ensure your affiliate links are easy to find and clearly labeled, and always use high-quality images to showcase products.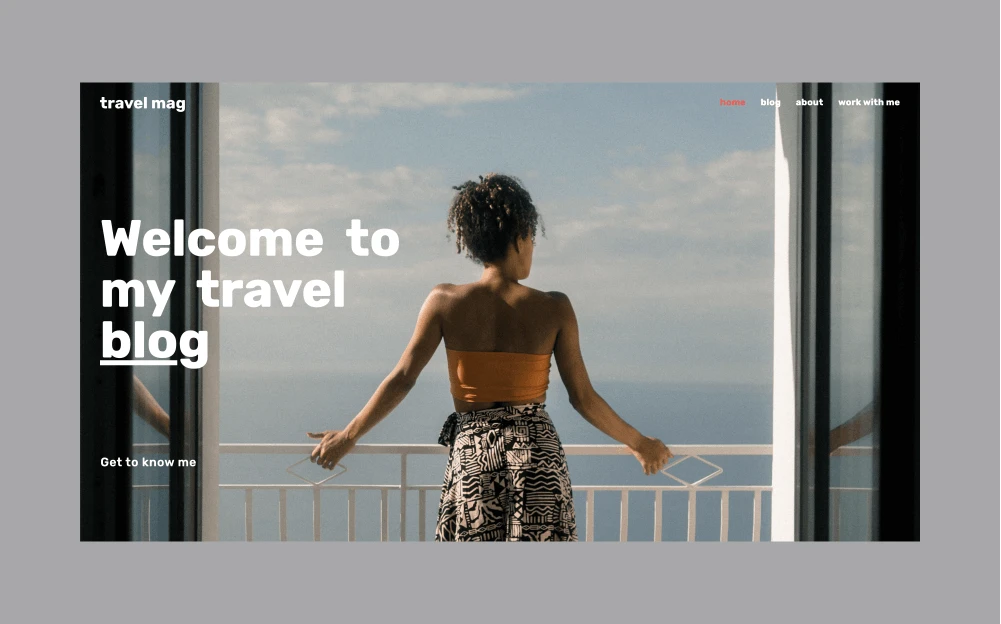 We love the layout of this travel template site. It showcases the latest articles with beautiful imagery but includes compelling headlines linking to the archive that might draw readers in. This maximizes your odds of converting readers to shoppers because they are presented with plenty of articles and options.
2. Educational Website Ideas
An educational website is an online hub that offers educational resources and courses to its users. This type of website is ideal for individuals or businesses looking to share knowledge and expertise with others. You can use your site to inform viewers on various topics, from cooking and gardening to programming and business.
To create an educational website, you will need to choose a topic that you are knowledgeable about and create informative content around that topic. You can create courses, tutorials, or blog posts that provide valuable information to your users.
Keep in mind that educational sites have to be very practical. Use a clear and organized layout to make it easy for users to find information and a consistent color scheme and typography to create a cohesive look. You should also ensure the site is accessible and easy to navigate for users with disabilities.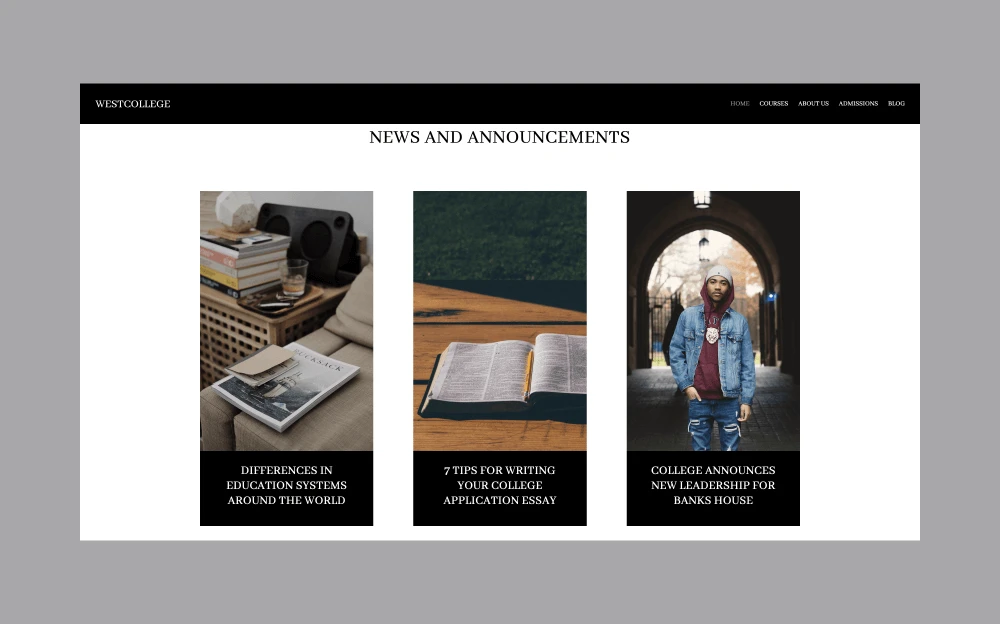 The West College template is an excellent example of these design principles in practice. Images and text are used sparingly, with a simple navigation pane, so students can find what they are looking for upon landing. The Kids Club template targets younger students and incorporates fun imagery, animation, and videos to convey a brand message and engage parents from the start.
3. eCommerce Website Ideas
An eCommerce website enables users to buy and sell products or services online. This type of website is ideal for businesses that want to sell physical or digital products and services to a broader audience. eCommerce websites can be used to sell a wide range of products, from physical goods like clothing and electronics to digital products like software and ebooks.
eCommerce is all about showcasing products, so make sure that you use high-quality product images, videos, and detailed product descriptions to convince website visitors to make a purchase. Your checkout process should be simple and easy to use, and you definitely need to include a search bar and filtering options so that people can find what they are looking for.

The Shop Goods template is an excellent example of a clear and clean eCommerce site. Items are showcased beautifully and easy to shop for using filters for price, listings, and recommended products so that customers can browse at their leisure or hone in on the exact item they want.
4. Photography Site Ideas
A photography website or portfolio presents your work as a photographer. This type of website is ideal for photographers looking to showcase their portfolio, from wedding and portrait photography to landscape and wildlife photography.
You aren't going to get hired if your website doesn't do your work justice, so make sure to pick a design that puts your best foot forward. A simple and minimalist design will make your images stand out, while sparing use of background elements and text will emphasize your work. Make sure to use a gallery layout so potential customers can scroll through various options and a simple navigation pane to learn more about your background, specialty, and experience.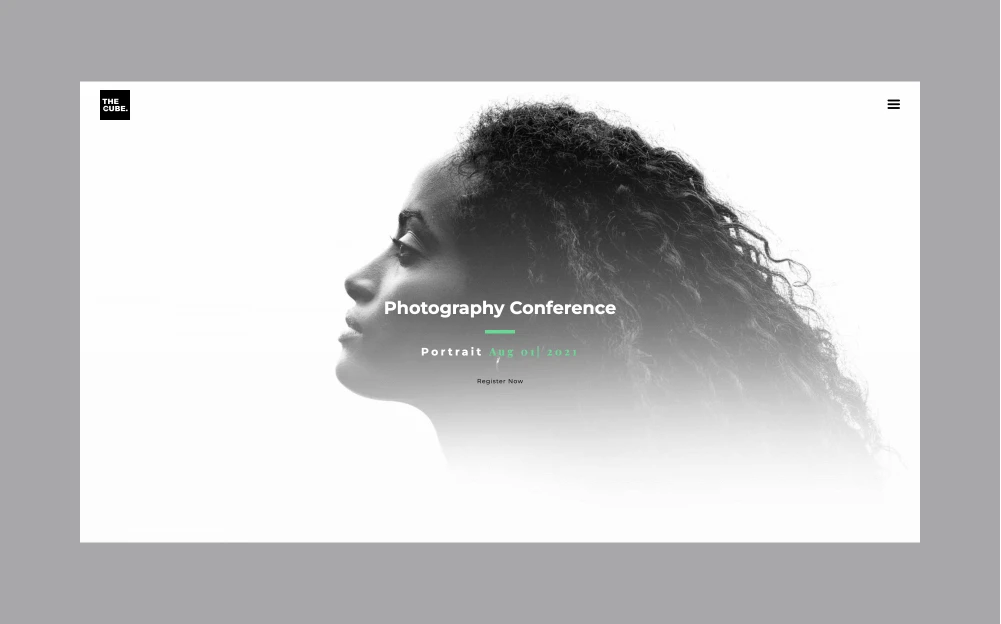 Always choose a website builder that uses responsive design so that your images look great on all devices. Remember, customers will judge you on the merits of your whole website, not just the photos themselves.
5. Portfolio Site Ideas
A portfolio website showcases the work of a creative professional, such as a graphic designer, writer, or artist (or photographer, as briefly mentioned above). This type of website is ideal for individuals looking to showcase their work and attract new clients.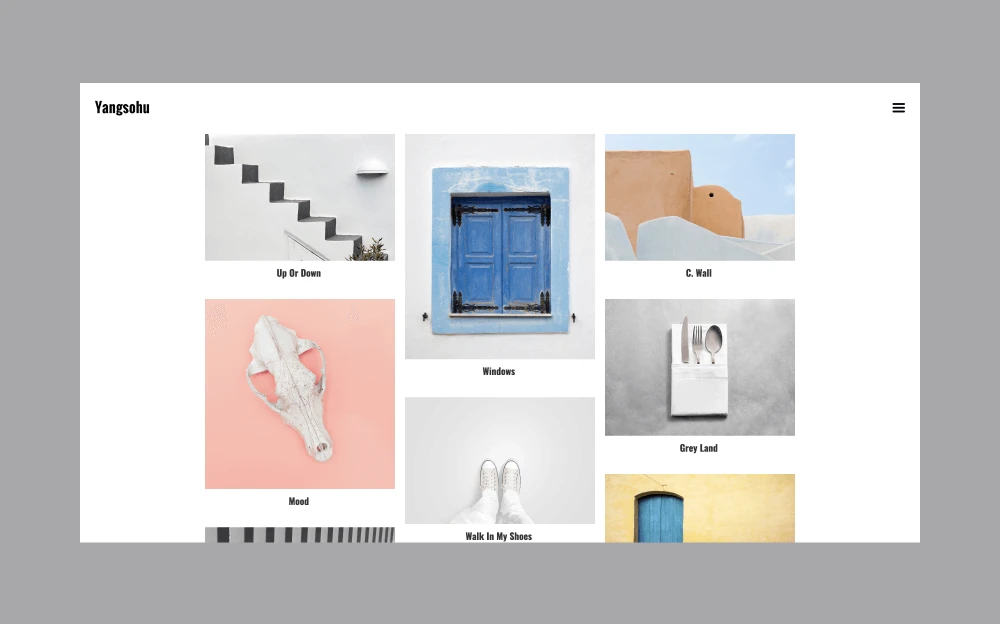 Again, you want to make an instant impression. It helps to use a grid or masonry layout so that visitors can scroll through a few items in a short amount of time. It goes without saying that you should use high-quality images and videos, but don't forget to include information about the portfolio items, like project goals and outcomes.
6. Restaurant Website Ideas
A restaurant website provides information about a restaurant or cafe, showcasing the menu, location, and hours of operation. This type of website is ideal for restaurants looking to attract new customers and provide information to their existing customers. Restaurant websites can also be used to take online reservations or orders for delivery or pickup.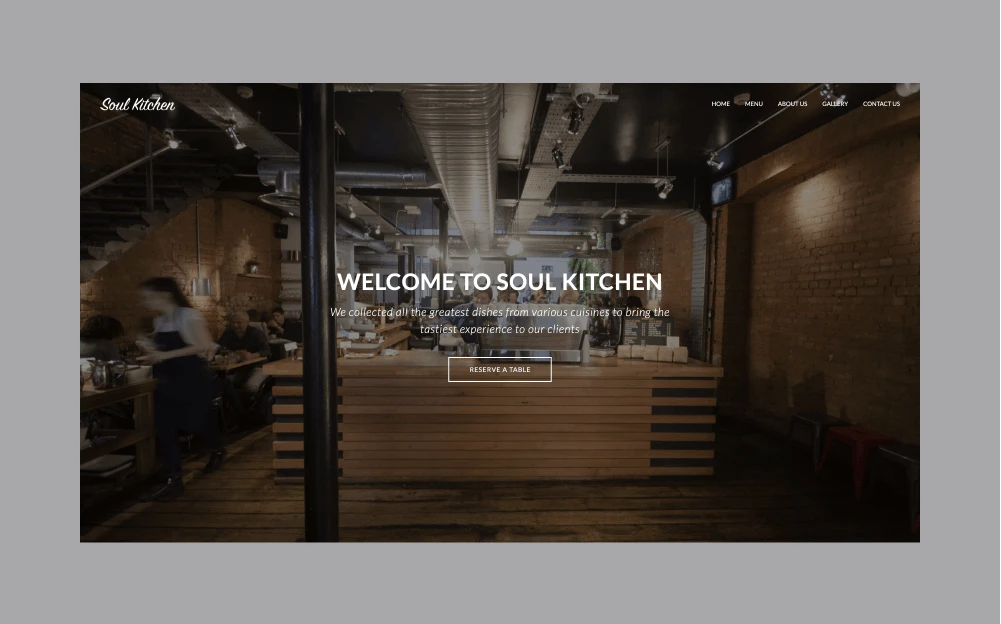 To create a restaurant website, you will need to create a menu and provide information about your establishment, such as its location, hours of operation, and contact information. Your restaurant should also tell a story about the type of establishment you are running and what the ambiance will be like. Is it a higher-end romantic eatery or a casual pizza joint? It's a good idea to manage expectations from the start, so use photos from the actual restaurant and include your menu. If you can cater to vegans, families, or people with dietary restrictions, mention it upfront - it can serve as a good competitive advantage.
7. Fashion Website Ideas
A fashion website showcases the latest fashion trends and products. This type of website is ideal for fashion designers, retailers, and bloggers looking to showcase their products or provide information about the latest fashion trends. Fashion websites can be used to sell clothing, accessories, or beauty products.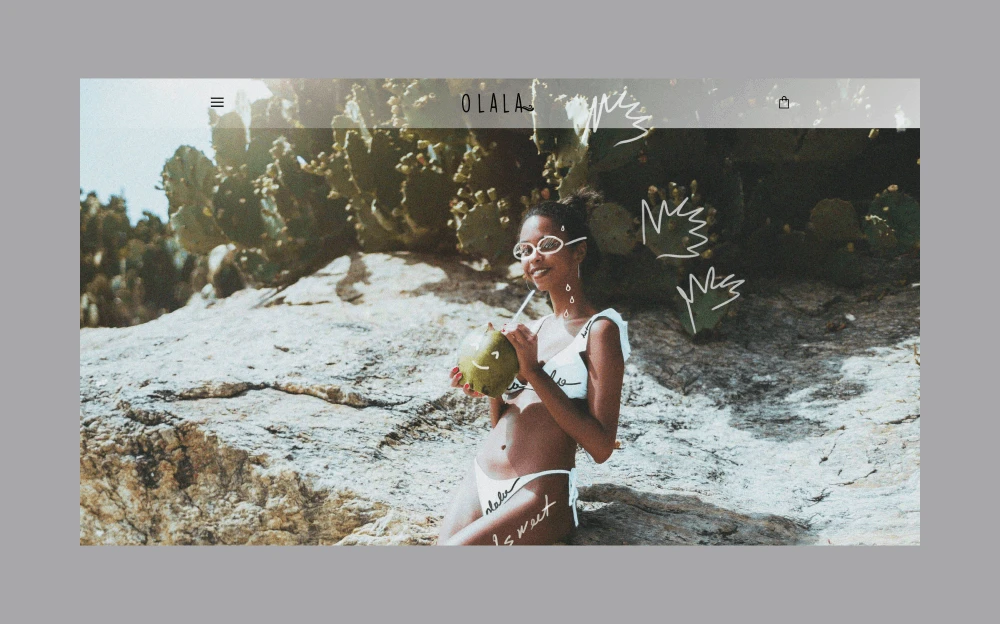 Fashion is all about branding and image, so think of ways to send a message throughout the site. The Olala swimwear template is a great example. They use the interesting squiggles and doodles found on swimwear to create an interesting visual effect on the site that tells a story about the playful, carefree nature of the brand. The El Paso design uses a visual overlay to showcase the variety of colors and prints in their shoe store. Whatever you do with your fashion site, make sure that you make a bold statement from the start to keep shoppers engaged.
8. Event Website Ideas
An event website provides information about upcoming events, such as concerts, festivals, or conferences. This type of website is ideal for event organizers looking to promote their events and attract attendees. Events websites can also be used to sell tickets or provide information about the event's location, schedule, and speakers or artists.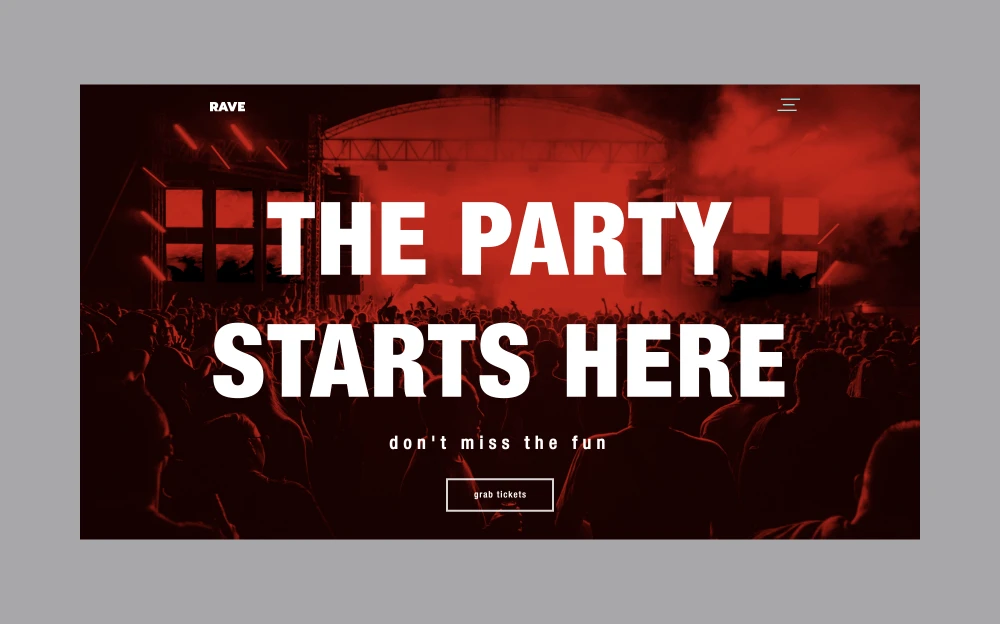 The Rave is a great template to use. It uses bold call-outs, animations, and visual effects that create a compelling club ambiance. The Jungle Band template is an excellent example of a self-promotional event site that bands or other performers may use to inform fans of new tour dates while communicating more information about their brand and personality.
9. Small Business/Agency Website Ideas
A small business agency website offers services to other businesses, such as web design, marketing, or consulting. This type of website is ideal for individuals or small businesses looking to offer their services to other businesses. Small business agency websites can also be used to showcase previous work or provide information about their services.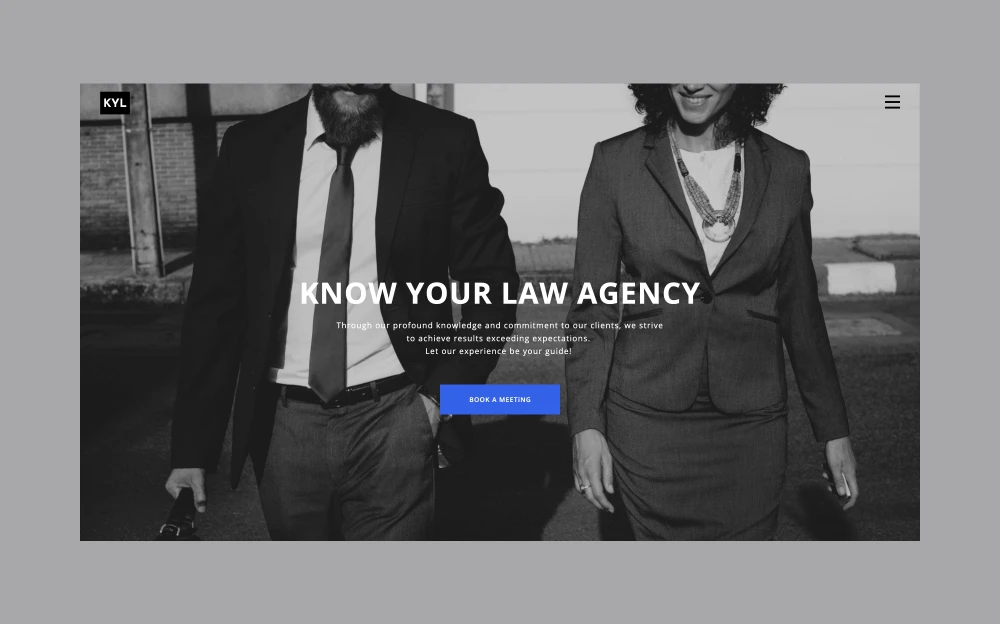 The nature of your business should dictate the design and branding you use. If your business is highly visual (e.g., graphic design business, ad agency, architecture firm, interior design), your chosen template should reflect your work. A consultancy or service-based company should use a template that tells a story with its images and copy and directly address customer pain points.
10. Blog Website Ideas
A blog website presents information regarding a particular topic, such as health and fitness, travel, or personal finance. Blogs can be used to provide tips, tutorials, or news on a wide range of topics.
With any blog, you want to encourage social sharing and interaction. You should also make your content easy to find and tell a brand story with the images, font, and style you use.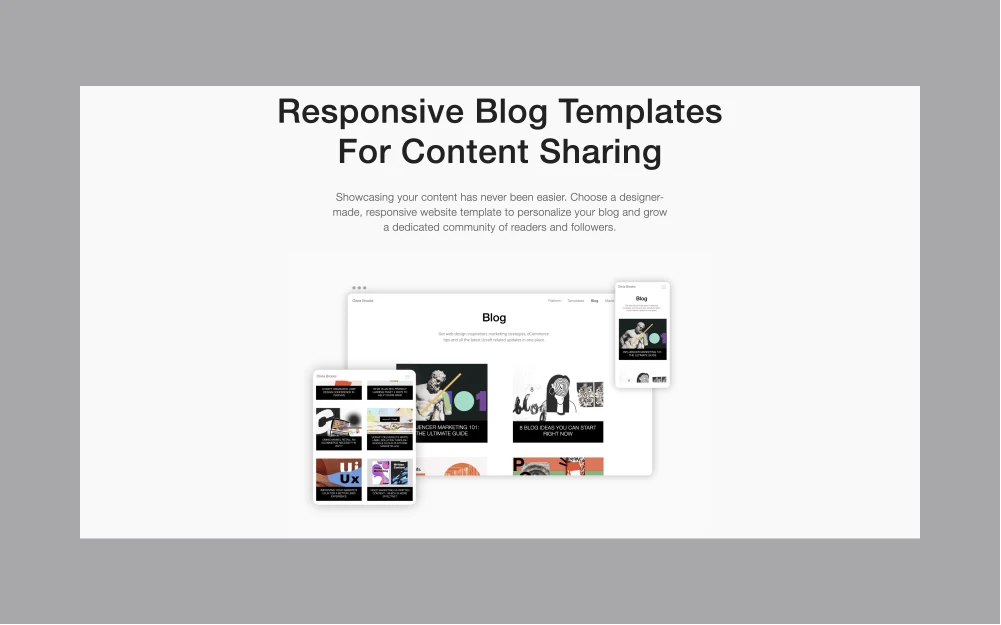 There are a host of great blogging templates to choose from, but a few of our favorites include:
• Tene: A sophisticated photography blog template that uses white space and features to showcase your work.
• M Fluence: A social media marketing blog template that pulls content from various social sites and uses digital brand language to set the tone.
• Claire de Lune: A dreamy lifestyle blog that uses high-quality images and sparse copy, creating a spa-like atmosphere.
Ensure that your chosen design matches your copy's content and tone.
11. Health & Care Website Ideas
A health and care website informs its audience about health and wellness. This type of website is ideal for healthcare professionals, wellness coaches, or bloggers looking to provide information on healthy living, fitness, or mental health. Health and care websites can also be used to sell health products or services.
It's helpful to keep in mind that such sites should be authoritative and foster a sense of trust. You can achieve this effect with the images you use, the copy, and the layout. Try to use animation and illustration sparingly. Tips should be easy to find, with a search bar that helps users find specific medical or beauty information.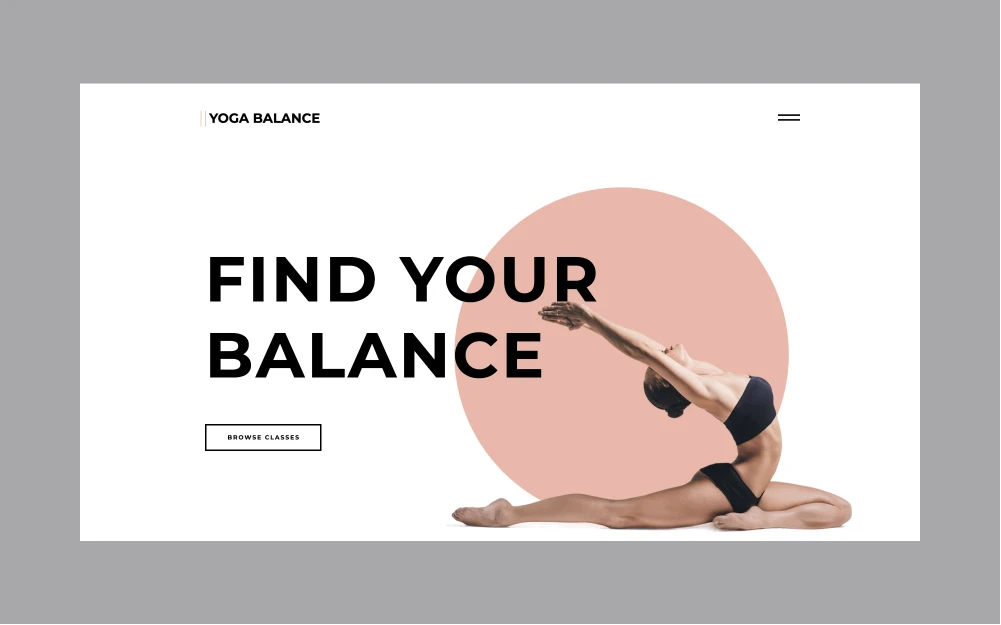 Yoga Balance is a great example of a site that clearly communicates what it is about and points users in the right direction with minimal copy and understated imagery.


Final Thoughts
Your website will set the tone for your business and showcase your products or services to your target audience from the start. But the good news is you don't have to spend thousands on web design, since a professional website builder (such as Ucraft) will provide all of the functionality (and style) you need to get your message across in an effective way. Ucraft has a wide variety of industry-specific customizable templates to choose from, ensuring that your business stands out from the crowd.