You've covered all the basics. Your eCommerce store is mobile-optimized, the user experience is seamless, shipping costs are brought down to the minimum, you've got plenty of payment options, customer data is collected and put to good use, you've made sure there's sufficient demand for your products, your marketing strategy is in place and you've read every "Common eCommerce Mistakes" article in existence. In short, you seem to be doing everything right, and yet, your store isn't doing all that great.
Well, here are 6 reasons why that could be happening.
1. You don't use real-life images
In the world of eCommerce, the image is the product. You might think you're selling toys, laptops, or conference tickets, but what you're really selling are images on your website. Images are what your customers are buying, or in the case of failing stores, not buying.
The importance of quality imagery, both in terms of making your offering more attractive and ensuring the consistency of your visual branding, is probably not news to you. What might be news, or at the very least, what seems to be not quite understood by many of your peers, is that product photos are absolutely not enough, no matter how well-executed.
Customers are expecting more than still images of your product against a neutral background. And when we say expecting, we mean that a lot of them would rather click away to another store than click on "Add to Cart".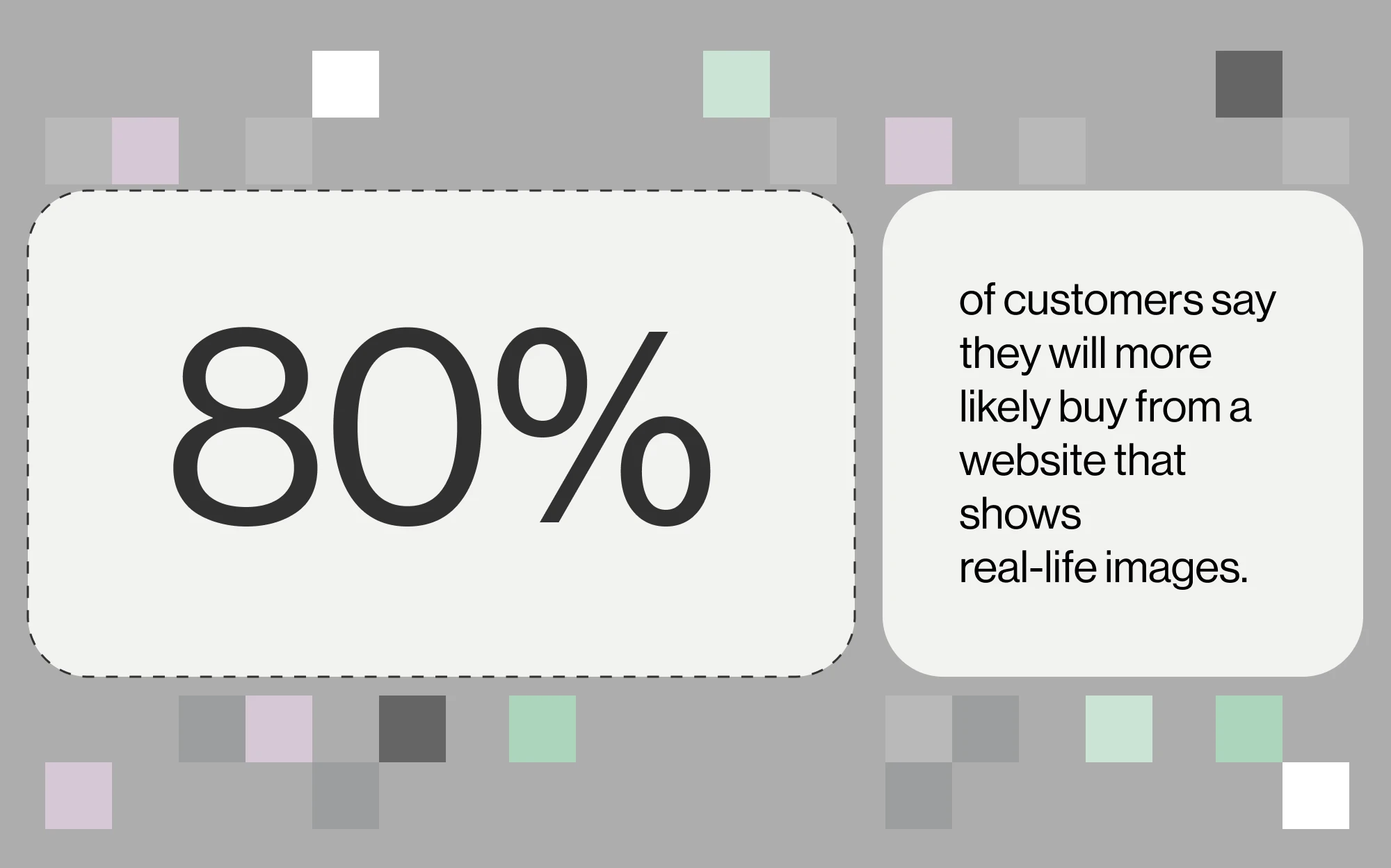 Source: Digital Information World
So, if your store doesn't feature photos of your product in real-life scenarios, used by real people, solving real problems, and you're wondering why you're having trouble converting visitors to buyers, there's your answer.
Real-life images not only make your product more visually appealing but also eliminate decision fatigue and help your customers make easier choices by giving them a better sense of how your product looks, feels, and functions in the real world. But more importantly, real-life images make your store and, ultimately, your brand more human and relatable.
At first glance, this might seem to only apply to physical products. But, it holds true no matter what you're selling. Offering consultancy services? Show photos of your experts in the midst of a session. An audiobook? Show a customer enjoying your content on a morning run. A digital poster? Show how it looks printed out, framed, and placed on a wall. No matter how intangible what you're selling, there is always a way to put it into a real-life context.
HOT TIP: Make your real-life images even more real by featuring real people, as opposed to models. Include people of diverse ages, sizes, backgrounds, etc., and make sure that your customers find themselves in these images. This will not only differentiate you from most of your competition but also help build an emotional connection with your target audience.
2. You don't actively solicit reviews
Customers trust other customers more than they will ever trust any brand, and that's a fact. Since we've established that you're not a rookie, we won't go into detail about the importance of social proof and the positive relationship between customer feedback and brand credibility. However, while you might be experienced enough to not make the detrimental blunder of censoring reviews and comments, you might still be making the mistake of not proactively generating social proof.
Take an audit of your online store right now. If at least 10% of your customers haven't left feedback on your website, and if each one of your products doesn't have at least 2-3 reviews, you're doing something wrong.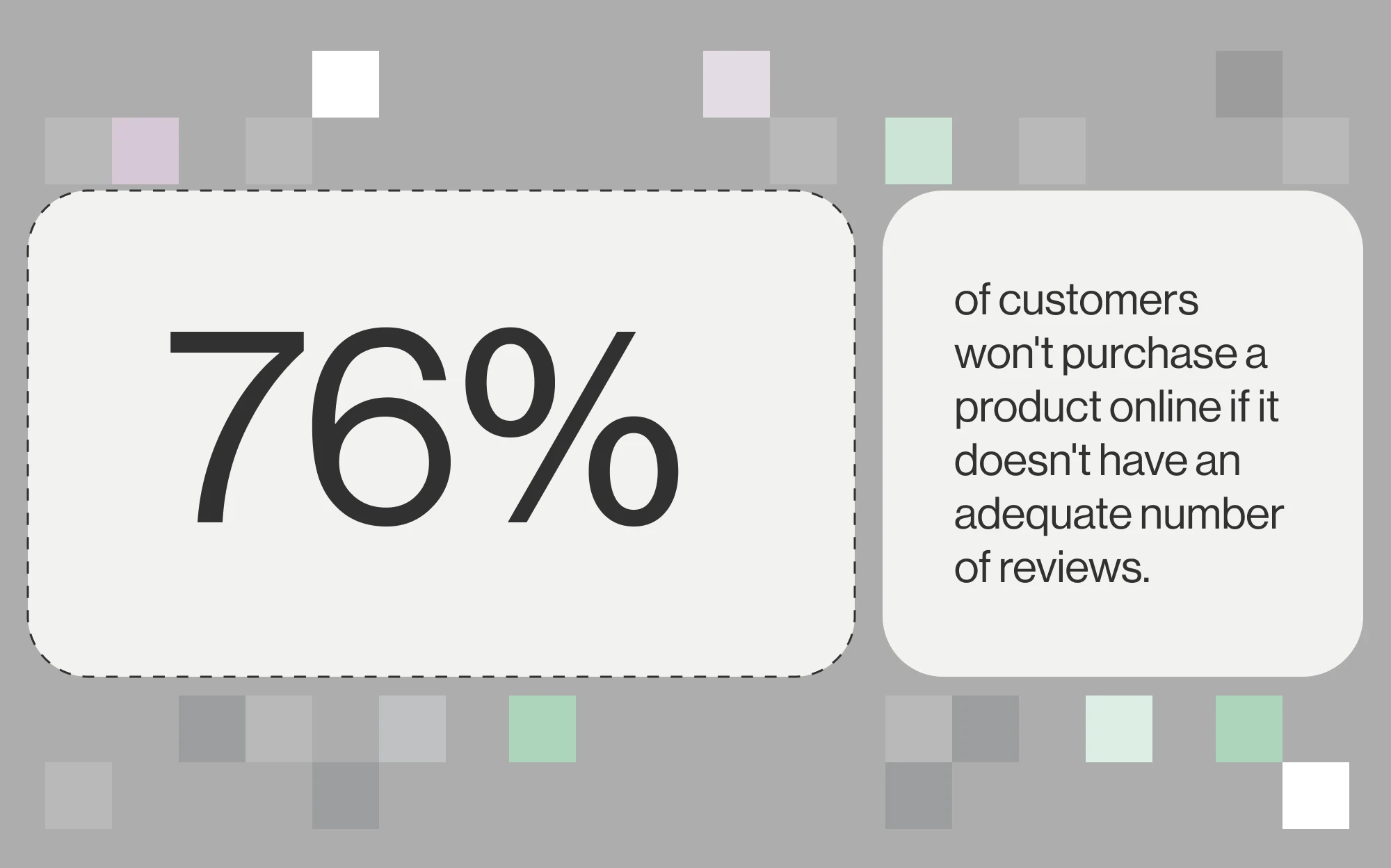 Source: Insider Intelligence
Keep in mind that customers aren't just reading reviews to learn about this or that product. Much more importantly, they are checking to see if your store is trustworthy - to see whether others have had problems with payments or deliveries, to see how you respond to negative feedback, and, perhaps most importantly, to see whether anyone is actually buying from you.
Yes, surprisingly, a big reason why an increase in social proof leads to increased conversions has less to do with what the reviews say, and more with the existence of reviews as proof that others are buying from your store. In all probability, it's all about the psychological phenomenon called the Bandwagon Effect. In layman's terms, people are more inclined to do something if they witness others doing so. This doesn't mean you should pay no attention to negative feedback, it means it's worth risking a few bad comments to increase the overall number of reviews on your website.
The mistake many failing eCommerce stores do is not going beyond the simple act of making it possible for people to leave feedback on their website. Here's a very short list of things you can do to not be one of them:
- Create a communication flow that reminds and motivates customers to leave a review after every purchase.
- Register your store on review aggregators: Yelp-type platforms that collect and display reviews of different businesses.
- Offer a little perk. For instance, 10% off their next order would not only encourage a review but also entice customers to come back for another purchase.
HOT TIP: Once you follow our advice and get flooded with reviews, why not use them in your social media marketing? You could create a very engaging content series where someone from your team reads and responds to user reviews, demonstrating just how transparent your brand is and how much you value customer opinions.
3. You don't allow guest checkout
We told you this wouldn't be surprising. And yet, it's a mistake that keeps happening.

By this point, it should be a no-brainer that any extra step in your checkout flow is a gift to your competitors. And if that extra step requires submitting personal information, it's an even bigger gift.

For at least the third year in a row, studies exploring the causes of cart abandonment pinpoint mandatory registration as the second biggest reason for cart abandonment (the first one being extra costs). But still, a considerable number of eCommerce stores continue forcing customers to create an account before they can submit an order.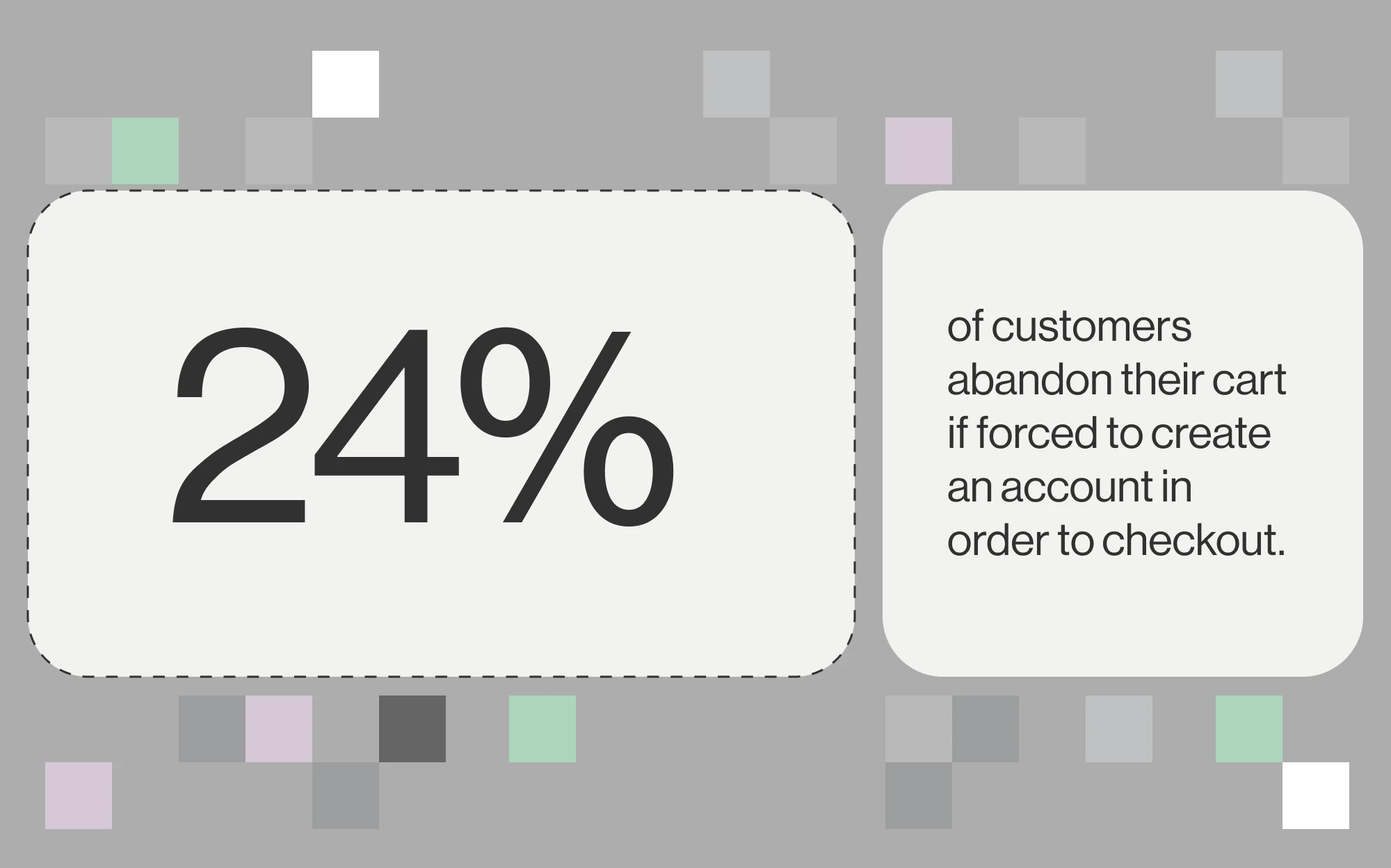 Source: Baymard Institute
And while the reason why so many online stores do this is quite understandable (after all, data is everything), losing every 4th potential customer does seem too high of a cost. What you can do instead is offer a first-time-buyer coupon that can be activated only by creating an account. And even then, make sure creating an account doesn't take a second longer than it absolutely has to.
HOT TIP: Once you get rid of mandatory registration, advertise it on your homepage. A simple "Shop without creating an account" will do.
4. You don't use short-form videos
You know how powerful social media is for eCommerce marketing. But do you know what the most powerful type of content is? Well, as you might have already guessed from the heading of this section, it's the short-form video. Specifically, the made-for-mobile vertical videos like TikToks, Instagram Reels, and Youtube shorts. And when we say most powerful, we're not just talking about engagement rates, impressions, and other social media KPIs. We're talking about overall return on investment - conversions achieved for resources spent.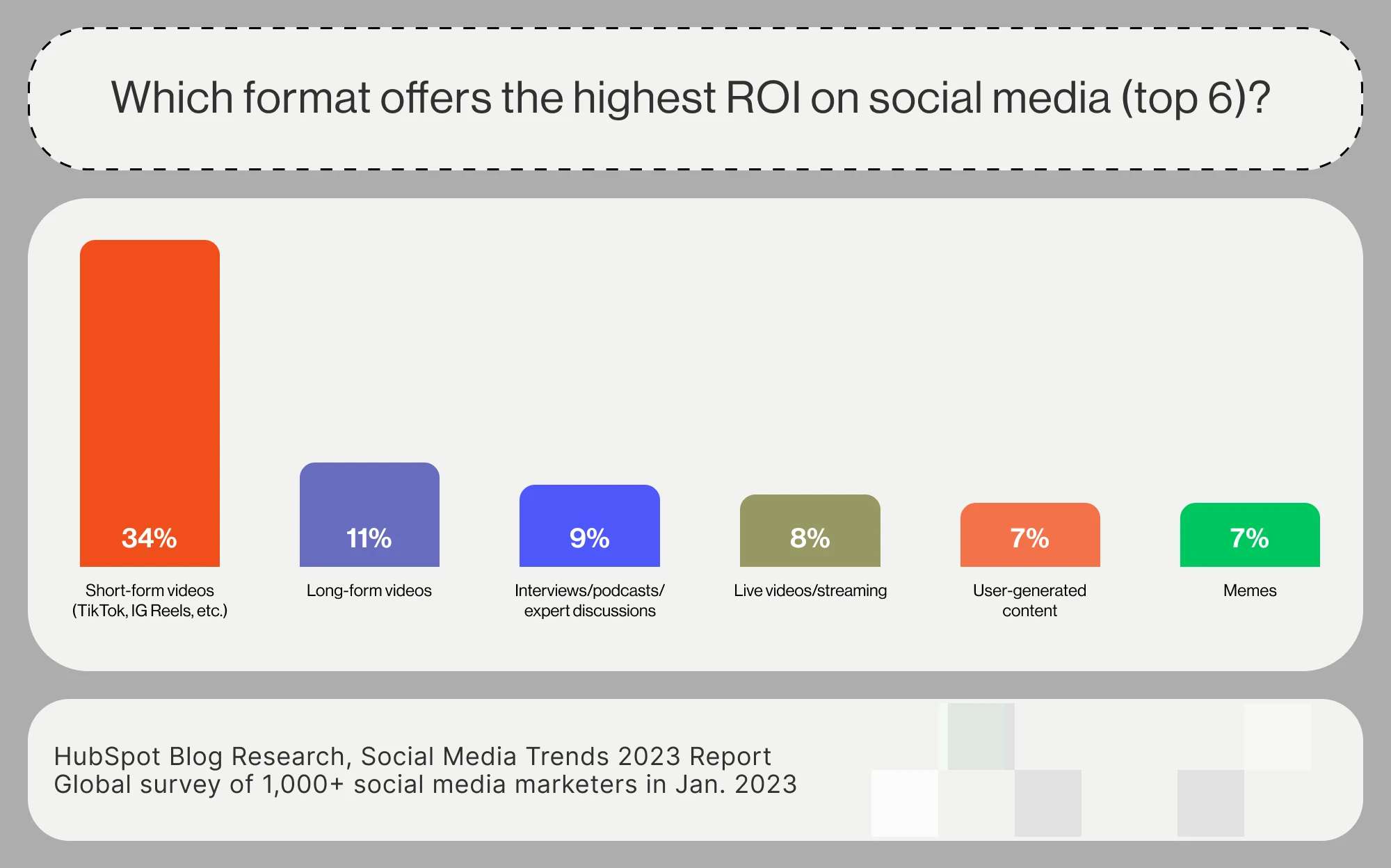 Source: Hubspot
We won't bore you with the technical details, but the key takeaway from this graph and the very illuminating study behind it is that Reels, TikToks, and Youtube shorts are so effective for social media growth, user engagement, and customer acquisition that not using them is simply costing you sales. So, if short-form video is not an integral part of your online marketing strategy, it's time to rethink your efforts.
There are quite a few reasons why this type of video offers such a high return compared to other social media content. Let's use Instagram Reels as an example.
First, making Reels is cheap and easy. Instagram provides all the tools to make and edit videos, add trending audio and target the right audience, all for free. Go to Instagram now and click on any Reel on your Explore Feed. Scroll a little (but be careful to not get stuck for hours) and pay attention to how they're made. What you'll notice is that most of them are not exactly professionally shot high-definition videos with a manicured script and perfect acting. Most aren't even original - they are remakes of trending videos, with tiny twists. And yet, they've done well enough to appear in your Explore Feed. So yes, it's not about the resources spent. It's about following the trends and adding something of your own.
Second, Reels reach more people. You don't have to go viral to appear in the Explore Feed, and you don't need to have a large following to begin with. If you scroll through Reels long enough, you'll come across quite a few videos that have just a few likes and comments, and yet, they are being shown to people not following the account. The reason is simple - the Instagram algorithm favors Reels more than any other type of content. So yes, even your lowest-performing Reels have a much higher chance of being shown to people outside your following, with no ad spending.
Third, Reels are excellent at finding the right people. It's quite amazing how fast the Instagram algorithm figures out what exactly you're interested in and starts curating the right content. You interact with one or two cooking videos, and almost instantly, the rest of your Reels are food reviews, restaurant recommendations, and recipes. And the targeting doesn't stop there - if you interact with a Reel on vegetarian food, rest assured you'll be flooded with everything about being a vegetarian. In short, you don't have to worry about finding your audience - they will find you.
So yes, these bite-sized videos might be catastrophic for our attention spans, but they are definitely good for business.
HOT TIP: According to multiple studies, the majority of consumers (as high as 79%) prefer brands that make authentic, amateur-looking videos. In fact, a clip shot on your phone is more likely to succeed than one produced with a professional camera. So, don't be afraid to look "cheap".
5. You don't make your return policy work for you
Buying is always a risk. Buying online is doubly so. That's why returns exist. And that's why the Return Policy page is one of the musts for any eCommerce store. And since a certain return and refund window is mandated by law, we are pretty confident that there's a page describing your policy somewhere on your website.

However, what you might be doing wrong is underestimating the importance of your return policy, not communicating it to customers and not doing literally everything in your power to make the return and refund process as seamless as possible.

While many store owners seem to think of the Return Policy as just a boilerplate text that no one really reads, customer behavior shows the exact opposite.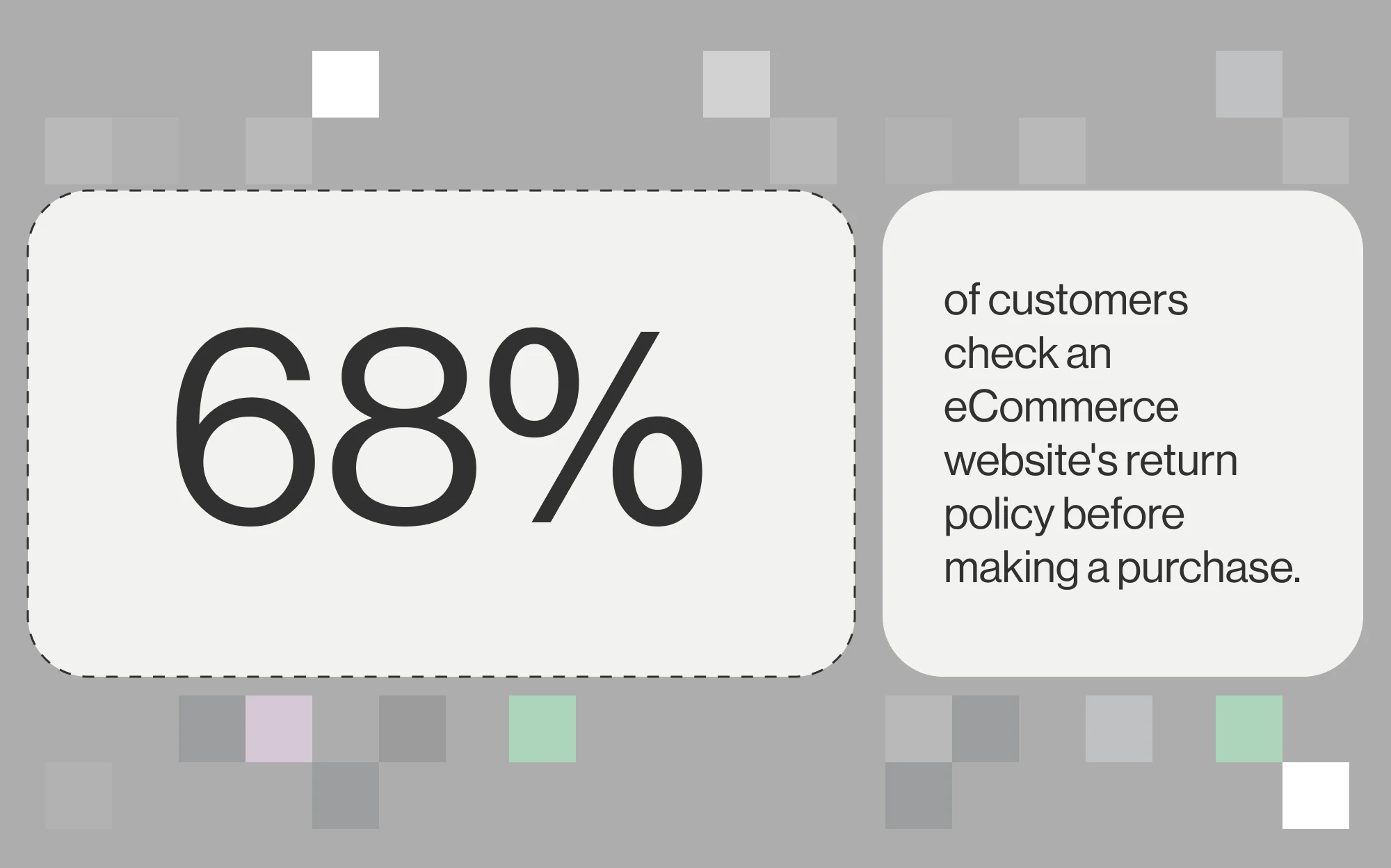 Source: UPS
If you think this number is surprising, here is another one. A recent study by Narvar found that 96% of buyers mention the ease of the return and refund process as a determining factor in their buying decision. So, if you've been racking your brain for a reason why your store isn't working as well as it should, it might be (quite literally) hidden in your return policy.

Go over the text, look at it from the point of view of a first-time customer, and ask yourself, "What can we do to make customers believe that buying from our store entails no risk?". Maybe you can go beyond the mandatory window and offer a longer return period. Or, you might be able to ease some of the conditions and requirements. Or, you can rewrite the whole thing to make it sound less like a list of warnings, disclaimers, and stipulations, and more like a promise of a risk-free purchase.

You're probably thinking that this will inevitably result in more returns. And most probably, you are right. But, will it really harm your bottom line in the long term? Here is another number, from the same Narvar study: 95% of consumers have returned to shop from a brand after a positive return experience. What this piece of data suggests is very interesting - it essentially says that a painless return is like an ad that says, "Buying from this store is not a risk".
So, in essence, here is the trade-off:
• Option one - you have a strict and complicated return policy that not only scares away potential first-time buyers but also turns anyone that tries to return a product into a hater of your brand.
• Option two - you have an easy and customer-favoring policy that results in more returns, but also leads to more first-time buyers and more satisfied customers.
Choose wisely.
HOT TIP: This is going to sound like what we said in the guest checkout section, but here it is anyway. Once you've made your return policy great, communicate it. Put it right on your homepage. Add a short summary of it to every product page. You could even make a video showing how easy it is to return things.
6. You lie to your customers
Customers tend to not like being deceived. Painfully obvious, isn't it? And yet, so many online stores keep misleading customers just to get a sale.
Whether the product doesn't match the image, something doesn't work as advertised, there's an important clause buried in fine print or the invoice shows some previously undisclosed charge, every little lie is a slap to your brand reputation. And keep in mind, you're not just losing the customer you've lied to, you're losing anyone who ever hears about your brand from this customer, be it in person, on social media, or on review platforms.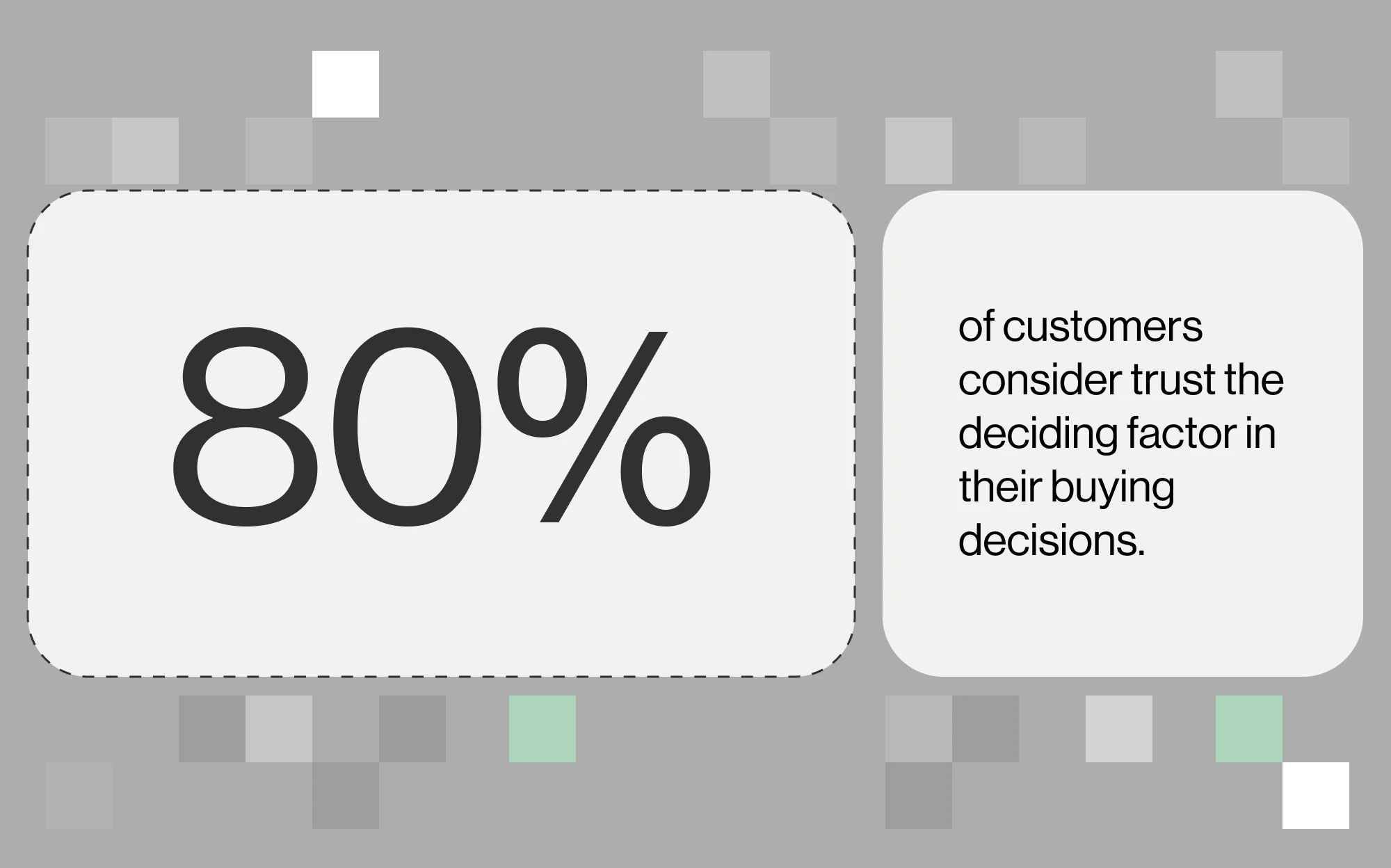 Source: Harvard Business Review
So, as enticing as it might seem to exaggerate, play down, hide or downright make up a thing or two to get that "Add to Cart" click, in the long run, it's just not worth it.
HOT TIP: Do not lie to customers.
One Final Thought
The great news about all of these eCommerce mistakes is that all of them are reversible and correctable. And so are any other failures you might be having. In fact, the only truly fatal mistake you could make is letting your mistakes keep you from going forward.