Finding the most appealing trending products to sell online for profit seems almost impossible for new entrepreneurs. Some of the best-selling products out there are already available on the market for years. Many industries are so fiercely competitive people wonder whether it is worth the trouble exploring them at all. On the other hand, most e-commerce businesses apply the same tactics. So how do you fit in this big world?
There is no straight answer and no one-size-fits-all recipe to follow. However, there are strategies to consider, and this is why we are here today.


Whom is This Guide For?
This guide is for all beginner and seasoned entrepreneurs who want to build an e-commerce store from scratch or grow an existing store to gain more customers and profits.
Besides offering you a list of trending products, we will also provide you with examples, tools, and ideas on how to find the trending products in question. This article aims to help you answer questions such as "what products are in high demand right now," "how to sell products online," "what is a product's unique selling proposition," and more.
To give you a head start, we discuss nine different industries/markets and list ten trending products in each subsection.
Trending Products to Sell Online in 2021 to Make a Profit
Here are the lists of trending products to consider selling this year to make money online and boost your e-commerce business. Besides the actual list of things to sell online, we also offer some guidelines and notes on approaching such items and inserting them into your commercial plan. So let's get started, shall we?
1. Beauty, Makeup & Healthcare Trending Products
The cosmetic and beauty industry is one of the most prominent players in selling products and services worldwide. Experts estimate a market value of over $800 billion by 2023. The skincare market forecast shows it is still the most lucrative product category.
If you desire to offer your clients a select range of trending products with high selling potential in your beauty-oriented online store, here are some of the trending products we found for you!
Hot hair brush

Peel-off mask

Hair color remover

Wax strips

Skin moisturizer

Ionic hair brush

Head scarf

Hand cream

Anti-dandruff shampoo

Blackhead remover
You might feel dizzy at the idea that you have to compete with the likes of L'Oréal, Gillette, Nivea, and so on. However, think about your unique value proposition and never let it out of your sight!
Here are two examples of trending products we researched on Google Trends: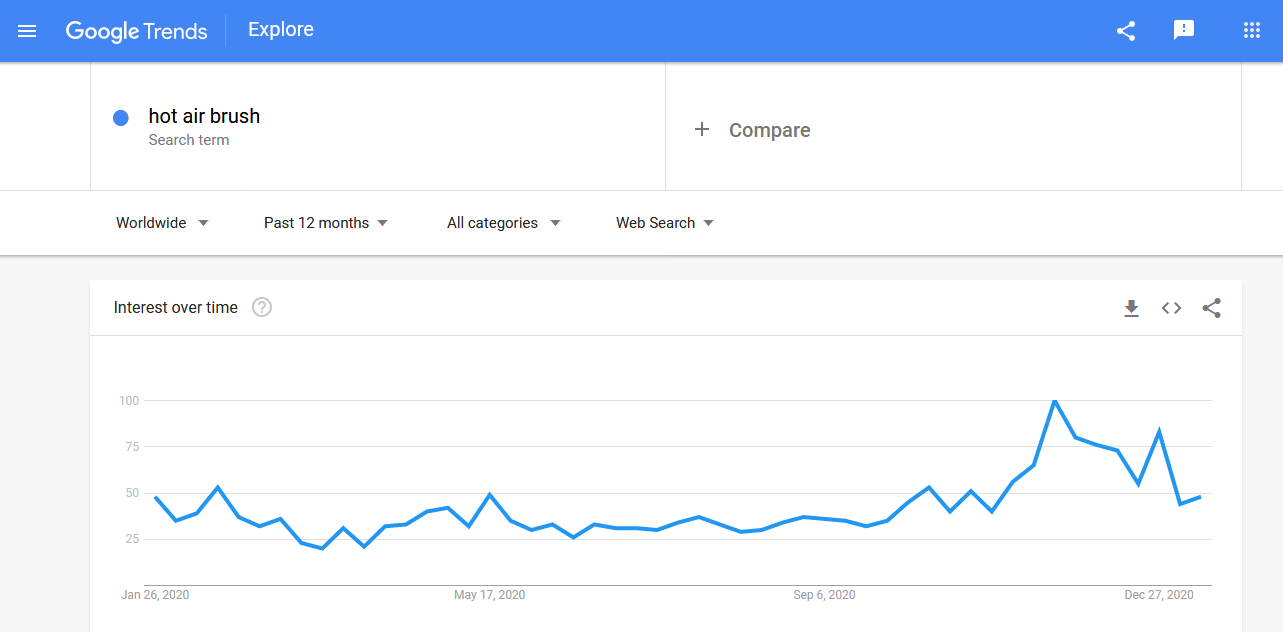 Google Trends search data for hot air brush show it is on an ascending path again worldwide.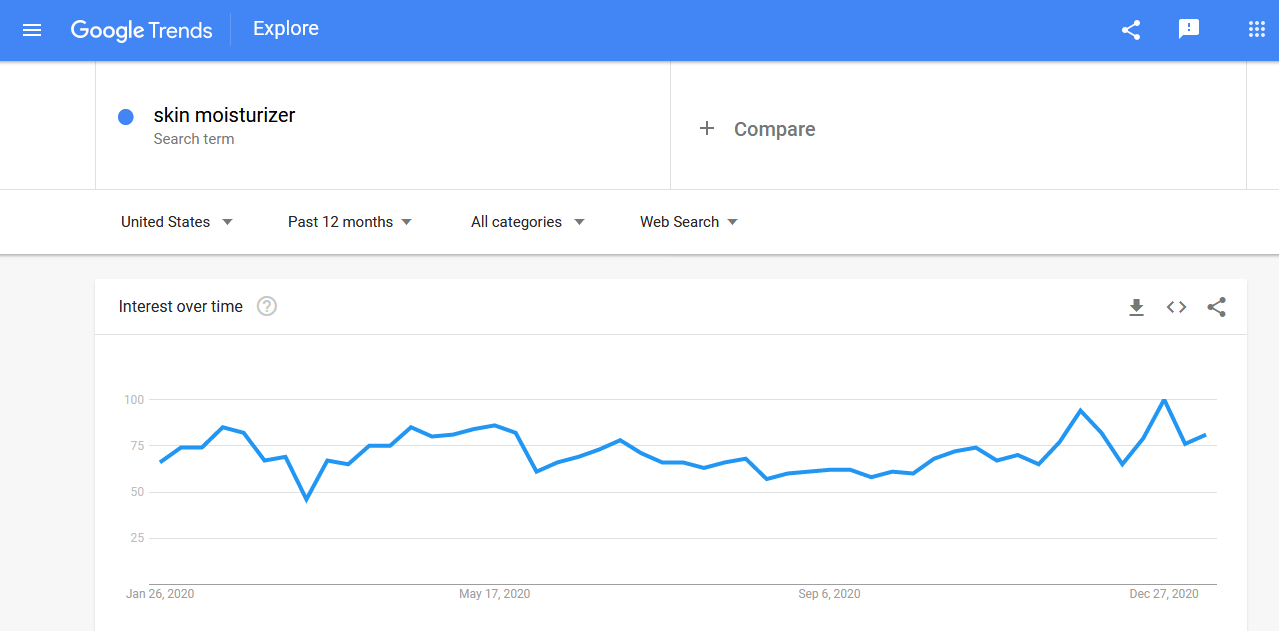 Skin moisturizer is a product always on an ascending path.
As you can see, the skin moisturizer is an item on an ascending path in Google searches in the United States. It is also a very generic product, so there is an opportunity for you to find market gaps.
Always go deep with your research, and never forget about your value proposition!
2. Sports, Accessories & Nutrition Trending Products
With the pandemic keeping us indoors in 2020, people found solutions to stay fit and tend to their health by creating veritable home gyms with the help of plenty of products. According to experts' reports, the global home fitness equipment market will grow up to $8.62 billion in 2023. Can you find a place in this competitive landscape? Yes, as long as you pick a viable e-commerce business plan, come up with an unbeatable UVP, and focus your attention on what people need the most.
Here is a list of products for you to consider!
Exercise bands

Yoga mat

Dumbbell

Posture corrector

Stretcher

Resistance bands

Treadmill

Hiking shoes

Electric scooter

Jogging shoes
While researching, we discovered that dumbbells are some of the most sought sports and fitness accessories people buy. The explanation is simple: dumbbells are easy to use by all beginner or seasoned gym lovers, are easy to store, come in various materials, weights, and models, and engage people in different types of exercises.
On the other hand, posture correctors are lifesavers these days, especially for people who work from home and adjust to sedentary lifestyles.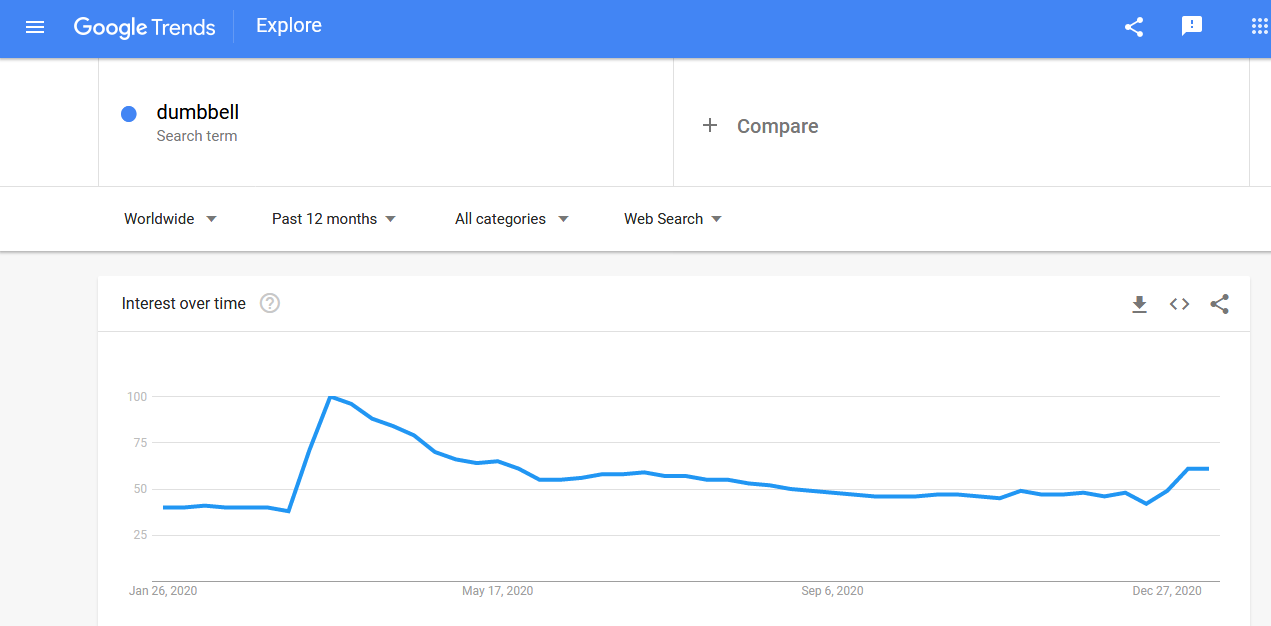 The interest for dumbbells increases worldwide after months of staying at constant 50 points.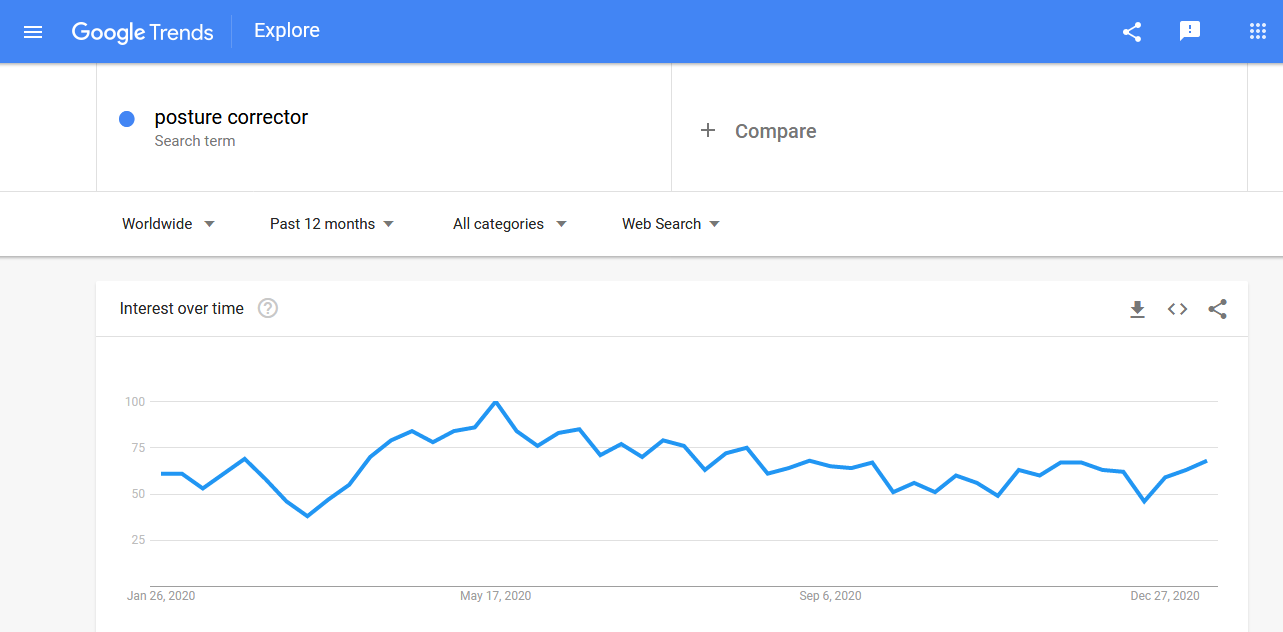 The interest in posture correctors spiked at the beginning of 2021.
This market niche is extremely competitive, so our advice is to throw in the mix more than just dumbbells, sports accessories, fitness clothes, and protein powders.
Customer support, attractive packaging, an educational component added to your products, price, and marketing are all factors to consider when building an e-commerce store.
3. Baby Care & Kids Trending Products
Specialists predict that the baby products market size will reach about $88 billion worldwide in 2026. The world changes every day, and with it, babies and their families' needs and wants. It is not likely you can compete directly with Procter & Gamble, but you can compete in a smaller niche if you choose your products and your audiences wisely.
Diaper bag

Baby swing

Baby shampoo

Baby carrier

Baby oil

Baby gate

Baby food

Stuffed toy

Baby play mat

Baby bath seat
You saw "baby food" on this list. It is not a product per se, but a product category and a veritable industry in its own right. If you don't plan to open a cooking line to make baby food, you can still sell high-end products in a private labeling & manufacturing e-commerce business model.
On the other hand, there will never be enough stuffed toys to satisfy all the children in the entire world. If your heart is into this matter, you can find/create unique stuffed toys to sell to a well-segmented audience.
Here is what our research revealed when we looked at the products in Google Trends: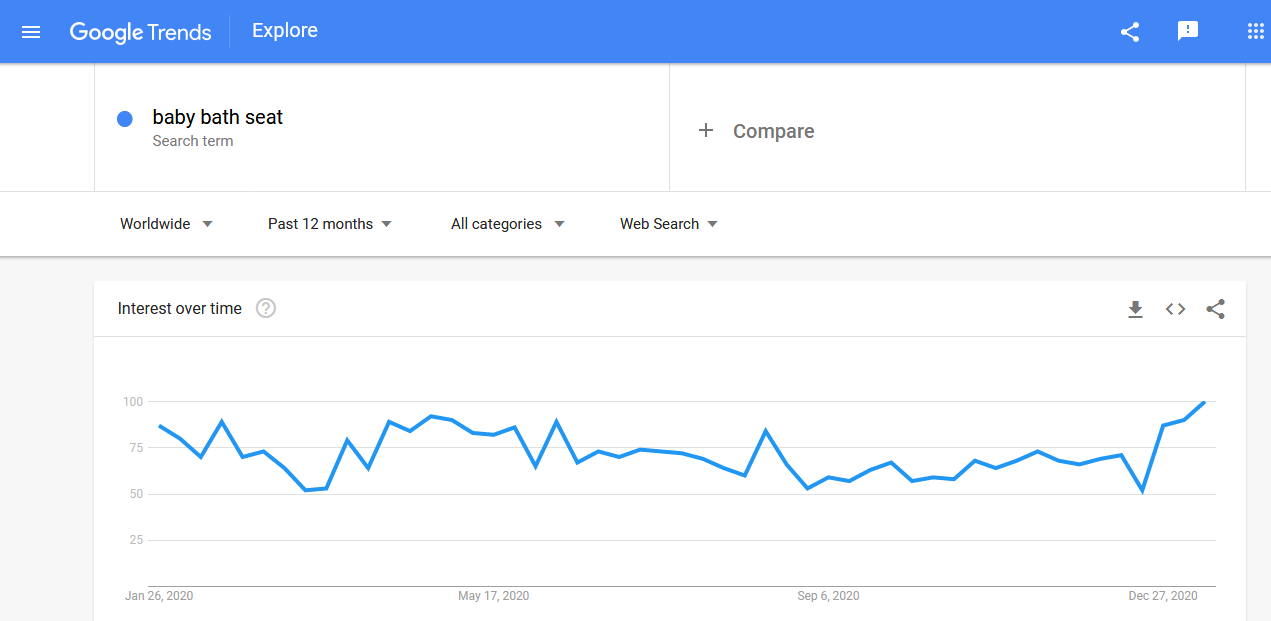 The graph shows that baby bath seats generated an interest spike this year, reaching 100 points at the beginning of 2021.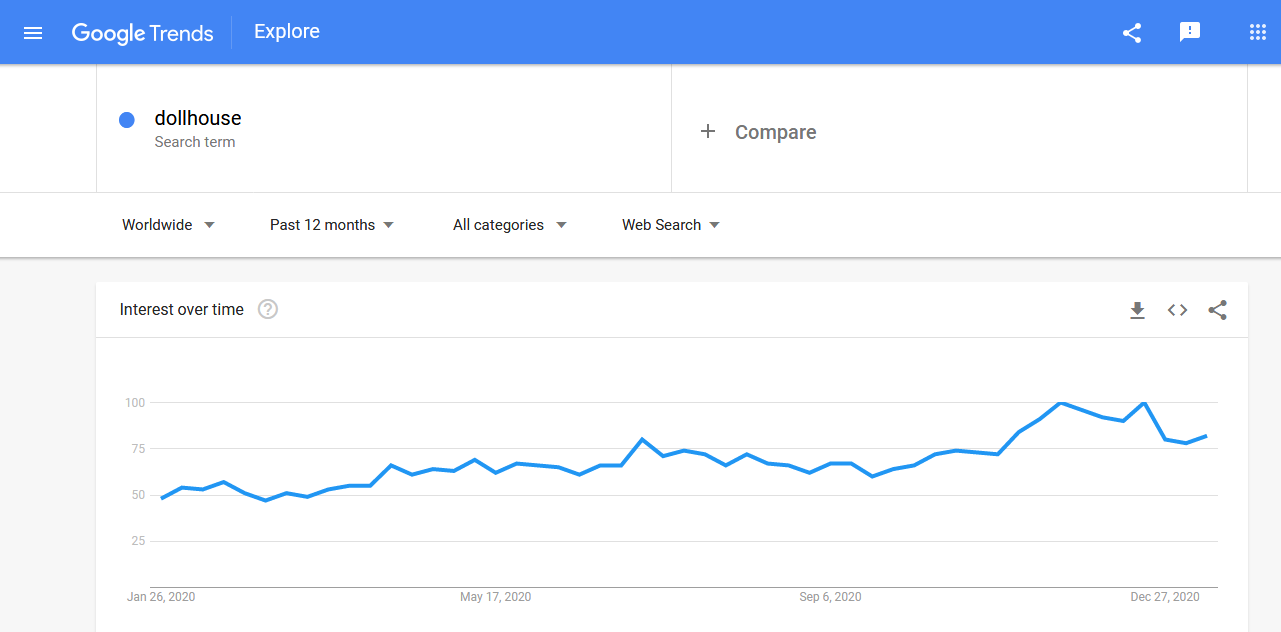 The dollhouse search trends indicate a highly sought product, with the graph seldom falling below 50 points
When you consider building an e-commerce shop with trending products to sell, you have to have the answers to some critical questions.
Are you building a retail business? What products go better with private labeling? Are there some best-selling products to sell online with a drop-shipping model?
Are you ready to create your first online store? Start your free 14-day trial with Ucraft. No credit card is required.
4. Consumer Electronics, Gadgets, & Tech Trending Products
Consumer electronics is a vast market, projected to grow at a CAGR (compound annual growth rate) of over 7% between until 2026. When it comes to devices specifically designed for information, communication, or entertainment, the sky is the limit. People invest more and more in tools and technologies that improve their lifestyles, help them maintain their health, feel safer and navigate through life's complicated situations easier. If you also consider wearable gadgets, you have plenty of opportunities to discover.
Here is a list of products to consider if you plan to open a tech-related online shop.
Wireless phone charger

Phone tripod

Camera tripod

Smartwatches

Phone lenses

Car phone holder

Power adapter

Sleep headphones

Portable projector

Portable car vacuum
For this research, we considered two items that most of our team members use daily: a wireless phone charger, a necessity more than a whim, and sleep headphones for the ones among us who need improved quality of sleep. Let's see what Google Trends generated: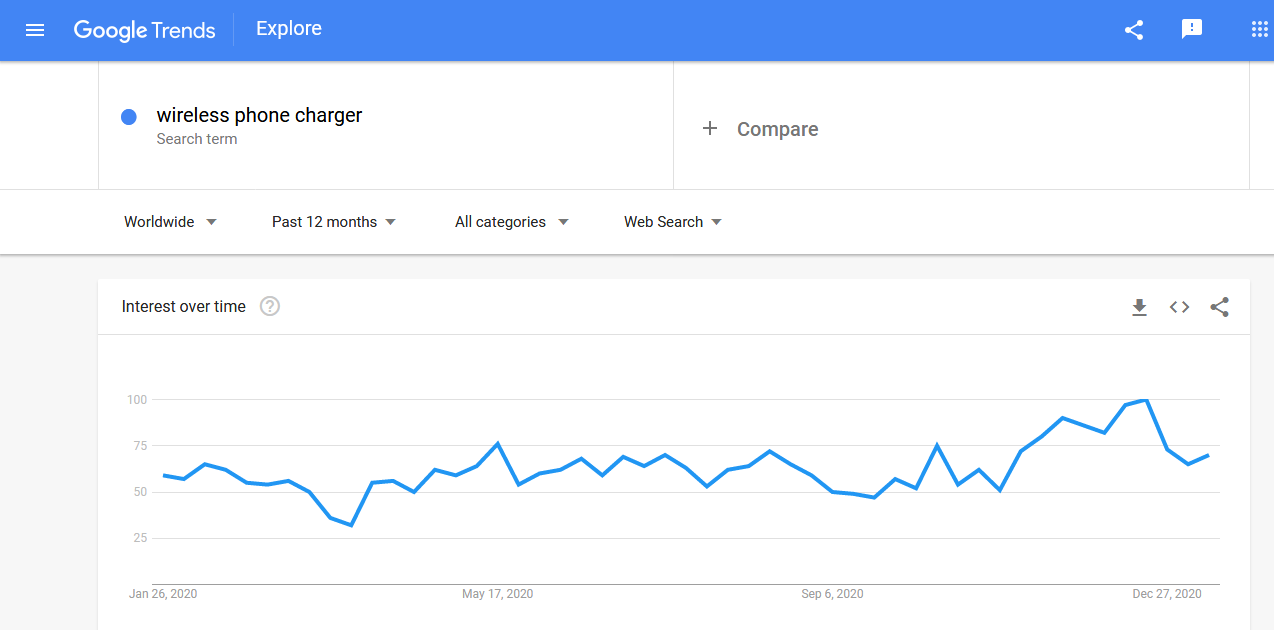 The more we use our phones for work and pleasure, the more wireless phone chargers we need.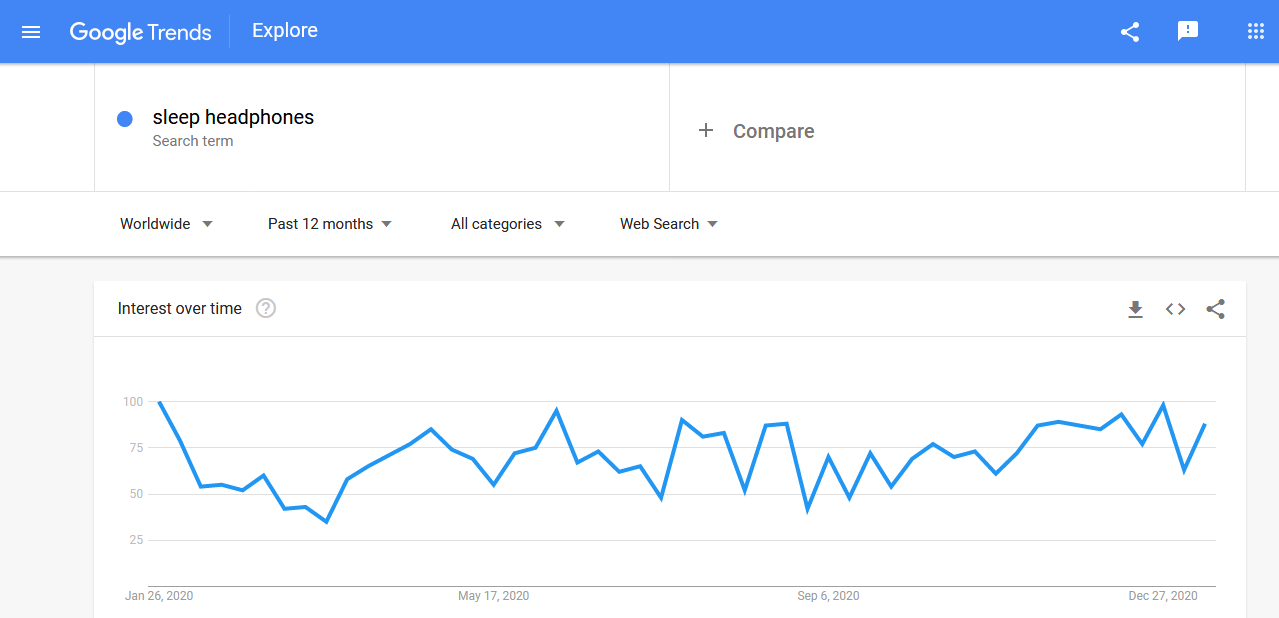 They had their ups and downs, but sleep headphones are clearly on an ascending trend.
Wireless phone chargers are commonplace these days, and you can find them virtually everywhere, online and in brick-and-mortar stores. On the other hand, sleep headphones tap more into the "novelty" side of technology. When you create your business plan and choose your products, besides considering your value proposition, market positioning, audience segmentation, etc., ask yourself these questions:
Am I going to go on the beaten path and try to sell something everybody else is already successfully selling? Or, am I going to explore innovative products and focus my UVP on their intrinsic novelty value?
5. Pet Accessories & Food Trending Products
In the past year, people spent most of their time at home with their pets. In other words, they found they were missing a lot of things. They also wanted to improve their pets' lives, as restricted as they were. With a CAGR of 4.5% from 2019 to 2025, the pet food industry is a veritable land of opportunities. It also requires thorough competitive analysis, as the forecasts place it at about $100 billion market size in 2025.
Can you find a place here to build a business and make money? What to sell online to cater to pet owners' needs and pets' guilty pleasures?
Let's start with these ten trending products to research!
Dog chew toy

Dog brush

Cat enrichment toys

Cat comb

Cat tree

GPS pet tracker

Cat bed

Dog bowl

Hamster wheel

Rabbit cage
Pet food and treats are the biggest sellers in this industry. On the other hand, some statistics show that about 50% of American pet owners spend the same amount of money or more on their pets' healthcare as they do their own. In the United States alone, the market for pet Accessories might reach over $40 billion by 2025.
We looked in Google Trends for cat trees and GPS pet tracker. Let's see what we found!


Most cat owners would do anything to entertain their feline companions. Hence, cat trees on an ascending path.

You might feel that GPS pet trackers might be seasonally trending products, so expand your research with related products!
One exciting idea we searched further was "cat tree with boxes," because it is common knowledge that cats love cardboard boxes and would prefer them over anything else. A simple search on Amazon led us to a handful of products in "cat activity trees" and "cat trees & condos" that you might want to research in-depth.
The GPS pet tracker makes sense because no pet owner ever wants to lose a furry friend. Looking at the graph, one might want to understand the regular rises and falls in the search trends.
If you already have a pet, you know you can find a new dog bowl for your furry friend in any dedicated or even general store. But what if you'd sell personalized dog bowls or bowls designed to prevent splashing? Maybe a bowl with the client's pet's name/image on it? Have others done it already? It means you need to dig deeper.
Remember, just because others sell a product well, it doesn't mean you should give up on it. Try learning how you can improve its features or cover more buyers' needs.
6. Kitchenware, Furniture, and Cooking Trending Products
A quick social media tour reveals that people not only had to cook at home more than they cooked before, but most of them enjoyed it tremendously. Food content creators and online stores flooded the Internet with multimedia recipes, how-to guides, cooking tips, kitchenware commercials, and more. At this point, we are not talking about food delivery services or restaurants but products that registered sales spikes. More and more individuals, couples, and families turned to homemade cooking during the pandemic.
Here, we give you trending product ideas and broad categories to help you start your in-depth research.
Kitchen chairs

Silicone baking molds

Silicone utensils

Chef knives

Waffle maker

Herb plant pots

Kitchen stove

Slow cooker

Ceramic pan

Measuring cup
Remember that this particular industry includes different markets altogether. You can focus on kitchen appliances (commercial or household), cooking accessories for food preparation, kitchen accessories for food serving, storage solutions, furniture, and more.
When you look at the somewhat generic term "kitchen chairs," you may think you need to open up a furniture factory. It is not the case. People who have a passion for vintage items, recycling, arts & crafts, interior design, remodeling, etc., run successful businesses selling antique kitchen chairs, remodeled ones, hand-painted ones, recycled pieces, and more.
But let's see the trends for two products that are of interest to our team!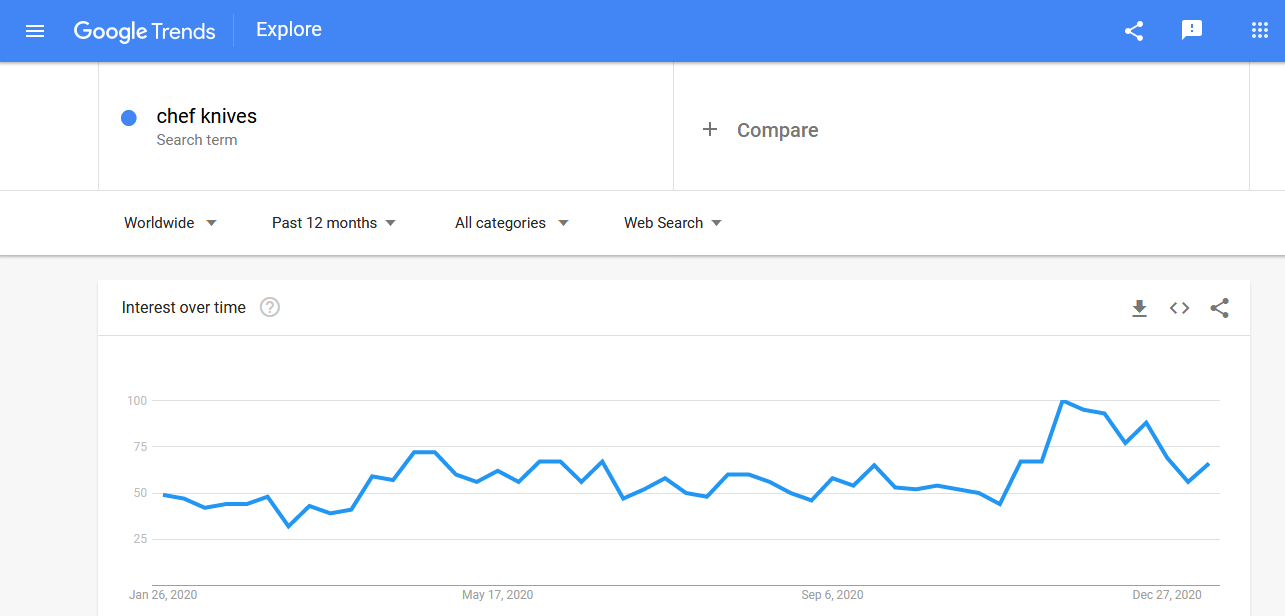 Do people buy chef knives for themselves or as gifts to others? Something for you to research further.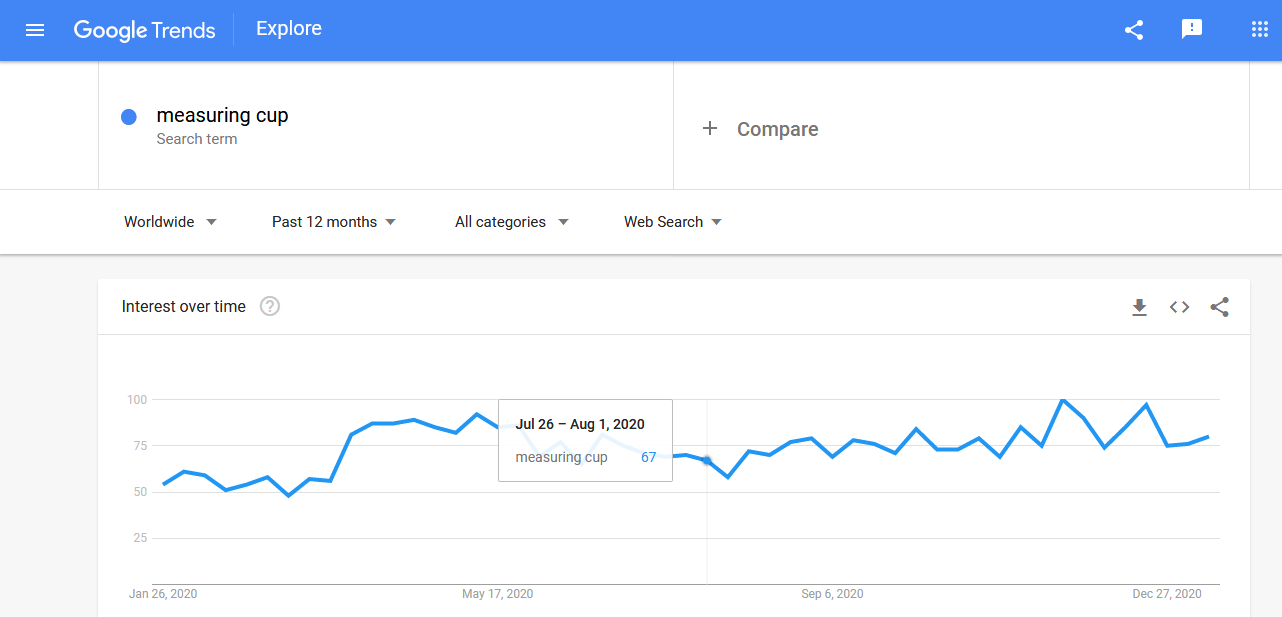 The growing interest in buying a measuring cup is evident. What else would you buy next to this product?
Chef knives are everywhere, but are they of good quality? Do the sellers personalize them? Do they come in gift packaging? How about their warranties?
On the other hand, how many measuring cups printed with motivational quotes do you have at home?
You understand, of course, what we are trying to say:
See what the competition does and try to find means to do it better, whether you improve the product itself, the branding, or its perceived purpose & value.
7. Specialty Foods, Home Cooking & Gourmet Trending Products
When it comes to good food, you should look into the top emerging gourmet trends, whether you want to open a restaurant or sell homemade cookies. Just like the kitchenware industry discussed above, specialty food covers a lot of industries and segments. You have a market for gourmet salt, another for gourmet ice cream, yet another for baby food, and many more to research.
Now, let's see some trending products to sell to gourmands, impromptu home chefs, and people always in the search for the perfect flavors!
Homemade sauce

Matcha tea

Quinoa

Spices

Homemade pasta

Gourmet baskets

Tea blends

Homemade jam

Homemade canned food

Gourmet chocolate
We all saw a robust rise of food-related businesses focusing on personal stories, sharing emotions, praising natural/bio/organic ingredients, promoting healthy nutrition or strong business ethics, tapping into environmentalism, community support, and more.
According to our research, matcha tea and tea blends are very hot right now. Matcha tea comes with plenty of health benefits, while tea lovers are always willing to try a new combination. Moreover, ethical tea coming from developing countries via sustainable shipping is an enormous topic of interest.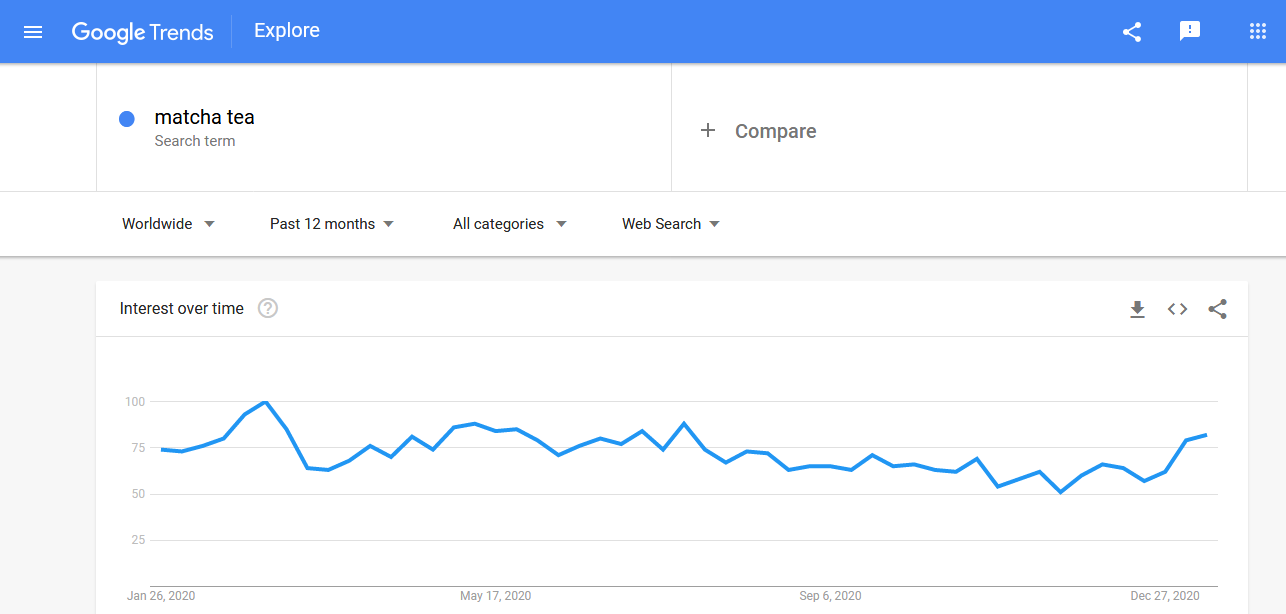 Coming with proven health benefits, matcha tea opens up a land of opportunities for you to consider.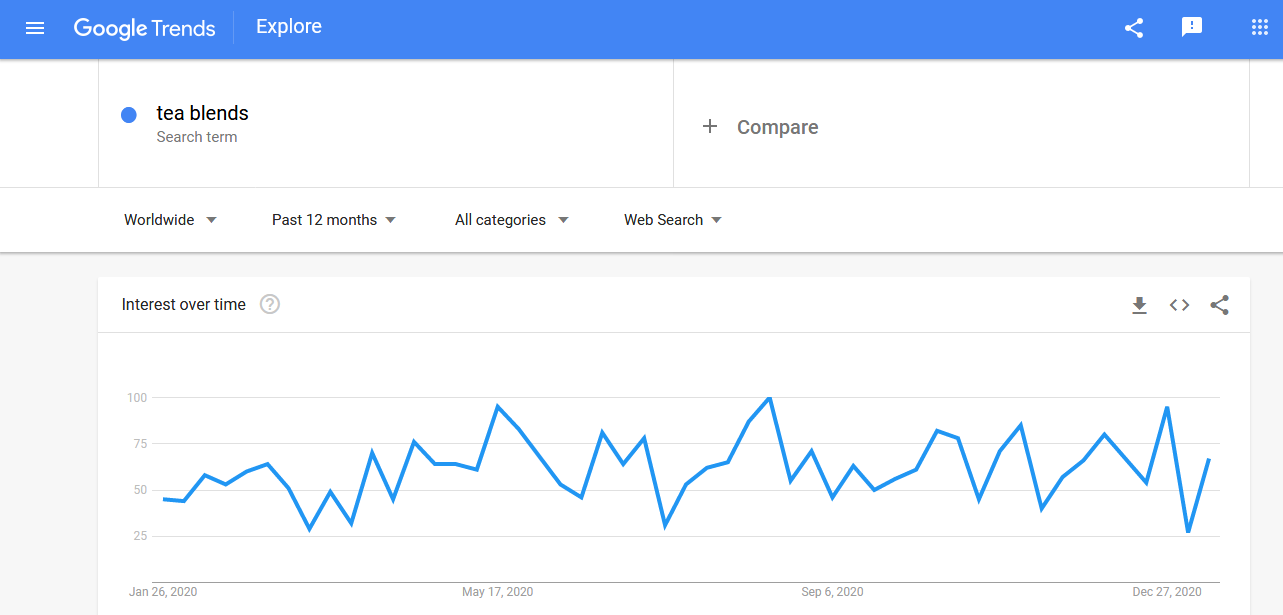 Is matcha tea a seasonal product, in your opinion? Can you think of a way to position it differently on the market?
When it comes to food, always keep in mind that it is a highly subjective and highly emotional topic. It speaks directly to health and lifestyle and can generate fantastic business storytelling opportunities. Just because you have competition, it doesn't mean you cannot find successful niches.
Can you use the power of emotion and storytelling when you sell your products online? Are you covering buyers' needs, or are you tapping into their guilty pleasures, health concerns, lifestyle choices, and thirst for accessible luxury?
8. Recycled, Ecological & Organic Fashion and Accessories Trending Products
Did you know that the environmental component is crucial to gain customer retention and loyalty?
Customers prefer sustainable companies with solid green business ethics. Corporations turn to eco-friendly practices as days go by, whether they change their supply chain approach or products' source. From ethically grown coffee to reusable product packaging, the sustainable movement is here to stay. We rage war against plastic, pollution, single-use products, and more.
In this context, it is easy to understand why some entrepreneurs focused on providing their clients with items that speak to their environmentalist efforts. Here are some trending products to consider this year:
Tote bags

Organic cotton baby clothes

Bamboo sheets

Reusable cups

Reusable plates

Sustainable soap

Sustainable detergent

Hemp sheets

Hemp yoga pants

Recycled packaging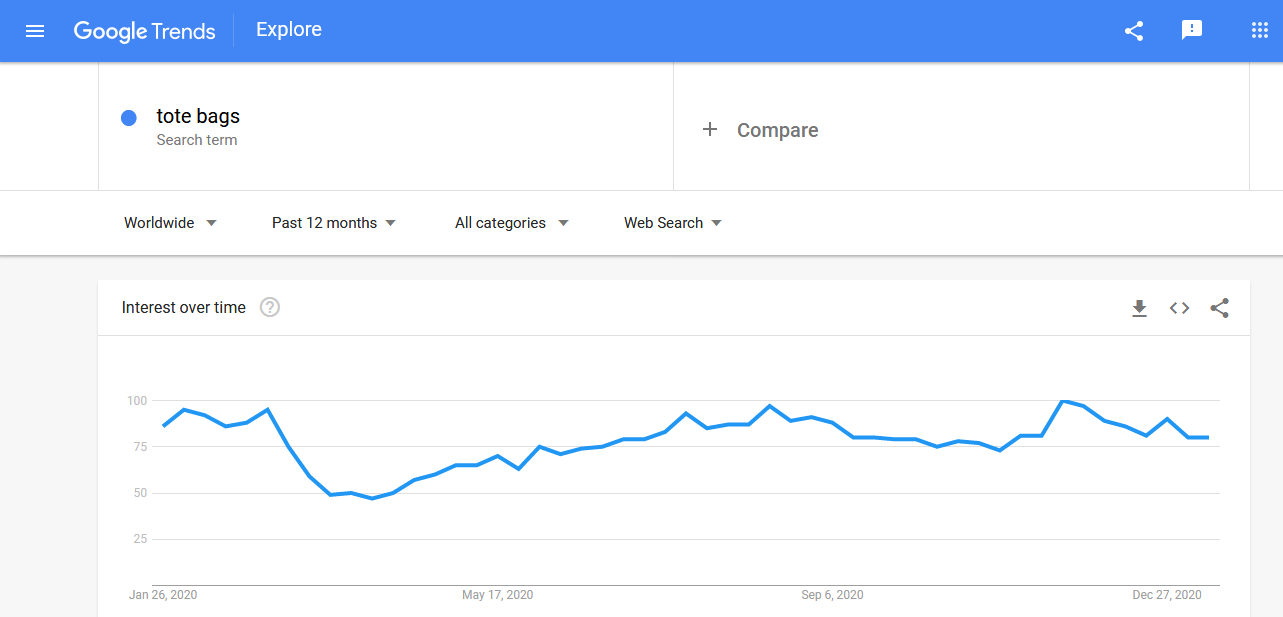 Tote bags will always be trending products. Given their variety, you should give your unique value proposition a lot of thought.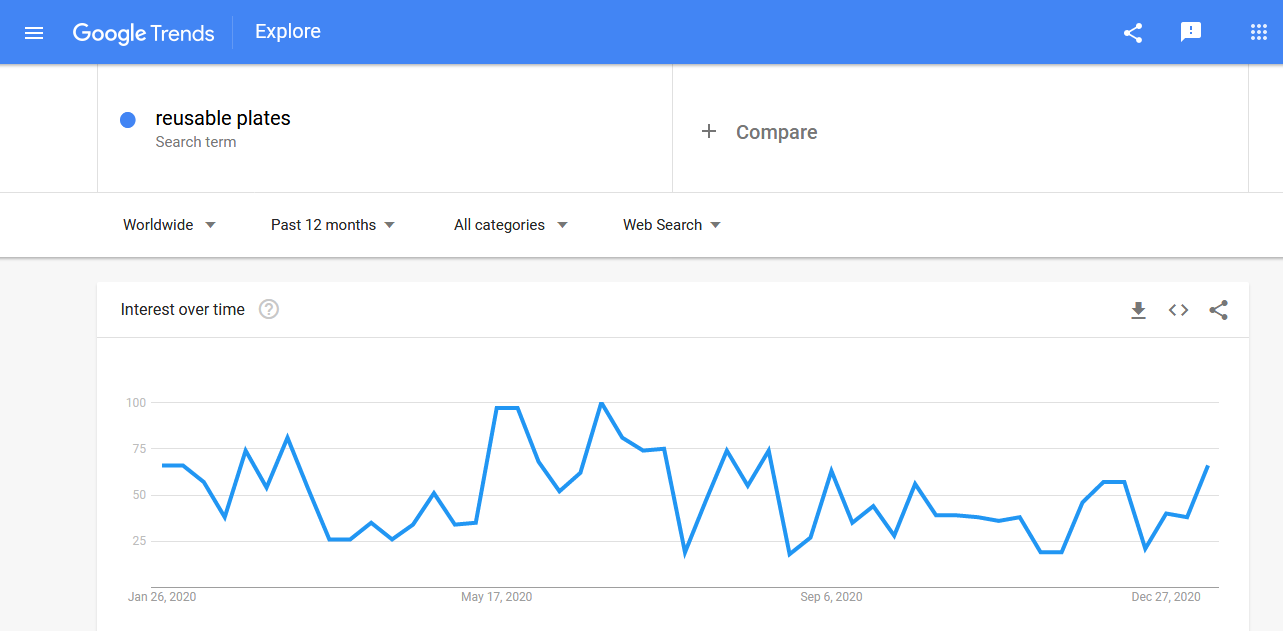 Single-use products are going to be outdated in the future. Are you ready to offer the market better replacements?
Most beginners overlook the fact that they have more than just one e-commerce business model at their disposal.
It is easy to sell organic cotton tote bags to people who love tote bags AND eco-friendly/recycled fabrics, but you might have to develop a very strong UVP.
On the other hand, in a B2B model, you can source and sell recycled packaging or reusable plates to other businesses who want to intensify their sustainability efforts.
When you feel you are stuck, take a step back. What other e-commerce business models can you implement for the trending products you want to sell? Are print-on-demand or drop shipping businesses matching your B2C or B2B plan?
9. Computer Components and Accessories Trending Products
A highly competitive market, with thousands of products to buy, sell, and advertise, computer components and accessories will never go out of fashion. With the restrictions in place and remote working paradigm, it is only logical that people focused on such goods.
This niche is vast – an umbrella industry covering various types of markets. An Amazon Bestseller research will give you a good idea of how many products across how many categories you need to research.
So, let's see the products we consider you should look into for your IT&C type of online store!
1. Portable hard drive
2. SSD hard drive
3. SD card
4. Thermal paste
5. Laptop stand
6. Webcam cover slide
7. Laptop stickers
8. Laptop case
9. Laptop backpack
10. Laptop screen protector
Here is what we discovered when looking at some products in this section!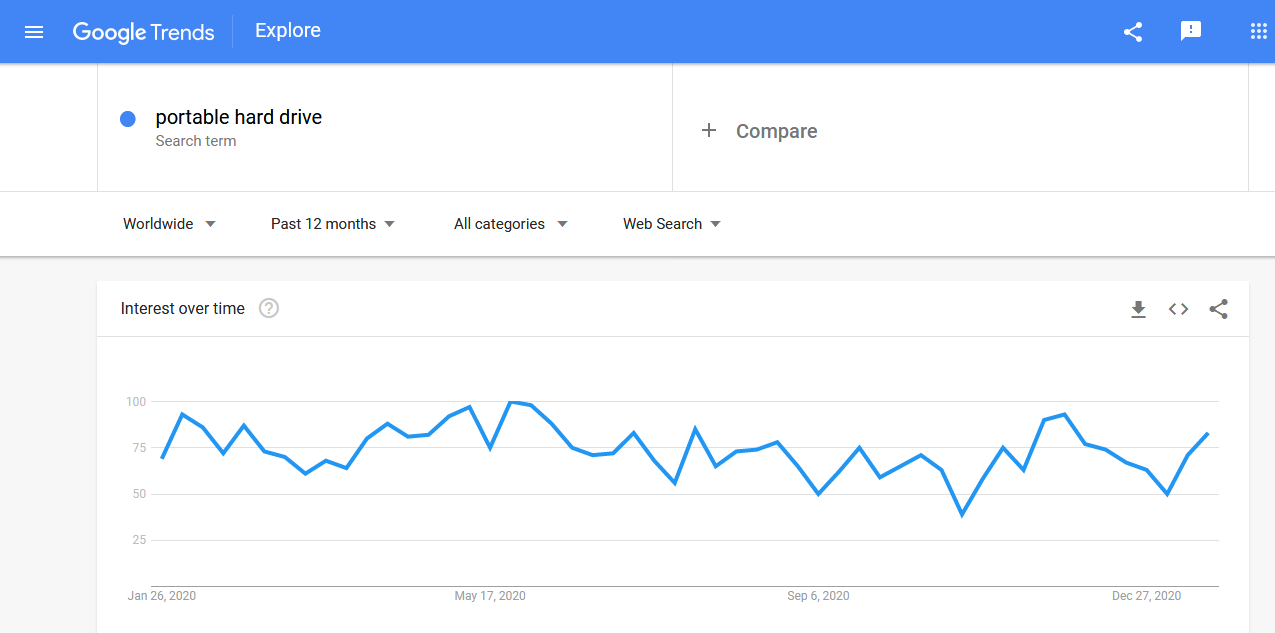 New technology allows plenty of opportunities in the tech world. Why do you think causes the searches' ups and downs for this product?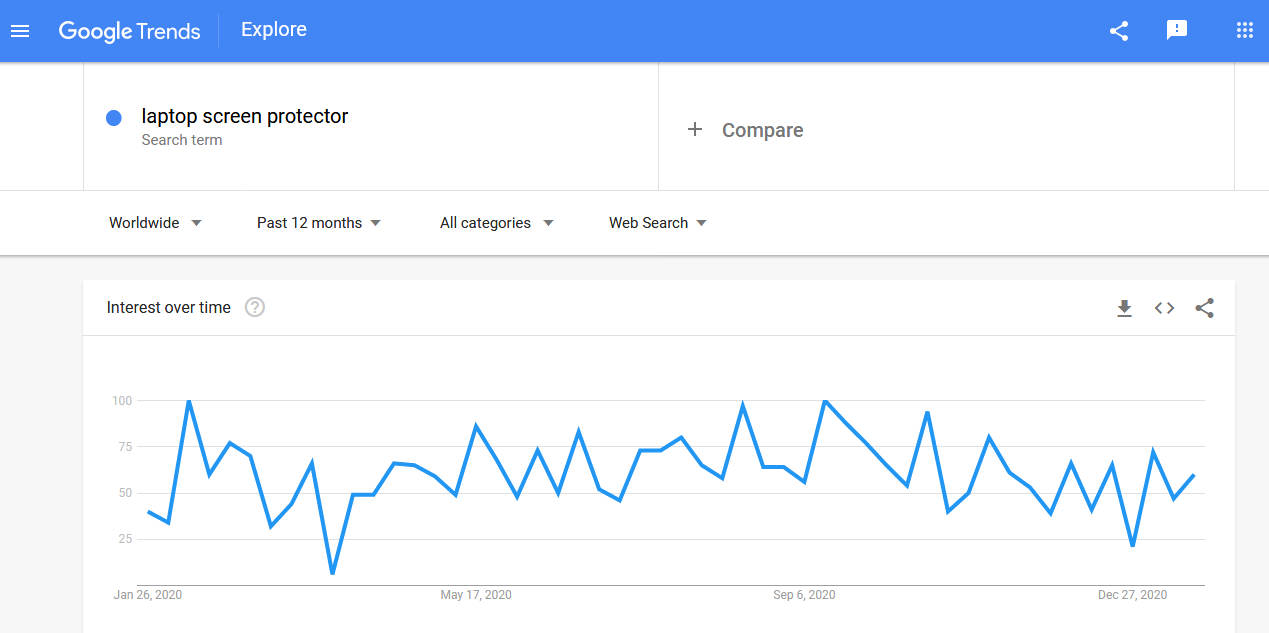 The graph shows an ascending trend, but the search volume will probably decrease if we look at the patterns. Why do you think this happens?
As you see from the screenshots, a portable hard drive is something to buy, as everybody stores their data somewhere. It is a very competitive niche, as you know, leaving little to your imagination. To successfully compete in such a slot, you need to develop a solid business plan, a compelling UVP, a marketing plan to rule all marketing plans, and so on.
However, when it comes to laptop cases or laptop screen protectors, for instance, you can think about some ways to improve your offer by finding market gaps.
If you think you will never sell a product because others are selling it for too long (or you cannot access the same suppliers, for instance), check out connected/adjacent products and different features to find a market gap!
Other Trending Product Markets to Research for Your Online Store
You probably wonder about fashion items missing from this list, together with other products that you know for a fact are best-sellers on the Internet. We did not forget about them. However, the fashion industry is an incredibly vast topic that deserves a guide of its own, so that we will mention it briefly. If you want to sell clothes and accessories, designer items, and even luxury/niche goods, you should conduct the research we suggest in the sections below.
Now, let's offer you a shorter list containing other markets and industries to consider for an e-commerce store this year! Research the niche, keep close tabs on your competitors, run analyses on each trending product you list, and never forget about the golden rules of item selection and propositioning.
Home Décor & Comfort Market

Eyewear and Accessories Market

Furniture

Plants and Garden Supplies

Jewelry and Accessories

Fashion Market – Clothes, Footwear, Accessories

Office & School Supplies

Security, Personal Safety, and Protection

Medical Supplies

Oral Hygiene

Mobile Phone Accessories

Interior Design

Hobbies Market

Automotive Market – Car and Motorcycle Accessories

Digital products – e-books, apps, art, gift cards, etc.
Now armed with all these product ideas and niches to research, let's learn how to find trending products and what tools you can use to narrow down and refine your options.
Selling Products Online: Top Things to Consider
Finding the best products to sell online is a process that you will have to re-evaluate frequently to adjust to your current business reality. Some may tell you that all you need to do is organize a brainstorming session and develop a list of products that generate the highest margins. While it can work, this approach may not turn successful in the long term. Your competitors are already out there fighting for every inch of the market they can get.
Being mindful and smart about things to sell online means arming yourself with a checklist and a plan. The guide below and our trending products list and discussions are here to answer some of the most difficult of questions, no matter if you are starting an e-commerce business or growing one in size:
How to find products to sell online;

What products are trending in 2021;

How do I check if the products I want to sell are profitable?


Since this is a list of trending products to sell in your online store this year, we did some of the heavy lifting in your stead. It does not mean you should skip some of the lessons we want to offer regarding product research, market research, tools you can use, and so on.
1. Focus on Peoples' Pain Points and Solve a Problem
The first thing to do is switch your perspective from "What to sell online to make money?" to "What do people need and buy online." You have to focus on peoples' pain points to identify a need that other suppliers do not cover enough, solve a problem, and offer buyers a specific benefit to stand out from the competition. Is there something people need but cannot find? Are they 100% satisfied with what the market offers right now? Answering such questions will take you one step closer to your goal of finding the best products to sell online and help you build a strong business.
2. Consider Your Ecommerce Business Model
Ecommerce comes in many forms. Finding trending products to sell online should always match the business model you have in mind. It is not enough to list a bunch of stuff to sell online if you don't know what best-selling products match a retail business, what items make the best choice for a private labeling model, what is best to sell online if you choose the path of drop shipping or print-on-demand, and so on.
In the guide below, we will offer some examples to help you make better judgments. Deciding on your e-commerce business model sets the tone for your entire upcoming quest in the online shopping world.
3. Pick a Market Niche that Brings the Best Out of You
Find a market niche or industry you are familiar with, passionate about, or, at least, have some experience with to make things easier for you. It is not mandatory, but if you already have some knowledge and skills in a specific department, it will be easy to sell online products in that field. Your genuine interest and expertise will also transpire in your marketing efforts and add to your value proposition.
If you do not like the market niche you want to make money from or have no knowledge/passion about it, you will most likely get bored and overwhelmed very soon. When you create an online store to make money online, you are in for the long haul. Make sure you have some minimal connection to the niche/industry you choose; otherwise, continuing the business will become a stress source.
4. Identify Your Unique Value Proposition
Keep in mind that your unique value proposition speaks about your products' exclusive benefits to your potential buyers. It is what separates you from your competitors. When you decide to fill a gap in a market, you need to go a step further.
Can you provide something different that buyers don't find anywhere else? Can you propose to your clients something that other companies do not offer or do not do well?
Unique value propositions include (but are not limited to):
a product's source/manufacturing (sustainable crops, high environmental value, handmade/homemade, locally sourced, etc.),

your business model,

your target audience (products for kids of a certain age, items dedicated to animal lovers or environmentalists, etc.)

your plans of offering stellar customer support,

items whose features you can improve,

an emerging market poorly covered by the competition,

unique branding potential,

things that fulfill potential buyers' guilty pleasures,

catering to niche segments, etc.
It is hard to separate your UVP from thorough competitor analysis. It is the bread and butter of your success, as it will help you identify, research, and outsmart your direct competitors, their products, sales funnels, marketing strategies, and so on.
The same results will serve you well when you develop an SEO strategy for your e-commerce website and avoid common e-commerce SEO mistakes, so take it seriously.
5. Follow the Golden Trifecta of Products' Features
Before you begin your research to find the best-selling products online to consider for your shop, you need to list the search criteria. Otherwise, you will get lost in a sea of items. The golden rules of products' features are as follows:


Trending: You should look for products that were and are trending – or registering overall growth. It would help if you considered that some products only trend seasonally (winter apparel, for instance), so before putting seasonal goods on the list, revise your business model and your unique selling proposition.

Lightweight: No matter whether you choose to warehouse and retailing your products yourself, pick a private labeling model, or dropship your products, shipping costs can become astronomical on heavy items. Your goal is to make a profit, so list the products that maintain an overall low shipping cost.

Cost-effective: Ideally, you should sell products that cost nothing to manufacture for high profits. However, such products do not exist. Anything you sell costs something, whether it is money, time, or other resources. For a solid e-commerce business plan, you need to select products with low production costs but high-perceived value. Remember that all of them have to solve a buyer's problem and feature your UVP.
How to Find Trending Products: The Tools
Now that you have a better idea of what products you should focus on and how to choose them, it is time to discuss the tools to narrow down the markets, industries, and items that will pave your road to e-commerce success.
Keep in mind that for every product you find with these tools, you need to perform thorough researches that refer to:


The market niche's size, rate of engagement, and potential for conversions;

Buyers' personas;

Market viability;

Competitor analysis;

Online business laws to follow;

Product sourcing;

Costs of labeling, packaging, shipping, returns, taxes, etc.
With these things in mind, let's see some tools you can use to start finding the best trending products to sell online this year!
1. Jungle Scout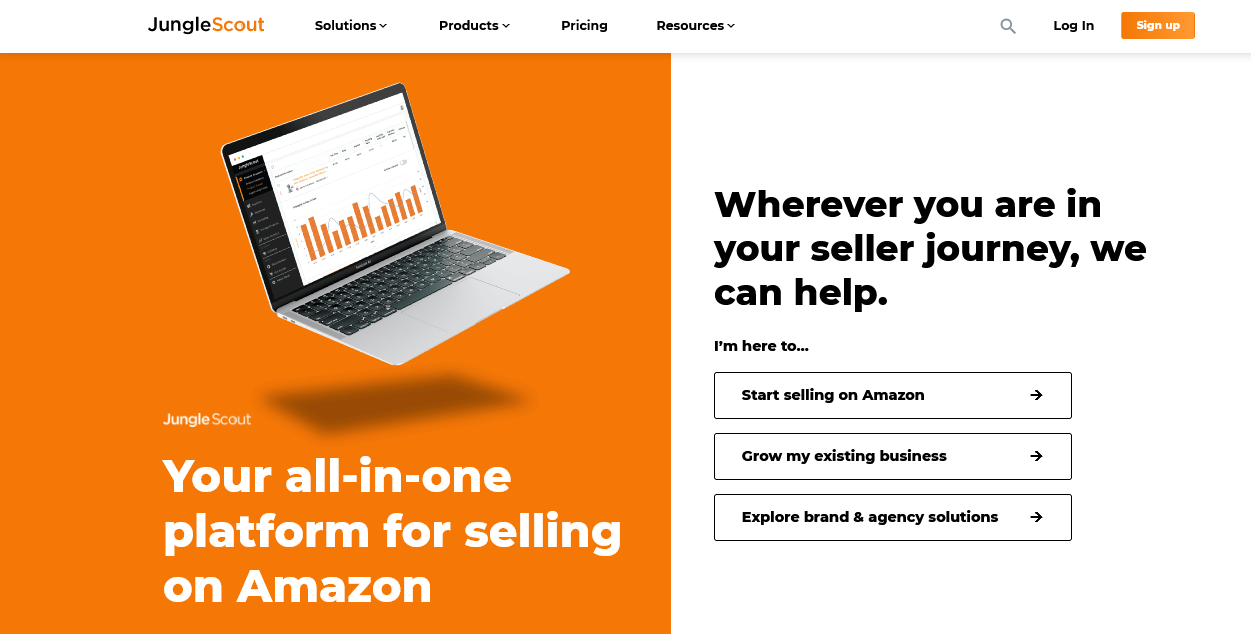 Use Jungle Scout to understand supply and demand, together with trending products you would not discover otherwise.
This tool offers a browser extension for Google Chrome and a web application. It helps you sift through and narrow down potential trending products to sell on Amazon. The Jungle Scout offers reports on items to sell that feature high demand. We suggest you use some of the following filters and data provided by this tool:
Monthly sales estimates;

Sales ranks;

Opportunity finder – the feature compares demand and supply, showcasing products that you can turn into opportunities;

Competitor reviews, etc.

Top sellers for a given product on Amazon.
Jungle Scout is a handy tool to help you discover what to sell online to make money. The items you find out may not match 100% what you love, but they will offer you a starting point towards your goal. The platform emphasizes the products with high demand on Amazon that may also feature low competition – hence, a market niche you should explore. Look at the products' prices, inventory, reviews, manufacturers, sources, etc., before putting them on your list.
2. Amazon Best Sellers' List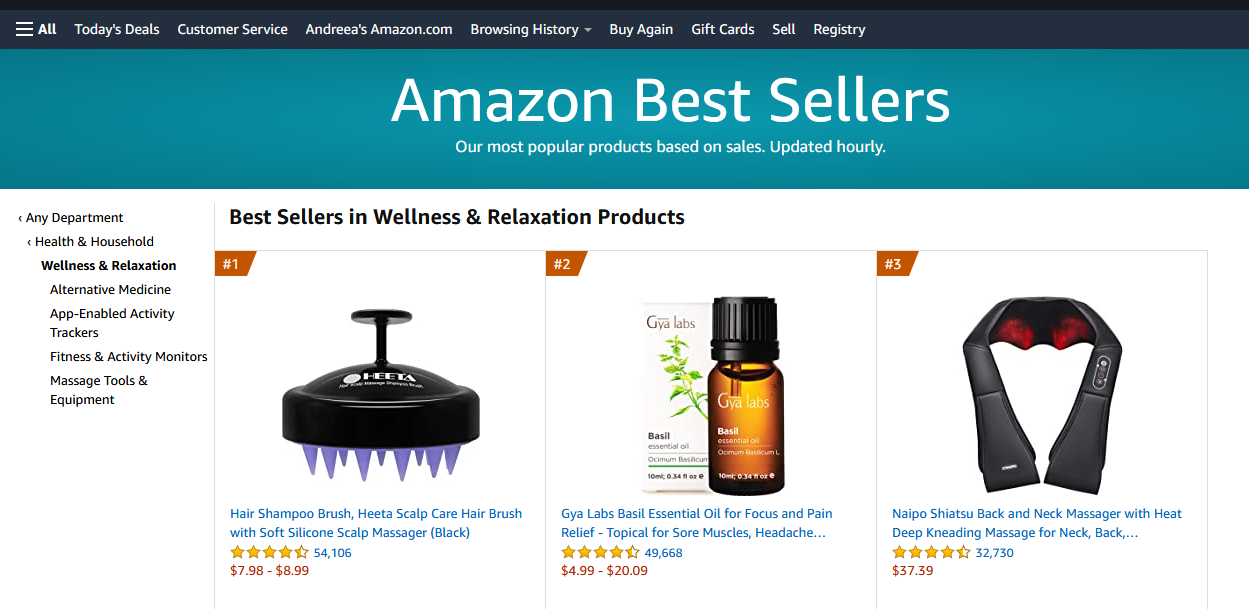 An excellent tool to learn more about your competitors, their trending products, customers' reviews, and market gaps.


You can grow your list of trending products you obtained with Jungle Scout, or you can validate a few ideas by running the products through Amazon.
Filter down your research by choosing specific categories in the menu on the left;

Look at all the suggestions offered by Amazon; is your product idea among them?

Analyze the products in each category: selling ranks, manufacturers, reviews, price, shipping, branding, packaging, ingredients, etc. Can you upgrade some best-selling products and make them even more appealing to your audience? Read carefully all reviews on the products that interest you. If the ratings are not excellent and people say they want something more/different, you just found a perfect opportunity to improve on a product.

See if people are looking for products/ideas similar to what you want to sell;

You might see tens or hundreds of companies selling the same thing you want to offer; it is not the end of the world, however;
Amazon is not the only place to look for stuff to sell online. We also recommend you browsing Ebay's Daily Deals section or the top sellers' list on Light In the Box, the Daily Deals on Fancy, the Wanelo website, etc.
3. Google Ads | Keyword Planner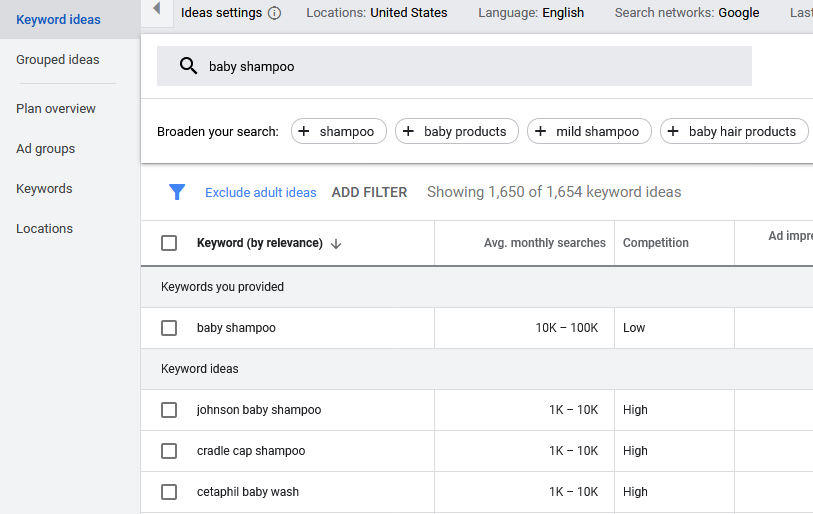 Use the Keyword Planner from Google to understand search volumes, get new keyword ideas, and boost your SEO strategy.
You will not be paying for Google ads yet, but the Keyword Planner will help you in more ways than you know it. Create an account first. Google will want to see if you already have a website. In case you don't have one yet, check out our guide on how to purchase a domain name with Ucraft.
Next, use the keyword planner to research words, terms, and phrases to get an idea of each product's search volume. If your search term does not get much traffic, you will be less likely to tap into a large, thriving market.
On the other hand, substantial search volumes mean you are looking at a very competitive niche that is tough to break in without a solid value proposition.
Our advice for you is to learn the ins and outs of the Google Keyword Planner, as it will be one of your most valuable SEO tools and competitive research instruments in the future. It also gives you thousands of keyword ideas (related products in this case) you can analyze for your online store.
4. Google Trends
This Google tool is one of your best free product search instruments to rely on when making your product list to sell online. The graph shows your search interest relative to a region and a period, highlighting the popularity of an item and the interest people have in it. A score of 100 reflects the peak popularity for a term. In the graph, you can easily understand whether a product shows an ascending trend, interest spikes, etc.
5. Social Media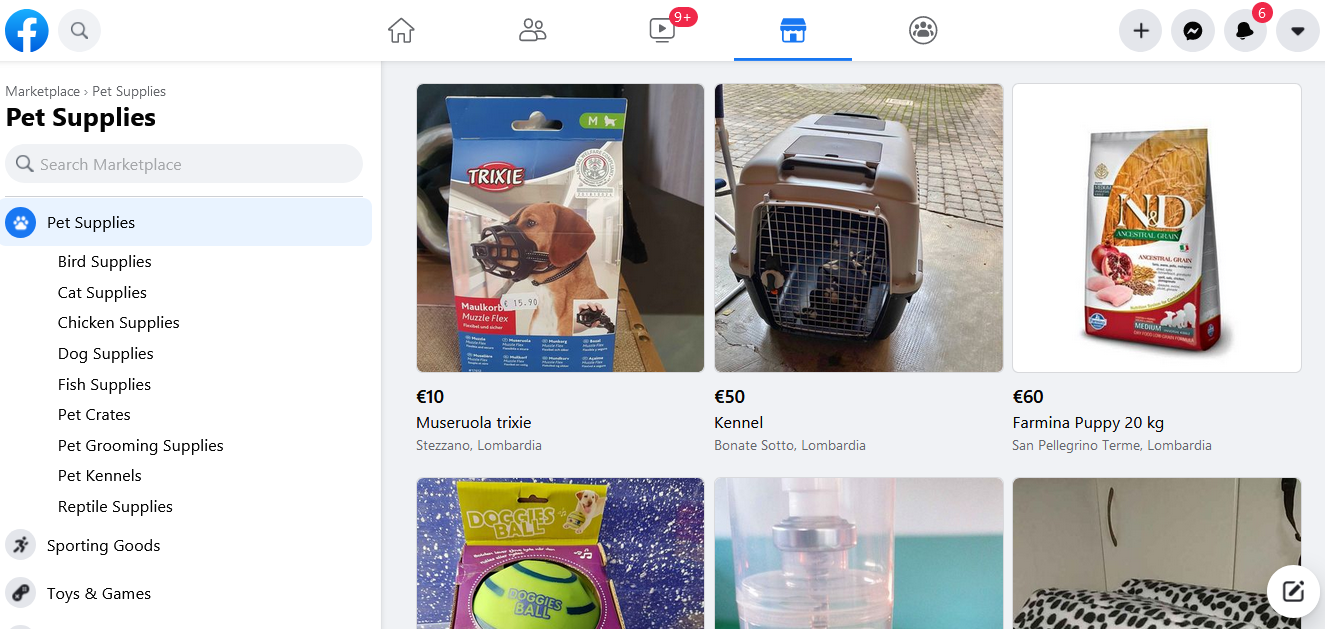 Use the Facebook Marketplace to learn what people are selling in your area.
Selling opportunities are everywhere; you just must know where to look. Besides finding high-volume product searches with Google and best-selling products with Amazon and Jungle Scout, another handy tool to look for trending products is social media.
Dedicate some time to find exciting products on Facebook Marketplace, Instagram, Pinterest, etc. Also, check your local online marketplaces and online retailers; they all feature a best-seller products list.
Validate all these product ideas with Google tools, Amazon, and your local online shops.
The search will help you create a shortlist that meets all criteria: trending products with a good value proposition, improvability, low costs, high-profit margins, easy shipping, and so on.
Quick Case Studies: Unique Value Propositions and Market Positioning
For this guide's purpose, we chose to feature two Ucraft clients active in some of the most competitive industries: skincare/beauty and food/gourmet. Below, you will find some comments on their chosen selling propositions and market positioning to increase their chances of selling high trending products on vast markets.
1. Salveez Skin Care Products
This Ucraft client – Salveez – decided to create and sell a skincare product for itchy, dry, and sensitive skin. However, other solutions are offering the same benefits and coming from international brands, no less.
So what does set this online store apart?
The fact that they use only natural herbs and beeswax found only in New Zealand. Their offer includes naturally sourced ingredients, ethical business models, sustainability, and proven health benefits in a broad category of skin ailments.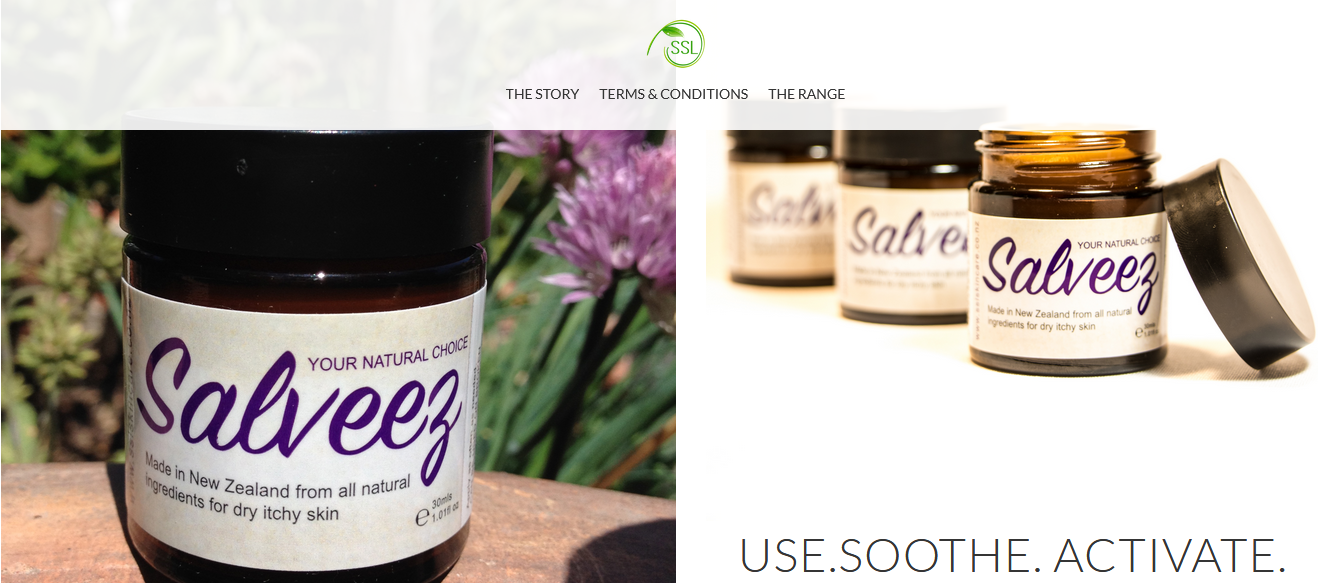 It is not hard to sell skincare products when you have a solid unique value proposition!
Nevertheless, you don't have to open your cosmetic factory to develop and sell a branded product that only you can make. You can sell different skin moisturizers depending on skin types, ingredients, age segments, etc. You can address product sourcing when you position yourself on the market, packaging, solving a community issue, tapping into environmentalism, and more.
2. Abbie's Kitchen – Artisanal and Gourmet Cakes
Next, we will showcase another Ucraft client, who built an artisanal bakery online shop – Abbie's Kitchen.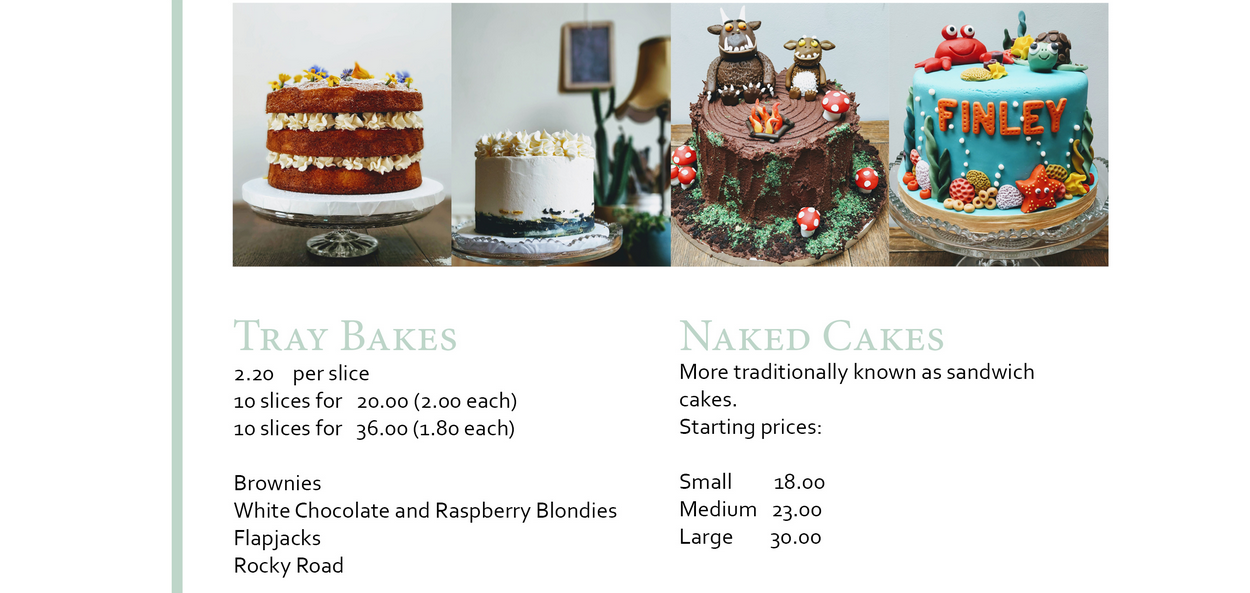 Catering to specific audiences with outstanding products is an ingredient for e-commerce success.
What you have here is a business model that is probably familiar to you: a gourmet bakery that makes and delivers cakes and pies on-demand to its customers.
The value proposition and the market positioning are relatively straightforward: delicious homemade treats created with love by a master baker. Throw in the menu varieties, the attention it pays to vegans and people with gluten intolerance, the shout out to the nostalgic who still love a traditional 5 o'clock tea with all the trimmings, and you understand why it is successful.
This e-commerce model certainly rides the trend of homemade cooking and delivery, but it doesn't mean you have to sell foods you make in your kitchen to build a successful business. In some countries, it is illegal to do so in the lack of authorizations and certifications.
However, you can embrace other models for selling food products online: retail and warehousing, private labeling, and more.
Final Thoughts
At first, when you start searching for trending products to sell in your new online store, you may feel dismayed by the multitude of competitors who seem to be rocking already this whole e-commerce business issue. Nevertheless, suppose you want to become an entrepreneur and start a successful online business. In that case, you need to know that patience, determination, and hard work are your superhero weapons in your fight to conquer the market.
You are not alone in your struggle, either! If you decided to build an online store and have some ideas of what products to sell online for profit, read more about the Ucraft website integrations, so you get a better idea of the tools we offer to make your store stand out of the crowd!
Remember that you can contact us and receive professional help from our experts with website design, shopping cart settings, integrations, features, and more!
Are you ready to create your first online store? Start your free 14-day trial with Ucraft. No credit card is required.

START YOUR FREE TRIAL NOW →


Author: Andreea Sterea