Hello and welcome to the latest installment of affiliate marketing 101, powered by Ucraft. If you're unfamiliar with us, we're a website builder company on the verge of entering the eCommerce solution industry. Among our many services, we also have an affiliate program that allows you to generate a substantial and regular income from the comfort of your home.
If you need clarification on what affiliate marketing entails, check out our post on the basics of affiliate marketing before you delve deeper. And if you're already in the loop and working as an affiliate, this article is definitely for you.
What is Affiliate Lead Generation?
Affiliate lead generation is a marketing strategy that combines affiliate marketing and lead generation. In affiliate lead generation, businesses partner with affiliates who promote their products or services to their audience and capture leads for the business in exchange for a commission. In short, attracting new leads is the bread and butter of any successful affiliate marketing endeavor. 
Lead generation tactics usually include a call-to-action (CTA) that encourages potential customers to provide their contact information, such as an email address or phone number, in exchange for a free resource or offer. These leads are then passed on to the business being represented, allowing them to nurture the lead and encourage them to make a purchase. 
However, the number of leads you acquire can often fluctuate. A decrease in leads can lead to a subsequent decrease in motivation (and vice versa), so it's essential to keep your focus and continue moving forward, even if things don't always go as planned.
So, if you need help attracting your desired percentage of leads, look no further than this article, where we dive into several ways you can generate leads as an affiliate.
How to Generate Leads in Affiliate Marketing?
There are several ways you can acquire more leads in affiliate marketing. In fact, if you ask a veteran affiliate, they'll most likely pull out a whole list. However, if you're stuck and want to return to the basics of effective lead generation, we recommend sticking to the most tried and tested methods.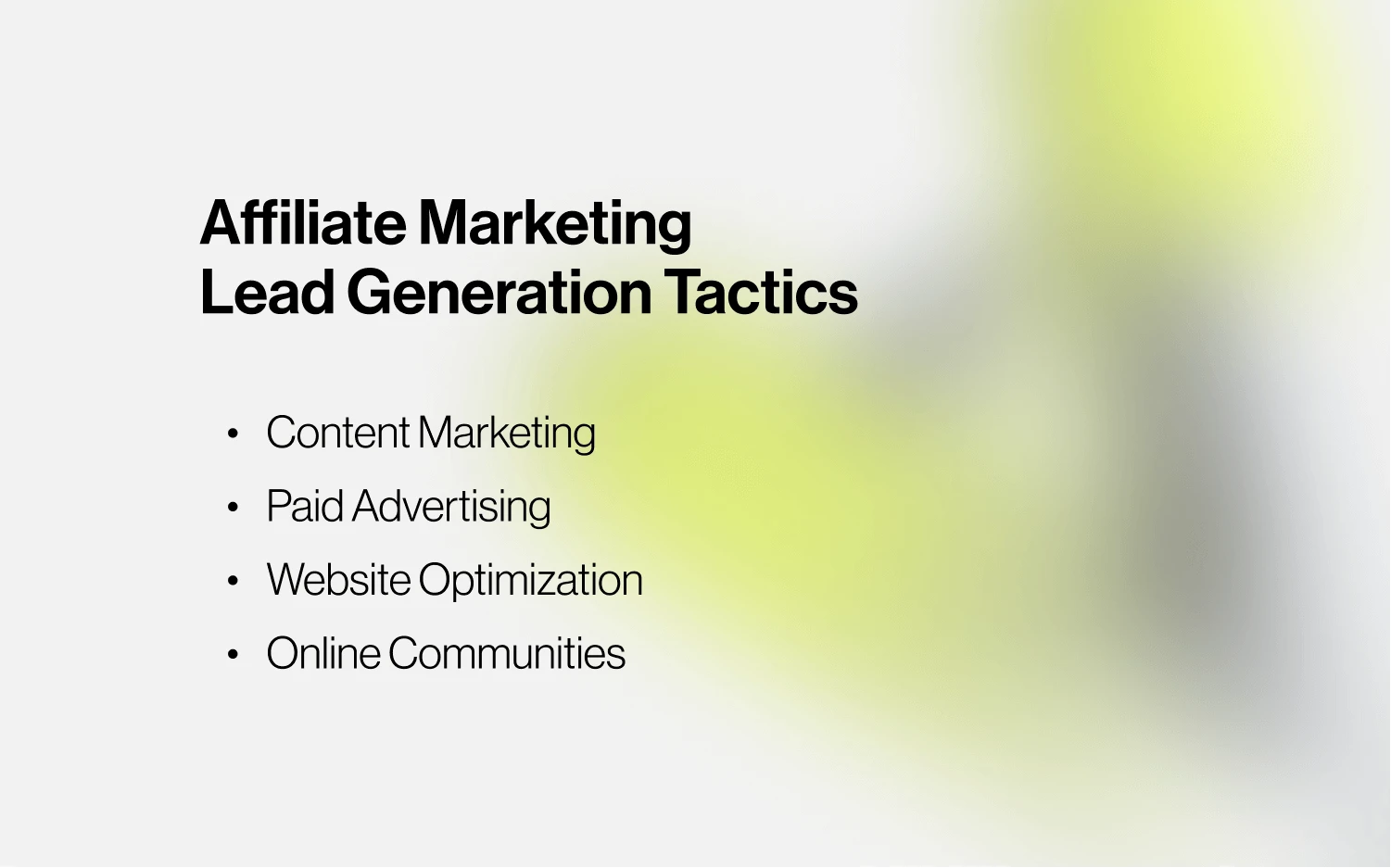 Leverage Content Marketing
A tried and tested way of generating more leads is providing people with high-quality content that gives value to your target audience, such as blog posts, videos, informative email marketing campaigns, and posts on social media channels. Ensure your content includes a clear call-to-action (CTA) that encourages readers to sign up for your email list or download a lead magnet such as a discount code. Remember to include your affiliate link in your content so any purchases or sign-ups lead back to your efforts.
Speaking of social media, sharing the brand or product you're representing with your followers is also a great way to encourage more people to invest in what you're selling. If you already have a substantial social media presence, you're in luck!
Avoid disappointing or discouraging your followers by recommending something that doesn't fit your brand. For example, if you're into fitness, it may not be the best idea to become an affiliate for an online fast food delivery service or sell weight-loss products as a body-positive influencer. However, if you remain genuine, your followers are more likely to check out what you have to offer.
What if you don't have a substantial amount of followers? No worries! You can still recommend the product or service you're representing to your friends and acquaintances. They may even thank you for offering something useful and solving a significant problem for them.
Use Paid Advertising
Use paid advertising platforms, such as Google Ads or Meta Ads, to drive targeted traffic to your affiliate offers and capture leads.
Google Ads are a great way of attracting leads, especially if you provide enticing headlines and captions. It may seem tricky at first, but once you get the hang of it, you're already halfway towards generating new leads and taking your affiliate marketing efforts to the next level.
Paid advertisements are an excellent choice for those who don't have a significant social media presence but still want to acquire new leads through less time-consuming ways. All you have to do is set up your ads and track their progress. 
Optimize Your Website
The easiest and least time-consuming way of generating leads is to provide links to your chosen affiliate program on a website or landing page. Regardless of the type of platform or business you operate, it's likely that you're recommending products or services that align with your vision or brand (if not, you may want to rethink your strategy).
Allocate a specific section on your website to link the product or service you're recommending, and take the necessary steps to represent the brand you're affiliated with in an engaging way. Imagery and eye-catching CTAs can make a significant difference, too, so make sure to invest some time in making your on-site recommendations stand out.
If you don't have a website or a landing page to link back to your program, no worries! You can create both with Ucraft.
Be Active in Online Communities
If you think the world wide web has completely shifted to social media platforms, you couldn't be any further from the truth. Communities like Reddit and Quora have millions of users logging in every day to discuss everything and anything, and, oftentimes, seek advice. As an affiliate, you're there to generate leads, but as a fellow forum member, you're also there to help people looking for the right products, services, subscriptions, or solutions (depending on the program you've signed up for).
Say you're a Ucraft affiliate looking to promote our website builder. You've used it yourself and are familiar with all of the benefits, and now you want to start recommending our solution to other people. Great! Simply sign up for an online community of your choice, find relevant subtopics, and start recommending. Just don't forget to post your affiliate link so your efforts won't be wasted.
Moreover, most affiliate programs, including ours, provide a comprehensive dashboard where you can track your progress in real time and see the number of new leads coming in on a daily basis. Once you begin to see that number go up, there's no stopping you!
Key Takeaways
Overall, generating leads in affiliate marketing requires a combination of effective marketing strategies, high-quality content, and a focus on building relationships with your target audience. Using these tactics, you can capture leads and drive revenue for your business through affiliate marketing.
Even though we've only covered four main ways of acquiring new leads in affiliate marketing, this is more than enough to get you out of a lead-generating rut or even get you started on a new affiliate journey. With time, patience, precision, and effort, you'll generate new leads in no time!
FAQs
What is lead generation and how does it work?

Lead generation refers to the process of identifying and cultivating potential customers, or "leads," for a business's products or services. It aims to generate interest in what a company has to offer and capture the contact information of those interested in learning more.

 

How can a business get more affiliate leads?

To get more affiliate leads, companies can take the following steps:

 

1. Build a strong affiliate program
2. Find the right affiliates
3. Use targeted marketing

 

Is lead generation the same as affiliate marketing?

No, lead generation and affiliate marketing are not the same, but they are related in some ways.

The primary purpose of affiliate marketing is to drive sales and generate revenue for the business, while the goal of lead generation is to capture contact information and move potential customers toward a purchase.

 

Can we use affiliate marketing for lead generation?

Yes, you can. In affiliate marketing, to generate more leads consider including a call-to-action that encourages potential customers to provide their contact information: email address or phone number, in exchange for a free resource or offer.

 

What is the difference between lead generation and lead nurturing?

Lead generation is the process of attracting and capturing the interest of potential customers for a business's products or services. On the other hand, lead nurturing is the process of building relationships with potential customers and guiding them through the sales funnel toward a purchase.