After we've spoken about the nuances of starting your venture through affiliate marketing and being aware of the major affiliate marketing mistakes made on that path, it's time to get a hold of some important tools and tricks on how to do affiliate marketing on Quora and Reddit. 
Let's face it: no matter how you do it, if the platform where you do it does not function properly or does not target the right audience, your effort will most probably end bitterly. To stand by our affiliates' side, we've chosen to talk about two of the most popular platforms - Quora and Reddit affiliate marketing.
If you are using your primary platforms (website, social media, etc.) to promote Ucraft or any other service/product, turning to Quora and Reddit only expands your capacity to reach wider audiences. You can gain more leads and conversions, as well as maximize your payout/earning. 
This post will evolve more on tips and tricks on how to make money on Quora/Reddit and more guidance for Ucraft affiliates.
Tested and Successful Platforms for Affiliate Marketing: Quora and Reddit
As you wonder which platforms to pick for your new endeavor, we've researched and are ready to help you with the choice. 
Well, both of the platforms we've selected to talk about are popular enough not to need an intro, but still, to realize once again what we are dealing with, let's cover the basics.
What is Quora, and what is Reddit? Both Quora and Reddit are web content rating and discussion websites and enjoy the abundance of over 26 million monthly users in the US alone and around 430 million - worldwide. According to statistics, Reddit gathers around 1.5 billion visitors per month.
These websites are among the most visited websites globally, hosting a massive collection of forums on all topics imaginable.
Reddit is the 6th most popular networking mobile app in the US. You can browse forums on both Quora and Reddit with the search bar's help and discover the most up-to-date communities, questions, and answers you need to build your strategy. You can share content, reply to other people, comment on their posts, and upvote and downvote content. 
Some Particular Facts about Reddit and Quora Marketing:
Before you consider Reddit and Quora affiliate marketing, let's see a few facts you should know. The section below will answer some of the most pressing questions related to marketing on these two platforms. 
1. How to build an audience on Reddit?
Reddit is known for its strict audience: you will be either loved or hated, so you need to be ready for this. Do not be taken aback by first reactions; keep to your goal. But when things are not working, try to reconsider your target audience. Most Reddit users are between 25 to 29 years old. A large chunk of the user base (21% of US adults) is even younger (18 to 24).
2. How to post links on Reddit and Quora?
You cannot add a direct affiliate link in your posts on neither Reddit nor Quora. Instead of adding your affiliate links directly in the answers, you must add the affiliate links to your blog post/landing page. Then add the link of that blog page/landing page inside the answers & ads.
3. How to orient between paid and free promotion?
Both Reddit and Quora have free (organic) and paid (ads) options. Many specialists state the free options are no worse and earn almost equally as the paid ones when done properly. Meanwhile, you never have a guarantee that a paid Ad will bring more leads and commission.
4. How to succeed in your efforts?
Create valuable content that helps people with the questions you found. Your blog posts on your website should address current and common issues from various fields. Share the link to your article on Reddit and Quora. In your article, you then link to affiliate promotions.
Tips and Tricks for Affiliates on Quora and Reddit 
Good strategy wins it all. Before you run forward to promote affiliate links and make money on Quora and Reddit, make sure you get the right strategy in place. How about taking four baby steps into that world?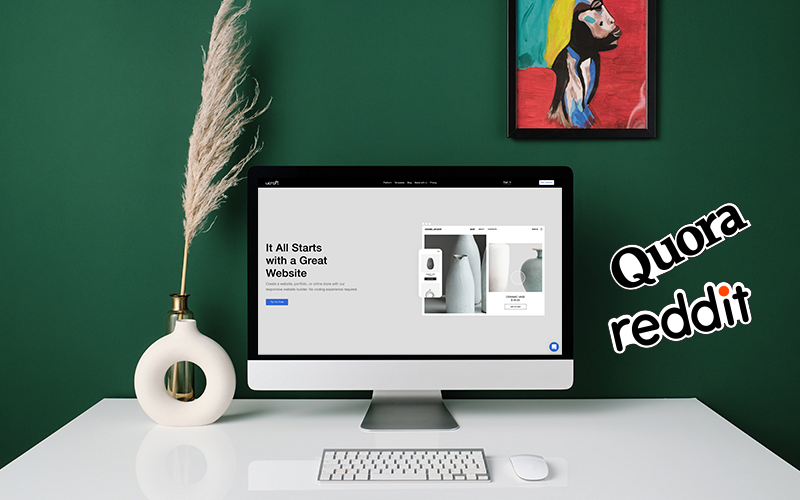 Step 1: Set up a landing page
A more creative approach will be necessary to drive organic traffic to your affiliate landing page. What is an affiliate landing page? Well, it is your affiliate blogging site or space where you create your content and insert your affiliate links. You need this site if you want to use Reddit and Quora to promote Ucraft/other affiliate marketing products or services. You will use links from this page to insert them into your Reddit posts and comments. 
Step 2: Create a strong profile on both Reddit and Quora
It is seldom enough to have an account on these platforms. You need to make sure you have a strong, competitive profile. You are entering a sea of users. If you don't want to be just another drop, like many others, make sure you stand out. This requires some effort. 
You should manage and address everything on your profile with professionalism, starting from your profile picture, your bio, and your headline.
Your profile picture is what users see and associate you with. Don't choose a family or a group photo together with friends: that never looks professional.
Your headline and profile text are important because they both show the reader your credibility to answer questions in your field. Again, you want to show credibility and expertise for people to follow your lead. If your text is immature and unoriented, you are not winning this.
Step 3: Conduct research
Research relevant topics in your niche extensively, gather questions that seem to generate interest among users, and create matching content. Make a list of your most relevant posts. Reddit and Quora are user-generated and community-driven and thrive on shareability. Become a valuable and helpful member before starting your promotions. 
Nonetheless, don't get lost in trying to "please" the public, and always keep in mind your niche. Be and stay relevant to your affiliate content. If you are promoting a website builder, search that niche. Believe it or not, enough is going on in that niche already. Browse the questions and find the most popular ones. Do not underestimate newly entered questions for opportunities. Responding fast to new questions can give you an advantage in collecting upvotes. Answer everybody, gather followers, and hard work will pay off.
Step 4: Create excellent answers
After you've known some of the questions to answer in your niche, it's time to produce great content on Quora and Reddit. Value is key - always provide it both in your blog content and on the platforms. The main goal of the Quora and Reddit community is to spread knowledge, not to promote. Focus on providing value to your readers and promotions will happen on their own. 
Be original. It's okay to answer questions that have already been answered but do not copy, do not let readers skip your answers because of redundancy, do not be lazy. You can always give a different, more unique touch to your answer. Explain the same points in more detail or add extra relevant information in your answer. 
The aim is to have the most comprehensive and useful answer on the thread. Check any facts you mention: all should be accurate. Provide relatable answers by providing real-life examples, especially if the discussion is about a "how-to" question. 
Format and visuals are important. Create hyperlinked text to your affiliate site, use bullet points, and mention other users and topics. 
Don't write big blocks of text: break them down into paragraphs according to logical pauses. Think about your readers when writing; it will help you develop solutions to your content difficulties.
You will find that popular answers often have something in common; they have visuals alongside their answer. People are and will remain visually oriented. Adding images will catch your viewers' attention and increase your chances of an upvote. 
How to Promote on Quora/Reddit?
Not to burden you with more heavy text to read, let's keep it simple. Here are a few bullet points to keep in mind and follow, especially if you are or considering to become a Ucraft affiliate.
Raise website-building-related questions. A wide layer of audience is following that topic. You can also use the opportunity to advertise Ucraft this way, while engaging people in the comments and upvotes.

Answer website-building-related questions, and use the opportunity to advertise Ucraft in your answers.

Do not forget to remain unbiased and do not share direct affiliate links.  

Do your best to remain neutral: that is key. It might be difficult, but if you fall into the trap of exaggerating the advantages and hide the drawbacks of Ucraft, this will earn bias and mistrust towards your profile.
Summary Notes
Why do people come to Reddit and Quora? Have you thought about this? It is very important to realize that nobody browses a space with no purpose (even if so, it is subconsciously coordinated).
There are three main reasons people come to Quora and Reddit:
1. For  answers to complex questions that Google can't provide,
2. For real-life examples and solutions, 
3. For entertainment.
People are looking for human answers. Be honest and upfront about your affiliate promotions, clearly explain what awaits them, and how the product would benefit them. Become the human whose opinion people need and listen to and follow. It all eventually starts when you start.
Good luck!