No matter what genre of music you are making, you need a highly captivating music website with crisp and concise content. Today, we will offer you a few tips and recommendations on creating a music website that gathers fans around your brand and helps you stand out from the competition. The best musicians' websites contain a few critical features, and we will talk about those in the next few moments. While you create music, we will be here every step of the way in helping you build a unique website as an independent artist!
Why Do You Need a Music Website as an Independent Artist?
Respectable and professional artists across all genres have websites for the simple reason to share with their art. Designers and photographers curate online portfolios to highlight their art. Writers also have beautiful websites and blogs where they feature snippets of their work and announcing new book releases or signing tours. Musicians don't shy away from such opportunities either. On the contrary, since music is such a versatile art form, so can be the music website.
A music website will help you to:
Engage and grow your fan base;

Land gigs;

Sell your music & merchandise;

Build a strong marketing strategy for your music;

Expand your business network and access new opportunities.
When you pour your heart into creating your tracks at the studio, the same should apply to your website. It's nice to play your music to friends and family, but if you're aiming at the world, you must think outside of the box!
This article will provide a roadmap you can follow to create a user-friendly, cool-looking, functional, and mobile-responsive website. To create a music website, follow these next five easy steps!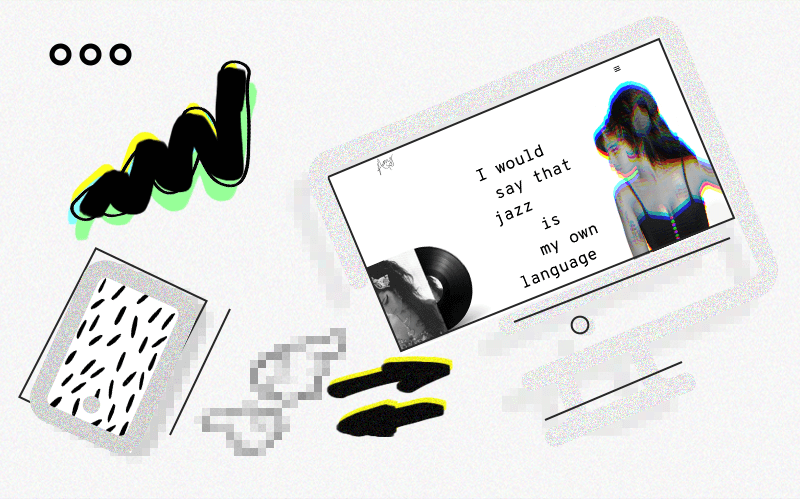 1. Get a Domain Name to Match Your Name/Brand
If you are looking to set yourself apart, you must get a custom domain name for your website. It is crucial for your brand's credibility in the eyes of website visitors, fans, event organizers, labels, and so on. Having a subdomain like "myband.ucraft.net" does not look very professional.
If your band's name is The Twin Monkeys, you should look if twinmonkeys.com is available as a custom domain name. Stay away from complex domain names containing hyphens or numbers. It will leave the user wondering and confused.
Getting a hold of a domain name and hosting is a breeze with Ucraft. We offer free web hosting on Google Cloud to all our clients. With us, you can easily purchase a domain name directly from our platform and enjoy free Whois Guard privacy protection. If you already have a domain name, you can connect it for free with Ucraft.
The advantage of using Ucraft – the best website builder for musicians – is that it allows you to create a professional website at more than affordable prices while enjoying tens of features and benefits. If you're looking to expand your brand into an online store, you might want to create a professional online store to ensure a seamless shopping experience for your fans. If you're looking to expand your brand into an online store, you might want to create a professional online store to ensure a seamless shopping experience for your fans. You can create a consistent brand; you can add dozens of social media and marketing integrations, track your website's performance, improve your SEO strategies, allow your audience to interact with your website, and more!
You can achieve all that by choosing a domain name consistent with your brand.
2. Choose the Best Music Website Template for Your Needs
A customizable website template is a perfect choice when you create a music website from scratch. It is already mobile responsive and contains most of the website pages you need for a professional website. Moreover, you can tailor it to look and feel just the way you want it!
Check out 'Amy,' one of our coolest artist music website designs in honor of the late great Amy Winehouse. This example will demonstrate some of the points we will cover in this article.

Also, did you know that the Armenian State Jazz Orchestra used Ucraft to build their site? You can start creating today; it's easier than you think!

Another music website created with Ucraft that you can learn plenty from is the Collectif Medz Bazar, popular alternative-folk band website. Check it out to see the sections you need to add to your music website.
If you take a quick look at these examples, you will reach a powerful conclusion: picking the best template for your music website is a vital step in building an online brand. In other words, take your time, review our templates carefully, and make sure you choose the one that best "translates" your brand's message and vision to your target audience.
In case the chosen templates need more personalization, don't fret about it! Our website builder allows you to customize the template, add pages, and play around with the features until you reach the best possible result!
3. Add All the Must-Have Pages on Your Music Website
Your fans & industry-related people will visit your website for the following reasons:
Learn more about you as an artist, your music, plans, vision, values, etc.;

Find out your performance dates;

Check your latest singles and albums;

Learn about upcoming releases;

Subscribe to your newsletter;

Stay in touch with you;

Stream or buy your tracks, watch music videos, etc.;

Buy your merchandise (T-shirts, CDs, etc.);

Read your blog;

Book you for concerts and other gigs;

Invite you for TV/radio/online appearances and events;

Set up an interview, and more.
For these people to achieve such goals, you need to offer them a professional music site with dedicated pages and sections, so they find what they are looking for the second they access your website.
So let's look at these pages in more detail, shall we?
The Homepage
How you present yourself is how people see you. So what are you showcasing?
You want your website visitors to appreciate how well-made and user-friendly your music website looks. The last thing you need is them closing the browser tab because of boring UX and poor website design. On the contrary, you want your homepage (and overall website) to offer the audience a seamless, engaging experience. Here are some UX/web design principles to keep in mind when you tailor your music site's template.
Have an eye-catching logo on your header or anywhere noticeable when your site loads. Just in case you are a struggling up-and-coming artist on a limited budget, remember you have tons of options to do things yourself.
For example, you can use the Ucraft logo maker or any other similar tool out there on the market. Pick the most remarkable icon that best depicts you as an artist or band's image to create the right branding for your music and merchandise. Make sure the logo contains a reference to your name or your initials. If you haven't designed a logo before, here are some logo-making tips to guide you!
The next thing to consider is displaying updated and relevant info about you and your music career right in front of your website visitors. Whether you have upcoming shows or a new single dropping soon, make sure this is the first thing they can see, regardless of who visits your website.
Overall, your homepage is your business card. The moment users lay eyes on it, they have to engage with your music website and feel the need to learn more about everything you offer!
Bio or About Page
Your artist or band biography needs a page with impeccable writing on its own. If you're just getting started, don't panic. Write about your musical career's vision for the future and include anything you consider valuable.
Mention a song competition you took part in and won or any relevant achievements. Media outlets and publicists will directly refer to your bio before reaching out; therefore, make sure you embellish this page without overflooding it with exaggerated info.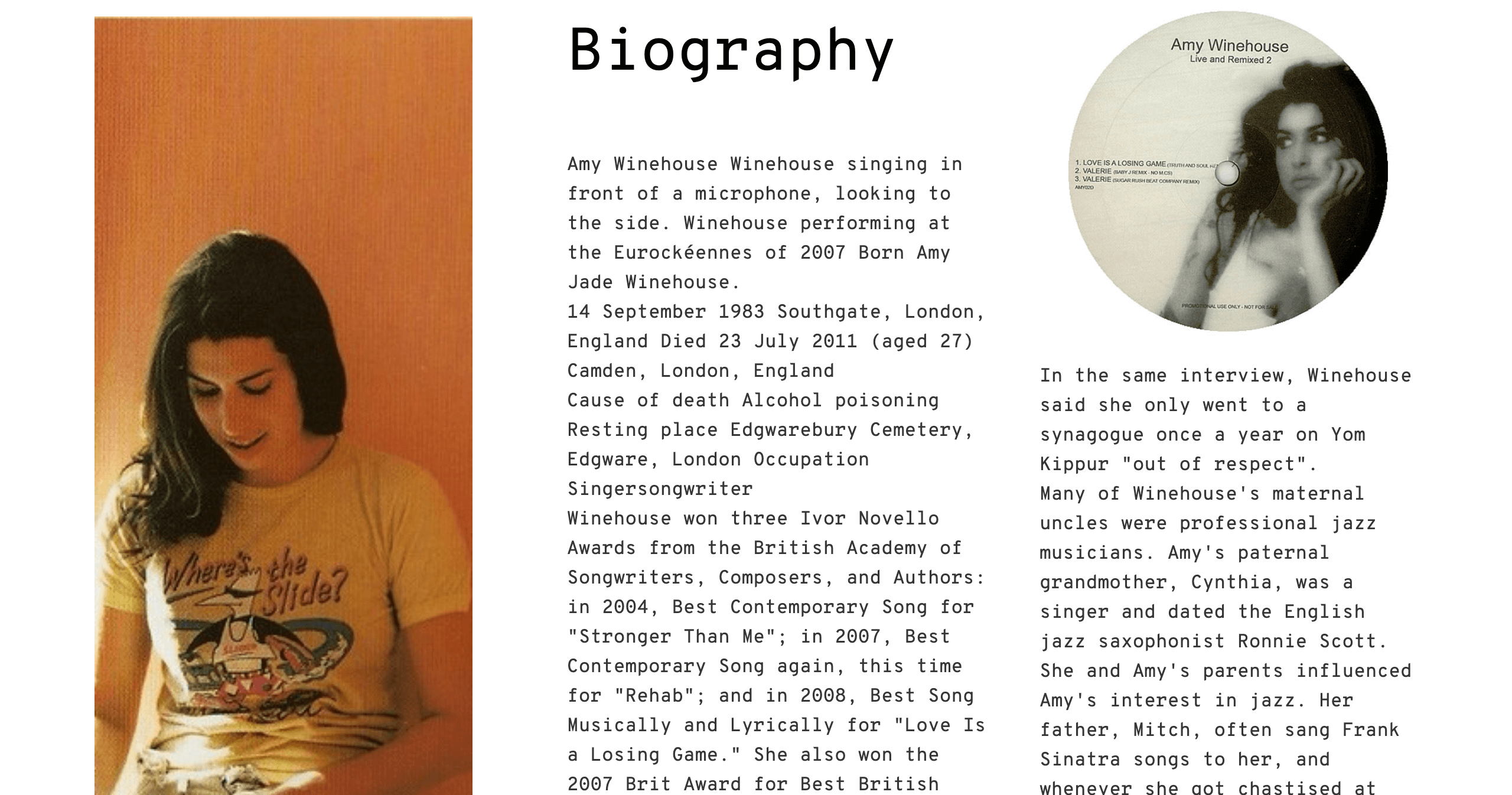 Songs & Albums Section
Your website visitors might want to listen to your songs right away. The key here is to give them quick and easy access to your tracks. Make sure to include an audio player featuring your songs.
However, note the following: do not add an autoplay function for your material on your website, especially on the homepage. It is one of the most annoying things people can experience on your site.

As a side note, the recent policy updates of modern web browsers can block autoplay functions by default or mute them.
You have tons of various widgets that allow you to integrate your music on your website. If your tracks are on Spotify, SoundCloud, or iTunes, all you need to do is embed them directly into your website.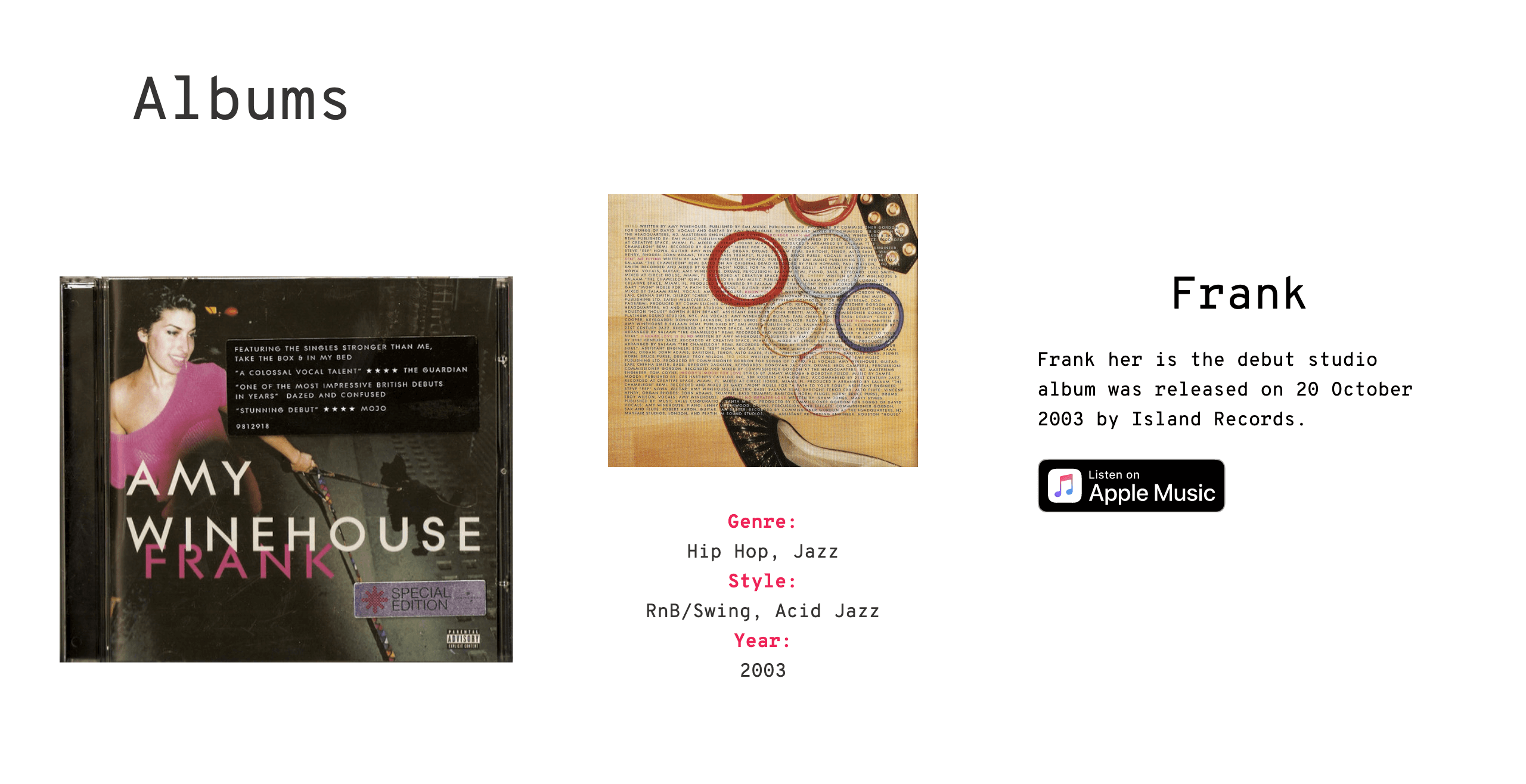 A Multimedia Section
Your image is everything, and you need a dedicated place on your website for it. If you don't have a full-frame DSLR or access to a professional photographer, don't get discouraged! Modern smartphone pics have immensely improved in terms of quality. You can ask a friend to take a few clean shots with different clothes and locations to create variety. Make sure you include photos and videos you can further use to promote your music on Instagram and other social media platforms for user engagement and brand storytelling:
Behind the stage photos and videos;

Pictures from concerts, gigs, or the recording studio;

Merchandise images;

Everyday life photos and videos showing fans who you are, what you do in your spare time, what your other hobbies are, etc.;

Imagery and videos from different events and occasions: the band's anniversary, a charity event you've been a part of, backstage interactions with fans, and so on.
How you display your images is important for your website's overall look:
Make sure the photos are clear, in-focus, and organically blend with the rest of your website's colors.

Try adding some overlay effects on the images when users place the cursor on them.

Sliders and other creative image positioning are also marvelous ideas!
A Contact Page
Your contacts on this page must be well organized and easy to read. Inquiries such as bookings, licensing your songs, or merch restock are just a few examples.
If you have a team, list each individual's email address separately by role. Make sure you highlight all your social media accounts, including your YouTube channel with neatly presented icons to direct visitors to your profiles.
A well-crafted "contact us" form is also an excellent idea, as it gives your website a more professional look and feels. It also encourages your audience to get in touch with you.
A Blog Section
Not so long ago, we discussed the benefits of blogging for small businesses. Nevertheless, the same principles apply to artists' websites and portfolios as well. When you create a music website, you should not omit to add a blog section for the following reasons:
Blogging allows users to learn more about you and your music, thus nurturing an authentic, strong bond between you and your fans.

Having a blog containing well-written articles, news, opinions, and fun content increases your website's visibility in search engines.

The blog section is where users and random visitors can convert into leads and fans. If they feel connected to you, they become more curious and willing to listen to your music, buy concert tickets, share your music videos with their friends, purchase your merchandise, and thus become your music ambassadors.

When you have a finely curated blog section on your website, you can educate your audience and help them discover and refine their taste in music;

Blogging creates an active community, as the easiest and probably cheapest way of keeping people close and convincing them to become genuine brand loyalists.
For all the reasons above and many others, when you pick a music website template, make sure it comes with an integrated blog section. If you picked a layout but want to add a blog page manually, our consultants are there for you 24/7, so you can always count on our support!
A Section Dedicated to Live Performance Dates
Live performances are your bread and butter. Once you have won the hearts of new fans, they will want to purchase tickets to your concerts and gigs. It is essential to let your followers know the date, time, and venue you will be making an appearance. As an option, you can also have a subsection to display your previous shows. It is convenient for agencies and fans to know how active you are on stage.
We recommend using a 3rd party free integration for this purpose. A platform like Eventbrite will allow you to list all past and upcoming performances with an option to either sell tickets or allow your fans to RSVP for free. You can then grab the embed code from Eventbrite and display your live performance events calendar on your website.
4. Create a Shop for Your Music Website
Is your merchandise as good as your music? If the answer is YES, you need a shop with compelling product images, competitive prices, and clickable call-to-action buttons.
Your fans will be looking for more than downloading your songs or albums. Some may be looking to purchase CDs, T-shirts, caps, or other items best representing your brand. For this reason, building an online store while creating your music website is an excellent idea.
If you want to sell merchandise, print on demand and drop shipping are the quickest and easiest ways to set up shop and not worry about stocking your goods or process the shipping yourself. You need a POD drop shipping service to upload your logo and designs to sell your custom products online under your brand.
Of course, the first thing that crosses your mind right now is music band T-shirts, the most common form of merchandise related to music. Nevertheless, you can go beyond shirts and consider printed mugs with your best lyrics, jewelry, funny socks, and many more! Check out our guide on trending POD products to sell as a brand, and get your inspiration going!
Adding a shop when you create a music website is easy with Ucraft. Check out our Integrations guide to learn more about the options we're offering in eCommerce, marketing, and customer support!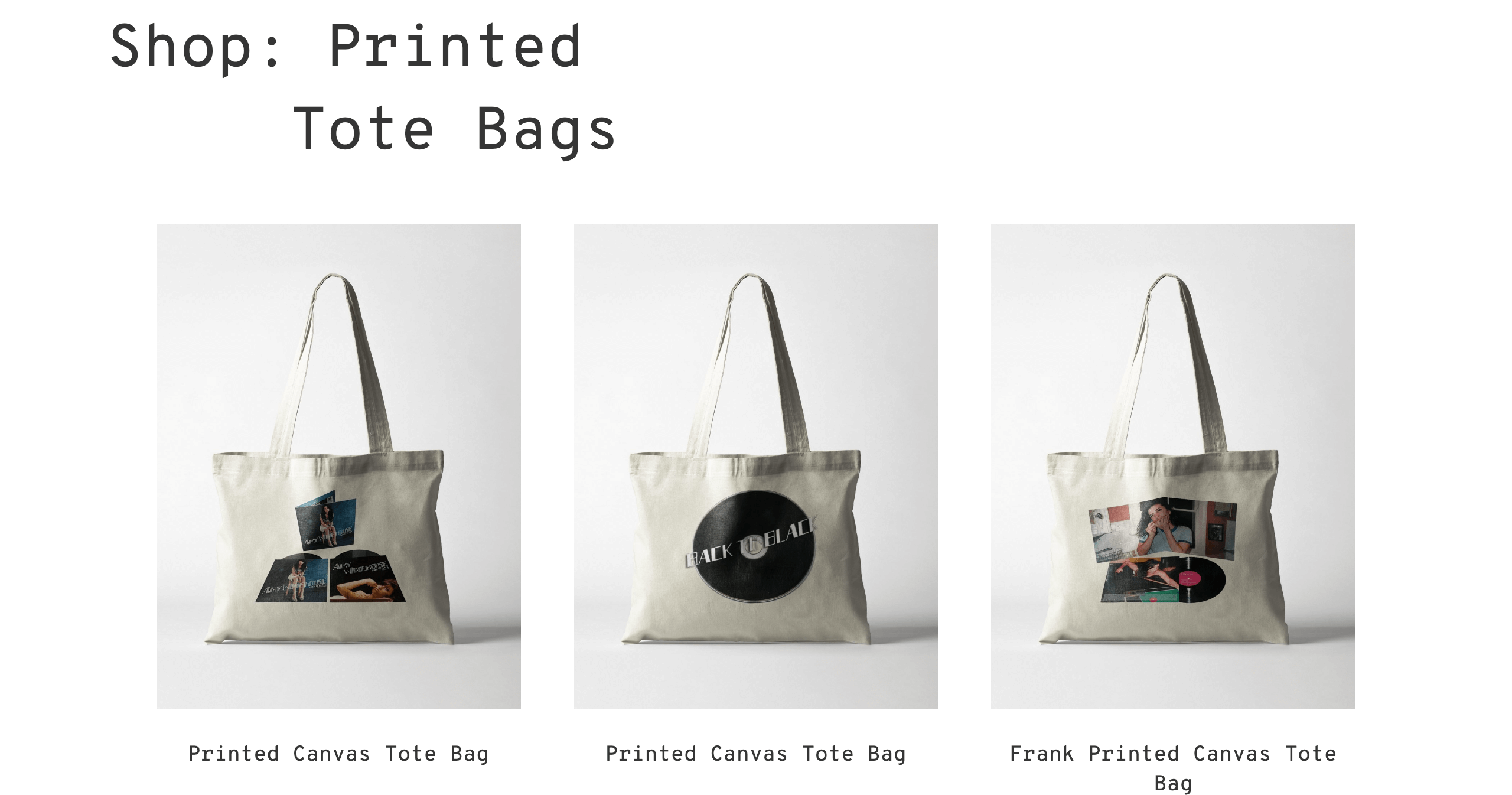 5. Consider SEO and Website Analytics
Search Engine Optimization is a significant accessible key to your website's success. Search engine results are your best friend, and having the proper titles, descriptions, keywords, and images placed all around your site is a maker-breaker game.
Fans will search for things like lyrics to your song or concert dates. It is an advantage to direct such queries to your website instead of another. You can follow our beginner-friendly marketing guide that includes an SEO chapter if you need some help with this. Fans want an intuitive, easy to navigate website where they can listen to your tracks with a click or two and find out everything about you.
As website analytics & reports go, don't forget to integrate some of our best tools. Google Analytics is a must-have for all reputable websites that want to understand their website traffic, audiences, and most-performing website pages and content. Moreover, it would help to gather user data for targeted marketing campaigns or conversion rate optimization tools for better ticket and merch sales.
More Tips and Resources to Create a Music Website for the Ages
Building a website from scratch is easy, but it takes some time dedicated to research. We recommend you check out the following resources for a clearer idea of what a website should contain and how you should approach design, user experience, online marketing, and more:
Learn about website architecture, navigation, SEO, sitemaps, URLs, and web core vitals.

See the questions all web designers (professionals or beginners) should know the answer to before creating any website; these answers will also help you get a better idea of what your website's purpose is;

Check the latest information regarding web-safe fonts and pick the ones that can help you build a consistent artist image and brand;

Check out the most trending web design color schemes and pick a color palette that best conveys your music and your brand's message;

Learn how to make your website more engaging with stunning imagery and animations;

Check out the latest trends in online marketing and "borrow" the strategies that can serve you as a musician.
We hope this quick roundup of resources will be of help when you start creating your music website. Remember, if you need help with anything, our support team will be by your side every step of the way!
There you have it: a prominent structure you can follow to build your successful and engaging music website. If you are ready to have an artist/musician website and gain profit from live streaming, downloads, ticket & merch sales, you can try our 14-day trial and build one yourself!
Create your music website now!