The intelligent eCommerce solution Ucraft Next has achieved a significant milestone by becoming the first company in Armenia to partner with the Fiverr Certified program. Ucraft Next's participation helps further their interest in serving global customers through methods that reduce the friction of finding professionals that fit a wide variety of industries and interests. 
Ucraft Next joins industry giants like Amazon, Stripe, WooCommerce, Podia, Leadpages, and monday.com in launching co-branded talent marketplaces for services like building templates and websites with the service, developing widgets or integrations, eCommerce consulting, and website audits.
The globally popular Fiverr connects users with professionals across various fields for a wide range of tasks and services. Users can now find Ucraft Next specialists on the platform who specialize in building online stores, assisting in creating professional websites, designing logos and brand identities, updating existing websites, or providing consultations for any business. After registering on Fiverr, users can search for a Ucraft Next specialist that fits their project, provide them with the necessary information, and specify their website's requirements.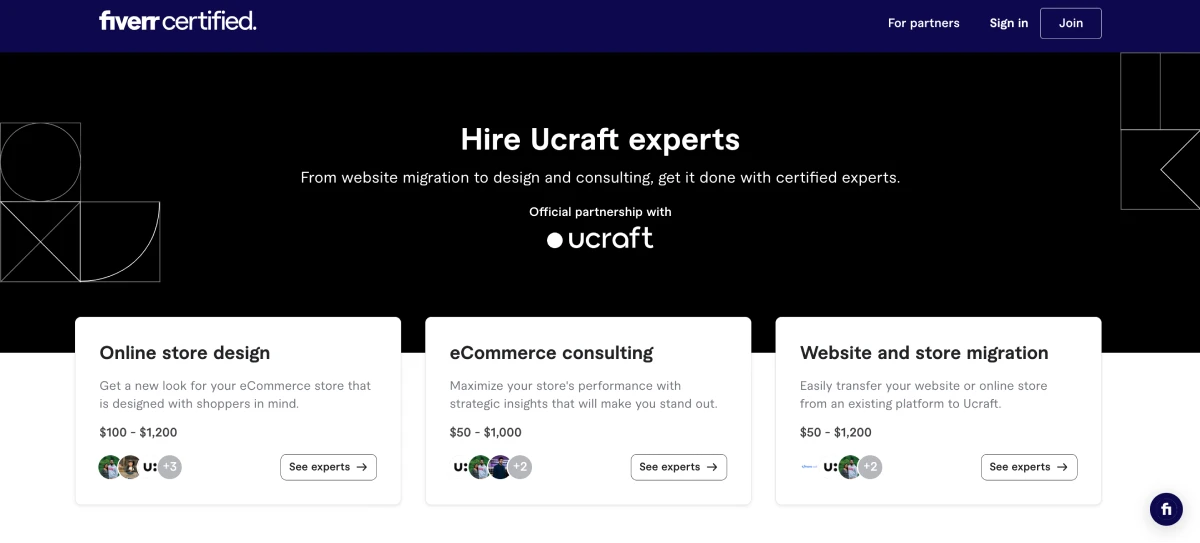 Specialists using Ucraft on Fiverr represent an excellent opportunity for businesses to receive professional assistance in crafting or updating their websites. One of the service's notable advantages is its diverse array of features and integrations for building online stores, but designers using Ucraft also have several advantages over designers working independently or with other web builders.
Ucraft Next gives designers complete access to all available features and elements, meaning that hiring designers on Fiverr will never come with additional hidden fees, costs, or recurring payments. The service is also extremely malleable, working with services including physical or digital product storefronts, subscription or appointment-based services, rentals or reservations, and features related to numerous industries. The service even includes metrics for tracking sales, visitors, conversions, and more.
For users in Armenia, there are also integrations available with local services like international payment and delivery methods. This fits Ucraft's global approach and is only the beginning of their and Fiverr's bringing professionals around the world together with industries that require their talents. 
As part of this collaboration, Ucraft Next, and its subsidiary project U:Lab, have announced the training for interested specialists. Those who are interested can join the team, familiarize themselves with the platform's features, become a Ucraft Next expert, and start receiving paid orders on Fiverr. Ucraft Next has always been proud to support both creators and businesses, and through collaboration with Fiverr, this initiative will grow stronger globally.
This is an outstanding opportunity for specialists seeking to acquire new skills and earn income in both the Armenian and international markets. Ucraft remains committed to offering innovative solutions and pathways for professional development and creating opportunities within the IT industry. If you're in need of a website, or want to start creating using Ucraft, Fiverr is ready for incoming requests.