Although we're less than two weeks into November, it's already been an eventful month for Ucraft. We kicked off the month in the best way possible - participating in Web Summit 2021, one of the largest tech conferences in the world!
Considering that last year's Web Summit was held online instead of in the beautiful city of Lisbon, we jumped at the chance to fly to Portugal for the third time and participate in this year's unforgettable event. This time, we were going to mingle with over 42,000 attendees from 128+ countries. This includes 784 speakers, 872 investors, 211 partners, as well as 1,519 startups, and 1,333 talks. It sounded like an offer too good to miss.
Pandemic or no pandemic, we grabbed our vaccine passports and masks and began preparing for the conference.
So, on the 29th of October, six of us packed our suitcases with our belongings (and lots of Ucraft merch) and headed over to the airport to catch our flights to Lisbon. For those of us who had been at Web Summit before, we knew what was in store while the newcomers eagerly awaited to see what the buzz was about. And it was big.
This Year's Exciting New Offer

This Web Summit was much bigger and more exciting for us since we were going to spread the word about Ucraft's largest project launch to date - the newest version of our platform! Appropriately named Ucraft Next, this version of Ucraft is envisioned to be an AI-powered eCommerce builder, where users from all walks of life can build successful online stores. We've been working tirelessly on Ucraft Next since the beginning of 2020, and our Beta version is almost ready to be launched in December (more info coming very soon). But first, we needed to spread awareness, gather leads, and network with potential users and partners.
With this goal in mind, we landed in Lisbon on the 30th of October, ready to announce our exciting new solution at the conference. But first - we had some sightseeing to do! We spent the first couple of days exploring the city (in other words, giving a tour of Lisbon to our first-timers), sleeping off the long journey, and gathering in hotel rooms to discuss our offer in more detail.
It goes without saying that Lisbon is a beautiful city, where cultures melt together, and old architecture meets modern construction. For some of us, the smell of the ocean breeze mixed with fresh seafood induced a feeling of familiarity and nostalgia, whilst for others, it was an exciting new experience.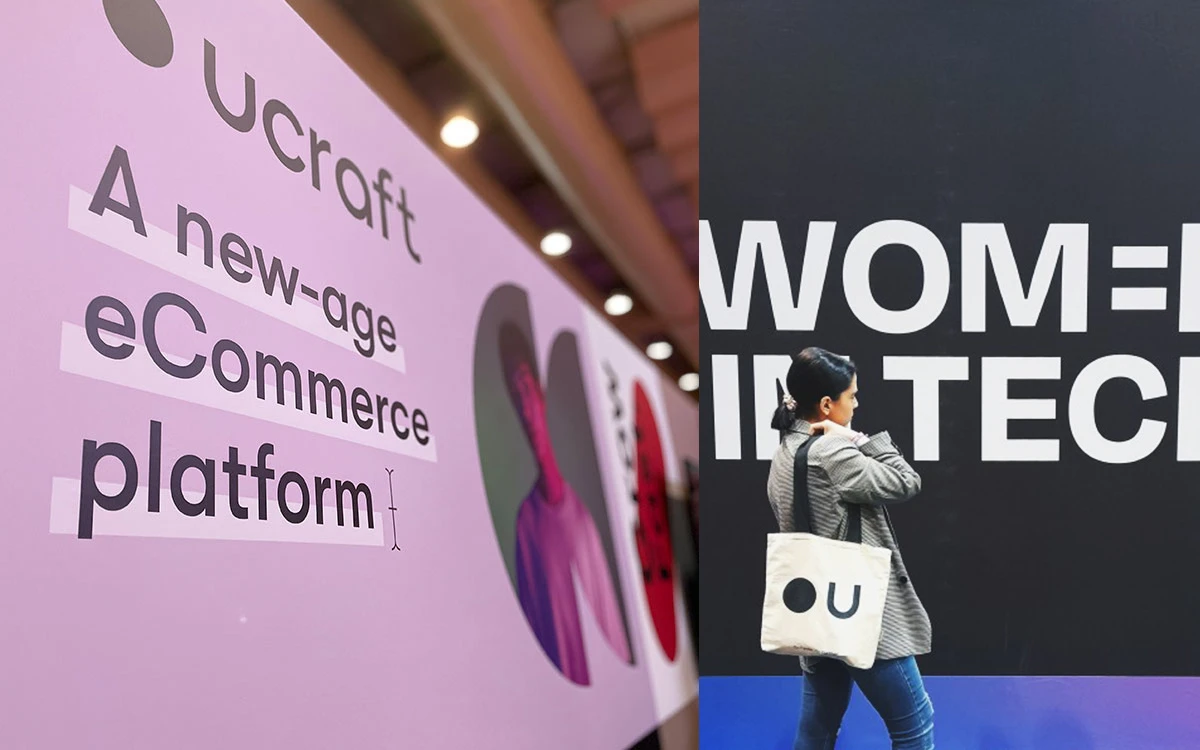 Taxi - Web Summit Venue, Please!
Soon enough, the first of November rolled around, and the Ucraft team headed to the enormous Web Summit venue for the opening night, where approximately 10,000 attendees were welcomed to the city of Lisbon. Or, as Carlos Moedas, the newly elected mayor, put it, "the city of poets and innovators". The day after, we headed to the venue to drop off our merch at the booth and start spreading the word about Ucraft Next.
Immediately, our eye-catching booth and intriguing offer attracted many visitors from all professions, companies, and walks of life, who came to ask us lengthy questions about Ucraft Next. Why eCommerce? Where did the idea come from? How do we differ from competitors and giants in the industry? And we were more than ready to provide all of the answers. Moreover, seeing the enthusiasm towards Ucraft Next combined with all of the positive feedback made us realize that everything we had been working on for the past two years was not in vain.
What concerns our booth, part of the popularity could be attributed to its design and our eye-catching Ucraft merch (stickers, tote bags, and leaflets). In the days leading up to Web Summit, our designers worked day and night alongside the marketing team to create and offer and general aesthetic that was too good to miss.
When we did have a chance, we would split up and explore the venue, and let us tell you that this year's Web Summit was brimming with promising start-up ventures, SaaS solutions, and innovative ideas. Our team met hundreds of experts from all over the world and had the opportunity to learn about new companies with game-changing ideas.
Afterthoughts
Although we are still slightly tired and jet-lagged, we are incredibly pleased with the outcome of this year's conference. Not only did we spread the word about our exciting new release, but we also met some amazing new people and were introduced to innovative organizations and ideas, not to mention many promising future partnerships.
Are we tired? Yes. Are we satisfied with our trip? Also yes. Are we going to participate again next year? 100% yes!
Stay tuned for more details on Ucraft Next. You'll be able to try out our Beta version in no time!
Ucraft Team