When it comes to growing your dropshipping sales, there are several ways to achieve this goal. Below are some of the most effective options.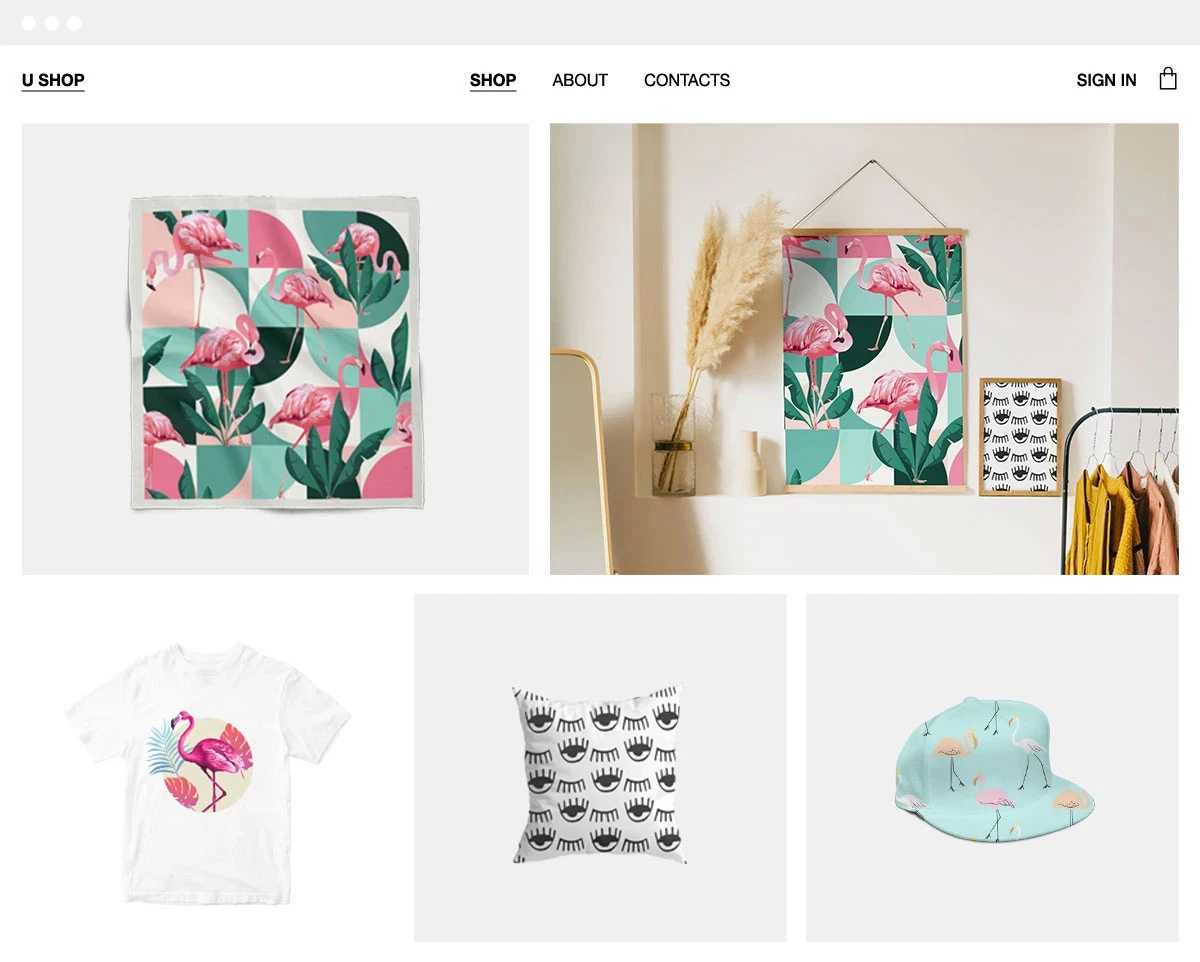 This is it! We've reached the last chapter of our extensive dropshipping guide. At this point, you are nearly ready to open your store and start making money online. However, before we leave you to your work, we want to share some important advice that can lead you down the path of dropshipping success a bit quicker. 
Use Discount Coupons to Drive Sales
Most customers will never say "no" to a great deal. Offering discounts and special offers is a great way to drive sales and convert one-time shoppers into loyal customers. And the great thing about discounts is that you can offer them for anything: holidays, seasonal promotions, specific sales campaigns, influencer marketing campaigns, and more. Likewise, you can offer them on an individual basis to customers after they have spent over a certain amount of money on your website, purchased over a specific number of items, or simply proved themselves to be loyal customers. 
Ucraft lets you create the following discount codes:
Fixed value discount (e.g., $5 off),

Percentage discount (e.g. 10% off),

Free shipping discount

Fixed value / percentage discount + free shipping 
To create a discount code using Ucraft, go to your Dashboard → eCommerce App → Marketing → Discount Coupons. Click on Add New Coupon, enter your desired name, create a code (or choose the automated one), enter the discount value/percentage, choose the activation and expiration dates, and voila! You can now offer discounts to your customers, drive your sales up, increase customer loyalty, and secure retention. For more information, click here. 
As a dropshipper, you are not shipping the products yourself. However, you will still be charged shipping fees from your suppliers, and these rates can vary from supplier to supplier. It may be tempting to charge your customers a shipping fee to make up for the cost, but it's not a great idea from a marketing standpoint. Most customers are more likely to purchase from your dropshipping store if you offer free shipping and will favor your store over competitors' stores (if they don't have the same offer). It's a great bonus to add to your overall marketing efforts and turn your brand into a customer favorite. 
So, what options are available? 
You can offer free shipping and pay the shipping costs from your profits.

You can include the shipping cost in the product price.

You can charge customers a shipping fee. 
We would recommend going with number 2. If you distribute the shipping costs across the prices of your products, it's usually not a huge difference. Likewise, customers may see the shiny "Free shipping!" notice and not pay as much attention to the original price. A peculiar marketing trick, but it works nonetheless. 
Likewise, your suppliers may offer you free shipping from the get-go. In that case, you're in luck! But in case they don't, it's best to include the shipping cost in the final price of the product so you can offer your customers that ever-so-sweet free shipping deal.
Create a Sense of Urgency (Countdown Element)
Creating a sense of urgency during a specific campaign is a great way to boost sales and make sure customers don't miss out on a great deal. You can create a sense of urgency or excitement for a wide variety of promotions - from seasonal discounts to new arrivals. For example, you can add a countdown element to your website, which will display time ticking down to a specific event - e.g., a specific amount of time left until new spring arrivals are displayed on your website, or the exact time and date when a Halloween or Christmas campaign ends. Depending on the campaign, this will encourage customers not to miss out on a deal or look forward to a specific future event in your store. 
Ucraft lets you add a timer to your website using the Countdown Element. It looks great on your storefront and creates that feeling of anticipation or encouragement you want to awaken in your customers. All you need to do is drag the Countdown Element from the left panel (in Design Mode) and drop it wherever you want it to be displayed on your website. After that, just set the date and time to start the countdown and watch your sales increase. Simple!
To learn more about the Countdown Element, check out this article. 
Handle Customer Complaints Smoothly (Livechat)
Good customer service is timely, but great customer service happens in real-time. If you want to get ahead (and stay ahead) of the competition, then great customer service is a must! So many dropshippers focus on building the most eye-catching website, selling the best products, and falling back when addressing customer queries and complaints. If you want to get ahead in the competitive dropshipping environment, it's best to handle customers' questions as soon as possible. And no, we don't always mean instantly - but the sooner, the better. 
A great way to make customer service interactions more smooth and professional is through applications such as Livechat (as mentioned previously). Livechat allows the visitors on your website to chat with you or your customer support team in real-time. The good news is that Ucraft offers an integration with Livechat, which you can easily install on your website in just a few easy steps. 
Most eCommerce website builders offer an integration with Livechat or other similar applications. It's up to you which one you choose, as long as your customer service game is on point! Remember - the customer is always right (unless they are very wrong).
Make Your Store More Trustworthy With Testimonials 
Aside from your marketing efforts, customers also appreciate some third-party feedback on your store to get an idea of the quality of the products and services you offer. This would not only add credibility to your store, but it also provides a purchase incentive - if other people have good things to say about your brand, it implies that you are giving something of value. 
A great way to organize this is by adding customer reviews straight to your website. However, don't make the mistake of adding fake reviews - one savvy shopper can expose you for this, especially if you use stock photos and fake names. Instead, wait until you have built at least a small customer base, and take the time to gather reviews yourself. The best way to achieve this is by sending regular customers a feedback request email; thank them for being loyal shoppers, and ask for 2 minutes of their time to write a couple of sentences about your store. Also, make sure to ask for permission to post these reviews on your website. 
Ucraft makes posting testimonials to your website really easy, as well as showcasing them in a professional and aesthetically pleasing way. This can be done through the Quotes Element, which you can drag and drop anywhere on your website. You can even include a photo alongside the testimonial! To learn more about the Quotes Element and how to add it to your Ucraft online store, click here. 
Offer Secure Transactions (SSL Certificate)
Another necessary move towards gaining more credibility is securing your online store. Without a URL that indicates your site is secure, customers will be hesitant to purchase anything from your store, not to mention that they will want to avoid providing essential information such as credit card details and addresses. 
A great way to protect your customers and gain their trust is through an SSL certificate, which will make your URL show up as https:// (instead of http://). This will indicate that your site is secure and encrypt your customer data, so any third parties do not steal it. When you connect your domain to your Ucraft website, an SSL certificate is automatically generated to secure your website. To learn more about configuring an SSL for your domain with Ucraft, check out this quick guide. 
Address Concerns With Detailed FAQs (Accordion Element)
To make your customer service interactions easier and provide crucial info about your products and services, it's essential to have a Frequently Asked Questions section - or FAQs for short. FAQ sections are an essential aspect of your customer interactions because they provide answers to common and crucial questions straight on your platform. Likewise, they can reduce the number of questions sent to you via email or Livechat since customers will be able to check out the answers to their queries by first visiting the FAQ section. 
However, make sure you have an understanding of what the most commonly asked questions could be: think shipping, returns, product quality, checkout, etc. Ensure that your FAQs are as detailed as possible, and look out for common questions from your customers to add to the section. When it comes to FAQs, less is definitely NOT more! Be detailed and lay out all the steps - your customers will thank you for it! 
Nonetheless, you don't want to overcrowd your website with too much text. Ucraft lets you show and hide large amounts of text via the Accordion Element, which you can drag and drop anywhere on your website. It makes your FAQ section look neat and navigable, so this element is definitely worth a try. Also, consider creating a separate page for your FAQ section or placing it somewhere accessible. 
Display Your Refund and Return Policies 
Refunds and returns are probably some of the least fun parts of running a dropshipping business. However, handling such complaints is not scary or difficult if you are prepared. This means talking to your suppliers in advance about their refund and return policies.
Before working with a supplier, make sure you are familiar with their refund and return policies. Ask questions if necessary. If they are a reliable supplier, they will get back to you with comprehensive answers. Depending on how they tackle such issues, you can decide whether you want to work with that particular supplier or not. 
After that, it's time to write your own refund and returns policy. Make sure you take the following aspects into account: 
Your supplier's policy 

If any items cannot be returned (e.g., underwear, make-up) 

Whether you want to offer exchanges

The time period for when a customer can submit a refund
 

Most suppliers will request evidence that an item has not arrived, a wrong item has arrived, or that the product is defective. In the last two cases, make sure to ask your customers (nicely) to provide a photo of what went wrong. You will be able to send the evidence to your supplier. 

 

However, consider that the supplier will only be able to refund you the wholesale price - not the retail price, so you will be paying whatever the difference is out of pocket. But as mentioned above, such instances should be rare if you are working with a good supplier. Moreover, issuing fair refunds to your customers will actually get you more sales in the long run because you will show that your brand is legitimate and cares about its customers. 


When it comes to writing your policy, there is no need to write it from scratch. There are excellent online policy generators such as Termly.io and Shopify's Refund Policy Generator to help you out with the writing process and legal jargon. Make sure to proofread your policy and tailor it according to what your suppliers offer. Once the policy is ready, create a separate

page on your website and name it "Returns and Refunds." Ensure that this page is visible and customers can easily find it on your website. 

 

And remember - issuing refunds can boost your sales in the long run, and increase customer loyalty, so don't be discouraged if they arise from time to time. You can even think of it as a way to show your brand's devotion and respect to its customers. Or, in other words - when life gives you lemons, sometimes it's best to just make some lemonade! 

Congratulations! You have completed the Ultimate Dropshipping Guide, and we can now set you free into the world wide web to become an eCommerce sensation. You have all the foundational knowledge you need to start a successful dropshipping business - now it's time for the implementation. Bookmark this guide and refer back to it as much as you need - we won't be going anywhere anytime soon. Good luck! 

*/