Creating a Memorable Brand
Dropshipping is all about branding. Follow the guidelines below to get your name out there and successfully establish your brand in the industry.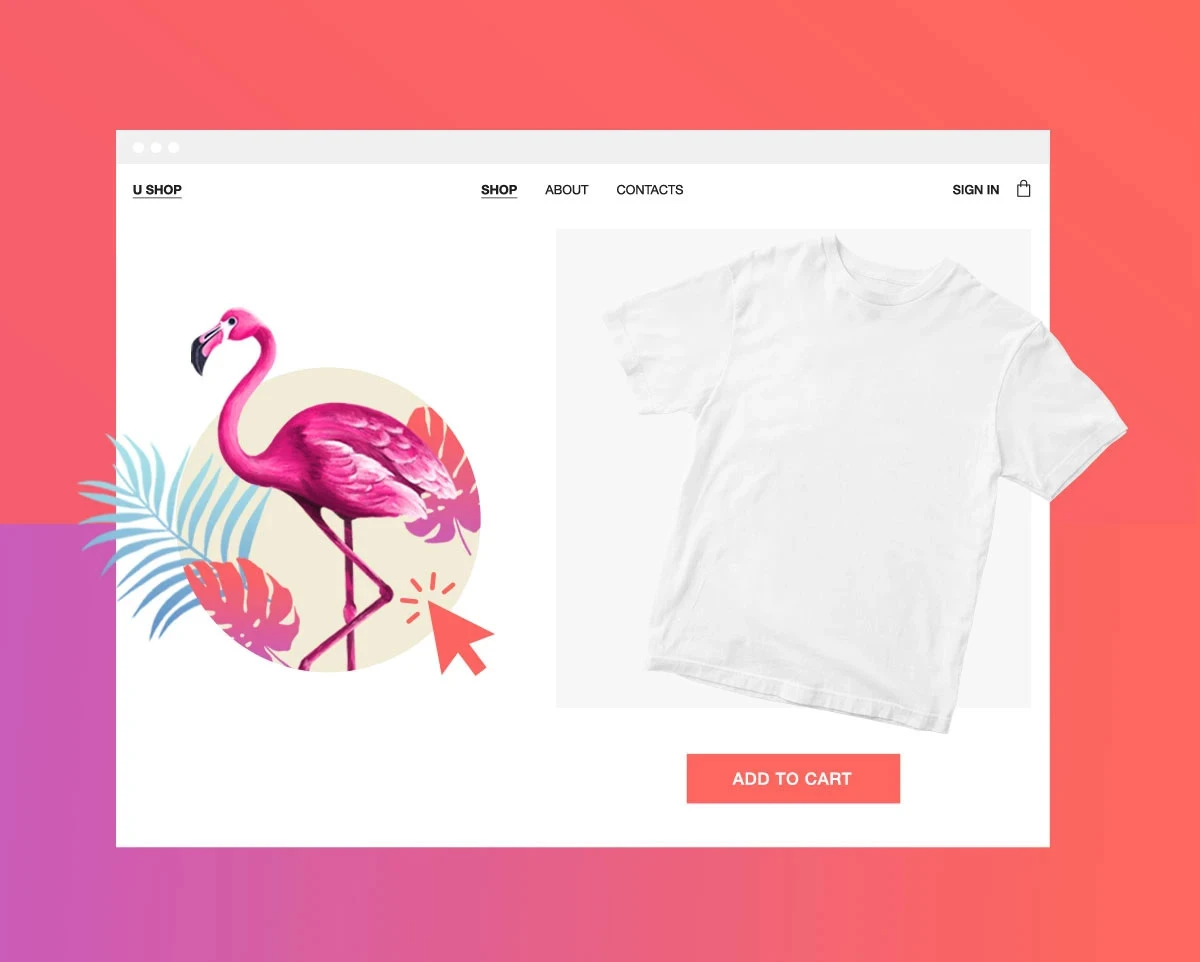 Dropshipping may be an ideal solution in terms of flexibility and low costs, but it certainly isn't a low-effort way of making money. Since you are technically re-selling products, it is more important than ever to make your brand stand out from the crowd. Competition is high in the dropshipping industry, so you will need to put effort into creating a memorable brand and keeping customer satisfaction and loyalty high. However, this is nothing to worry about - we will give you all the starting points to achieve precisely that. Below you will learn how to create a brand favored by many. Let's begin!
The first step towards creating a memorable brand is one of the most exciting ones - designing an eye-catching logo that will be recognized across the web. Think of your logo as the face of your brand; as soon as people come across this specific emblem, they will immediately recognize it as your store's badge. 
Prior to designing your logo, take some time to brainstorm various ideas, search for inspiration, make some sketches, and think about the color scheme. A key point to remember is that your logo should convey the essence of your brand; everything starting from the color scheme, to the font, and the icon of choice. Take into account that your logo should also represent your niche; after all, a lingerie store's logo will differ from one created for a hiking equipment store. 

When it comes to actually creating your logo, you can either choose to design one from scratch, hire a designer, or make use of an online logo maker. If you are just starting out, consider going for a logo maker - it is definitely the cheapest and easiest option and gives you more creative freedom. Not to mention that current logo makers and website builders are very advanced, allowing even non-designers to create designs that look very professional. At Ucraft, we offer a free logo maker alongside our website builder, helping our users design personalized logos for their businesses. 
Setting Up Your Online Store
Once you have created your logo, the next logical step is setting up your online store. If you possess the design and coding skills required to develop an eCommerce store, you may opt to design your website from scratch. However, this is a lengthy process, and you can end up missing out on many valuable features that website builders have to offer. The same goes for hiring someone to create your online store for you. Of course, one of the main benefits of designing a website from scratch is that you are aware of every single block, feature, and plugin. Nevertheless, by choosing a trustworthy website building platform that offers customizable templates, you can be pretty certain that you will still be the person in charge. 
Several website builders offer all the necessary tools, services, and features for you to create a fully functional dropshipping store. We've already discussed Shopify in the previous chapter, which is the go-to platform for many aspiring dropshippers and online retailers. However, you might like to test out several builders before making a final decision; considering that most website builders offer a free trial option, experimenting should be a piece of cake! 
Ucraft offers users a 14-day free trial, considering that some users would like to test the builder before they commit. We offer a highly intuitive website builder that features all integrations and tools needed to build a responsive and fully functional website. Consider checking out our selection of pre-designed templates and signing up for a free trial - it might just be the solution for you. 
Once you have decided on a specific platform, it's time to move on to the following: 
Purchase a domain name, or connect an existing one;

Pick a template and modify it according to what you want your website to look like;

Upload your products, add prices, and create product descriptions for all items; 

Set up a payment method (or multiple payment methods);

Decide on a shipping rate (we recommend the free shipping option, if possible).

Most website builders will provide you with guides, support articles, and even video tutorials on how to set up an online store using their platform. Take some time to read such resources before setting up your website since they will make your life much easier. If you decide to go with Ucraft, check out this article as a starting point.
Even if you choose to go for a website builder, you still have the opportunity to customize your online store according to your chosen niche and personal taste. Most website builders offer pre-designed templates that you can play around with to create your desired aesthetic and layout. You don't need to be a pro web designer to create an eye-catching, professional-looking website. However, you do need to take the following aspects into account:
Like with your logo, you need to ensure that your website's aesthetic matches your brand, helping everything smoothly come together. As we mentioned above, a lingerie store is likely to have a different color scheme compared to a store for hiking equipment. The choice for a color scheme is somewhat subjective; as long as your website's palette suits your brand, matches your logo, and doesn't hurt the eye - the rest is entirely up to you.
When choosing fonts, it's best to go with a style that makes your content easily readable. You might feel tempted to go for something more exotic, but that is not likely to work in your favor. You can be more lenient when it comes to page and paragraph titles, but still, make sure to choose a font that your users can read. Likewise, size is also important - you don't want your font to be barely readable or intimidatingly large. 
When choosing fonts, it's best to go with a style that makes your content easily readable. You might feel tempted to go for something more exotic, but that is not likely to work in your favor. You can be more lenient when it comes to page and paragraph titles, but still, make sure to choose a font that your users can read. Likewise, size is also important - you don't want your font to be barely readable or intimidatingly large. 
The layout of your web pages is also fundamental. Include what's most important at the top of the page since this is where users land when they first click on the link to your website (this is especially important for homepages). Don't make your pages very text-heavy or overcrowded with too many flashy images, and avoid bombarding people by showing everything at once. It's best to have separate sections with corresponding visuals. 
Make sure to include an appropriate amount of white space (especially at the bottom of the page) since it helps separate your web content and makes the page more visually pleasant. Finally, everything should be in alignment; your headings, paragraphs, and any icons or images. Accurate alignment conveys a high degree of professionalism and will be favored by users and customers.
Unless you are creating a website for eccentric art, your design should stay consistent across all web pages. This means that the color scheme, font, choice of visual elements, layout, CTA (call to action) buttons, link colors, and other design elements should remain consistent regardless of the page's nature. You don't want to confuse your users, and you definitely don't want to overwhelm them with inconsistent design. Therefore, maintaining a specific look and feel across your website is a must.
At the end of the day, you are designing your store for your users, so they should essentially be your priority. Your website should be straightforward to navigate, easy to use, and include all of the necessary pages and sections (more on that below). A confusing website with an extravagant design and complicated menus will not earn you any points with your customers - the more straightforward, the better. For inspiration, you can visit other online stores and observe what works best for your personal user experience. If you are using a website builder, it is likely that your chosen template will already have some of these aspects in place.
Optimizing Your Content and SEO
When it comes to building your online store, you don't just stop at design - content is equally important. This is why many online businesses also tend to include a blog section on their website. Even if their main product has nothing to do with writing, they understand the value of useful content and what it can bring to the table. But web content isn't just about writing any old thing and pasting it on your website - oh, no. You need to consider several aspects if you want to have a website that sells! 
To plan out your content strategy, you need to have a page-by-page breakdown of your website. For a newly-opened online store, you are going to need the following pages and corresponding texts: 
Homepage - where you introduce your brand, include any new or upcoming releases, and provide the user with a general sense of what your store and brand is about;

About page - here, you introduce your brand in more detail; include a description of where your store/company currently stands, how it came to be, your mission and vision, and other important information related to the thought process behind your business; 

Products page - your products section can start as a single page if you have a small number of items to showcase or sell but be prepared to include more subpages if your product range grows. You need to provide concise titles and descriptions for each product, as well as categories and search filters. When it comes to product descriptions - it's best to say too much instead of too little. If a product requires a more extensive explanation, consider including a "read more" option; 

Contacts page - this page should include all of the necessary contact information, including your business telephone number, email address, and location (or at least where you are based). Consider including a form element for queries so that customers can send messages straight from your website; 

FAQ page - this is where you include frequently asked questions. When it comes to FAQs, it's best to make them as comprehensive and detailed as possible. Better to have more FAQs than too little;

Return/Refund policies - your website should also include all of the necessary legal policies so that your customers are aware of how your services operate before they make any purchases. But more on that later; 

Blog - this is optional, but you can consider running a blog for higher user engagement and better search engine rankings. Not only can blog articles be useful to your customers (e.g., running a skincare blog if you sell cosmetic products), but they can also bring higher traffic to your online store if the articles are well-written and SEO-optimized.

 

Content writing dos and don'ts

 

Now that you have a general idea of what should go on your website, you can start planning out the actual text. You don't have to be a professional writer to produce good content for your website. As long as you take into account the following steps, you will be good to go:

 

Pay attention to grammar, punctuation, spelling, and sentence structure. We recommend using a grammar checker such as Grammarly to avoid any major blunders; 

Be professional, but consider using simpler vocabulary - you want to get straight to the point and make your web content easily understandable for the average online shopper; 

Find the balance between a formal and informal tone: you are not writing an English Literature essay nor sending a text to your friend. Look at successful online stores for inspiration and observe the tone and style of their content;  

Have an engaging manner, especially when describing your business, introducing new offers, or writing blog articles. Be expressive and enthusiastic; 

Proofread your content before publishing it on your website, and ask someone else to give a second opinion if such an option is available.
Likewise, we recommend you avoid the following: 
Rushing the writing process, since this will lead to all sorts of errors and blunders;

Forgetting to use a spelling and grammar checker;

Writing unnecessarily long descriptions or beating around the bush instead of getting straight to the point.

Practice makes perfect. The more you write, the easier it will come to you. Check out our tips on becoming an expert content writer for more. 
One of the best ways to increase traffic is to optimize your online store for search engines. This process is known as SEO or Search Engine Optimization, and it is used to help search engines - particularly Google - easily find your website. Think back to when you search for something on Google; most people usually don't go further than the first page of search results. Websites that appear on the first page of Google are likely to receive more traffic, which is why SEO is so important. 
There are two types of SEO - on-page and off-page. On-page SEO focuses on optimizing your website pages, whilst off-page SEO (sometimes referred to as link-building or link-earning) focuses on obtaining links on other websites that redirect back to yours. If you've only just opened your store, it's best to start with on-page SEO. Here are some crucial tips on how to optimize a website for SEO:
Pick a keyword research tool, such as Ahrefs Keyword Explorer or Google Keyword Planner, and conduct keyword research related to your niche;

Choose the most relevant keywords related to your search queries and incorporate them into your website content; 

Make sure to use primary keywords in your headings, particularly the H1 tag of each web page; 

When including the keywords in your web content, check if they organically fit into the general text and avoid "keyword stuffing" - overusing specific keywords, making your content look unnatural;

Optimize your meta-titles and meta-descriptions for each web page; ensure they are brief, eye-catching and include your primary keywords - this helps users get an idea of what the particular web page is about before they click on the link; 

Optimize images by including alt texts - hidden captions that describe images to Google so they can appear in the image search results; 

And as mentioned above, consider running a blog. You can optimize each article, which will increase your chances of going viral while bringing more traffic to your online store. 
What concerns off-page SEO, consider reaching out to other website owners related to your niche and might engage in link exchange; for example, you insert a link to their website in a blog article, and they'll do the same for you. However, make sure that these websites are legit since Google only values legitimate backlinks. In general, we recommend you start with on-page SEO and go on to improve your off-page SEO as your online store continues to grow. 

Most website builders will include some features or plugins to help you optimize your website for search engines. For example, Ucraft offers a built-in SEO app that allows you to edit your web page meta-titles and meta-descriptions easily, write image alt texts, edit links, and more. Check out this support article for more information on how to optimize your website created with Ucraft.
Connecting With Your Customers (LiveChat) 
Customer service is of utmost importance when it comes to customer satisfaction, customer retention, and the overall brand image. You can have an exceptional website with outstanding products, but if customer service is lacking, people will catch on pretty quickly. You might find that, in time, you may need to hire a couple of customer service employees if your online store becomes big on the web. Initially, however, you can connect with customers using the right tools. 

If you are using a website builder, your chosen builder will likely offer customer service integrations. For example, Ucraft provides an integration with LiveChat, which allows you to chat with users in real-time straight from your online store. This solution helps you capture leads, answer questions on the spot and provide an exceptional customer service experience.
Connecting With Your Customers (LiveChat) 
And last but not least, let's discuss website speed. You will never hear a user say, "I love slow websites!" which is exactly why you should take page load speed into account when designing your website (and afterwards, too). Improving website speed can sound like a complicated process, but you can do a couple of things to improve page load speed significantly. Here are some tips on how to increase website speed: 
Check your website speed on both desktop and mobile devices by going to Google PageSpeed Insights; if the result shows up as red or orange, you will need to improve your loading time; 

If your loading time is slow, we recommend connecting to Cloudflare, which can help you with the following: render-blocking JS, leverage browser caching, enable compression, and improve server response time;

You can also compress the images on your site by reducing the PNG or JPEG size or even switching to a WebP format;

Limit the number of fonts you use on your website to a maximum of three since too many different fonts (especially elaborate typography) can also slow down your website. 
We know this may all sound a bit foreign, but we do have a detailed support article on how you can improve website speed without being familiar with all the technicalities. Good luck!
It looks like we've covered the basics of how to build a personal brand and set up an online store. All that is left now is to amp up your marketing and grow your sales, which we will be covering in detail throughout the last three chapters of this guide. Let's get started!