Nowadays, every professional website needs a Terms and Conditions page because it provides all the legal information that a user must be aware of. Essentially, it is a virtual contract between the site owner and the visitor, establishing certain limits regarding the transaction between the two parties and their rights and obligations.
What Are the Terms and Conditions?
The terms and conditions can be regarded as a safety method and a virtual contract. Although websites are not required by law to have a Terms and Conditions page, it is undoubtedly beneficial in most cases.
When you create a website, the Terms and Conditions page helps you avoid confusion and misunderstandings. Furthermore, it protects you from possible abuse by customers and users of your website. In essence, this contract guarantees the quality of the products and content on your site. If the terms and conditions are not followed or respected, the user can file a legal complaint at the agencies for consumer protection.
The best way to ensure that the Terms and Conditions page will protect you from fines is to have the users accept your site's terms & conditions when they are using your website or placing an online order. For example, you can display a box that links to this page.
Why Do I Need Terms & Conditions?
As a website owner, you are not required by any law to have a Terms and Conditions page on your website. However, by providing this page to your users, you will get to decide all the details of your relationship with the visitors. If they agree to enter into a business relationship with you, they will abide by these terms. You must take on the responsibility of providing a valid Terms and Conditions page for your website to avoid copyright infringement and the costs of a possible lawsuit.
In short, proper clauses from the Terms and Conditions page can legally protect you in the event of a disagreement with one of your website's users or even in the unfortunate event of a lawsuit against your business.
The terms and conditions page is essential for several reasons, including:
• Prevents abuse
• Establishes copyright
• Acknowledges the applicable law and the method for resolving conflicts
• Can save you from fines and penalties
The design, content, logos, product names, and business names are elements that must be specified on the terms and conditions page in order to determine copyright. It is also important to mention where a site operates (country) in terms of the applied law.
There is no universal formula for a site's terms and conditions page. Of course, you have certain legal obligations, but remember that your site is unique. No template will cover all the details of how your business really works.
Where Should I Place the Terms & Conditions Page?
First, the Terms and Conditions page must be presented on a dedicated page on your website. It needs to be easy for the users to find this page. As a website owner, it is your obligation to ensure that all visitors agree to the terms and conditions before taking any action on your site.
To do this, you need to add a few links in key places:
• a link to the Terms and Conditions page in the footer section of the site
• a link in the pop-up referring to the cookies policy
• a link at the end of each online form

In addition, all forms on your website must have a checkmark at the end stating, "I have read and agree to the terms and conditions of use." This way, you can ensure that every visitor is well informed and that everyone will read and agree to the terms of use of your site.
What Should My Terms & Conditions Include?
There is no regulation regarding the information that must appear on this particular website page. The reason is that each site has its own terms and conditions. However, there is only one condition that all sites must respect: no law should be violated.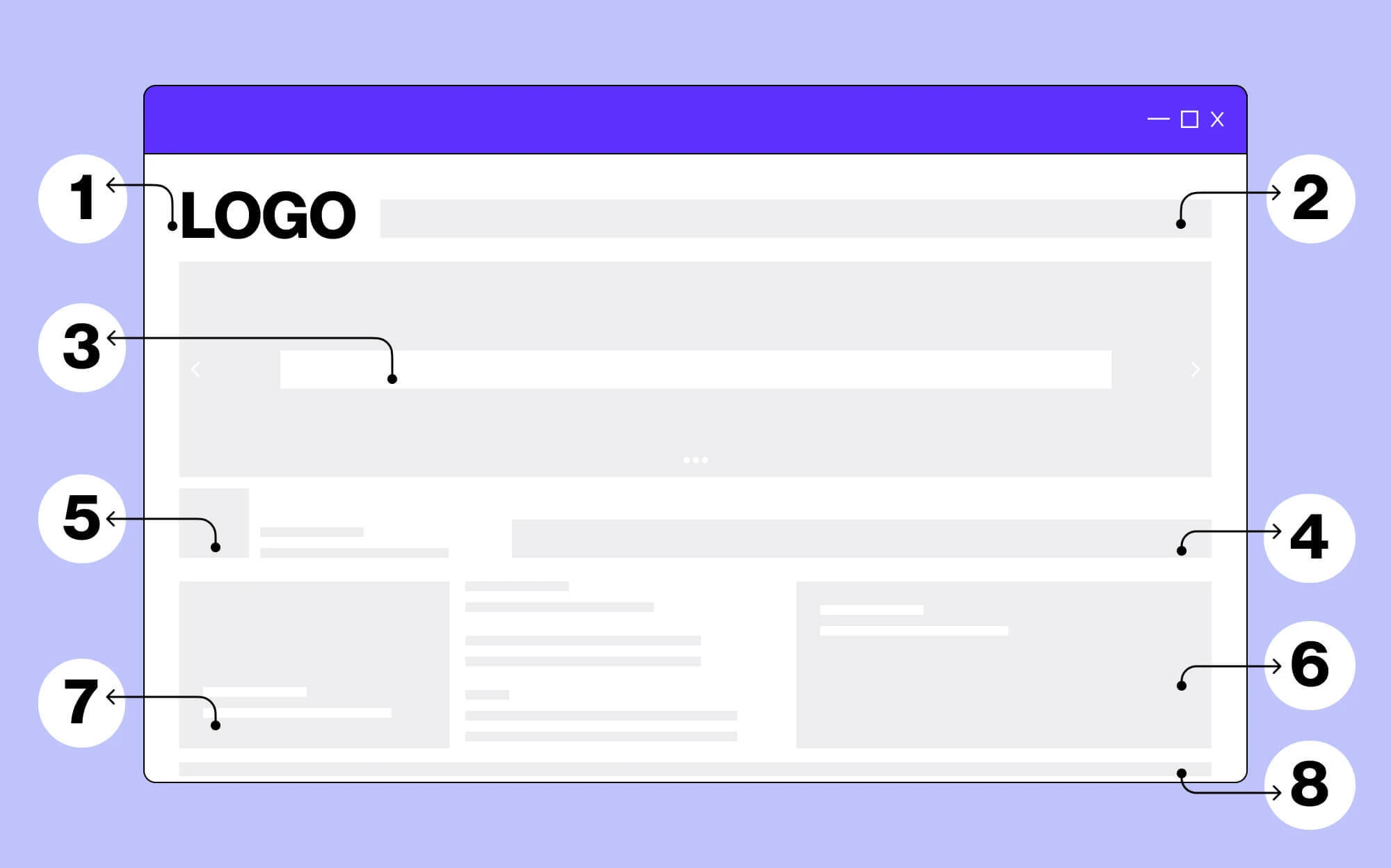 The Terms & Conditions page on your website should cover the following aspects:
• Defining terms (keywords and phrases)
• Company identification data (name, address, tax code, account, etc.)
• Buyer's rights and obligations (obligation not to provide false information; right to modify or delete the user's account for specific reasons)
• Rights and obligations of the owner (e.g., right to change the content of the site)
• Information about the products/services on the site
• Payment and invoicing policy (payment and invoicing methods, obligation of the buyer to provide all data to issue the invoice according to law)
• Delivery policy
• Product return policy
• Guarantee policy
• Promotion policy
• Privacy policy referring to the use of personal data, how it's managed, as well as the purpose of the requested data
• Cookie information policy - It is essential to respect the recommendation of the National Authority for the Supervision of Personal Data
Processing and avoid sending promotional messages to those who have not given their consent.
When it comes to writing your site's terms and conditions, you have two options: you can write the policy yourself (with the help of a software solution), or you can turn to a lawyer that will define the clauses for the terms and conditions of your website.
How to Create My Data Privacy Page
You can easily create your own site using Ucraft, our user-friendly drag-and-drop website builder. Ucraft offers responsive ready-made templates for any type of business or brand while providing the best solutions for the privacy policy. You can create a valid privacy policy page for your website using software solutions like iubenda's Privacy & Cookie Policy generator.
The ePrivacy (Cookie Law) mandates that informed consent should be collected before cookies or similar trackers are run by your website. Cookies can either be produced by your website or by third-party services located on your site (widgets, analytics programs, scripts). Before user consent is collected, you must block all the cookie scripts.
Some rules apply to EU-based page visitors and others to US-based page visitors. First, you need to know the laws of the country where you run your business and the laws of the country your site visitors typically apply to. It is vital to clarify your website's Privacy Policy. This page should also be easily accessible from all the other pages of your site.
If you decide to create a website with Ucraft, don't hesitate to check out our support article on how to apply compliant data privacy laws to your website for further guidance.
I Agree to the Terms and Conditions. Do I?
When a site visitor clicks on the "I agree to the terms and conditions" checkbox, the legal authorities regard it as the user's consent. Mandatory agreements in which the user engages in affirmative behavior by accepting the terms and conditions of a site are legally valid.
The terms and conditions clarify what should happen in any given situation. They set out the key business terms your site offers its users and help both parties understand their rights, roles, and responsibilities. It is important to remember that the user's acceptance of the terms and conditions is a legally binding contract. Therefore, it is also in the user's best interest to ensure that he has read the terms before accepting them.
But how many internet users actually read the entire section of the Terms and Conditions page on every website they visit? A Deloitte survey of 2,000 site visitors from the USA discovered that 91% of people agree with the legal terms and conditions of services without reading them. The rate for young people between 18 and 34 is even higher, with 97% agreeing to the terms and conditions before reading this page.
Other Important Pages on My Website
If you really want to get people to notice your site, you need to get creative. It's pretty easy to create a website using a user-friendly website builder. You can decide what you want your site to look like, but also what are the mandatory pages. Now, all the important pages to include in your website are ready to be styled according to your wishes.
Every professional and responsive website should have the following pages:
● Homepage
● About
● Contact
● Privacy Policy
● Terms and Conditions
● FAQ (Frequently Asked Questions)
Furthermore, depending on your business profile, you can add a testimonial or blog page to your website. But the most important thing you must remember is that all the information on your site must comply with international regulations.
Due to the increase in global website traffic from mobile devices, owning a mobile-friendly site is necessary. As a side-note, you can also increase your search engine rankings and conversions by following the best practices for a mobile-friendly website.
Bottom Line
We hope this article answered all of your questions concerning the terms and conditions page on your website. As mentioned above, you are not obligated to have such a page, but it can definitely protect your site and business from legal problems and dissatisfied customers waiting for a chance to sue.
Make sure to follow all of the steps mentioned in this article, and feel free to do your own more extensive research to get your legal pages where they need to be. If you decide to create a website with Ucraft, keep in mind that our customer support team is always ready to answer any questions, so drop them a message if there are any points in your website building journey that are not fully clear.
Good luck!