With over half a billion blogs existing on the Internet, one can wonder if it is still worth creating a blog. It makes sense to build a blog if you want to maintain an online presence and keep an informative diary for your close connections. Sharing your thoughts, opinions, and ideas with the world is rewarding in and out of itself. However, when it comes to turning a blog into a constant revenue source, things might get tricky. Can you still find a place in such an oversaturated market? What are the types of blogs that make money in this day and age? What can you do to make your way through the competition? We will try to answer some of these questions today, presenting you with five types of blogs that make money and some "trade secrets" you need to learn if you want to follow in their footsteps.
How Do Popular Blogs Make Money?
One of the first things we have to mention today is that we will not talk about business blogs – the blogging sections of companies' websites. When it comes to business blogs, it is clear that entrepreneurs have all the reasons in the world to create business blogs and manage them carefully and mindfully.
Today, we will talk about blogs that generate income for individuals passionate about a certain niche and want to monetize their knowledge, skills, experience, and talent in that area. When you create a professional blog to make money online, the golden rule is always to pick something you love and is worthy of your time, effort, and investments.
So how do blogs make money these days? In general, experts talk about three main types of revenue sources when it comes to blogging as an individual:
Advertising – Large advertising networks like Google AdSense or Mediavine pay to show advertisers' ads to your visitors;

Affiliate Marketing – By joining an affiliate program ran by a company, you can make money by promoting that company's products/services to your audience. Of course, you can also join Amazon's affiliate program and earn commissions for the sales generated through your blog.

Demand/Lead Generation – Many business blogs fall into this category, but you can make money with your blog as an individual/freelancer too. You can offer online courses, sell eBooks of your own making, or run a subscription model for premium content.
The first golden rule of blogging is always to choose blog topics you are good at and passionate about; the second golden rule is to deliver outstandingly high-quality content to your audience regardless of the niche.
The third rule of all profitable blogs is to know your audience. The larger the audience, the more money you can make.
Finding a niche with a vast audience and no competition is an impossible dream, and, eventually, you will have to face reality. It is better to play in a competitive niche and fight for an audience segment than have no audience at all.
With that being said, let's see the types of blogs that make the most money in our day and age and some blog examples that could generate a steady income with a bit more effort.
5 Types of Blogs That Make Money This Year and What to Learn From Them
The best way to pick blog topics and blog niches that can be monetized is to focus on the demand. What do people want? What are their pain points? Does your blog solve these issues or helps your audience reach solutions more efficiently? How many people share the same issues and might come to you for answers?
With these things in mind, let's see some of the most popular types of blogs that make money while offering audiences practical, actionable, and engaging content!
1. Work/Business/Jobs/Productivity Blogs
Business, employment, and productivity blogs are extremely competitive but can make a lot of money. During the past year, the world had to deal with highly disruptive problems and adapt quickly to everything that happened. So let's see some of the hottest blog topics you can monetize if you have some expertise in this field:
Working from home;

Task prioritization;

Time management;

Productivity tools;

Adapting to remote teamwork;

Finding a new job;

Goal setting tips;

Personal finance management;

Good habits formation and maintenance;

Self-motivation, etc.
The idea with such blogs is to look beyond the usual topics in this niche. You already have HR experts highlighting the newest trends in cover letter writing. There are already tons of established magazines and websites helping people curate their CVs or testing their skills. When you want to excel in competitive niches and build a marketing strategy for your blog, you need to invest a lot of time in research.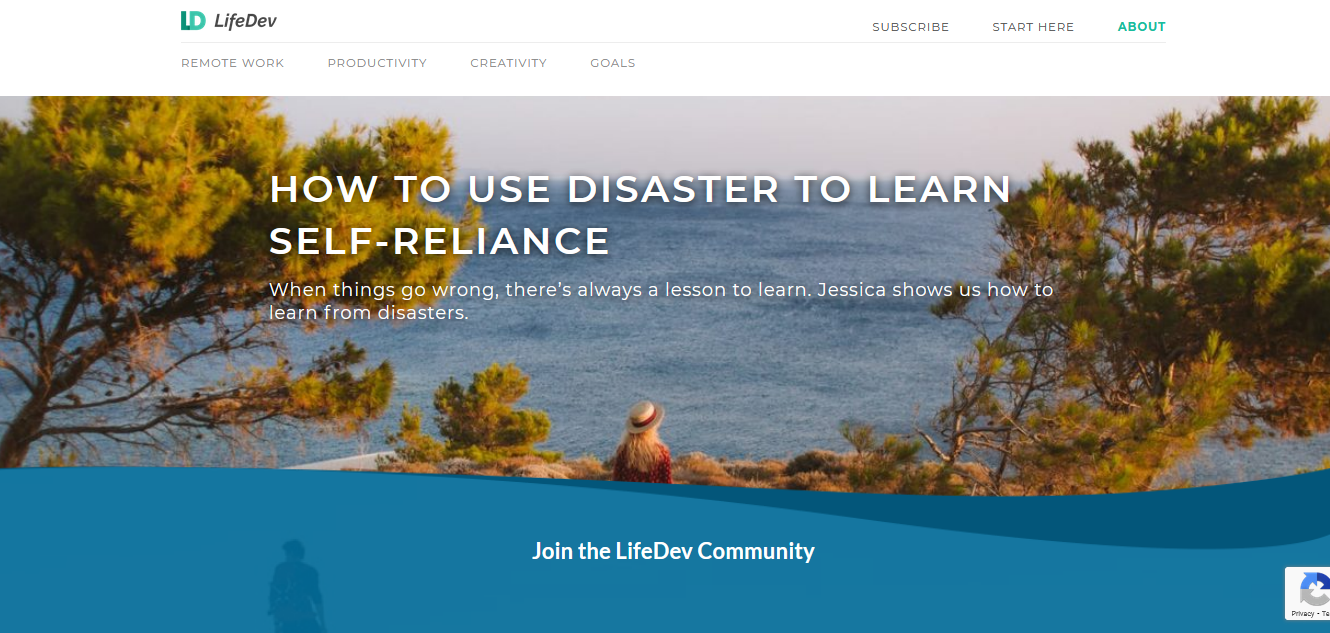 LifeDev is a productivity/self-improvement blog to help and inspire everyone
Check out the LifeDev blog and get some inspiration from it. At first glance, it might look like just another productivity/self-improvement website, but it comes with a sense of authenticity and sincerity that engages users like no other. This blog competes with Life Hacker, among other giants, and it still manages to engage an enthusiast audience, make money, and help people.
2. Tech Tutorial Blogs
Technology is way ahead of us. As soon as we learn how to use our new phone, more than five phones show up on the market, offering even better tech specs and features. Tech blogs are incredibly competitive. Moreover, almost all major outlets have a Technology section where they offer news, reviews, and how-to guides.
However, if you are passionate about technology and capable of explaining to others how to deal with everyday tech shenanigans, you can make a lot of money.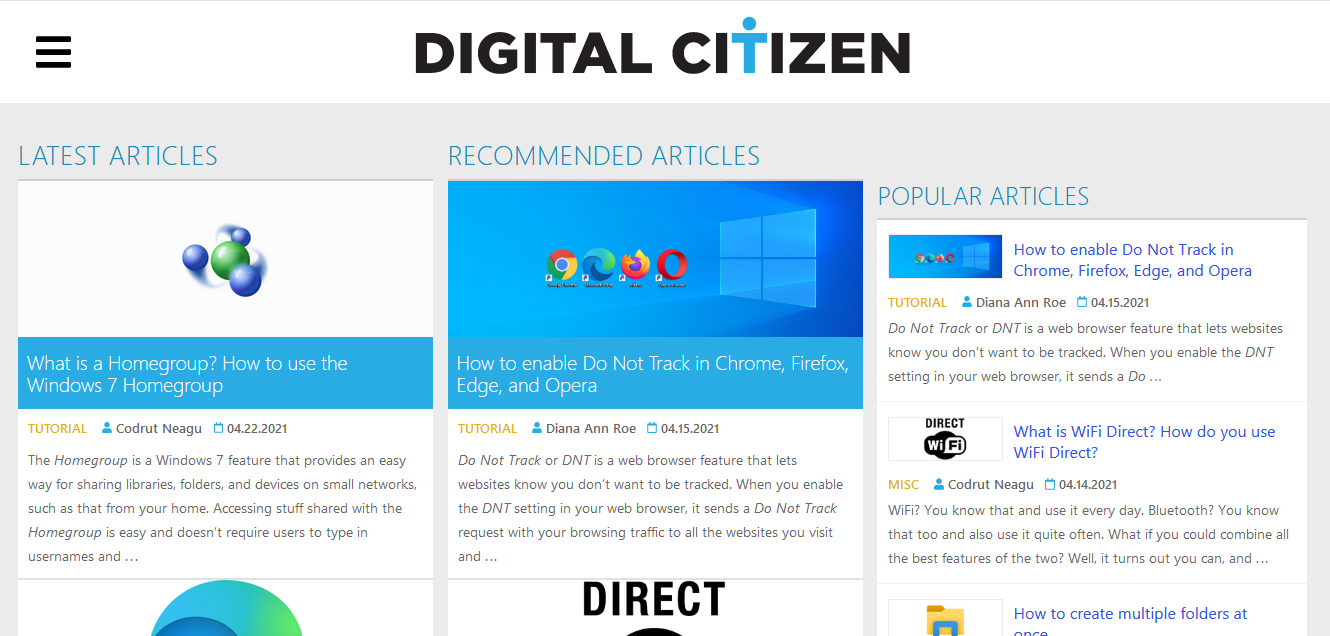 The Digital Citizen caters to all audiences in need of high-quality tech tutorials
The Digital Citizen blog teaches users everything they need to know about technology (and navigating our everyday digital-centered lives). The writers attract millions of visitors every month following a simple recipe. They offer in-depth, high-quality, full tech how-to guides, reviews, and tutorials covering all possible topics, from taking a screenshot on your new phone to picking the best Wi-Fi router for your house.
Speaking of making money, if you browse the blog articles thoroughly, you will learn that the blog gains substantial revenue from AdSense and some well-chosen affiliate links. The platform competes with tech giants like Wired Magazine or How-To Geek but offers something others in the niche don't: fresh content, in-depth research, and a strong passion for all things tech.
Technology, gadgetry, and software represent vast niches with billions of users. It is easy to get lost in the jungle. Our advice is to pick your blog topics wisely and make sure you offer reliable, trustworthy, actionable advice no matter if you write about operating systems or installing a new video player on your laptop.
If you are a tech connoisseur with a passion for web design, website building, and web programming, you can build a blog in this niche and make money by becoming an Ucraft affiliate as well!
3. Lifestyle Blogs
If you want to make money with a lifestyle blog, you have to choose your sub-niche carefully. Do you want to deliver makeup tips to beauty fans or discuss the best fashion accessories for men in their fifties? Are you focusing on offering tips & tricks on how to live a joyful life with apartment pets, or is your heart more into cooking with the simplest ingredients in your pantry?
From money-saving tips to beauty and finding a job, lifestyle blogs cover anything and everything. For this reason, you need to do thorough research and pick the best lifestyle blog topics that you know will engage your audience.
Lifestyle blogs make money in two primary ways:
Sponsored posts – as most lifestyle bloggers work with brands;

Affiliate marketing – get a commission from brands whose products/services you review or promote.
It is probably no news that some reputable lifestyle bloggers also create their own companies and brands, fashion collections, beauty products, makeup, accessories, etc. However, before you turn your lifestyle blog into an online store, you need to build the blog first and build a loyal community of readers willing to become your brand ambassadors in the future.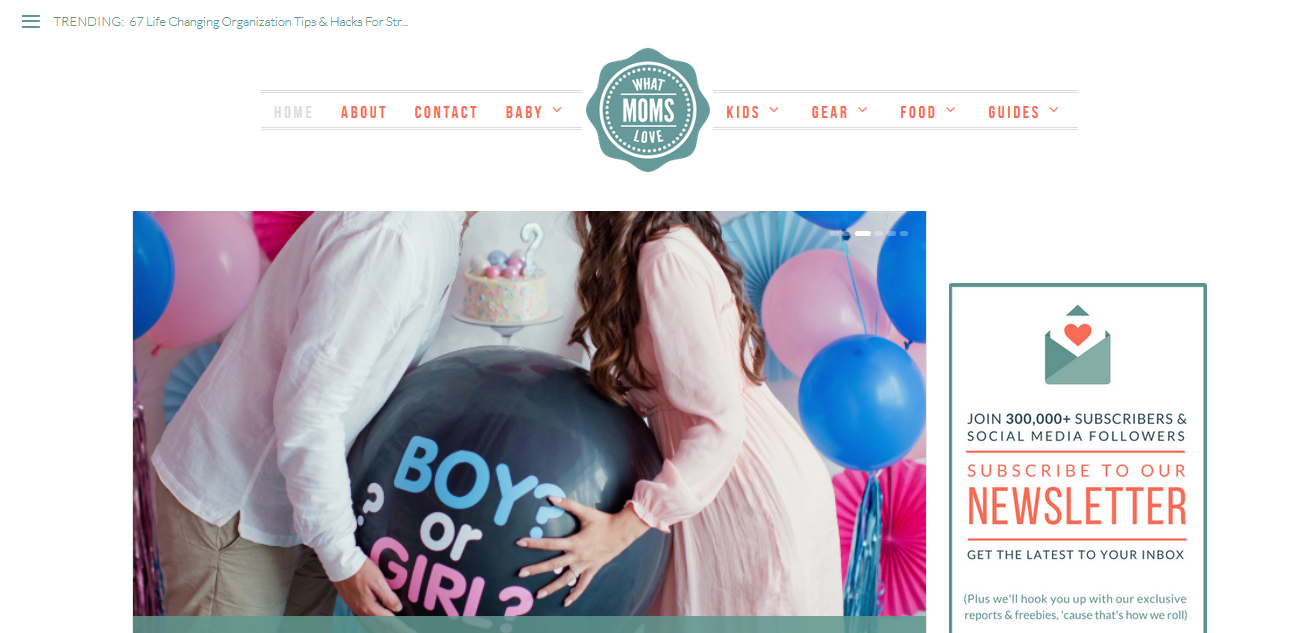 What Moms Love is a hybrid blog offering lifestyle and parenting content
Take a look at the blog What Moms Love. It is a lifestyle-meets-parenting blog with hundreds and thousands of newsletter subscribers and social media followers. They publish sponsored posts on Instagram and make money from sponsored brand content.
More importantly, Aly's guides are pure genius, no matter what lifestyle or kids-related topics she covers. A fun tone of voice, actionable advice, and stunning visuals are some of the ingredients that make this blog successful.
Keep in mind that a strong lifestyle blogging brand may turn you into an influencer at some point. In other words, you can harness the full power of influencer marketing and help other bloggers and small businesses achieve their strategic goals as well.
4. Hobby Blogs
People have many hobbies, and they love to blog about them. Surely you can make some money with your book reviews if you are an avid reader, but when we think about the types of blogs that make money, we think about 2-3 niches with high monetization potential.
One of the first hobby blogs that can earn impressive figures is photography blogs. Usually accompanying artists' portfolios, photography blogs make plenty of money by offering actionable advice, tips, tricks, and how-to guides to amateur photographers. Moreover, product reviews & sponsored brand content, and ads contribute plenty to the monetization of such blogs.
Another type of successful blog in this category is the DIY/Crafts blog. This one, together with the photography ones, relies immensely on the power of visuals. They usually come in the company of YouTube videos, Instagram posts, and viral social media marketing in general.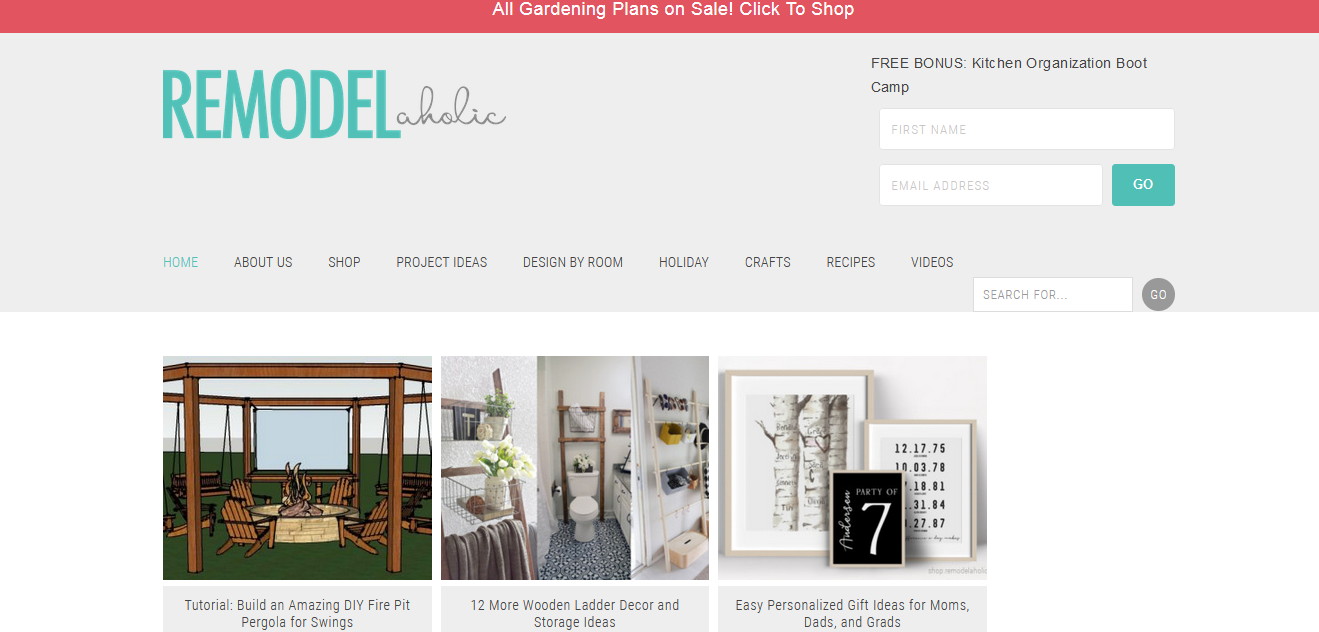 Remodelaholic teaches audiences to turn their homes into unique corners of Paradise
Above, we mentioned that some bloggers are so successful that they become influencers and entrepreneurs. Cassity from Remodelaholic is such a DIY/Craft blogger you should follow for inspiration and some amazing interior/outdoor design ideas for your own home.
Let's not forget that this blog has to compete with The Spruce and other DIY home renovation and décor magazines. However, some of the most significant selling points of this blog are the laid-back attitude, the fresh content created by the blog owner and her guests, and the free project plans users can follow easily.
5. Pet Blogs
Reaching this point on our list of types of blogs that make money, we need to remind you of three things:
The pet market is a multi-billion dollar industry;

Pet owners are willing to spend any amount of money to spoil their companions;

We invented the Internet for pet pictures, and that is a fact.
In other words, you will probably face the fiercest competition imaginable in this niche. However, when it comes to monetization, you can try almost anything because almost anything will work as long as you tailor your high-quality content to the right audiences:
You can make money with ads displayed on your blog if you register significant traffic volume;

Pet product reviews work like a charm if you also help other pet lovers buy useful products via your affiliate links;

Offering sponsored content and influencer marketing to pet brands is another revenue source;

Pets and social media (especially Instagram) are endless sources of successful marketing campaigns, especially if you tap into user-generated content, Instagram videos, Facebook viral content, funny Tweets, and so on.
Pet-centric blogs are a gift that keeps on giving. If your blog content appeals to your audience, your readers will become veritable brand ambassadors, turning you into an influencer. Next thing you know, your blog can become an online business with its shop selling trending pet products, organizing live events, offering free downloadable materials or training courses, and so on.
Learn everything you need to know about pets from the Pet Life Today blog
If you visit the Pet Life Today blog, you will have the time of your life. Mainly dedicated to cats and dogs, this blog is your one-stop-shop for advice, tips, tricks, product reviews, and so on. If you don't own a pet yet, this blog might convince you to adopt one once you finish reading a couple of articles. They also have articles dedicated to bunnies and other pets, so you can consider this blog a revelation when catering to specific audiences.
As you can quickly figure out, there are plenty of other blogs that make money if you put your mind to them. Fashion and health blogs can bring you substantial revenue as long as you find the right sub-niches and engaging blog topics that your competition does not cover in detail. Moreover, financial blogs, travel blogs, and food blogs are still some of the most monetizable online assets on the web.
Other types of blogs that make money include sports, parenting, gaming, marketing, frugal living, etc. If you have something new and important to say in such fields, don't be shy in starting a blog and test the best marketing trends available to see what works and how.
Blogs that make money come in many shapes and sizes. Find your niche and make the world a better, happier place with your content.