Email marketing is one of the oldest marketing channels you can use to promote your business, but that doesn't mean it's outdated. Effective email campaigns can deliver great leads, build loyal audiences, and offer some of the best returns on investment for your marketing spend.
With these email marketing tips, we'll help you build more effective campaigns of your own.
The 4 Main Types of Email Marketing
Email marketing can be used to acquire, engage, and retain your customers. By implementing a few effective email campaigns, you can grow your business and achieve your goals.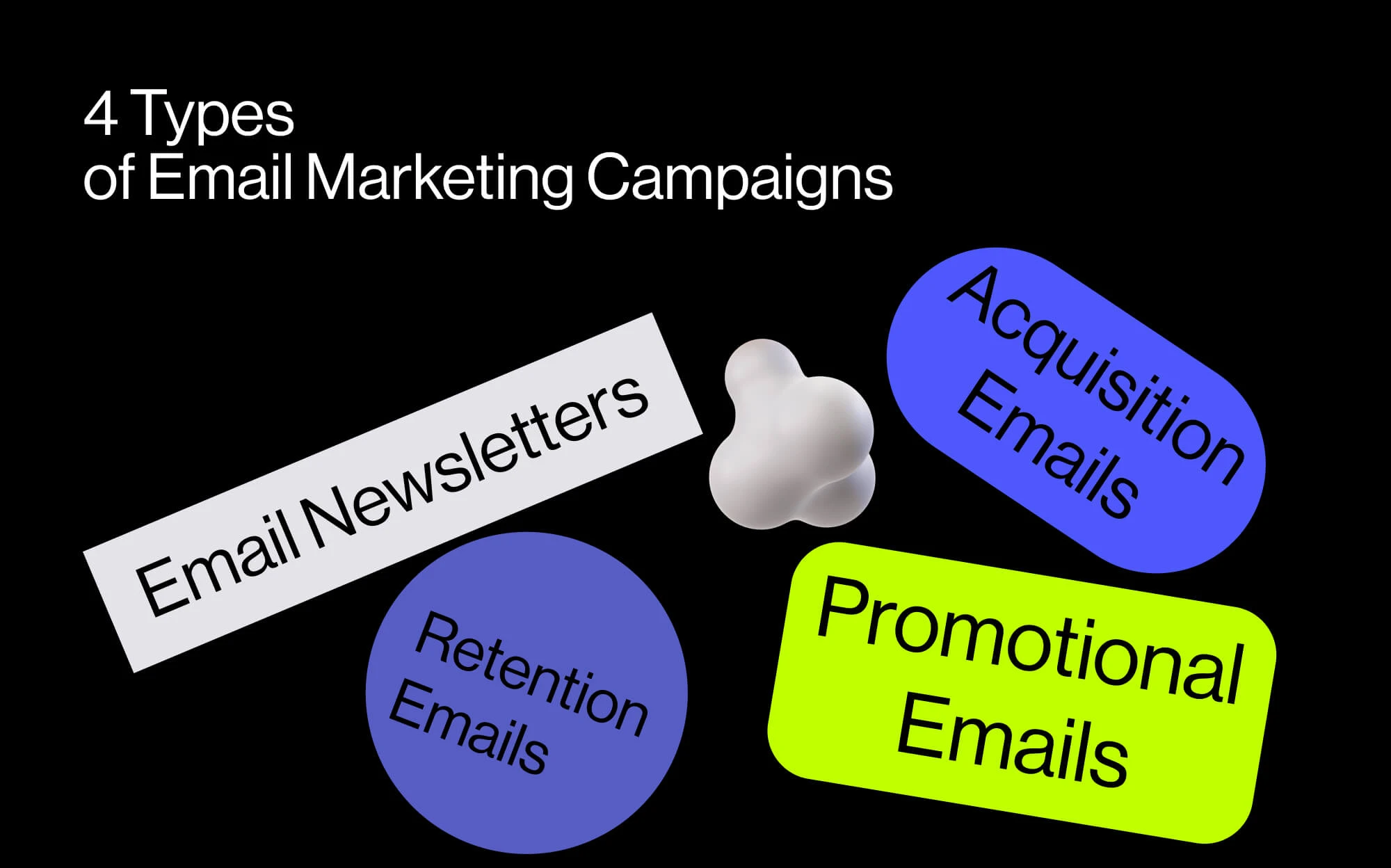 Generally speaking, we can divide email marketing into four categories:
1. Email Newsletters
Email newsletters are perhaps the most common email marketing campaign out there. You can use an email newsletter to provide subscribers with helpful knowledge and tools, share engaging content, make important announcements about new products or services, or just stay in touch. Well-crafted newsletters can increase retention and engagement and strengthen loyalty to your brand.
2. Acquisition Emails
Effective email campaigns are guaranteed to help your small business convert your leads into customers. Someone may have opted in to receiving mailers but haven't made a purchase yet. Implementing a few of our email marketing tips can change that, especially if you can communicate informative content and attractive offers. Acquisition emails are designed to move leads through the conversion funnel faster and drive additional revenue by targeting users that have already shown interest in your business.
3. Retention Emails
One of the most important email marketing tips we can give a small business is not to forget its existing customers. When a customer hasn't interacted with your brand in a while, retention emails can keep the lines of communication open and keep your hard-won customers by your side.
4. Promotional Emails
Promotional emails drive sales and signups. Email campaigns always include offers that entice and encourage your target to buy a new product or service. You can reward loyal subscribers with exclusive offers or early access to sale items, drive new product sales, or cross-sell new products to your customer base.
Quick Email Marketing Hacks
For a more in-depth guide on the ins and outs of email marketing, feel free to check out our official Ucraft Email Marketing Guide. However, if you are more familiar with the practice and just wish to refresh your memory, the tips below will help power up your existing email campaigns or create new ones.
• Including a number or statistic in your subject line can increase clicks and replies;
• Smartphone users prefer communication via email as a means of brand communication, so optimize your email templates for mobile view;
• Appealing to someone's sense of curiosity with your copy can increase your click-through rates dramatically;
• A/B testing your email subject lines will boost your ROI and help create better email campaigns.
4 Key Benefits of Email Marketing
1. Email marketing offers high returns at a low cost.
2. You can measure your email campaign ROI and results in great detail.
3. You can create an entire email campaign in minutes.
4. You can hone in on people who are already interested in your product or brand.
How to Plan Your First Campaign
Now that you have a better idea of what email marketing is and why it's important, let's take a look at the steps you need to take to plan your first email campaign.
1. Define Your Audience
Like anything else in marketing, you should decide on your target audience. It's a good idea to create a buyer persona. Picture your ideal visitor. How old are they? What gender are they? What do they like? What device are they using? Once you understand who your customer is, you can tailor your campaign according to their needs.
Effective Email Marketing Tips For Buyer Personas: You can learn more about buyer personas and audience profiles by consulting our Marketing Terms Guide. Creating several buyer personas and corresponding messages can really help get the ball rolling.
2. Establish Your Goals
Before you devise your campaign goals, try to find out whether there are any email marketing benchmarks for your industry. These benchmarks are just a guideline, but they can help you determine your email campaigns' effectiveness.
3. Build An Email List
Good email campaigns start with a good email list. Your email list is a group of users that have given you permission to send them relevant content. To build that list, you'll need several ways for prospects to opt into your emails.
Effective Email Marketing Tips for Email lists: To start gathering up subscribers, include an email marketing signup call-to-action on your landing page. You can learn more about creating effective landing pages by reading our landing page guide. Never email anyone without permission, as this could violate local laws. Skip ahead to learn more about creating an email marketing list.
4. Schedule Your Mails
Decide how often to get in touch with your list and if possible, let your audience know.
Staying consistent will build trust, ensure that you stay on top of your mind, and will actually encourage you to plan your newsletters in advance.
5. Measure Results
One of the best email marketing tips you'll ever receive is to keep measuring everything. You can't manage what you don't measure, so be meticulous about your metrics.
Effective Email Marketing Tips for Measurement: Knowing what to measure will vary depending on your goals. In general, you want to keep an eye on the total number of emails you've sent, the number of emails delivered, the bounce rate, the open rate, click-throughs, and your unsubscribe rate. If your bounce rate is high, you may need to clean up your email list. If your unsubscribes are high, you should consider changing your content. And if your open rates are low, you should experiment with your subject lines and designs.
Building An Email List: Where to Start
You can't start an email campaign without emails. There are several ways to build your email list, but creating a good lead magnet and opt-in form is the best place to start.
What Are Lead Magnets?
Lead magnets are anything that attracts customers to your email list, like a free offer, a discount, an ebook, or a template. You don't need to break the bank; you can repurpose your existing content into an ebook or a guide. Remember to keep your lead magnet relevant to your leads. A simple PDF or voucher code will suffice. Think of it this way: your personal information is precious. Your prospective users won't give up their personal information unless you give them something valuable in return.
What Are Opt-In Forms?
Opt-in forms are the way your prospect provides information so you can add them to your email list.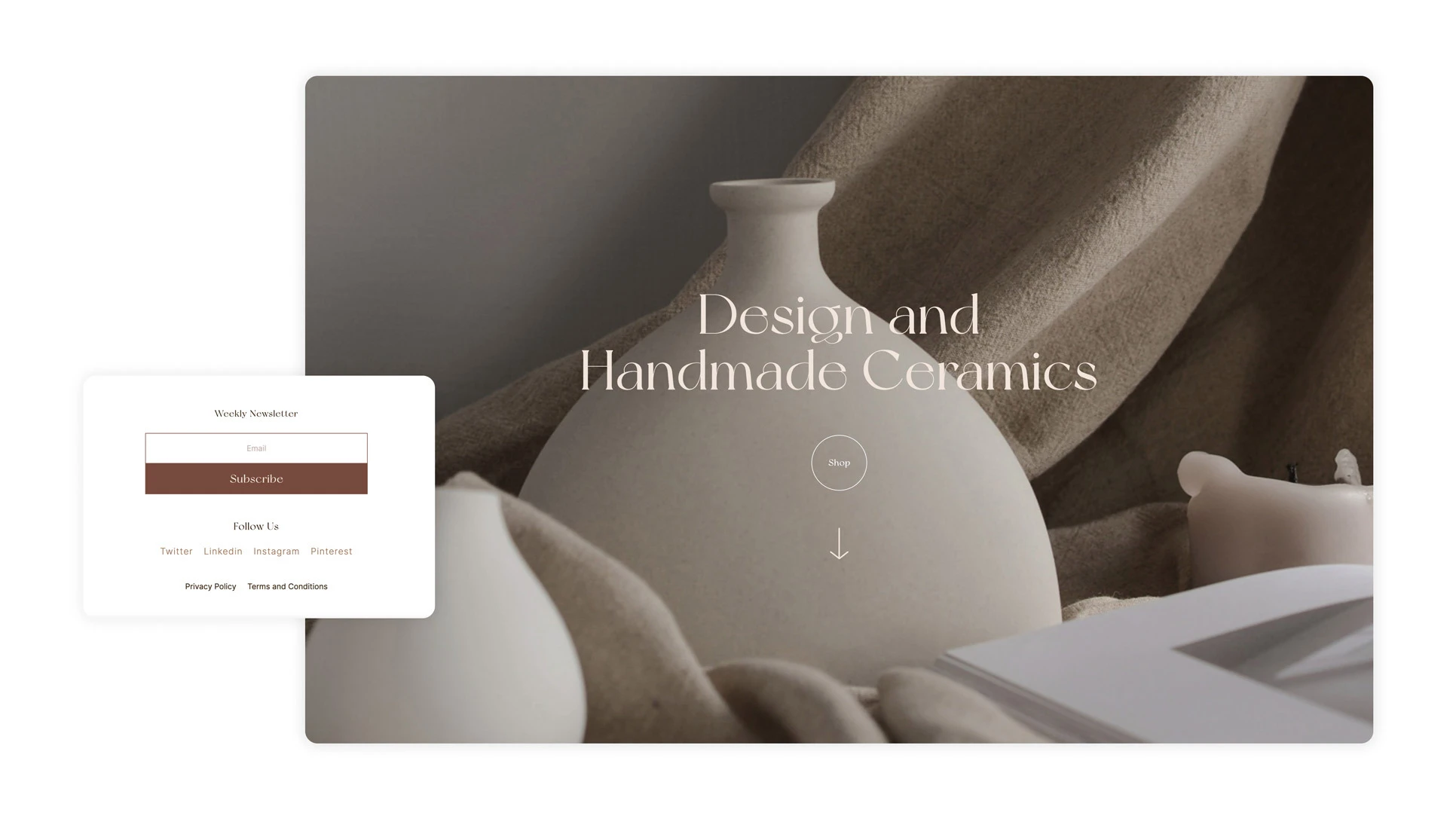 Here are just a few opt-in email marketing tips to keep in mind:
• Use an attractive landing page design and attention-grabbing header that stands out from the rest of the page.
• Keep your form simple. Long contact forms with too many fields can be daunting.
• Once your customers opt-in to an email, send a confirmation mailer to let them know that they've been added and how often you'll mail them (and when).
• Always test your opt-in form to ensure it's working as it should before making it live.
Sending Your First Emails
Let's dig into the step-by-step process of sending your first email campaign:
1. Choose the Right Mail Platform
Fortunately, plenty of email platforms can create great email campaigns, from design to execution to reporting. These sites often share email marketing tips, so make sure to keep an eye on your inbox after creating your account. Intercom, Mailchimp, Keep, and Moosend are all good options. We like Mailchimp because it's one of the most popular options, and it's effortless to use.
2. Create Your Content
Once you've followed our email marketing tips for creating an email list, you'll be ready to send your first mailer. You can start right away. Decide:
• Which topics to cover
• Who do you want to target
• What are your goals are
If you are using Mailchimp, you can choose a specific list of subscribers to target each time, e.g., subscribers interested in men's or women's fashion. You'll need to segment them yourself and save them as separate lists.
Your content is a powerful conversion tool, so brush up on your content marketing before creating your campaign.
3. Choose Your Subject Line
Your subject line can make all the difference. Boring and passive emails will go straight to Trash, while intriguing subject lines will rope readers into opening your content.
Effective Email Marketing Tips For Subject Lines: Keep your subject lines short and relevant to your audience. You need to grab their attention immediately and let them know what they can expect by reading your mail.
When you are writing an email subject, focus on the short and relevant topic of your email that will immediately tell your targeted audience what they can expect. This way, you will not only intrigue people who are really interested in what you have to say but also get the attention of people who may perform the desired action.
4. Choose Your Call to Action
The key to converting a prospect to a customer or a customer to a repeat sale is by adding a call to action. Good calls to action include, "Sign up for your free trial," "Buy now," "Claim your discount," or "Learn more."
5. Check Your Stats and Review
Now we get to the measurement and review portion we mentioned earlier. If you are using Mailchimp or a similar provider, you can view your email stats in your dashboard. Alternatively, you can set up Google Analytics to help you track your performance. You can use what you've learned to improve your next campaign. It's a good idea to create two emails each time, with one element that differentiates them, e.g., different headers or subject lines. That way, you can A/B test and determine which one resonates the most with your audience.
Verdict
When it comes to email marketing, there are four main types of email campaigns you should focus your attention on: email newsletters, acquisition emails, retention emails, and promotional emails.
In order to plan your first campaign, the following steps will help you considerably:
1. Defining Your Audience
2. Establishing Your Goals
3. Building an Email List
4. Scheduling Your Emails
5. Measuring Results
Likewise, when it comes to sending out your first email campaign, you should choose the right platform, create good, compelling content, choose an attention-grabbing subject line, include a CTA and then track your results.
And remember - although email marketing may be viewed as less important when compared to social media campaigns and ads, this is definitely not the case when it comes to helping your business grow. Make the most of this strategy, plan carefully and watch the positive results of your marketing campaigns come flooding in.