Advertising is constantly changing and evolving, because it adapts to the way people consume content.
Advertising is constantly changing and evolving, because it adapts to the way people consume content. There's a lot of creativity poured into advertising campaigns. However, original ideas that generate a lot of buzz or conversions are quickly copied and adapted multiple times by many other brands, until they become trends. You may not notice huge changes from one year to another, but there are definitely micro-trends and shifts that you should know about.
Below you have a list of the biggest advertising trends that are very popular now in 2017. Some of these trends have started in the previous years but are still growing. Others are just starting out, but we predict a rapid growth over the next couple of years. Take your time to read and try these ideas in your own advertising campaigns.
1. Native-style advertising
Native advertising is an ad format in an online platform which resembles the platform's editorial content, but is paid for by an advertiser.
Native advertising isn't new. It's been talked about for quite a while now, yet it still hasn't been used at full potential. Brands are continually spending more and more on native ads and the growth isn't expected to stop anytime soon. It will not even peak in 2017. According to Business Insider projections, native ads will drive 74% of all ad revenue by 2021. The growth will continue each year until then. No question about it, there are huge opportunities and a big growth for native ads expected this year.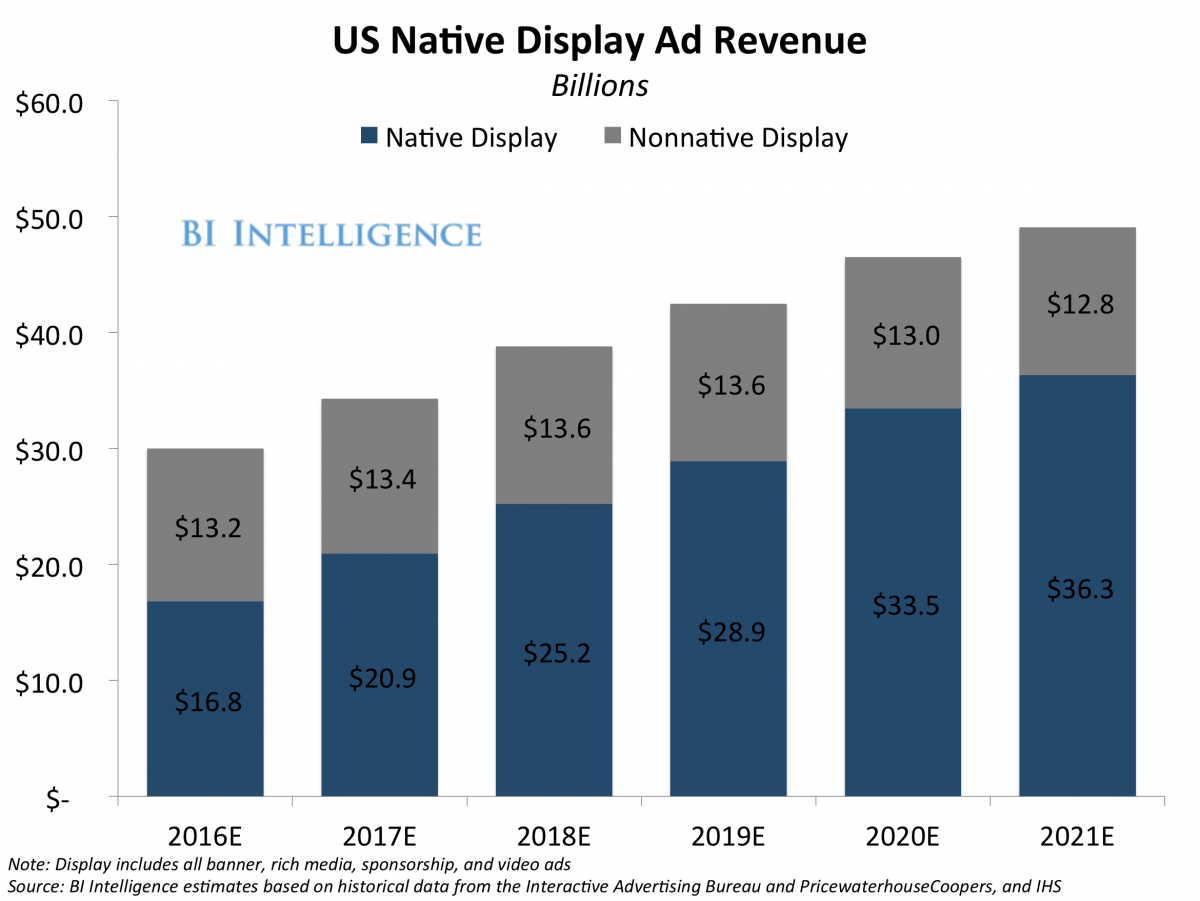 One of the reasons why native is experiencing such a dramatic growth is the increased usage of ad blockers, since native ads are not affected by them. There's also the fact that they are more engaging and more powerful than regular banner ads. The viewer is not impacted by banner blindness because the ad looks like editorial content. Probably for the same reasons, there's a higher lift in purchase intent than with regular banner ads.
Huffington Post suggested that the biggest opportunity in native advertising lies with written content.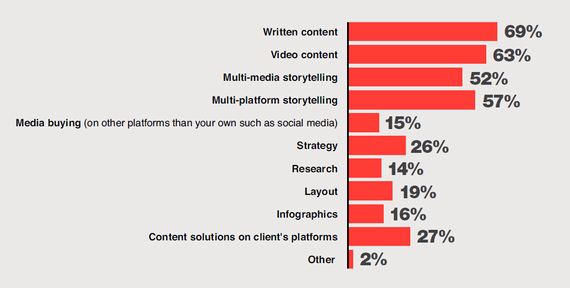 2. Influencer sponsored posts
We've all seen these posts on our favorite social networks and we will continue to see them even more. This category includes any social media post for which the influencer receives payment to publish. It will either mention a brand, or feature a product in a photo or video.
These posts are not ads managed by the social platform, but the result of a deal between an influencer and a brand. Influencers often disclose the fact that it's a sponsored piece of content by using the #sponsored hashtag, or by mentioning that the post is the result of a paid collaboration.
This is just one example of many: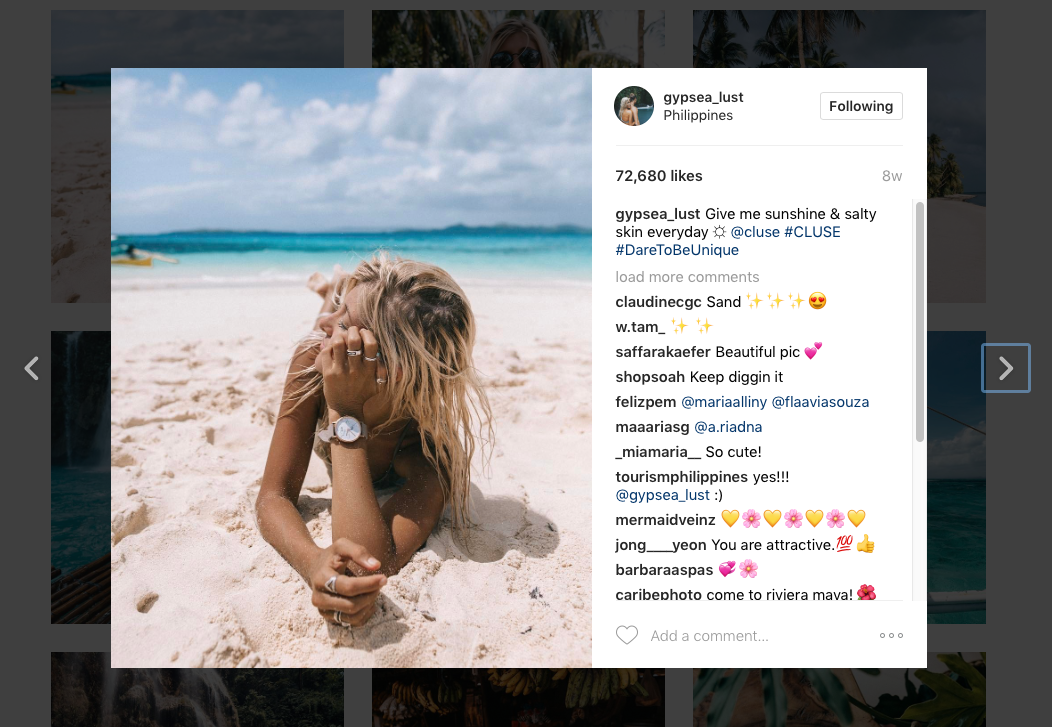 The author of this Instagram post is Lauren Bullen (@gypsea_lust), an Instagram influencer, who has around 1.5m followers. She posts dreamy travel photography, and every once in a while she does sponsored posts. As you can see, she integrates the product very well in her photos so that it doesn't disrupt her feed.
In an interview for Cosmopolitan, she revealed that brands contact her for promoted posts, and not the other way around. She has worked with huge brands like AirBnb and has such a high demand for sponsored posts from brands that she managed to quit her daytime job. (She will not do a sponsored post for less than $3,000 USD - for just one Instagram post)
Sponsored posts are a subset of native ads, but they are a category on their own.
Influencer advertising is huge, because an ad coming from a person that you follow and admire has more value than a random ad you see on a random website. It has the value of the word of mouth advertising combined with celebrity endorsement - a very powerful combo.
3. Video advertising
Last year was the year or video advertising, but the trend will continue to grow in 2017. Videos are the best way to tell stories, present a brand and allow viewers to fully immerse themselves in an experience. It's as close as you can get to giving customers a sample of your product or allowing them to take it for a test-drive. So, video isn't going anywhere: not this year and not anytime soon.
In fact, 88% of businesses say that video is an important part of their marketing strategy.
Regarding video trends, we might also start to notice more advanced video targeting, based on behavioral data and perhaps even new video formats.
As our devices become smarter, the video production has to adapt and take into consideration all the devices people use to connect to the Internet, besides phones and computers. Let's not forget that 2016 was a flagship year for 4K TV, and that video and large screen TVs are a match made in heaven. We're going to see more and more 4k videos in general, and that applies to video ads as well. Having Ultra HD video ads (lower resolutions for smaller screens) will eventually become the norm.
4. Mobile advertising
The smartphone has become such an important part of our lives that we can hardly remember what our lives were like before this invention. We carry it with us everywhere, all the time, and we constantly check for updates and notifications. The answers to all of our questions are in our pockets, a few taps or swipes away. We've come to trust this device enough to use it to buy stuff, which makes it the perfect medium for advertising. According to VentureBeat, mobile ads will represent almost 3/4 of Google's net ad revenue before 2018.
"It's a significant moment, as mobile now overtakes desktop," declared Tim Elkington, IAB chief strategy officer, in October 2016. "Marketers devote more ad spend to mobile as they increasingly cotton on to the fact that people essentially carry an ad platform with them wherever they are."
There are also 2 challenges that preoccupy publishers and advertisers, regarding this trend. One of them is the increasing usage of mobile ad blockers, and the other is fraud and ad bots.
5. The use of UGC in advertising
All the big brands have experimented with hashtag campaigns that produce a lot of user generated content (UGC). We are going to see more of this in 2017. Every buyer is a potential content creator, because nowadays it's so easy to produce a photo or a video. There's an obvious value in getting customers to create branded content and promote you on social media: it generates a lot of buzz and a huge reach. However, advertisers are going to start taking it to the next level by acquiring ownership of some of the UGC gained through these campaigns and using it in future campaigns.
As a brand, you don't own an image posted on Instagram just because it has your hashtag in the description or it features your product. The ownership belongs to Instagram, so you can't use it in any way, because there are potential legal risks associated with republishing or monetizing it.
The obvious solution to this is to acquire ownership by contacting the content creator and purchasing the legal rights and the metadata. As David Hunegnaw declared in his piece for AdAge: "the future for user-generated content is owned, not earned".
6. Chatbots advertising
Messaging apps are some of the most used apps on smartphones, which makes them an ideal ad placement. The market penetration for Whatsapp, Facebook Messenger, WeChat and other similar apps is incredible.
All advertisers have to do is use this kind of technology to create personalized experiences for customers. Which is where chatbots come in. They can help users order products and services, hail cabs, pay bills and make reservations.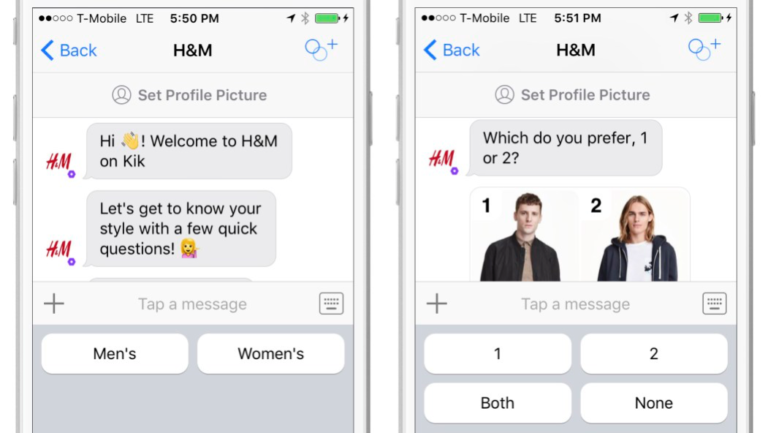 2017 is just the beginning for this kind of advertising. I'm expecting this to be huge, because the opportunity is obvious. There have been huge advancements in artificial intelligence and machine learning over the last year and they certainly won't stop. Chatbots would be the easiest way yet to order products and services and pay for them. Chatbot messaging apps are a goldmine waiting to be explored by brands.
Beerud Sheth, the CEO of messaging platform Gupshup, predicted that "you're going to see a bot explosion. I think it's safe to say that this is the year of the bot. All the technology pieces are in place."
7. Infotainment advertising
The line between content and advertising has started to get a little blurry with native advertising. Well… expect this to get a whole lot blurrier, with new types of ad units.
I'm talking about interactive content enrichment units like polls, quizzes, facts and tips ad widgets. The banner ad can be placed directly inside the content widget or on the sides.

Tools like Carambola, Apester and 1World Online are already helping brands use this kind of content-ad mix and they reported high engagement rates. They hired professional content writers to create highly engaging content that works well with different categories of ads.
The whole idea behind these widgets is that active users (who will read the content) are more susceptible to the ad's call to action. There's also an increased time spent viewing the ad (good for advertiser) and time on page (good for publisher). There seems to be a win-win situation with these new ads, and I'm expecting the trend to grow by the end of the year.
This kind of mix might upset some users, but it's an instant new revenue source for advertisers and publishers that's reportedly highly effective.
8. Ethical advertising is a thing
For millennials, it's not enough to just deliver a good product or service. The brand mission, values and how they are reflected in their actions and in their advertising campaigns are equally important. As millennials are starting to become a great buying force, brands are starting to listen to them.
Let's not forget 2 recent events that show how important ethical advertising has become, especially now.
The most recent is the Pepsi - Kendall Jenner ad, which has been considered highly inappropriate for trivializing social justice movements. It made many people take to social media to express their indignation and rage. The ad was so widely and fiercely criticised that Pepsi decided to pull it in less than 24h.
The other thing that I'm talking about is the fact that in March 2017 many brands (including Johnson & Johnson, Verizon and Walmart) have decided to pull their ads from non-search Google platforms because they appeared next to videos promoting hate speech or terrorism. These brands didn't want to be associated in any way with hate or extremism, so they took action. This shows how important ethical advertising has become, down to the very last detail, like placement.
9. Animation makes a comeback
So far we've covered all major macro trends, but let's talk about traditional ads now. From a designer's perspective, there's a lot going on at the moment: lots of micro-trends and there are many different opinions about what's in. However, there's one thing that we can all agree on: 2017 is a year of movement and dynamics, especially when it comes to advertising.
Perhaps no one said it better than Gary Meleg: "I think animations and micro interactions will play a major role in design, in the year to come. Designs should be entertaining, funky and dynamic, no matter what. Animations will make a huge comeback in 2017 thanks to fully developed HTML5 structure."
One other thing that advertisers that opt for traditional advertising campaigns should keep in mind is that using the right size for a banner ad can have an impact on the campaign's performance. According to Smartketer, the most used banner sizes this year are the Skyscraper 120 x 600 px, Square 300 x 250 and Leaderboard 728 x 90. Try to use these sizes in your 2017 advertising campaigns!
The takeaway from all of this is that 2017 is the year to experiment and try something new.
You just have to figure out which of these trends would be the most profitable for your brand and apply them in your campaigns.
Did I miss anything? Let me know in the comments!
Author bio:
Janina Moza is a hard-headed content crafter for Flipsnack, since about 5 years ago. She's a master of binge reading and procrastination.