When it comes to dropshipping, the PoD or print-on-demand niche is booming. Studies show the industry has grown by more than 10% in the last four years, with more than a third of customers expecting some form of personalization as standard.
What's more, the nature of the industry makes it possible for entrepreneurs to run it with minimal investment from their homes.
However, to get into the print-on-demand game and succeed, you must first create a professional, eye-catching website for your custom products. So, let us help you skyrocket your print-on-demand business with effective tips and practical solutions.
In this article, we're going to cover:
What is print-on-demand?

The advantages and disadvantages of having a PoD store

How to set up your store

Creating your best print-on-demand website

The importance of UX in the PoD niche
What Is Print-on-Demand?
As a service, print-on-demand (PoD) enables the creation and selling of customized products on eCommerce stores without investing in manufacturing, inventory, or order fulfillment.
Digitization has played a pivotal role in bringing print-on-demand to the mainstream. Sure, merchandising has been around for decades. However, designing and manufacturing products, as well as managing orders and shipping, isn't simple.
That's the beauty of PoD. You don't need to own a print shop to become a print-on-demand mogul. Just focus on your strengths and outsource the rest.
With print-on-demand, you connect your online store with print-on-demand services, allowing you to design and sell customized products without buying and managing inventory. As such, you can create designs and add them to your print-on-demand sites instantaneously, with a low initial investment.
The products sold on print-on-demand sites are white-labeled items, such as T-shirts, tote bags, shirts, hoodies, homeware, or posters, to name a few, customized with unique artwork and branding. It's particularly popular with graphic designers or artists who want to monetize their art at scale. To create your product catalog, you work with a print provider.
With that being said, selling print-on-demand products is not for everyone, so it might not be the best business decision for you. Let's take a look at the pros and cons of running a print-on-demand eCommerce store.
The Advantages and Disadvantages of Having a Print-on-Demand Store
Running a print-on-demand eCommerce business has lots of advantages over managing a brick-and-mortar print-on-demand shop. For starters, it's arguably the most accessible way to get into eCommerce. But don't expect it to be easy.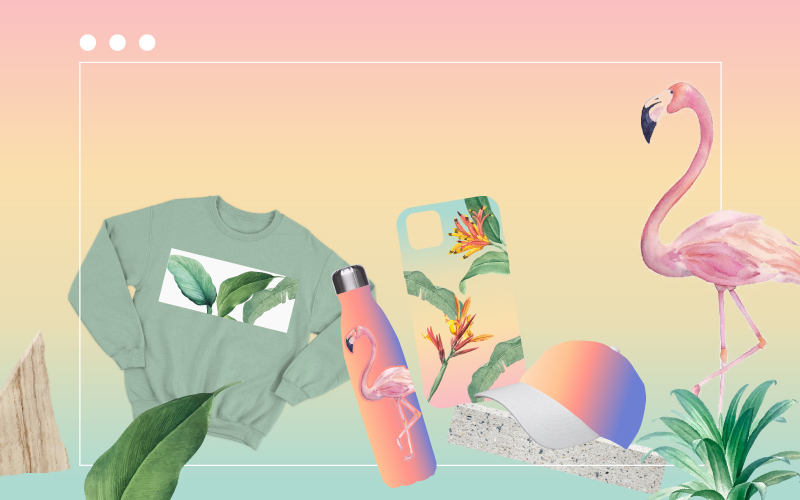 The Advantages of Running a POD Store
If you have marketing knowledge and close-knit relationships with reputable vendors, you're already off to a good start. If not, don't fret. You can still succeed.
That out of the way, selling print-on-demand products has many positives. Let's take a look:
Simplicity
Setting up a print-on-demand company and generating an income is a very straightforward process. All you have to do is find a suitable manufacturing service and set up a website.
To do that, opt for a simple, easy-to-use drag-and-drop template. Ucraft has several visually striking templates suited to PoD companies that allow you to set up your entire store without any knowledge of coding or web design.
Shipping and Inventory
Unlike traditional companies, you don't have to worry about shipping, storing inventory, or manufacturing with an eCommerce print-on-demand store. Your PoD vendor will take care of stock, fulfillment, and shipping needs.
Low Cost and Less Risk
As a print-on-demand company, you can print items without minimum orders, meaning you don't have to build up stock or buy items in bulk to start selling.
The Disadvantages of Running a POD Store
Sure, the positives are numerous, and setting up the store is a breeze, but taking off as a print-on-demand company is not a given. And it might be harder than anticipated.
Limited Customizability
Most PoD business owners have many customization options, but, unfortunately, the possibilities aren't endless. Usually, the fabrics and sizes choices are limited, and the packaging might not align with the brand image you are trying to create and convey to prospective customers. As such, print-on-demand companies have restricted creative control.
If you had more control over the manufacturing process, you'd be able to put your creative stamp on every element.
Less Control
Running a print-on-demand company means being dependent on third parties. Therefore, you can't dictate shipping policies or delivery times. On top of this, return policies might not be in favor of your consumers.
Lower Profit Margin
Print-on-demand companies may have lower overheads, but they will also have lower profit margins because another party is responsible for inventory management and fulfillment. Bear in mind also that working with small batches means higher costs.
Setting Up Your Print-on-Demand Store
After reading both the positives and the negatives of running a print-on-demand company, you now know what to expect. But, we're not over. It's time to move on to the next steps—how to choose your products, set up your website, and get selling.
Choose the Products You Want to Sell in Your Print on Demand Company
You can sell various print-on-demand products, including clothing, homeware, prints, books, wall art, and more. However, before committing to any vendor, get a sample so you can test the quality. Your designs might look great on a canvas and terrible on a t-shirt.
Upload Your Designs
Print-on-demand companies' vendors should be able to generate mockups, so you can see what the design looks like on the actual product. Integrating directly with the provider is a good idea, too.
Choose Photos, Variants, and Determine Prices
Add all your product variants, such as colors and sizes, and determine the prices you will charge, including shipping costs. Select a mockup to use as a product photo and write an SEO-rich description.
With this knowledge in hand, now you are ready to fill up your website with custom products! But first, you need a website to do that.
Creating Your Print-on-Demand Website
As an eCommerce print-on-demand store, your site is your storefront. Except for having a visually striking webpage, make sure to provide your customers with the smoothest, quickest transactions possible. By doing so, you keep them around, decreasing the bounce rate.
And not only will your website generate sales, but it will also build your brand if you want to expand into other areas.
You don't need any web design experience. Drag-and-drop website builders like Ucraft can help you create eye-catching, customized sites for your print-on-demand business.
Logo
Every business needs a logo. Logos build trust and tell clients who you are and what you do. It's part of building a brand and aiding customers with recognition. You can always outsource a graphic designer (to keep the costs down) to create a logo for you. That said, many websites have fantastic free logo builders you can use to create beautiful designs that encapsulate your brand.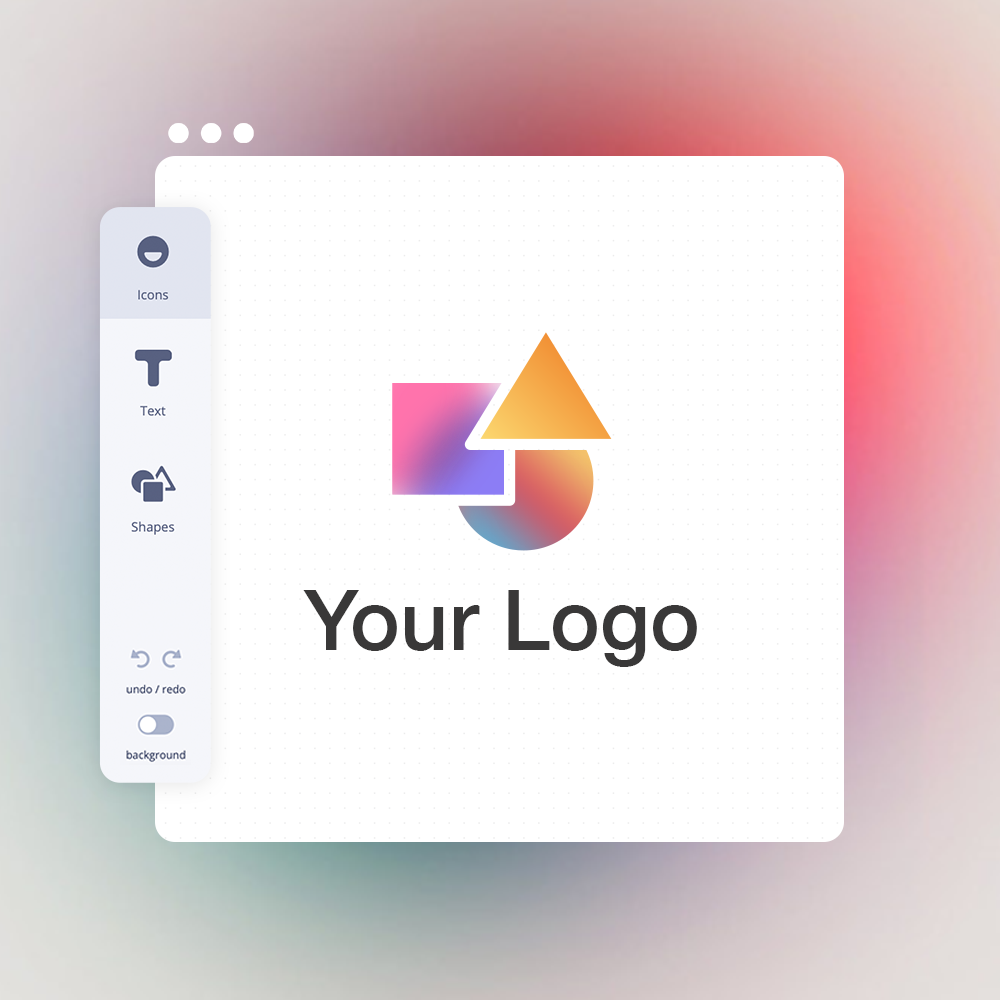 Media
A picture can say a thousand words, especially online. Unfortunately, stock photos can end up breaking your budget. With that in mind, you don't want to compromise on quality either. Choose a website builder with a media app or use design sites that offer $1 stock photos (like Canva.com) to populate your site with eye-catching images. Likewise, consider creating custom images for your website if you have the opportunity to hire a designer since custom visuals are helpful for your overall branding.
SEO
Not all of us are SEO savvy. It can take years to master search engine optimization fully, but many of the principles are simple to grasp. If your website builder has elements that can check the SEO performance of your pages, then all the better.
Pages
There's no need to have a thousand pages on your website. Instead, aim to have some of the essential pages for SEO and readability purposes. Putting too much information on a single page makes it difficult to navigate the site and read the content. For a simple PoD store, you will need the following:
About Us: Explaining the vision and purpose of your site, as well as how it all began;

Home Page: The landing page of your site that helps users find the other pages;

Product Page/Shop Page: This is where you sell your merchandise and provide customization options;

FAQs: Use this page to answer common questions about sizing and shipping;

Customer Support: There should be a link or a contact form for customers to reach you;

Blog: Technically, you don't need a blog, but it's excellent for SEO and also a fantastic way for customers to get to know you!
Additionally, set your menu to Standard or Burger, and pick a Vertical or Horizontal layout.
eCommerce
Not every website builder gives you the option to set up and run an eCommerce store. For example, if you want to run an online print-on-demand store, you'll need payment and shipping options built into your site. You might also want to consider gift cards, discounts, and other offers.
Opt for a website builder that gives you as many eCommerce features as possible for the best result.
Integrations
Don't neglect the importance of integrations. Connecting your store to Facebook Messenger (to respond to queries), Zendesk (for CRM query management), or Google Analytics (to increase traffic and implement funnel techniques), can prove invaluable to the success of your POD business in the long run. In short, you need to decide on what tools and features are essential for your store before choosing a website builder.
SEO-Optimized Content
Using SEO-optimized content is pivotal in eCommerce, as we touched on previously. However, that's not the only reason you might want to produce additional content:
Articles increase engagement with prospective and repeating customers;

When buyers read about a product on a blog post, they are more likely to purchase it;

Articles encourage customers to connect to the other pages of your eCommerce business via backlinks;

Blogs create a sense of community;

Blogging allows you to tell stories, which are powerful marketing tools and can increase sales.
You can only put so much information about a product in the description—blogs are a way of bringing emotion and depth to your site, so consider adding some to your website.
After having examined all the website elements, let's take a look at UX: One of the most crucial aspects of a print-on-demand business.
The Importance of UX in Print-on-Demand
Whichever eCommerce platform or print-on-demand product you choose, don't overlook the user experience. Doing so results in losing consumers, sales, and setbacks in your business.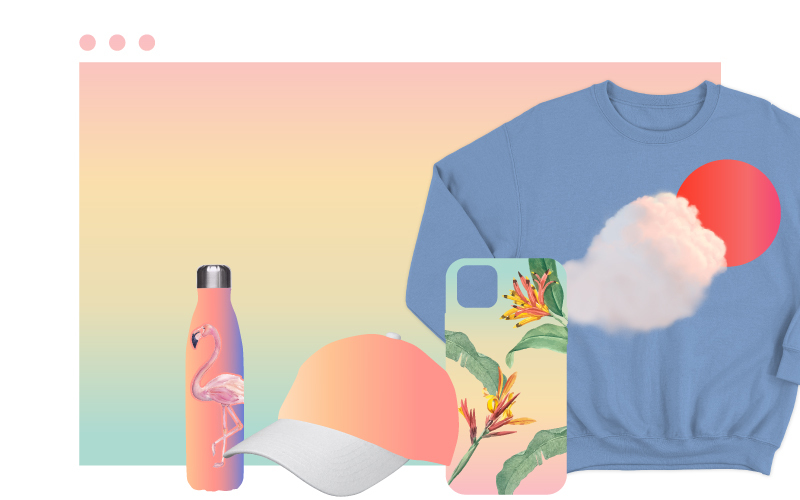 eCommerce companies make the mistake of heavily spending on advertising and design but underinvesting in their UX. Your UX influences your customers, new visitors, and your profits.
UX or user experience is the experience of a person visiting your eCommerce store. A good user experience aims to make it easy for visitors to navigate your store, find what they are looking for, and make a purchase.
User experience is not just about design, but it also encompasses:
Page load speed: pages should load quickly without lag;

Navigation: are your menus and pages laid out in a way that makes it easy for prospective customers to find what you are looking for?

Device inclusivity: is the site mobile-friendly?

Content: are the texts and product descriptions comprehensive and easy to read?

Buyer journey: did you remove unnecessary steps so that users can take quick action?
Design is important, but it's not the only factor. If you have beautifully designed products and an aesthetic website, but your customers have a hard time searching for said products or making payments, chances are they will leave your site. A poor user experience creates a negative experience in consumer mindsets.
The options are endless, so when customers don't like the webpage experience, they are more than happy to go shopping elsewhere. To sum it up, design your eCommerce print-on-demand business with buyers in mind, first and foremost.
Here is what you should do to improve UX on your site:
Prioritize Functionality
Many print-on-demand platforms are either made by designers or individuals that prioritize design in their online business. But here's the catch - some elements that look beautiful aren't very functional. Parallax scrolling, where some features scroll faster than others, or transparent buttons look nice, but not all website builders can pull them off.
Ucraft can help you add functional effects to your site that don't compromise on the overall UX. Even so, when you are setting up your effects, opt for substance over style. Don't add too many effects that detract from the shopping experience.
Go For an Effective Template
If you aren't a professional designer or developer, avoid building a website from scratch. Instead, choose from a series of templates that already work and customize the colors, logo, and stock images to create your online brand.
Let Copy Dictate the Design
Should copy or design come first? It can feel like a chicken-or-egg situation, but it is best practice for your copy to precede the design. Your online design should empower the copy and emphasize the message. Don't buy a theme and then retro-fit your copy.
Try to draft your copy first, and then pick a custom theme that matches what you are trying to convey to your consumers. Take a look at this demo site from Ucraft. The central message is to Focus on the Moment. The graphics depict a drone moving across various scenes. It uses stock photography and videos extremely effectively to enhance the message.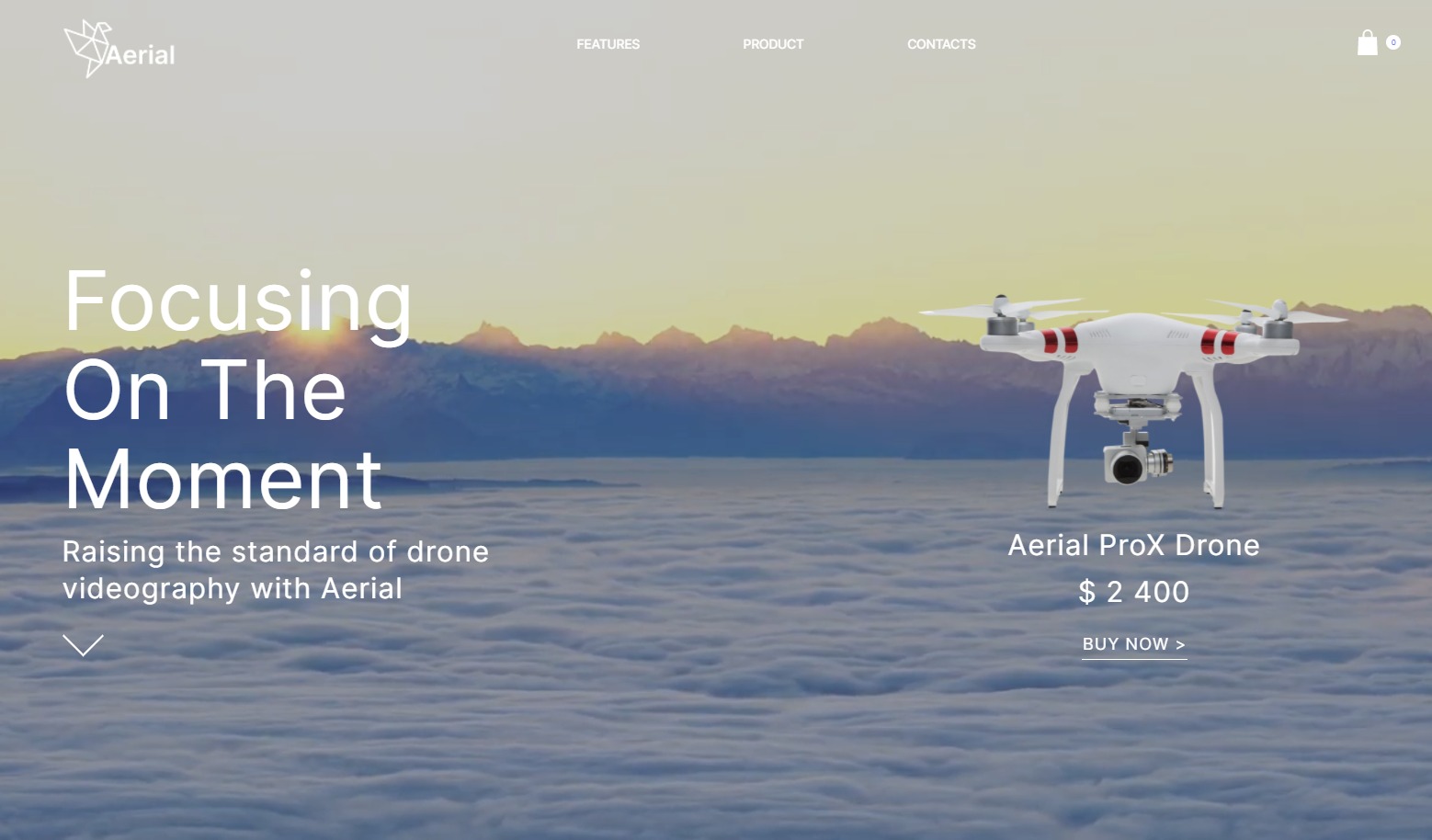 Use Clean, Intuitive Layouts and Familiar Language
Your clients are not going to spend hours figuring out your website. You want them to do what they need to do as quickly and efficiently as possible. Use clean, uncluttered layouts when you create your eCommerce website and presence.
It's best to use familiar words when naming your pages. Don't try to be too sophisticated at the expense of being understood.
Time to Launch Your PoD Store
Setting up a print-on-demand store is really easy when you have access to the right tools. As a user-friendly drag-and-drop website builder, Ucraft can help you create, customize, and publish your print-on-demand store. Build landing pages, create your logo and fully functionalize your eCommerce website within minutes! You can even try the service for free.
With that being said, we wish you the best of luck going into your new print-on-demand endeavor. Consider revisiting this article to refresh your memory and receive some guidance.