If you run any kind of business, online or offline, you are probably aware of the value your customer support team brings to the table. Not only are they expected to be immaculately trained in areas of company policy and product/service functioning, but they are also expected to have endless patience and empathy when it comes to dealing with dissatisfied and, oftentimes, angry customers.
However, many companies often undermine the level of investment and training necessary to maintain a fully-functioning, motivated customer support team. You can be the owner of the best online store in the world, offer the best product or service, or even be a leader in your industry, but if your customer support is not up to par, your customers will be more than happy to seek the services of your competitors.
In this article, we analyze the importance of customer support in online business user retention and give you the best tips on optimizing the functioning of your support team, helping you retain more customers and attract new ones regularly. Let's dive in!
What Role Does Customer Support Play in User Retention?
Customer support is vital to user retention. No online business runs smoothly 100% of the time, and customers will always have individual complaints and concerns that are not addressed in your FAQ section. Customers will not give you the benefit of the doubt if their concerns are not addressed promptly and will gladly swap your product/service for a competitor's - even if they initially favored yours.
Your users expect you to take their concerns and questions seriously and will not settle for half-hearted replies or long waiting periods. Likewise, they will not tolerate rudeness or disinterest from your support team, going as far as to leave negative reviews about the whole company if they have a bad experience.
Think about it. How many times have you scrolled through a business's page on social media or review sites and come across negative reviews left solely for the purpose of communicating dissatisfaction with the product or service?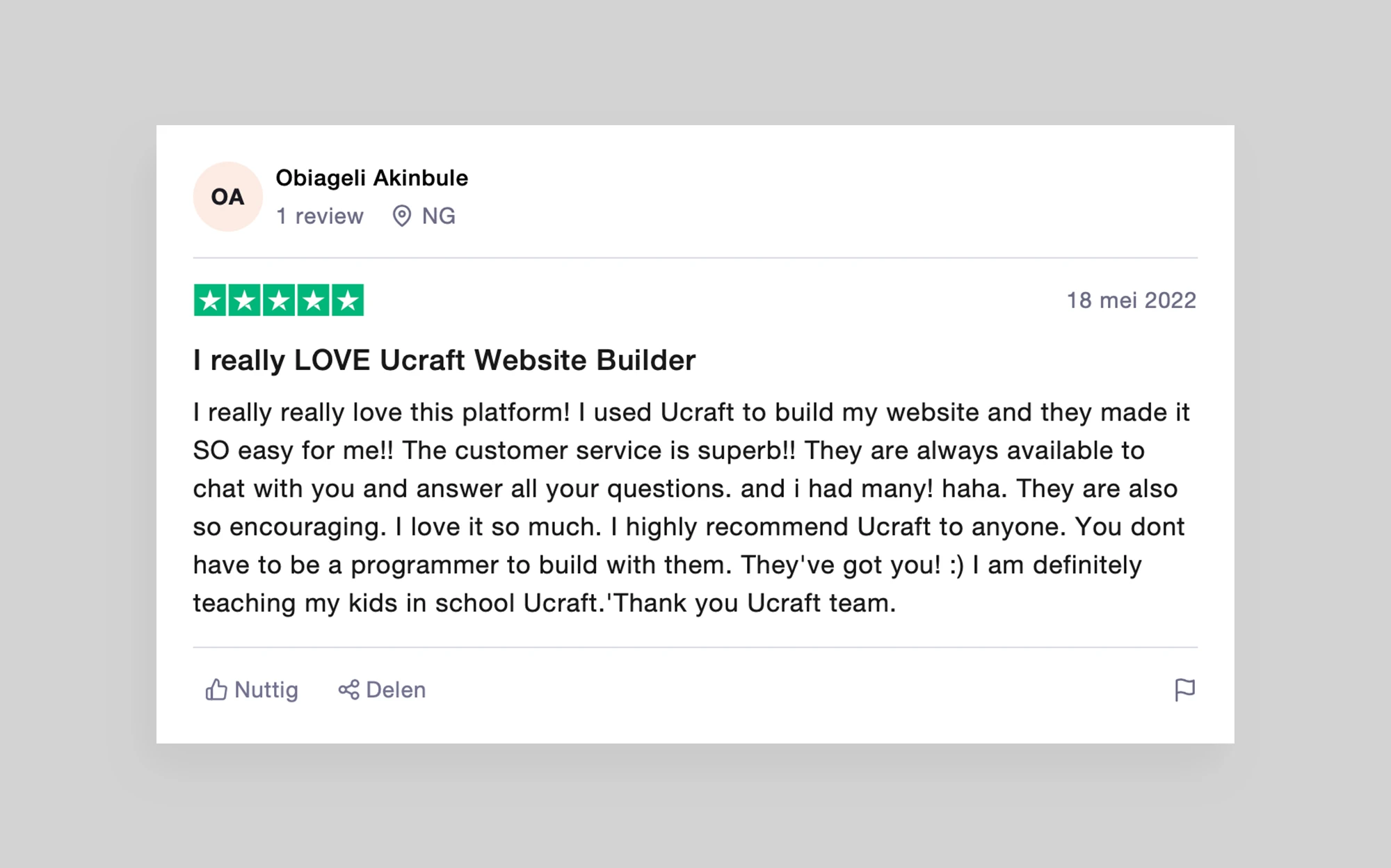 Source: https://www.trustpilot.com/review/www.ucraft.com

"The product was great, but their customer service team took days to reply to my questions."
"I'm in love with this product, but I wish customer service would be easier to contact."
"I had problems with payment and shipping, and no one was on the line to help me with my concerns. I waited for days just to get a single reply."
"I spoke to one of the customer service representatives, and they were so rude and unhelpful that I had to cancel my trial."
Moreover, the examples listed above are the PG-13 ones - many customers are likely to be much more ruthless and expressive when it comes to wording complaints concerning the customer service team.
How Can Exceptional Customer Support Help Retain Users?
Oftentimes, customers will come for the product or service but stay for the experience. If you want to turn one-time customers into repeat buyers/users, you should focus on providing that exceptional user experience for every single customer.
A huge chunk of that lies in the quality of your customer service team.
When a customer has a question or complaint, it's up to your support team to steer them in the right direction. If they feel like they are being treated with respect, their questions are being prioritized, and their satisfaction is put above all else, they will be more likely to purchase from your online business in the future.
Moreover, if their burning questions are addressed in detail at their first purchase or subscription, the customer will instantly become more familiar with your business and may even be less likely to ask the same question again, provided they are given all the information they need. They will also be more likely to become repeat buyers or subscribers once they are familiar with the product or service and how your business operates - and the sooner, the better.
It's true - some customers enjoy figuring out things for themselves, but the majority of first-time buyers or users prefer being guided through the process. People have enough problems as it is, so having one less problem is highly valuable to the majority of customers - sometimes even more valuable than the product or service itself.
Optimizing Your Customer Support Experience: Step-By-Step Guide
Now that you're familiar with the theory, you may be wondering what actions you should take to optimize how your support team functions to retain more users. Maybe you haven't even thought about optimizing your customer support prior to coming across this article, which is exactly why we're here to guide you in the right direction.
Regardless of your online business size, several straightforward steps can be taken to ensure your support team is functioning to its full potential.
1. Hire a Sufficient Number of Employees
This is relatively straightforward. Depending on the size of your business, you should be hiring enough customer service representatives to be able to handle the daily workload and react in case of emergencies. If you notice that your team is doing their best, but questions and queries still go unanswered due to the workload, you may need to hire more customer support employees to distribute the work more efficiently.
2. Select a Customer Service Team Lead
Do you have a customer service representative that has been with the company since day 1 (or almost)? Did you just picture that one person who knows all the ins and outs of your product/service and company and speaks to regular customers on a first-name basis? Yes, that's the one! If you haven't already done so, consider promoting them to the position of team lead and instruct them to make sure everything is running smoothly.
This hierarchy will result in a more organized work environment, and the whole team will have an established means of communication with higher management and a leading figure to oversee their work.
3. Train New Members Thoroughly
New customer service employees should not be kept in the dark about important aspects/features of the product or service and how your business functions on a day-to-day basis. Make sure new members are thoroughly onboarded from day 1, and instruct the rest of the team and the team lead to train the employee until they are fully familiar with all aspects of your business. If your company is in IT or Software as a Service, e.g., Ucraft, your support team should also be fully familiar with your product/service and how it functions to be able to communicate with customers and advise them.
At Ucraft, we ensure that all our service team employees are fluent in our website builder and all the available features and settings to answer commonly asked questions on the spot without having to consult with other employees first.
4. Keep Your Team Updated
Changes inside the company can be exciting, but don't restrict that information to only higher management. If the updates or changes are in any way related to the product/service, payment and shipping methods, operations, and overall functioning of the business, your customer service representatives should be the first to know. This is where having a support team lead in place becomes very valuable since you will be able to communicate important information with them, which they can pass on to the rest of the team.
5. Provide Your Team With All the Necessities
Whether it's sufficient technology (laptops, PCs, phones), necessary software, good working conditions, or even days off and vacation time, your support team should feel fully equipped and comfortable to work at your company. If you work in an office environment, each employee should have their own space (preferably a separate desk) where they can do their work with minimal distractions.
6. Create a Pleasant Work Environment
As mentioned above, being a customer service representative is not always sunshine and rainbows. Some customers can be irritable, ask repetitive questions and even be downright rude. To compensate for any less than pleasant interactions, you should cultivate a friendly, supportive, and overall enjoyable work environment (and not only for your customer service employees but for everyone). You can ask employees about their experience, listen to their concerns, and create a tight-knit community within your company and support team so that employees feel relaxed, supported, and appreciated.
A great way to achieve this is through team activities: outings, group lunches, team building days, trips, seminars, and even corporate events.
7. Improve Customer Interactions
If you are the owner of your company or work in higher management, chances are you are familiar with your user base and the demographic of people that purchase from you. However, do you consider your buyer personas when trying to improve customer interactions? Have you really learned how to satisfy customers' needs?
The best way to improve the way your support team interacts with customers is by getting to know them. Note their likes, dislikes, and interests, and encourage your support team to pay attention to these aspects. Likewise, a personalized approach goes a long way. If you are able to create a customized experience for your customer instead of automating most of the process, that's a win for your team.
We understand that larger companies may require some degree of automation through chatbots and automated replies, but make sure to balance this out by having honest one-to-one discussions with customers who couldn't get the information they need through an automated system.


8. Use Software to Maximize Results
Software designed for customer service teams can go a long way regarding your team's efficiency and productivity. Mostly, these tools will be relatively inexpensive compared to the benefits they provide for both the support team and your customers.
At Ucraft, we optimize our customer support experience using several tools, including Zendesk, LiveChat, HubSpot, and Hoory (an AI-powered chatbot). These tools offer everything we need and more to keep our support system running smoothly, and they are not too pricey either, considering how much they benefit our team and customers.
9. Obtain Feedback from Customers
Getting to know your customers and creating a personalized experience is only 50% of the solution. You should also install feedback systems for your customers and provide them with a space where they can leave reviews on the quality of your service team.
If your company has grown to medium size (or larger), consider integrations like Hotjar and UserVoice to collect customer feedback while saving time and effort. Likewise, you can send out personalized emails and ask your customers to provide feedback without any constraints. Another excellent option for less-nuanced feedback is to create public polls on your social media accounts (e.g., LinkedIn, Twitter, Instagram) and encourage your customers to participate.
10. Consider All Touchpoints
Good customer service doesn't start and end with one message or one call. Ensure you have all customer touch points covered: your website, social media pages, email, in-app chats, and more. Your customers should feel guided from the moment they learn about your product or service to the point where they receive their product and might like to leave feedback or make another purchase.
At Ucraft, we are big fans of Intercom - a tool that allows you to create a help desk for customers, start in-app chats, and much more. Our integrations with Mailchimp and Mandrill have also been incredibly helpful in addressing all of our email marketing needs. And no, we are not affiliated with any of the tools we mentioned in this article - it's all honest feedback based on experience, which we now want to share with you, our audience.
Motivating Service Team Employees to Produce Better Results
Another point that deserves a separate section is the motivational aspect of your customer service team. When learning how to improve customer experience in eCommerce, a big part of this is ensuring your team stays motivated and feels like their career needs are being fulfilled.
Many companies often attribute their success to their tech and marketing teams, resulting in your support team feeling unseen or like their work is not as important (when actually, their work is essential). Make sure to praise your support team equally, thank them for their excellent work, and offer them the same benefits you do for other teams. Ensure that they also feel like they are an integral part of the team and include them in all company activities.
If you post insider content on your social media, especially employee segments, consider doing a separate one for your support team and thank them for their effort. Based on our experience, they will be delighted to share these posts and will remain incredibly loyal to the company, presenting it in the best possible light when speaking to customers.
Remember - your support team is the face of your company when it comes to customer interactions. Don't forget to thank them, and don't forget to thank your customers either.
Verdict
When it comes to optimizing your customer support operations, remember to follow the 10 tips mentioned in this article:
• Hire a Sufficient Number of Employees
• Select a Customer Service Team Lead
• Train New Members Thoroughly
• Keep Your Team Updated
• Provide Your Team With All the Necessities
• Create a Pleasant Work Environment
• Improve Customer Interactions
• Use Software to Maximize Results
• Obtain Feedback from Customers
• Consider All Touchpoints
You don't have to perfect all of these aspects in one day, but with good planning and effort from all sides, this should be achievable in a relatively short period of time. Likewise, don't forget to encourage your support team and offer various initiatives to help them stay motivated - even when they have to deal with demanding customers.
Good luck!