The digital age has revolutionized our shopping, and mobile commerce (or m-commerce) is leading the change. The super-convenient anytime-anywhere shopping experience has been rapidly changing the retail landscape.

Global retail m-commerce sales are increasing worldwide, presenting a massive opportunity for global retailers to reach and engage customers like never before. But what exactly is mobile commerce, and how can retailers make the most of it? 

Let's deep dive into m-commerce and explore what you should or shouldn't do to stay ahead of the curve.
What is Mobile Commerce?

Mobile commerce is simply conducting commerce transactions via a mobile device. It can include buying and selling goods and services, making payments, and transferring money.

Product purchasing on eCommerce mobile can take many forms, including physical goods, digital goods, and services. The trend is growing in popularity as more and more people adopt smartphones and tablets. 

Gen-Zers are mainly fuelling this market with their unique shopping habits. They're true digital natives who are comfortable using various devices and platforms. Not to mention that they're also big spenders when it comes to online shopping.

M-commerce offers many advantages for both consumers and businesses. Consumers find it convenient and quick to find, buy, and pay for products. Likewise, companies can reach a wider audience and increase sales by providing a personalized shopping experience. 

However, there are also a few challenges that retailers need to be aware of, such as building a mobile-responsive platform and integrating m-commerce into the existing systems.

With the right strategy and implementation, m-commerce can be a powerful tool for global retailers. Let's discuss what to adopt and avoid to tap into the growing mobile market and create a more substantial presence.
The Do's of Mobile Commerce

M-commerce is already prominent in the global eCommerce scene. That being said, let's go over some of the essentials when it comes to implementing this strategy.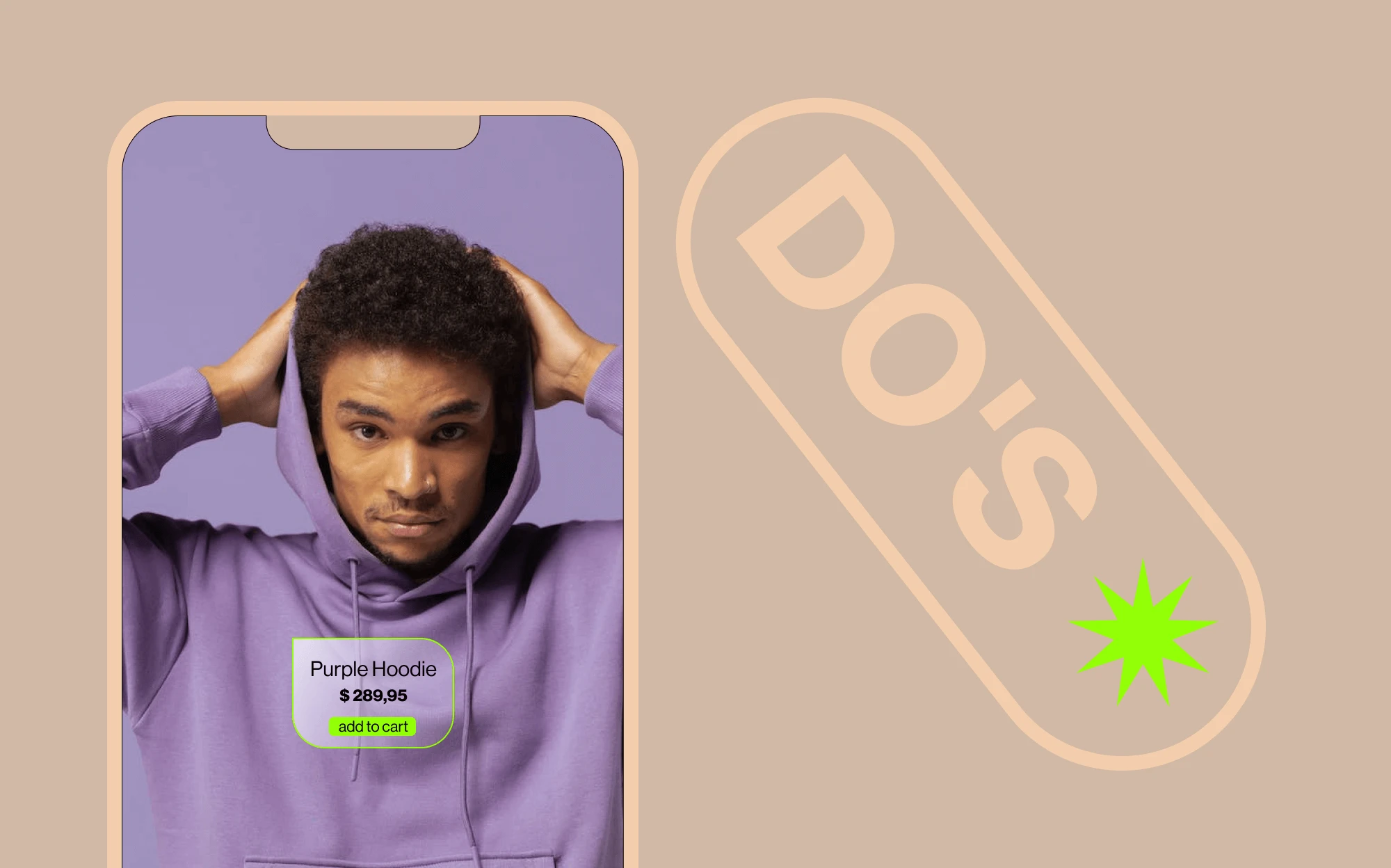 Set up Your Online Store

If you still need an online store, now is the time to build your online store. It's the most convenient way to reach a global audience. Make sure to use a reliable website builder, like Ucraft, to get complete control over the look and feel of your store and ensure the best customer experience.
Ensure Your Website is Mobile-Friendly

Design your store with a mobile-first approach, allowing it to look great and function well on mobile devices.

This includes optimizing all aspects for mobile devices - from the general layout to image size and weight. Your web pages should load quickly, and the interface must be easy to navigate with concise menus and CTAs. 

Keep in mind that mobile users are often on the go, so they look for platforms that allow intuitive browsing and product viewing.
Plan Specific Marketing Strategies

When marketing your business to mobile users, tailor the strategies to their interests and demands. You can reach them through SMS, promotional emails, and push notifications. 

SMS marketing campaigns and push notifications are excellent ways to keep customers engaged with your app or website. Use the tools to announce sales or new products and remind customers to come back and shop with you.
Offer Mobile-Specific Deals and Discounts

Offering mobile-specific deals is a great way to catch attention and drive business. Here are a few ideas to get you started:

• Offer a discount for customers who book appointments or make purchases through your mobile app;
• Give a percentage off for customers who use your mobile site to purchase;
• Send a coupon code that can be redeemed only through a mobile device.

With so many people using their smartphones, there's an ample opportunity to reach more customers with mobile-centric offers. A little extra incentive ensures your business stays on top of their mind.
Offer In-App Purchases

If you have a mobile app, grab customer attention by offering in-app purchases. App shopping is on the rise and can skyrocket your revenue if you can attract users with the right deals at the right time. 

Just make sure that your app is well-designed and easy to use. Otherwise, you risk losing customers.
Use Personalized Content

When it comes to mobile commerce, remember that your customers are individuals. Based on this alone, consider implementing personalized content into your mobile commerce strategy to facilitate that necessary connection between your customers and your brand. 

It could mean anything from using their name in your emails to creating targeted content based on their location or past purchases.
Integrate Data to Create an Actionable Strategy

Data is a powerful tool that comes in handy in improving your business strategy. You can design your next marketing campaign by analyzing consumer behaviors, including product browsing, grabbing deals, and shopping history. It could be a Facebook ad or a personalized in-app purchase deal. 
The Don'ts of Mobile Commerce

Mobile commerce is a different ball game than traditional eCommerce, and there are a few things you should avoid if you want to succeed.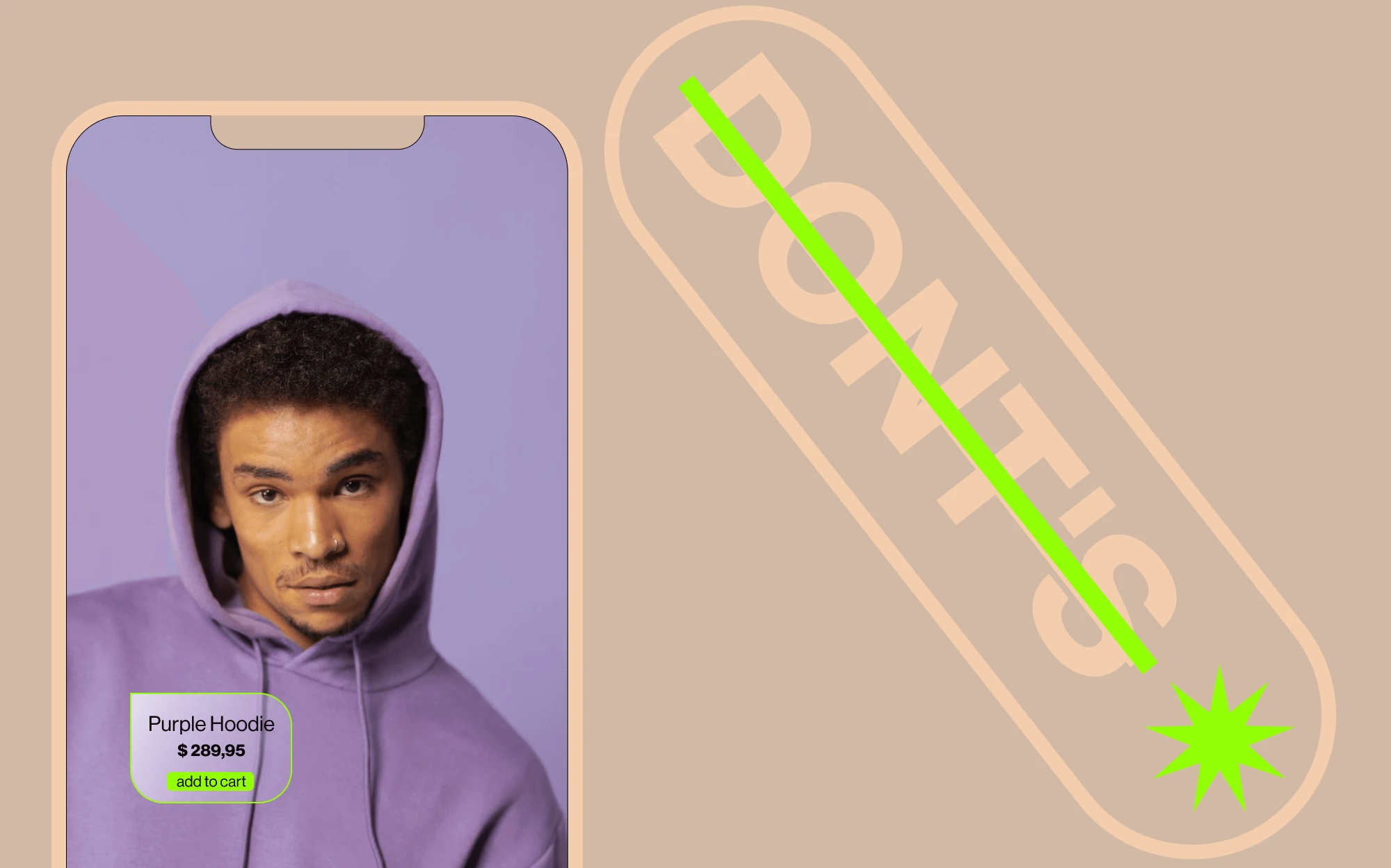 Not Focusing on the Customer Journey

The customer journey is different on mobile than it is on desktop. Don't just imitate your desktop website because customer interaction will differ when browsing on mobile devices. 

Mobile users are often on the go, so you must ensure your mobile online store is easy to use and fast. Stay ahead of the competition by offering a better experience through quick and easy data entry, prominent CTAs, and intuitive navigation.
Neglecting Social Media Channels

Social media is a powerful marketing tool that can help you reach a larger audience and boost your sales. Mobile shoppers highly engage with social media to research products and make purchase decisions.
The growing trends indicate that online shopping through social media will hit $1.2 trillion by 2025. So, businesses that don't have a strong presence on social media are missing out on valuable customer insights and potential revenues. If you need help figuring out where to start, hire experts to help create a social media strategy tailored to your business goals.   
Ignoring the "Micro Moment" for Shoppers

In today's world, shoppers are constantly bombarded with distractions. Whether it's a notification from their phone, an email, or a social media update, a million things are competing for their attention at any given moment.

Because of this, it's become increasingly crucial for businesses to take advantage of what is known as "micro-moments." These are the brief moments when a shopper is looking for something specific, and if you can provide them with what they need, you're more likely to win their attention.
For example, let's say someone is looking for a new pair of shoes. They pull out their phone and quickly search for "shoes." If your business comes up in the results and has a mobile-optimized website or app, you're more likely to win their business than if you don't.
Making Onboarding Complicated
Another mistake businesses make with mobile commerce is making the registration process lengthy and complicated. Modern shoppers like to sign up for things with just a few clicks. If you make them jump through too many hoops, they will likely give up and go to a competitor.
Instead, make the registration process as straightforward as possible. Ask for the bare minimum of information, so it's quicker to complete the process.
Not Simplifying Checkout
The last thing you want is for customers to abandon their purchase because your mobile checkout process is too complicated. It should be as simple and streamlined as possible. 
Many people now use their mobile wallets and prefer paying with a click or two. Reduce the percentage of abandoned carts by integrating multiple payment options, such as Apple Pay, Android Pay, PayPal, and credit cards.
5 Mobile Commerce Trends to Follow
There's no doubt that mobile commerce is here to stay, with the potential to grow into a trillion-dollar market. If you've not already adopted it, you're likely falling behind your competitors. And if you're just starting to think about mobile commerce, you need to act fast to catch up.
Keep these latest trends in mind when developing your mobile commerce strategy:
Voice Shopping
Voice shopping is one of the hottest trends in mobile commerce right now. People are comfortable with voice search assistants like Siri and Alexa, and 43% use them to shop online. 
So, how can you take advantage of this trend?
Integrate voice shopping into your mobile app or website, allowing customers to make purchases using their voice.
Video Marketing
Video content is more engaging than written texts. Since many Millennials and Gen-Zers are social media users, you can use these platforms for video marketing.
Almost 40% of Gen-Z people shop through TikTok video ads, while YouTube video ads also perform well at 32%. Millennials respond more to Meta video ads and images. 
Create product videos to showcase your products more engagingly. You can also make video ads to reach a larger audience and promote your products. Keep the length shorter because people watch mobile videos more if they are shorter than 1 minute. 
Chatbots for Apps and Websites
Chatbots can be used to answer customer questions, provide customer support, and promote products 24/7.
According to Juniper Research, chatbots will save $11 billion in annual costs in various sectors by 2023. Integrating a chatbot into your app and website will save money and have more satisfied customers.
Multiple Sales Channels
A multi-channel retail strategy works wonders in increasing the sales of a business. Several ways to sell your products include your website, mobile app, and third-party platforms like Amazon and eBay.
Use paid advertising, social media, and email marketing to reach more potential customers on these platforms.
Augmented Reality Shopping
Augmented reality (AR) shopping is already a billion-dollar market, and the trend will only increase over time. AR allows retailers to offer a more immersive shopping experience.
For example, some retailers use AR to allow customers to try on products before buying them. It's a great way to increase conversions and reduce returns.
Now is the time to start if you're not already using these trends to boost your mobile commerce business. Implementing these strategies will help you stay ahead of the competition and meet your customers' needs better.
Conclusion
Mobile commerce is one of the essential tools that global retailers have at their disposal. When used correctly, it can reach international customers, increase sales, improve customer satisfaction, and even help to create new customer relationships. By following these simple do's and don'ts, retailers can make the most of the growing m-commerce landscape.