If you've ever searched for alternative ways to make money, you know how challenging it can be to find a solution that works for you. Generating cash online may be the new oil money, but it's definitely not a piece of cake - requiring time, effort, and a good plan.
Scouring the internet for ways to succeed as a creative entrepreneur or trying to determine how to turn your hobby into a full-time job is exhausting. What you need is a platform that has been developed to help you succeed and support you all the way through. After all, making money online requires focus and persistence.
Gone are the days you needed to be a tech guru before making money using the internet. Things are simpler now, and anyone with zeal can take the plunge and make it in this sphere. Several online platforms provide accessible avenues to grow an internet business at scale, reducing complicated systems like an online store or a blogging platform to simple plug-and-play systems that anyone can customize and launch.
Make a Profit With Ucraft's Services and Features
The possibilities of making money online with eCommerce websites are vast, ranging from selling products to offering consultancy services. In fact, an estimated 1.92 billion people worldwide purchased goods or digital services online in 2019, with the global B2B eCommerce market reaching $5.7 trillion in the same year and expected to expand by 17.5% annually from 2022 to 2027. These statistics signify the importance of investing in eCommerce and gaining a foothold in the digital distribution industry.
If you're curious about how Ucraft can help you create a flourishing online business, keep reading. We are going to analyze how our handy tools will benefit and support you. And the best thing is: you don't need fancy skills or business ideas to use them.
1. Create Websites (For Yourself & Others)
Websites are a staple aspect of the tech industry these days, and most people are looking to create new ones or finetune the ones they already have. You don't need to be a programmer to create an efficient website on the internet, now that drag-and-drop tools and pre-designed templates are a thing.
When it comes to Ucraft, you can just pick any of our platform's free professional website templates and use the drag-and-drop feature to easily modify and personalize the web page to suit you or your client. On top of this, you have access to free hosting and many third-party integrations you'll need to help you grow and manage a website.
If you're a quick learner, you should be able to set up a Ucraft website within ten minutes or less, and at that pace, you can charge your clients a reasonable fee for every site you create with our White Label program. You can also request payment when your clients want an update or any other type of maintenance.
2. Create Landing Pages
The demand for landing pages has skyrocketed recently. Most businesses require landing pages to capture qualified leads. Any company that is in the market for new customers needs a landing page. Ucraft enables you to create responsive landing pages for free.
If you know how to create a lead magnet or you understand email marketing automation, producing landing pages can be an additional service you offer. Your selling point, in this case, could be that you create well-optimized landing pages that drive conversions, and you can charge customers appropriately.
Lead generation campaigns usually need multiple landing pages, and you could see yourself earning thousands by the end of a project. Once you create the landing page, you can easily integrate it into any website or email marketing software for free. With all the template options and customizability functions available, you can take your time and produce a design that suits your client's needs.
3. Open an Online Store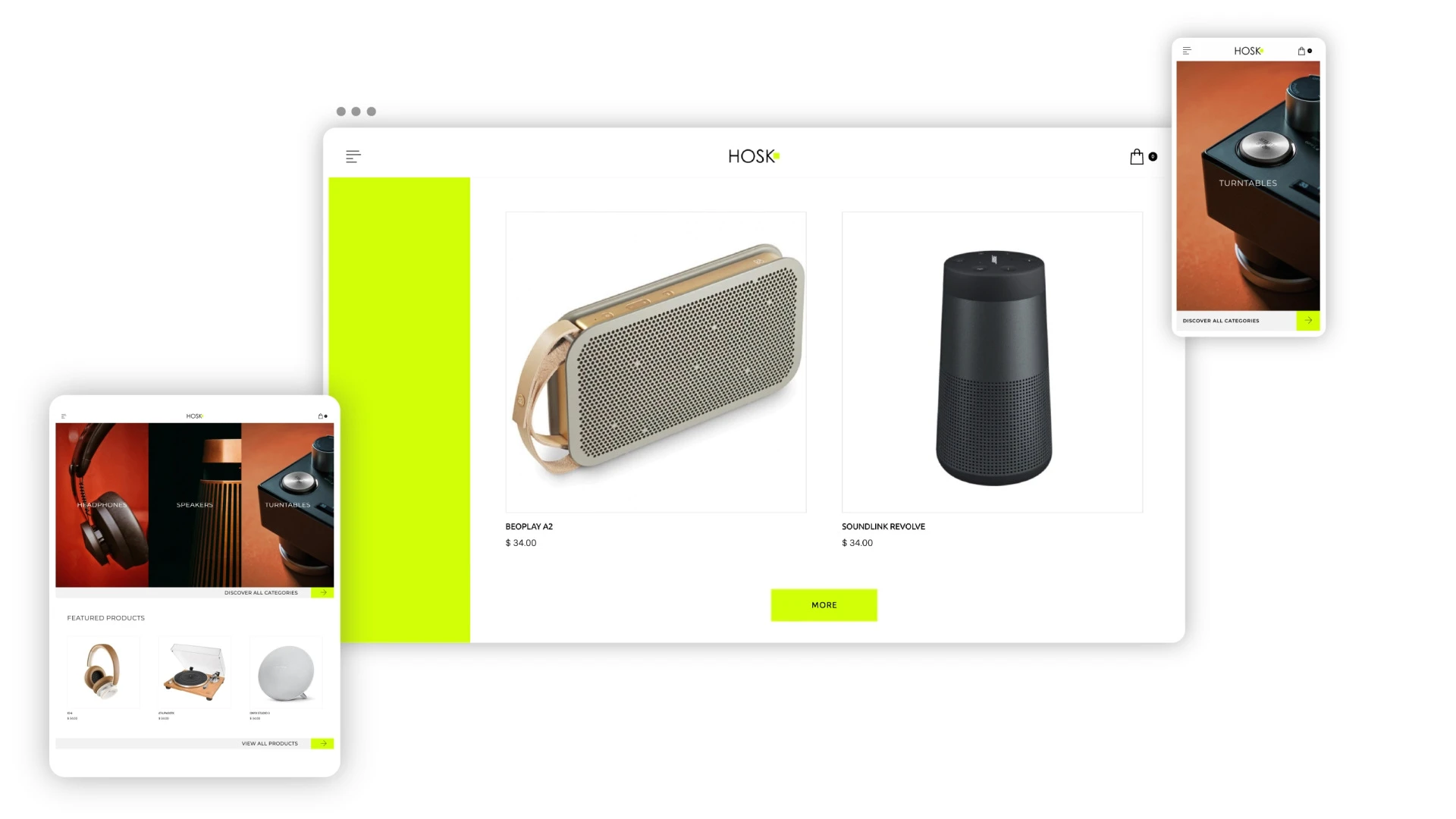 An online store is arguably the easiest way to make money online among the ones listed here. If you have an eye for knowing what people want, you could be a millionaire in a few years. An essential factor to keep in mind is that your customers have to be satisfied enough with their experience on your site to make them return for more or recommend your store to their peers.
Whether the store is for you or a client, with Ucraft eCommerce stores, you have access to more than 100 website templates. You can design your products, create a print-on-demand store, and even a dropshipping store, all with a drag-and-drop website builder.
All the store templates on Ucraft are mobile-friendly, so the customer experience will be impeccable, regardless of your design. You can integrate your favorite payment gateway to your store and can also track your store's performance with crystal clear dashboards.
According to global e-commerce statistics, online shopping is projected to grow exponentially in the coming years. So if you do have a brick-and-mortar store already or simply want to get into the eCommerce world, this is your chance!
4. Become an Affiliate Marketer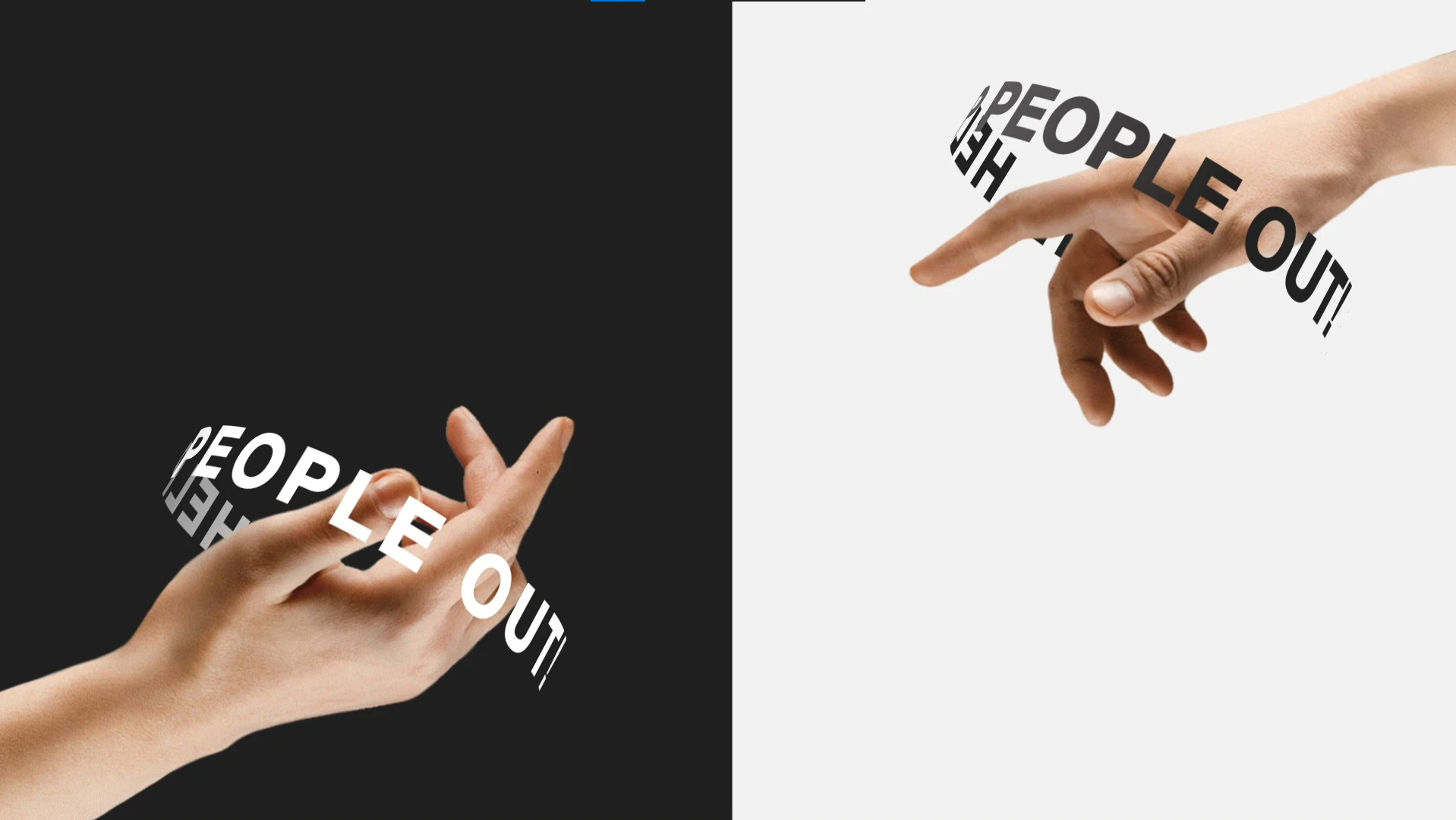 Affiliate marketers make money online by promoting another company's products or services and earning a commission for every purchase or sign-up. To become an affiliate marketer, you first need to find a product or affiliate network you're interested in and do your research. Find out terms and conditions, payment plans, and commission structure.
Once an organization accepts you as an affiliate, you'll begin promoting their products or services. You'll attach your unique affiliate identification link to the product you're promoting so that when anyone makes a purchase, you earn a commission. Some affiliates promote multiple products on their site, while some others promote a single product. Affiliate marketing is lucrative; bloggers like Ryan Robbinson make five-to-six figures every month by promoting different products and services on their websites.
With Ucraft, you can set up multiple powerful affiliate websites for several products and services. When you see a viable opportunity, you'll be able to set up your website quickly and integrate other essential software tools that will help your business thrive. With free hosting for Ucraft clients, you can save money on hosting and invest more money into advertising your business on different channels.
Moreover, Ucraft also offers its own affiliate program, which is straightforward to get started with. So if you are stuck on choosing a product to promote, consider joining our affiliate program and generating a stable income online.
5. Become a Blogger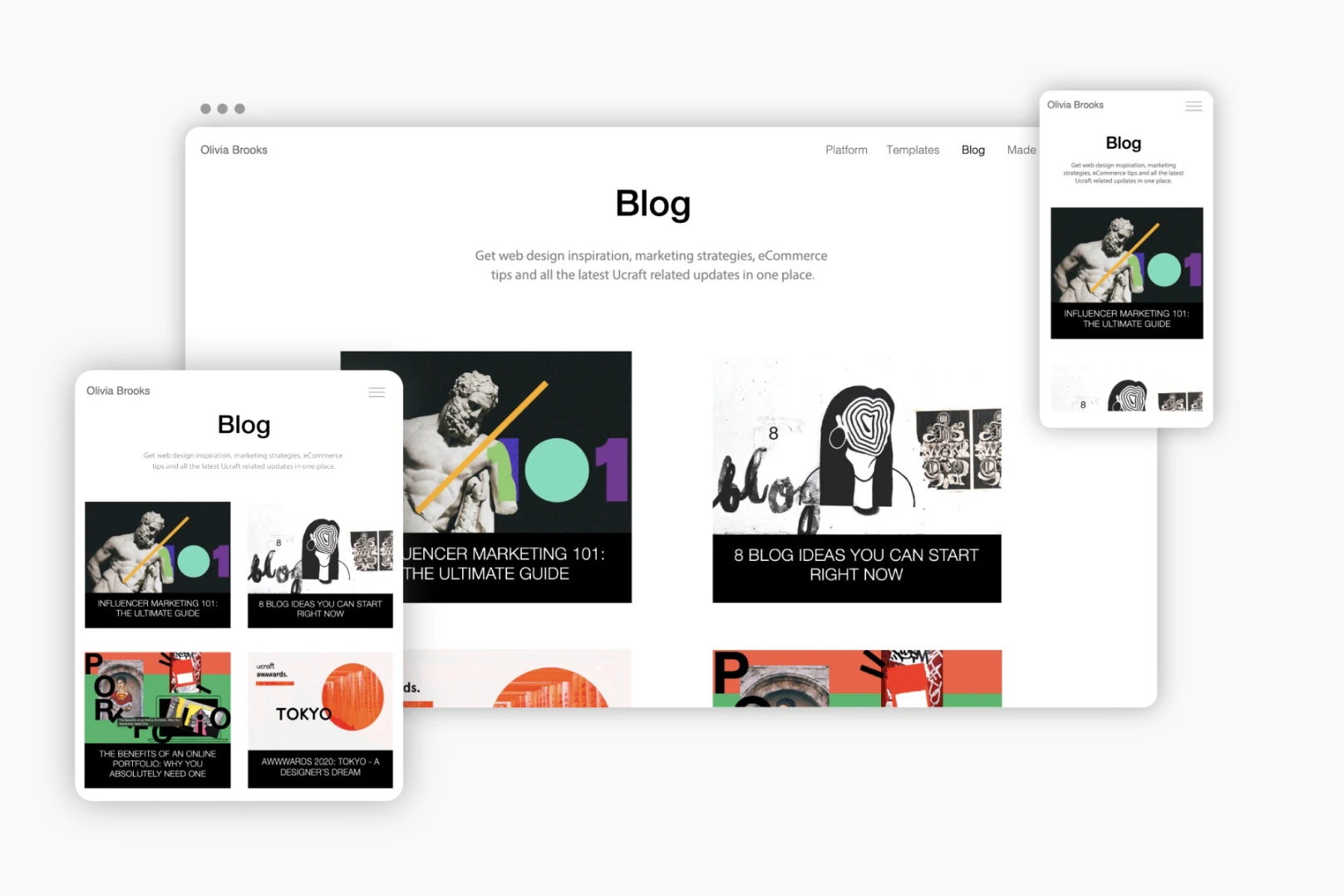 Creating and growing a blog takes some time and energy but can be very rewarding once you've reached a level of success. On the one hand, you'll need to write a lot of great content; on the other hand, you're going to need a reliable platform if you want to achieve your blogger dreams. If you've already figured out the content part of your blogging strategy, then you are going to need a platform that takes blogging to a whole new level. With Ucraft, you'll get a custom domain and free hosting, plus integration features that will enable you to set up analytics and marketing tools and help you run an influential blog.
In your blogging efforts, try to write about things that are relatable to your target audience. Once in a while, stir up conversations on your blog; the more people talk about you, the more they share your blog with their friends and family. You need many people to read the blog's content regularly. As your number of readers grows, you'll be able to monetize your blog much easier.
Significant traffic on your blog will attract companies that want to run ads to target your audience. You charge them for the ads they'll be posting on your blog, and as your traffic increases, you'll be able to increase your rates. You can also start an affiliate program as a way to earn money from your blog.
6. Create Logos
You don't have to be a graphic designer to create professional logos with Ucraft. Our built-in logo maker is a drag-and-drop tool with intuitive functions, doesn't require any software installations, and is free. After creating a logo, you can download it in .png or .svg format, use it for your project, or send it to a client.
Logos are essential in identifying a business; it's how customers differentiate a company from its competitors. Even companies with existing logos sometimes need to change theirs to fit into a new identity. Small businesses usually require a dedicated logo designer on standby.
If you build your brand as a logo designer, you will get exciting offers that pay you well. You'll gain more high-paying clients if you incorporate brand identity design and website design with your logo design service.
7. Sell Online Courses
Over the past few years, online learning has become a popular sphere and is the go-to mode of education among academic and corporate learners. Online courses are less expensive, offer greater convenience, and generally provide better learning outcomes. These factors are perhaps the force driving the growth of online learning.
Ucraft offers the perfect platform for course content creation. All the templates and integrations you'll need to succeed are already there; all you need to do is create a solid action plan. Who are your target learners? Are you aiming for an academic or corporate audience? What is the theme of your learning program? Do you have experience in your course topic?
Once you've established this, all you have to do next is create video material that provides a step-by-step explanation of the subject you chose. To succeed with online courses, you have to make a program that genuinely solves your audience's problems. Initially, it may take a lot of free courses to build your portfolio and credibility.
When you've gained trust and credibility from your audience, they'll be willing to pay for subsequent programs that you release. You may need to create blog posts or run social media ads to attract prospects to your free course landing page. Once you've captured these leads, set up email sequences to nurture your prospects toward buying your paid course.
Why Ucraft?
You may wonder why you should choose Ucraft over competitors that render the same services we do. You may also be looking for a differentiating factor that sets us apart from the rest. Well, you don't have to look any further, since we've already listed the main benefits below:
Wide Selection of Pre-designed Templates
We offer modern design templates that are easily customizable. Our templates use a grid system, ensuring that they are always mobile-friendly after all redesign and configurations. Irrespective of the purpose of your website, we have many templates that you can customize to meet your needs, whether you are an online agency, education website, restaurant, sports club, or another type of organization.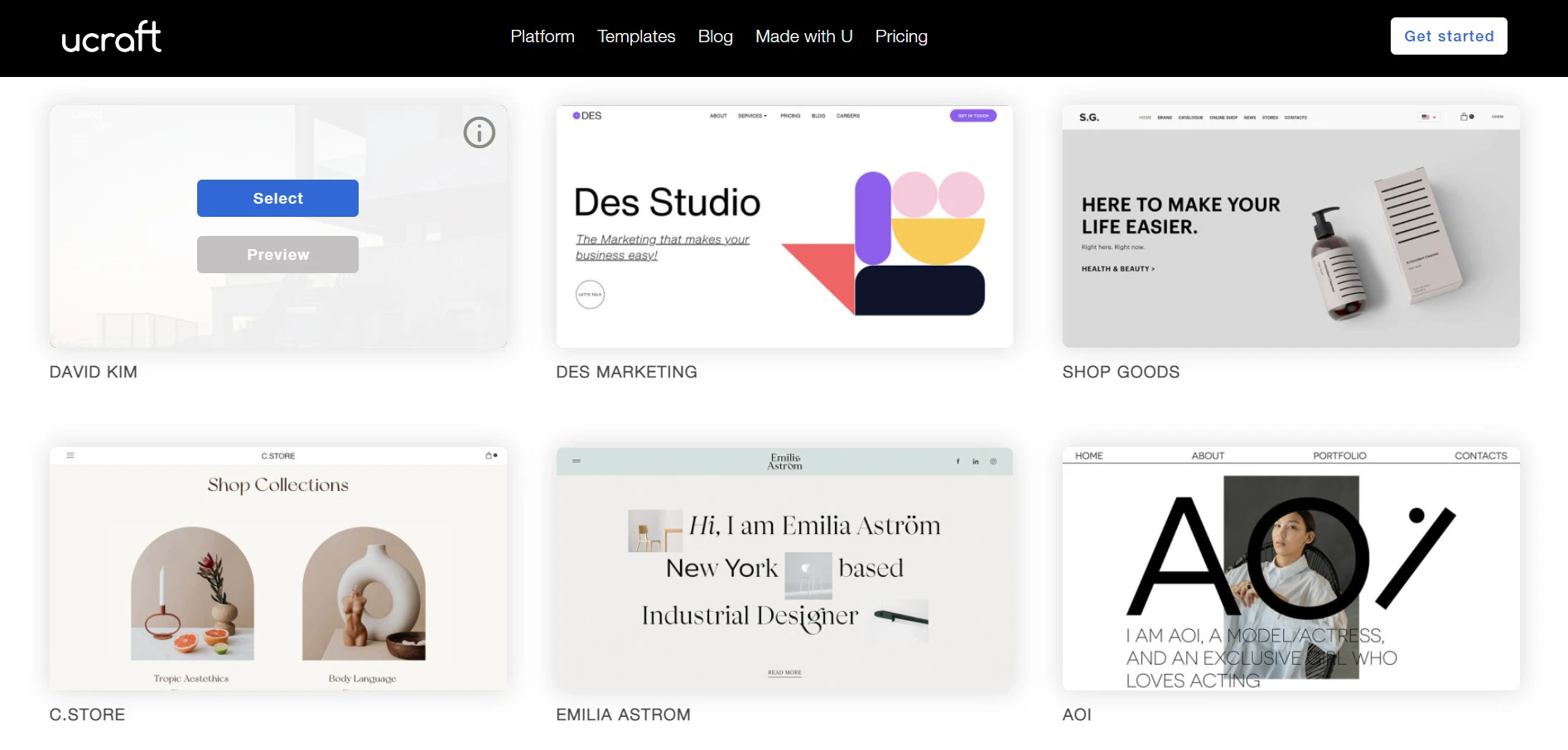 Example sports template
You can check for yourself; our prices are highly affordable. You even have the option of a 14-day free trial that does not require giving us your credit card information. After 14 days, if you aren't satisfied with our services, you're free to move on with zero hassle.
Great Customer Experience
When you sign up to use Ucraft, we guide you through our services, intuitively helping you along the way. We follow this up with continuous assistance through multiple touchpoints. Our support service is available 24/7, with a short response time, to quickly answer your questions or resolve an issue you may have.
Verdict
There are multiple fresh and exciting ways to start an online business and make money. In fact, every day, new opportunities surface. Fortunately, you don't have to discover everything yourself, as Ucraft's services and features allow you to build any type of website - from a traditional online store to a thriving, dynamic freelance business.
If you'd like to explore the options, perhaps it's time to make a move today and start something on Ucraft. Most of the business ideas you've read about don't require a lot of capital to launch if any. Once you take the first step, in a few weeks, you'll be making consistent income.

Sign up for a Ucraft free trial now and explore all of the opportunities available!