A landing page is a significant element of digital marketing. It is the standalone web page prospective consumers land on when they access your site - like the front cover of a novel. To put it differently, it is where visitors land after clicking on a Google Ad or a link in an email.

Think of your landing page as a powerful tool to convert prospects into paying customers. It can assist you with click-throughs, lead generation, and developing a call to action (CTA). Additionally, it can capture leads too.

A landing page is essential for your SEO and brand-building efforts. For this reason, landing page optimization (LPO) is one of the hottest topics in marketing and eCommerce communities.
What Is Landing Page Optimization?
LPO improves a website landing page's elements and attributes to increase conversions via effective digital marketing methods like A/B testing. Often, landing pages are the main destination of paid online campaigns, and driving traffic to them can take up some time and resources.

A conversion can be defined as the action of a visitor completing the desired goal, e.g., filling out a form with their contact information, downloading a free eBook, or, ideally, completing a purchase. Conversions and landing pages vary and depend on your marketing goals and website type.

Some brands create unique landing pages purely for events or promotions, like this yacht party landing page template from Ucraft.
Tools for Detecting Landing Page Problems

Do prospects ignore your CTA, without converting? Heatmaps reveal where customers are clicking—and not clicking—on your landing page.

Most browsers instinctively navigate to the top right-hand corner of a page. That's why you need to have most of your essential buttons (i.e., the check-out cart, the Google Docs icon, the sign-in buttons) up there. Experiment with the position of your most critical elements to see if the number of clicks increases.

A confetti report shows where individual clicks have occurred on the page. Likewise, scroll maps indicate where scrolling activity occurs. If you see a lot of white on the map, people have scrolled past your information too fast. So, move your critical messages to sections that show up red or improve the scrolling functionality of your page instead.

If you don't have access to these tools, don't worry. Opt for a landing page creator that uses tried and tested templates.
How to Improve Conversions Through Landing Page Optimization: Best Practices

Your landing page is an indispensable tool for your webpage's success and needs constant tweaking as you discover new insights and customer behaviors change. Landing pages should appeal to your audience and compel them to take action.

So, optimizing your landing pages is a no-brainer. Here's what to implement:
Communicate the Benefits Upfront

We get it! You're passionate about your company. Sure, it can be tempting to write long-form essays extolling the virtues of your products or services, but user attention spans are short.

Dense text and dozens of additional destinations to click to will increase your bounce rates and decrease conversions. So, keep your messages short, concise, and appealing on your landing pages.

Think of how you want customers to feel when they visit your site, not what you want them to know. Use great copy and expressive images to drive the message home.
Keep It Simple

Visual clutter doesn't cut it, so get rid of it. Make your landing pages clean and straightforward as you focus on the Call to Action.

Keep your main elements above the fold and the rest small enough to fit in a navigation bar space.

Look at this example from Ucraft. There is very little text and a handful of images, but the message is incredibly enticing.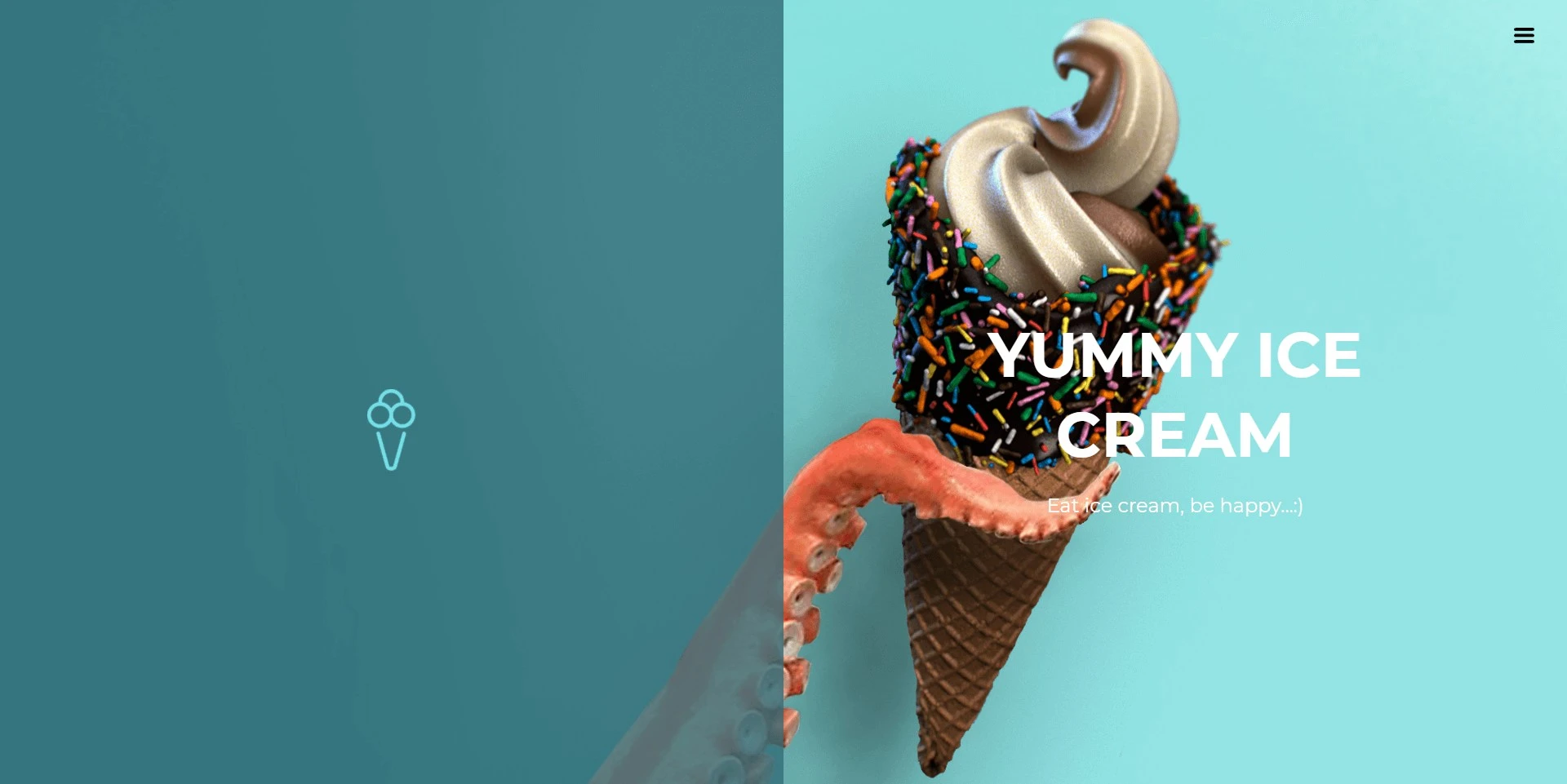 At most, you need a headline, a brief sentence or tagline, and the CTA.
Know When to Fold 'Em

We've already mentioned keeping elements above the fold. This phrase comes from the newspaper. The juiciest stories were placed on the front page, above where the paper was folded. In this way, customers would read the headlines and feel enticed to buy it. And you can use the same technique with your landing pages.

Keep your digital page elements above the fold. Use a scroll map to identify the location of the fold on different devices or a mobile-agnostic landing page creator to drive the point home.
Speaking of which, considering to design your landing page with a professional can ensure that the critical elements are strategically placed, enhancing the user's experience and journey through your site, all while maintaining a clean, brand-consistent aesthetic.
Deploy Scarcity Techniques

Have you ever tried to check out a hotel room, and suddenly a popup urges you to book it as four other people are interested in the same room? Or have you shopped online and been told that there are only two items left in your size? Scarcity urges visitors to make impulsive purchases so that they don't miss out.

You can do the same on your site with limited-time discounts or lead drivers, such as free ebooks and live webinars that won't happen ever again. You can even add a countdown timer to show customers that the clock is ticking!

Think of it like this: To increase conversation rates, you can present some of your products as limited, one-time opportunities.
Make Your CTA Easy to Follow

Avoid using fancy or "smart" CTA buttons. The simpler, the better. Good phrases include:
Click Here!
Download Now!
Try For Free!
Join Here!
Check Out Now!
Hurry! Sign Up Now!
Not only are these tips simple, but they're also relatively easy to follow, so take them into consideration!
Image: The call to action in this template is straightforward and clear.
Make Sure People Can Get In Touch

Always make sure your web visitors can get in touch. Not everyone who browses a website will complete the whole transaction online, especially if you have a brick-and-mortar store. Provide your contact information, your email address, or a contact form so that customers can reach out in the way they prefer.

It's also a good idea to include a Frequently Asked Questions section to answer the most common questions surrounding your products or services and improve customer experience.
Be Consistent

Make sure that your pages look consistent from page to page and medium to medium. Your Facebook ad should resemble the landing page, so should your blog and your contact form. It can confuse and seem misleading if it doesn't.

In other words: You don't want your webpage to look like spam.
Use Testimonials

Social proof is a powerful conversion tactic. Incentivize your customers to offer reviews and testimonials, which you can use on your website.

Videos are great, but written thoughts (primarily if entirely user-generated) are just as powerful, if not more.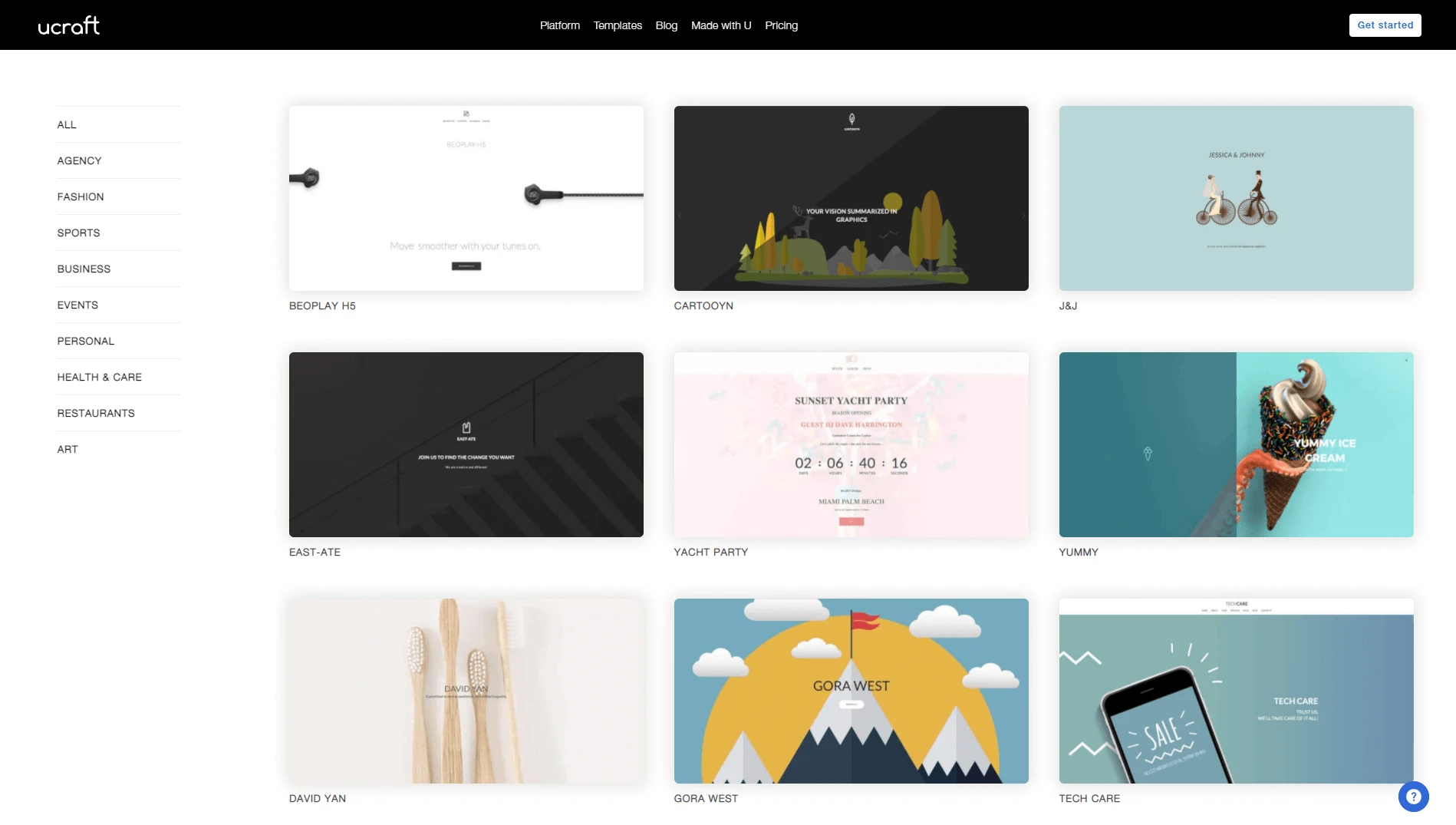 Play Around With the Lengths
Short-form or slightly longer copy may have the most significant impact. Try experimenting with your copy length. Some sites only ask for an email address and then let their CRM email campaigns do the rest.
Others need to be fully qualified to ensure that they are suited to their product.
Optimize for SEO

While you probably should have a budget behind your website, many customers will find your business through organic search, especially if you run a niche business. Make sure your page pops up if someone searches for your company name, and ideally, if they search for similar companies.
Try an Exit Popup

If a visitor tries to leave, you could intercede with a popup. Simply saying, "Wait! Are you sure you want to leave without checking out?" can be a non-intrusive way to pull visitors back to the site and make them think twice about leaving without converting․
Keep Testing Everything

Also known as split testing, A/B testing is a randomized process of experimentation where two or more versions of the same landing page are shown simultaneously to different segments of your audience to determine which version is most effective at converting visitors to customers.

Each A/B should include a single change to a single variant. For example, you could change the copy or position of your Call to Action. The more A/B testing you do, the clearer the picture becomes.
What Conversion Rate Should I Aim For?

The average landing page should aim for a conversion rate of around 2.35%, but some top websites are converting visitors at a rate of 5.31% or more.

If your page isn't converting in the way you like, start with the basics. Remember that different traffic sources perform differently. Landing page optimization begins by understanding which traffic sources generate the most valuable customers. You may be juggling several online marketing campaigns, and not all of them will lead to conversions.

Website traffic coming from Paid Search might look different from traffic from social media or organic search. Play around with other elements and various sources to find the sweet spot.

Suppose you are running a cabinet business and are promoting your DIY kits on Pinterest. You'll want to create a landing page that is consistent with your DIY messaging. If you promote your office storage solution on LinkedIn to business customers, you might want to create a landing page that speaks to business customers.
5 Reasons Why Your Landing Pages Are Not Converting

If you feel like you've tried everything in your power, but your page isn't converting, this could be for the following reasons:
1. You Aren't Building Trust
You may have testimonials on your page, but are they credible? Is there anything undermining trust? Spelling errors, fake-sounding testimonials from untraceable customers, and overused stock imagery can reduce confidence in your brand. Make sure your website is credible and convincing. And avoid being too salesy.
2. There Are Too Many Distractions
Too many links and CTAs detract your customers from taking action. Hick's Law states that if you give people too many choices, they take much longer to make a decision and may become utterly overwhelmed.

Stick to one offer and one message for each landing page.
3. You Are Asking Too Much

Don't ask for too much information up front. You wouldn't ask a guest at a party how much money they make the first time you meet them (at least we hope not), so don't ask for super-personal or confidential information from your first-time visitors, too. Landing page optimization requires discretion. Leave the sensitive information, like credit card information, until the end.

Contact forms must be short and straightforward.
4. Your CTA Is Confusing

Make sure to keep your CTA simple. For the best landing page optimization, strive to have only one Call to Action per page. Make sure your CTA button stands out by using contrasting colors and making the copy specific to the offering and its benefits. Saying Download Now is powerful, but saying Download to Improve Landing Page Conversions is much better.
5. You Need to Up The Ante
If you've made multiple improvements to your design, but the landing pages still aren't converting, you may need to look at your offer again. Design optimization won't matter if you are overly focused on your brand or your proposal doesn't appeal to the market.

Put yourself in your customers' shoes. Would you be enticed to sign up? What would entice you to sign up? Are the benefits clear? Are there incentives on offer? Are they communicating well?

Just look at your landing pages with a critical eye.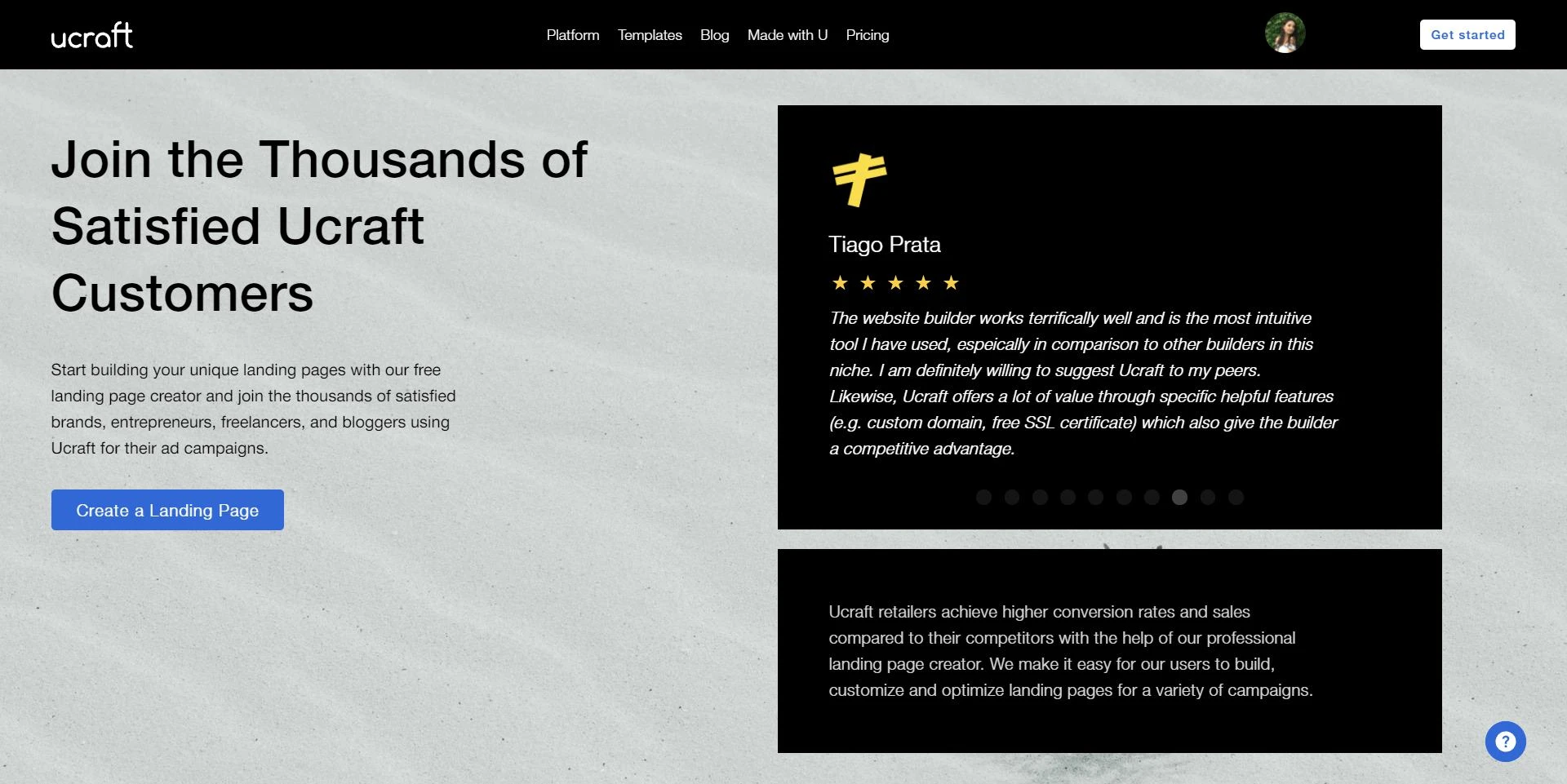 Creating Your Optimized Landing Page

Ucraft has a free landing page builder you can use to create attractive landing pages that can showcase your products, services, or promotions. In addition, use your landing pages to generate sales, increase newsletter sign-ups and drive traffic.

All you have to do is to:
Sign up for an account;

Select your free website package;

Choose a landing page template;

Design your pages and add text, images, and videos;

Connect a custom domain.
After following these steps, you should now have a winning landing page linked to an existing website or operate as a standalone web page.
Image: Choose a tried and tested landing page template from Ucraft
As a final note, remember that optimizing your landing page could be the best way to increase conversions. So, don't neglect it! Instead, make sure you use tried-and-tested techniques and templates to generate maximum leads and achieve your goals.