It is common knowledge that if your website cannot be found on Google, you basically do not exist in the online world. Both online veterans and newcomers are aware that the battle for the first page of Google search results is real and they all try to stay competitive by employing every tactic available. This is why it comes as a surprise that not a lot of business owners and webmasters utilize tools that come from Google itself. We are all  so quick to jump on the bandwagon of every new SEO tool that appears, that we forget to check the basic options, which are completely free.
So, let's not run before we crawl (pun intended, but possibly a terrible one). Let's first get very familiar with two absolutely irreplaceable tools for every webmaster, SEO or digital marketing specialist. Yes, I'm talking about Google My Business and Google Search Console. To answer the challenging question "How to get my website on google?", check out the following info:

Google Search Console
Don't get confused now, Google Search Console is formerly known as Google Webmaster Tools, so keep in mind that in articles prior to 2016 you will find it by that name. Either way, if you want to get answers on how to get listed on Google, Google Search Console is the place to be.
This is a free service provided by Google that basically shows you how Google "sees" your page, or more specifically:
How your website is indexed
How is it displayed in the search
What search query returns which page of your website
How many people did click on your website page that specific search query returned, etc.
To harness the full potential of Google Search Console, you need to take the time and really go through all the options that this tool offers. Once you have all the knowledge, you'll be able to drastically improve your SEO.
So, let's get started. First thing you need to do is submit your website. Go to: Webmasters Tools, enter your website and click add a property as it is shown in the image below:
 

After that, you'll need to verify the ownership of the website and you are good to go.
Once you enter the dashboard of Google Search Console, options that you'll need to explore will be on your left hand side, looking like this: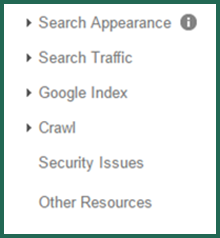 Search Appearance
First off, there is Search Appearance, and as you may have guessed, it enables you to see how your website is previewed in SERP and what you can do to improve that. For some features to work, you'll need to consult your developer. Luckily, Google gives you a neat overview of all the options and their outcomes on your website snippet in the search results: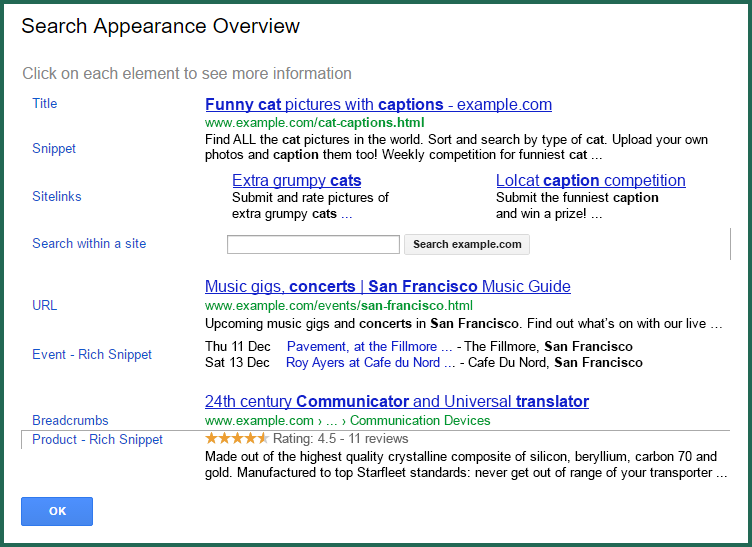 When you click on every element, an information box appears and gives you further instructions on how should you proceed and where to go to learn more. For example, if you click on the Title, this message will appear:

Search Traffic
Next we have Search Traffic. Under this tab you will find data that will be most valuable from an SEO standpoint. Search Traffic gives you an insight for a few important indicators, such as:
Search queries that users type to find your website
Number of clicks and Click Through Rate for every query
Who is linked to your website and how
Internal link structure of your website, and more
First item on the drop down menu under Search Traffic is Search Analytics:

As you can see in the image, here you can dig deep and explore search queries that are actually keywords from your perspective. Find out how many clicks each keyword has and where your website is in the SERP for those keywords. You can also see the number of impressions and the click through rate (CTR).
From all this data you can conclude how people are finding your website and what you can do to help them find your website more often. For instance: let's imagine that your website is ranking on the 3rd page of Google's search results for a relevant keyword. That's great news, go and optimize that page for that specific search query and watch it move up in the results. For better CTR, change the Meta Description of that page and make it more engaging for the users. Second item is called Links to Your Site and it's pretty self-explanatory. It shows what websites are linking to yours, what anchor text are they using and to what specific page are they linking. Here you can find out what is your most linked to content and you can use this insight to create similar pages or pieces of content.
Internal links give you an overview of how your webpages are connected. It's important to know that the number of internal links to a specific page Google interprets as a signal of importance. In other words, pages with the most internal links will be considered the most important. Keep that in mind when you decide on how your page should be interlinked.
Manual Actions – In this section you can find report of any Google issued penalties that you might get if you employ any tactic that interferes with Google's guidelines.
International Targeting – This option is only for those who have different versions of their website for different regions or languages.
Under Mobile Usability you can find a report that will inform you of any issues that your website may be experiencing when accessed from a mobile device. It's important to fix any issues regarding mobile usability because it affects the overall ranking of your website.
Google Index
Under this tab you can find information regarding indexing and crawling of your URLs and keywords.
*Just to clarify one thing in the beginning. For all of you who aren't sure what is the difference between indexing and crawling, here's a quick explanation:
Crawling is a process performed by a software called web crawlers (the most famous one being the Googlebot). Those web crawlers go through all known webpages and follow all the links that exist on those pages. After that, they give results (all data about specific web page) back to Google. 

Indexing puts all data collected by crawling in a context. Google describes this process as a public library. Indexing algorithm knows how to process the data and interpret it the right way. This is a process in charge of giving the users relevant results based on their queries.
Under Index Status you can find a graph that shows you the status of all your URLs: how many have been indexed by Google and if are there any blocked or removed ones. Here you can discover if one of your pages isn't indexed (and you think it should be), so you can fix any possible issues. If you go to Content Keywords, there you can find a list of all keywords that appear in the content of your website. Significance of each keyword simply indicates how many times Google found that keyword in your content. Needless to say, this report is also very useful from an SEO standpoint. There are going to be some keywords that you thought are more prominent, but they aren't. So you can look into that and optimize your content, alt tags and meta descriptions for those keywords that are relevant for your business.
Going through this report, you'll surely see some pronouns or adjectives that may seem random, but it's okay to ignore that, and it's normal that this happens.
Blocked Resources – Here you can see if any of your pages are blocked by robots.txt directives. You should consider blocking any page of your website that contains sensitive information or simply a page that Google wouldn't find valuable.
Finally there's Remove URLs option where you can actually block Google from crawling URLs that you don't want to be found on the web.
Crawl
Everything you need to know about Googlebot's crawling of your website and what you can do to make its job easier.
Crawl Errors, as you might expect, gives you a report on every error and it is divided in two main parts:
Site errors – shows activity in the last 90 days and if there were any issues that prevented Google from accessing your entire website.
URL errors – this list breaks down every specific error that occurred.
Crawl Stats give you a chart where Googlebot's daily activity is presented. This won't give you much actionable data but you should check it out just to see if there aren't some unexpected drops in activity.
The most important option for you here is Fetch as Google. Why? Because by submitting your domain or any page in particular you can learn how Google "sees" them, and if there are any pages or elements that are blocked or interpreted incorrectly.

As you can see in the image, you have several options here, and each of these options can return different results such as:
Complete – crawl was successful
Partial – this means that Google was able to fetch your page but some parts of it were blocked by robots.txt files
Redirected – although the actual Googlebot does follow redirects, the Fetch as Google tool doesn't
Other specific error types – there are number of things that can go wrong here, but you can easily resolve them using the table at the bottom of this page: Resource fetch error list
Another important section that you need to pay attention to is Sitemap. If you already haven't, you can submit a Sitemap or you can check the number of URLs that were submitted and indexed. Sitemap makes it easy for Google to crawl your website because it explains your website structure and organization of your website content.
If you're not sure how exactly should you go about creating your Sitemap, here is a detailed explanation that will come in hand: Build and submit a sitemap.
Security Issues
Here you should hopefully see a message like this:

However, if Google has any security issues with your website, the notification about that will be here, and steps you need to undertake will be thoroughly explained.
Other Resources
Last, but certainly not least, are Other Resources. I strongly advise you to go through this list when you have the time. It isn't paramount for your website but it is certainly useful to know more.
Google My Business
Google My Business is an awesome one stop shop for your website visibility, so to speak. From this one tool you can manage all the information that comes up in search, Google+ and Maps. Moreover, you can manage your reviews and just make your website more attractive for the users when they are going through the search results.
First thing you need to do is to go on Google and add or claim your business. You can do this in a few easy steps, but if you get stuck, this video will surely help: How to add or claim your business on Google.
That's not the end; you should make sure that all information is correct and up to date. If you have a store, post the right working hours and street address. The big benefit is that you can enter your changes only here and they will automatically apply to Search and Maps. You can also manage pictures that are shown in the results and pick ones that reflect your business in the right way. Filling out all your info will result in better presentation of your company in the search results, as you can see in the image below: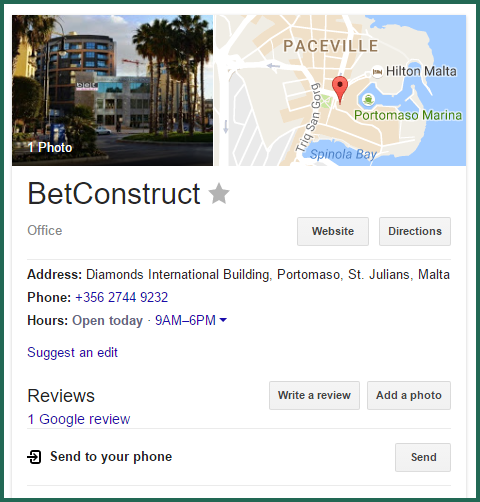 Other great thing about Google My Business is that you can manage your reviews. Be present and see what your customers have to say about you (and respond accordingly).
As long as we are here, there are other useful insights that you can discover from your Google My Business dashboard:
Find out how visitors found your website
Track how many clicks and impressions your website receives and track it over time
See how many people clicked on your business info, such as phone number and address, etc.
Google Search Console and Google My Business are like two sides of the same coin. The first enables you to polish your website so that Google can index it properly and rank it for keywords that are relevant, and the other helps you have a better presentation in the search results. With Google Search Console you'll get your internal info sorted, whilst Google My Business will help you create a more appealing showcase of your website for visitors and potential customers.
 
Nonetheless, your ability to promote your website online is not only down to these two tools. There are so many free platforms out there for any type of business, so make sure to take advantage of good, secure platforms that allow you to promote your website. Ucraft has a whole article dedicated to this - 50 free places to promote your website - so make sure to check it out. 
Naturally, if you're wondering how to get your website on Google, you first need to create a website. Why not start right away? Just click the button below and start creating the website you always wanted to have: