In the age of the Internet, job prospects and opportunities for building one's personal brand are just a few clicks away. Whether you're job-hunting and need to make a great first impression on potential employers or are just looking to brand yourself online, a personal website can be your best asset.
In this blog post, you are going to learn how to create a personal website from scratch by using the Ucraft Website Builder. After reading the article and following every step, you'll be more than halfway toward meeting your goal. In short, here's how to create a personal website in under an hour:
- Find a website builder that best suits your needs;
- Browse available templates;
- Select the best template that will showcase your personality;
 -Edit the template's default content and write your own story;
- Use personal images that will wow your website visitors;
- Connect your domain;
- Publish your website for everyone to see.
But first things first: let's go through the main reasons why you should build your own resume website as well as the sections you should include in your online presentation.
Why You Should Create a Personal Website

So why you need a personal website? Having a personal website is really a no-brainer. Not only will a website make it easier for people to get to know you and learn more about you, but it will also make you stand out from the masses (or a pile of resumes if you're a job seeker). Whether you're a freelancer, an artist or a blogger, there's no better way to share your professional story than by creating a personal web page that accurately reflects your skills and talents.
When you display everything you have achieved throughout your career and back up your claims by showcasing your best work/portfolio, those who visit and stick around your corner of the Internet will perceive you as an expert in your field. By highlighting your accomplishments and promoting your expertise, you'll differentiate yourself and strengthen your online reputation.
Sections a Personal Website Needs to Thrive

Once you start creating your own personal website, the decision on how to organize its content and which sections to include is totally up to you. To save you time and trouble and help you build a site that suits your vision, we'll go over the sections we think a personal website can't be without.
About Me

This section is fairly self-explanatory. Since we are talking about your personal website, it's only logical to include the 'About Me' section and introduce yourself to online audiences. Of course, even though you need to add a brief summary of your career background, you should also allow your visitors to get to know the person behind the professional. Your skills matter, but so do the things that make you you. That said, make sure you also talk about your hobbies, interests and passions and let your personality shine through.
Portfolio

Remember the good old 'Show, don't tell' technique? Well, this classic writing rule also applies to your portfolio, especially if you are an artist. You know you're talented, but your visitors aren't going to take your word for it. To convince them of your talent and expertise, you need to provide examples of your work and make them easily accessible. This is where a portfolio comes in handy. Take full advantage of this section and showcase your best work.
Resume

Think of this section as the centrepiece of your personal website and invest both energy and time into putting together an effective resume. Make sure you highlight relevant work experience and include side projects and volunteer work as well. In addition, you should present your career path with a timeline that starts with your most recent position. Oh, and don't forget to 'paint a picture' of your work history by providing short descriptions of your previous jobs, responsibilities and accomplishments. Your professional details, together with the aforementioned portfolio, can land you an interview without even applying for a job.
Blog

You can take your personal website to the next level by adding a blog to it. Not only does a blog help you gain exposure, but it also enables you to demonstrate the knowledge and skills you've acquired throughout your career. If you, for example, share valuable tips & tricks, tutorials or case studies, you will show you mean business and that you're someone who knows what he/she is talking about.
Testimonials

Another great way to gain credibility is to make use of endorsements/online reviews and feature them on your personal website. Testimonials from real people prove your competence, which is why they play a vital role in establishing your personal brand. The power of word of mouth is undeniable, so make sure you reach out to everyone you've worked with and ask for their written recommendation.
Contact Info
Needless to say, you have to make it easy for potential clients/employers to contact you. After all, isn't that the end goal? All you need to do to ensure people can get in touch with you is connect your social media networks to your personal website. Besides linking to these accounts, you should also add a contact form and/or provide your professional email address.
How to Create a Personal Website with Ucraft

Now that you are about to set off on a quest to find the best way to present yourself to the world, let Ucraft website builder be your ally and help you build your personal website without having to write a single line of code. The first thing you need to do is go to homepage and click the 'Create a Site' button.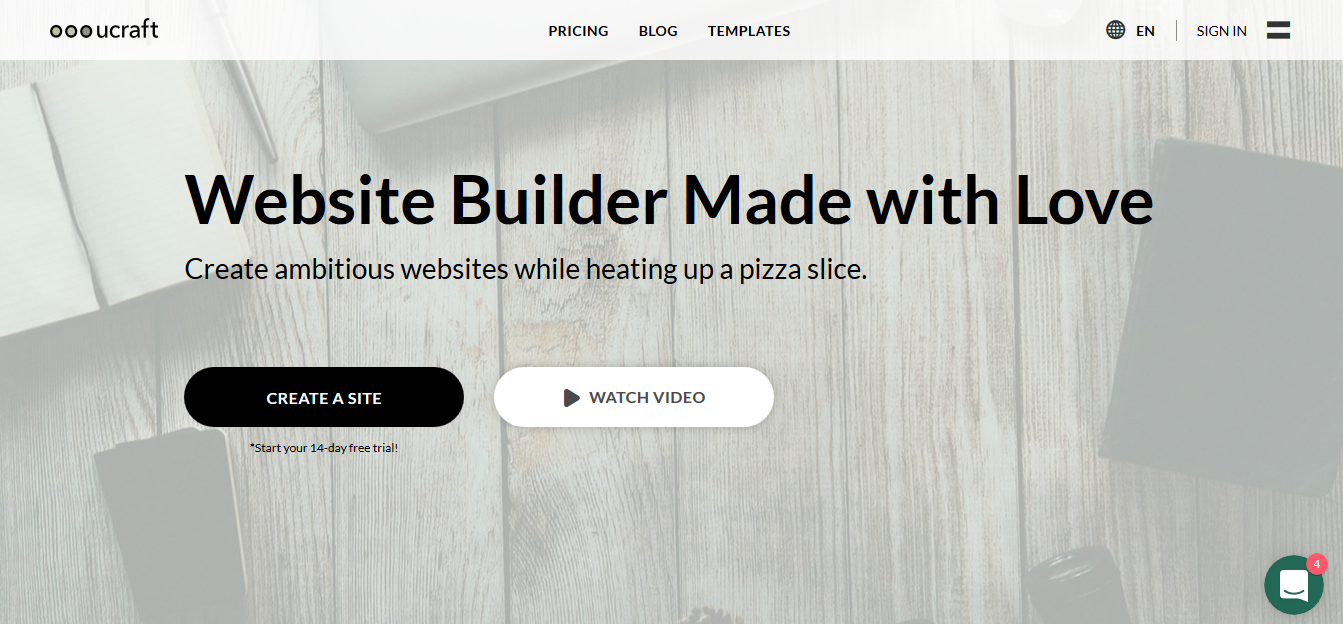 To begin crafting the perfect online presence, browse for personal website templates and pick the one you like best.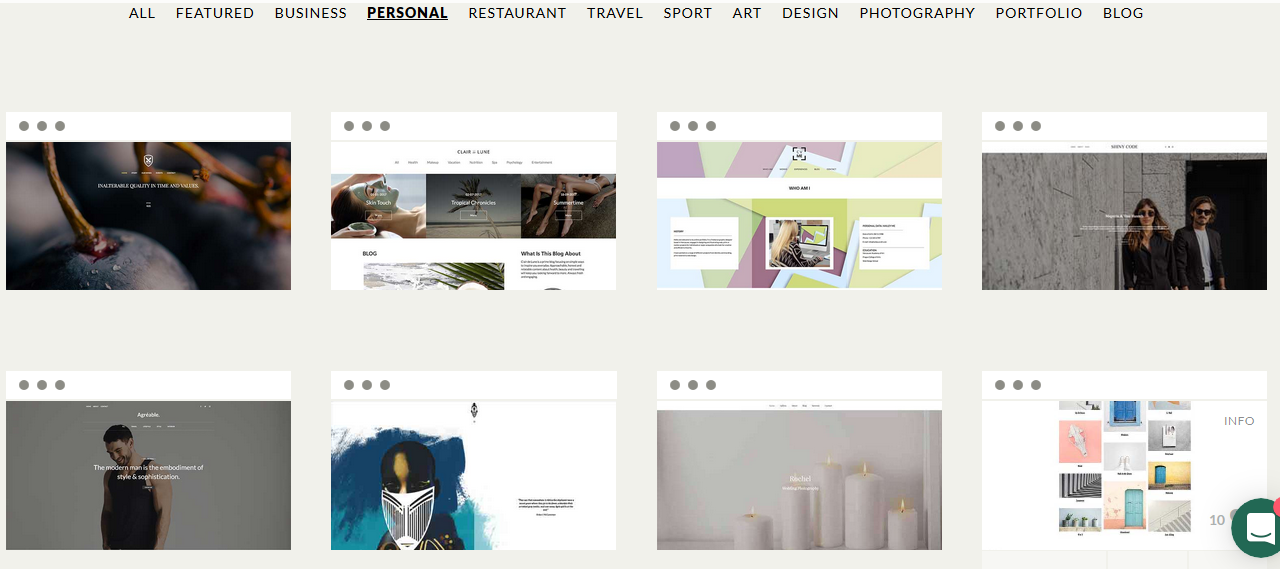 Now that you have chosen a template, it is time to decide on your website name. Take a minute to think about it. Since your website name is your identity on the Internet, we recommend you go with your full name. Once you have made the decision, just enter your name and you'll immediately get a free ucraft.me subdomain. Hit 'Create a Site' and you're all set to build your personal website.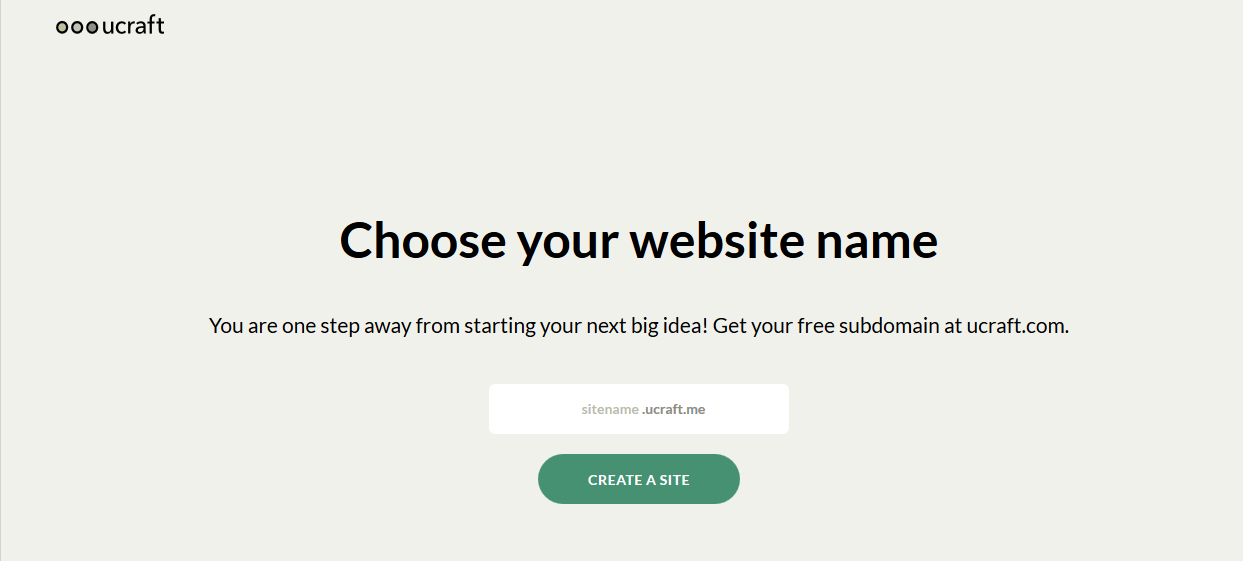 Registration process is up next. You can sign up with either your Facebook or Google+ account. Of course, if you don't want to use these social networks, you can just enter your email and choose a password to create an account.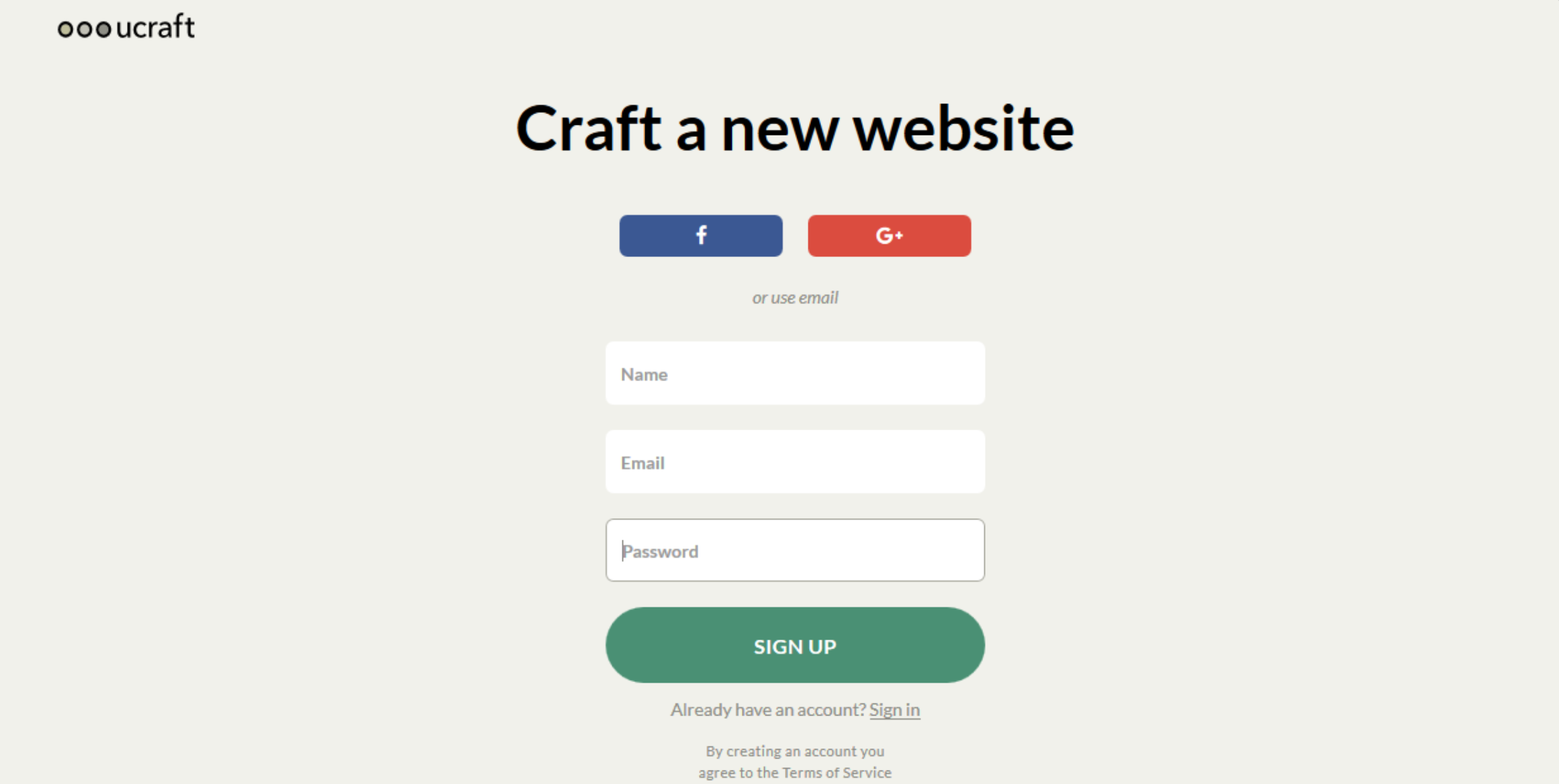 If you wish to change the current template, you can easily do that in your Dashboard. Click the Templates icon and you'll go straight to the Template Manager where you can either switch or reset your template.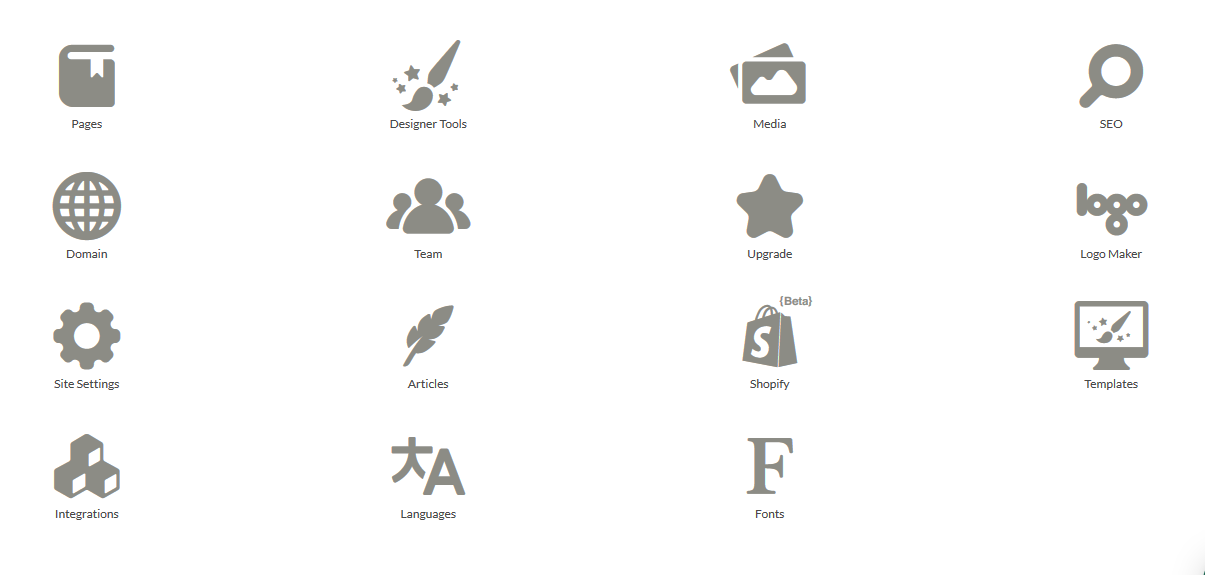 Now it's time to get down to business and create your own website. When you enter the Builder, you'll be able to customize every single element to suit your needs. To demonstrate, we'll start with the header. Move your mouse to this block and click on it in order to access its settings.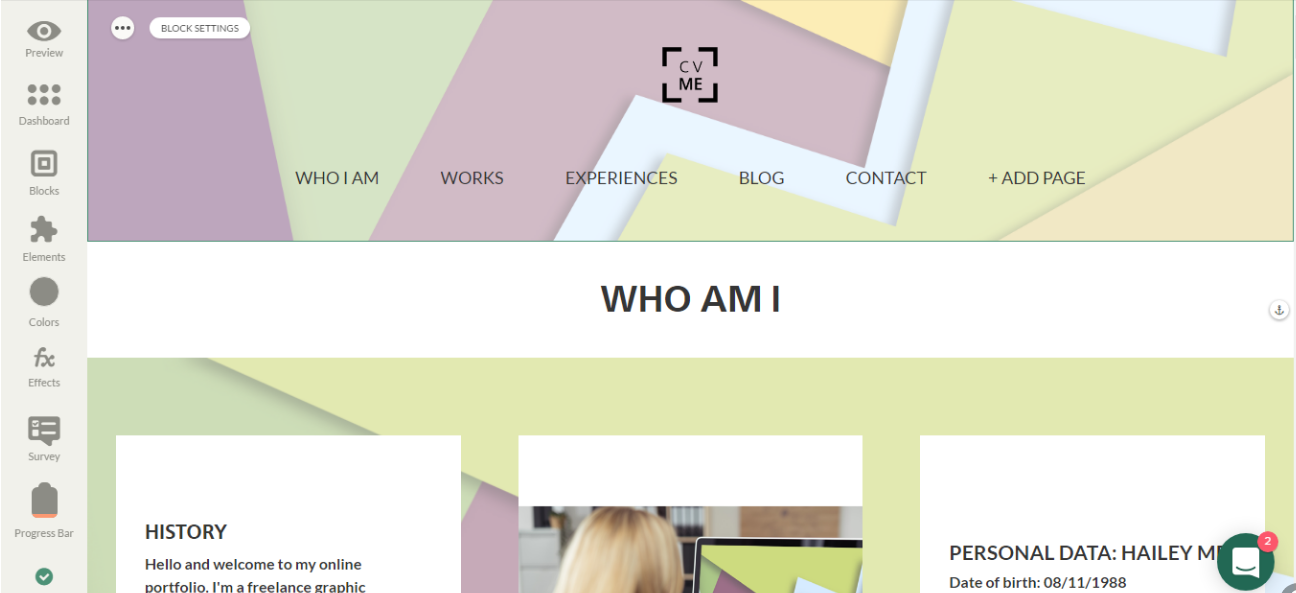 From here, you can select the option to edit, hide, delete this block or change its background.
If you want to change your background, go to Background settings and click the X button in the upper-right corner of the current image to change it. You can either browse files from your computer or open media to access free stock photos provided by Unsplash. Take advantage of the latter option and choose the best images for your website.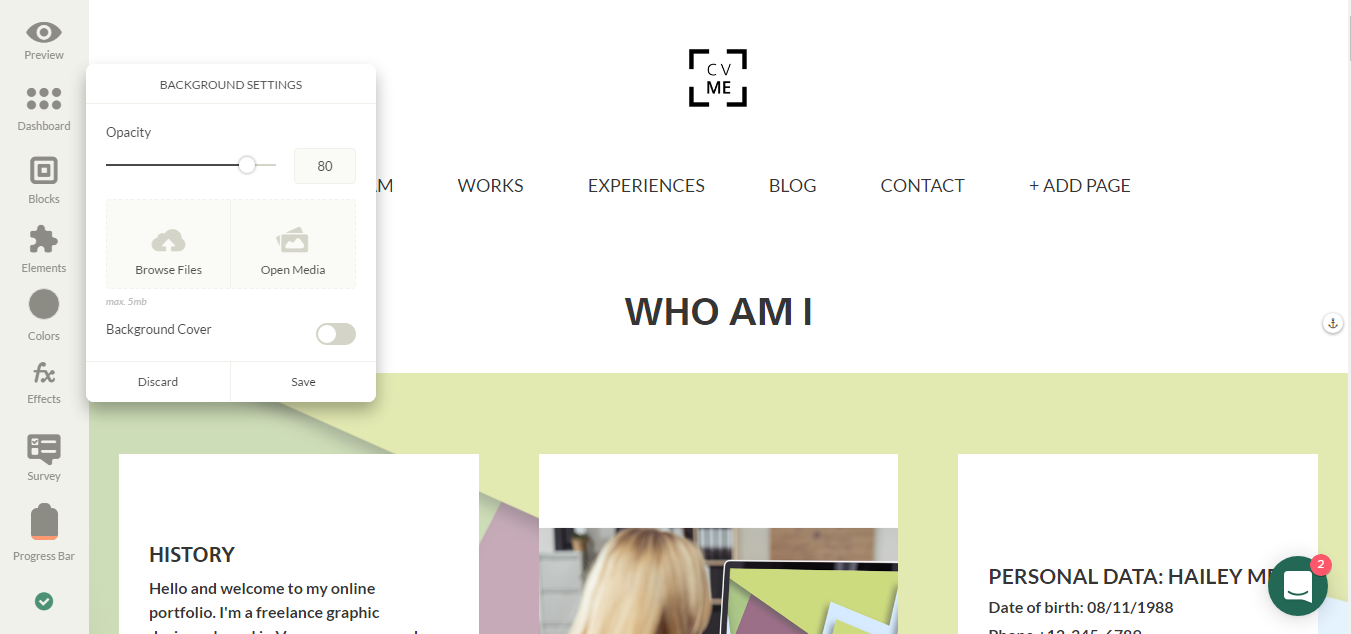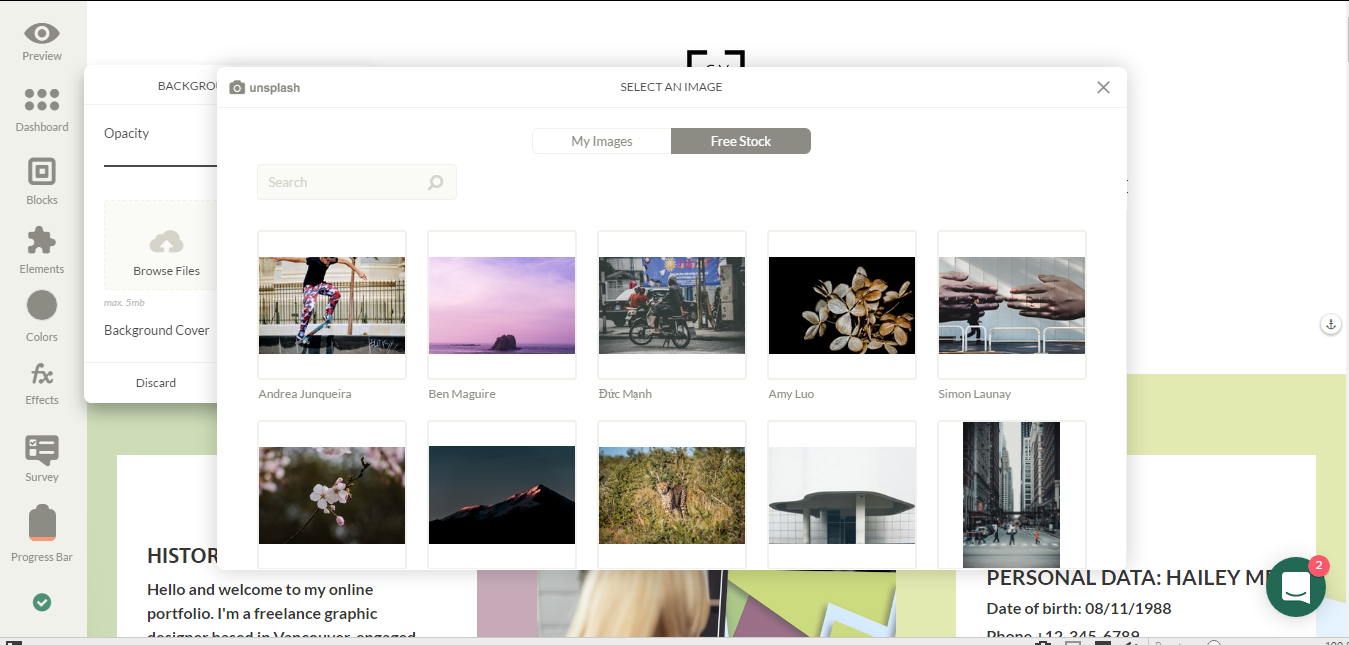 The power of visual symbols is undeniable, so you should definitely add a logo to your personal website to kick it up a notch. Just click on the logo area to enter its settings, and you'll be able to remove the logo, upload the one you have or create a brand new one. If you decide to design your own logo from scratch, the Ucraft Logo Maker and its free icons will come in handy.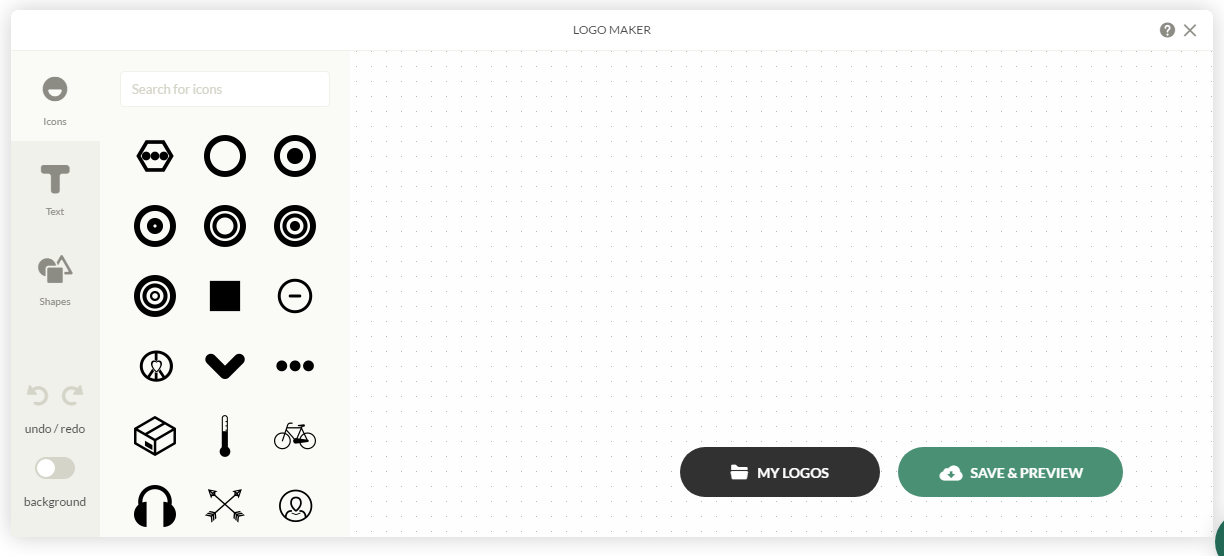 As previously mentioned, each block has its own settings, which means you can change every single element (or remove it) with a click of a mouse.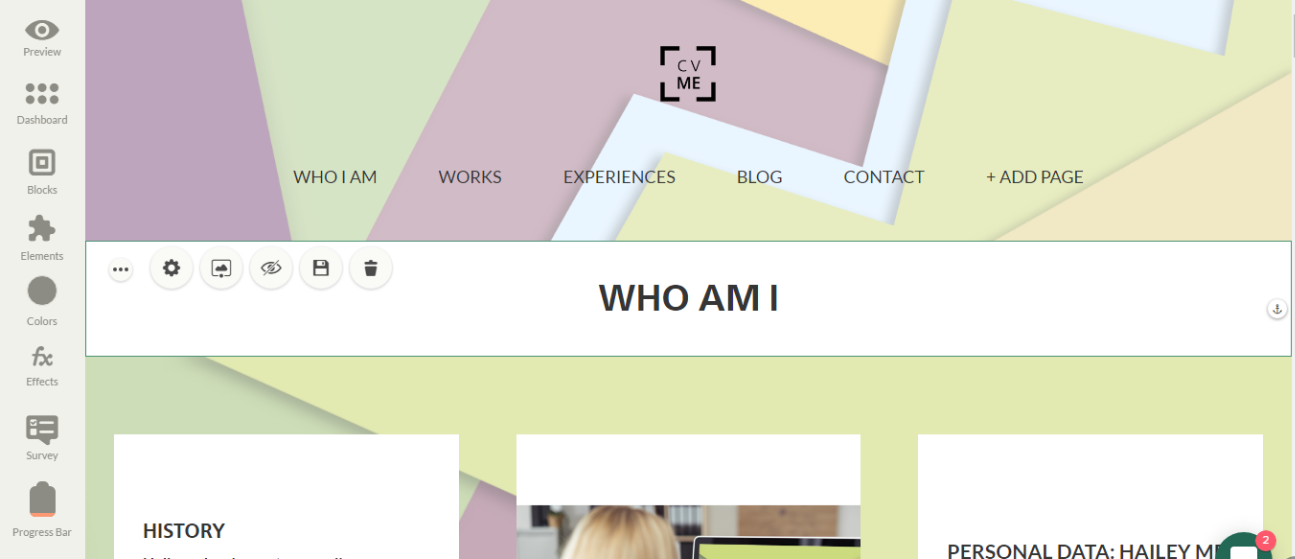 Needless to say, you can also edit the existing content and write your own. To access text formatting options, double-tap any text region.

Here you can change the size, style and color of your text. Moreover, you can also make the text bold, underlined, strikethrough or italic.

We have already established that your personal website won't be complete without the Experience section. The template we have chosen gives you the opportunity to outline your background effectively. To edit and fill out your work history and achievements, just click on the relevant text.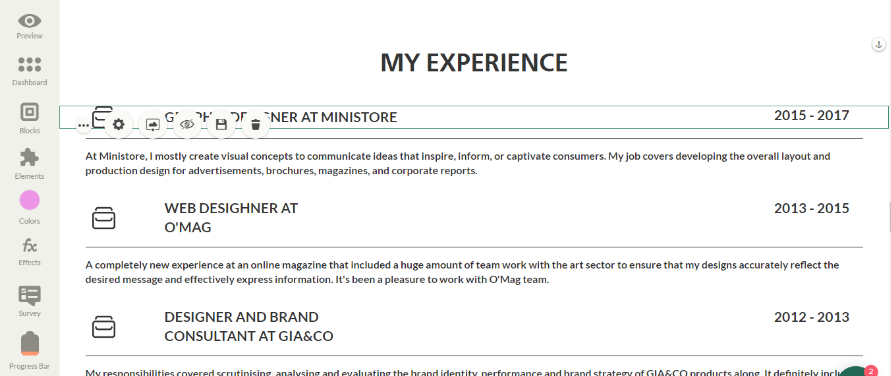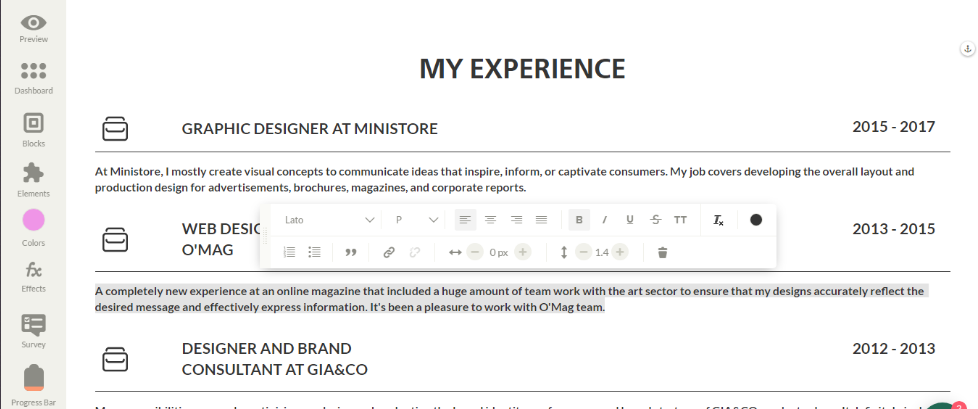 Since testimonials are equally important for a personal website, you should make the most of this section. You can add testimonials from former employers/clients by clicking on the quotation marks.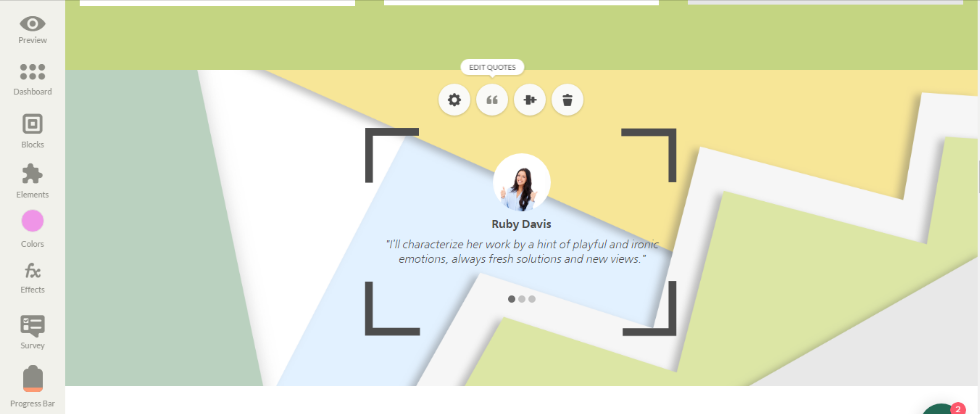 Here you can edit all quotes, add more of them as well as set photos for the testimonial authors.
Finally, don't forget the Contact form. Click on it to edit its fields and customize the message that will be shown after someone successfully submits the form.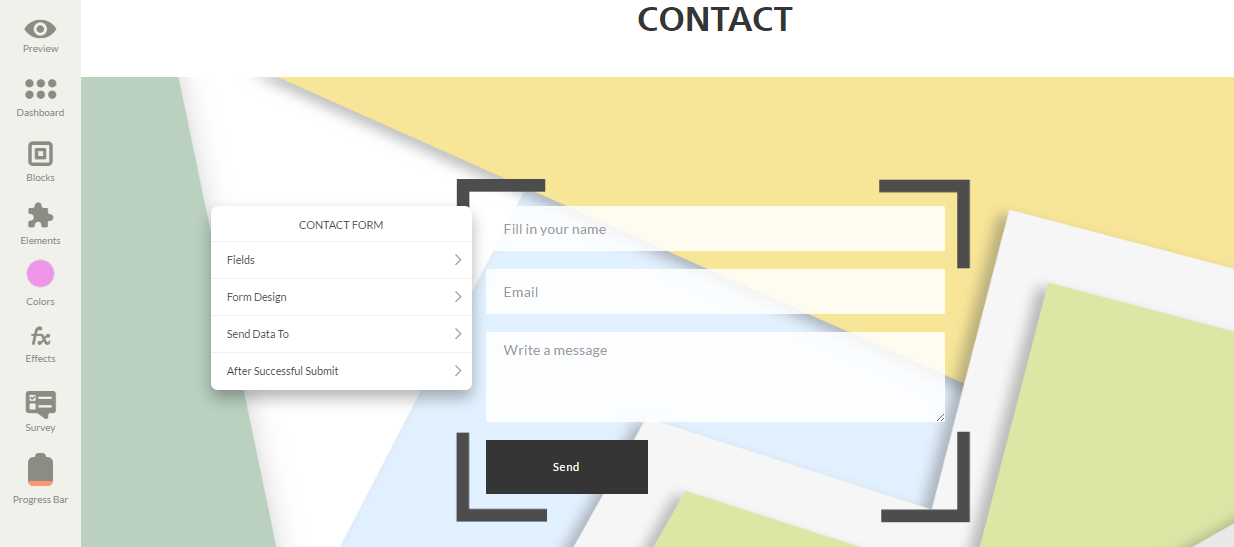 Not only can you add and edit the Contact form, but you can also add your phone number, address and email. By doing this, you'll make it easier for people to contact you.

Tip 1: Tap the Progress Bar to view your completed actions and check what further steps you need to take in order to build your personal website and get it online.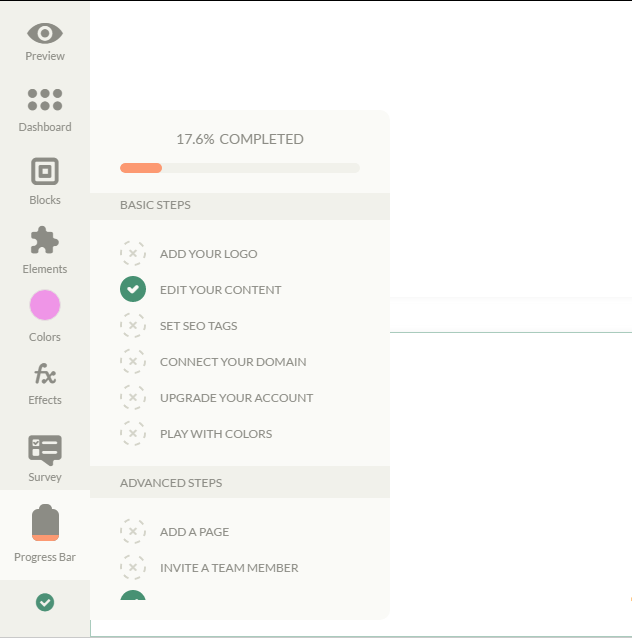 Tip 2: If you already have a domain name, you can connect it to your Ucraft website at no cost. To do this, go to your Dashboard and select the Domain icon. If you don't have a domain, you can purchase it straight from the Domain Manager.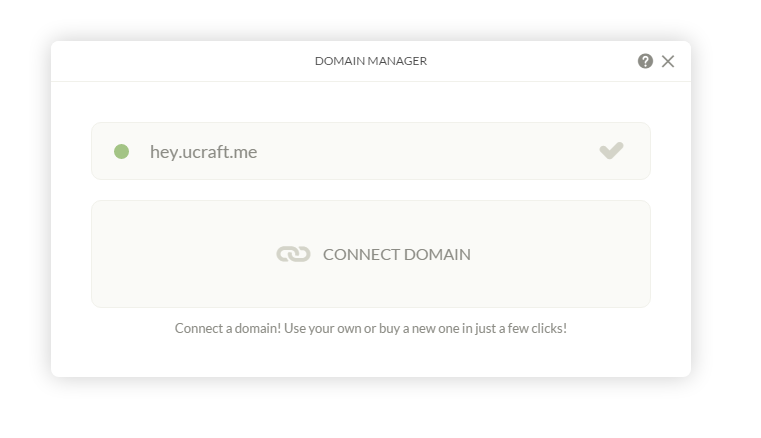 Now that you know how to create a personal website, it's time to get your creative juices flowing and build your own. While you are waiting for inspiration to strike you, make sure you check out these beautiful websites created by our community.  Happy crafting!