Some might say that creating landing pages is always a daunting task, and even mission impossible. However, we beg to differ. We firmly believe that even if you're a noob, you can create one in a jiffy. To show you how to create a landing page and enable you to set it up by yourself, we've answered all the important 'whys' and 'hows' and illustrated every step you'll need to take on your grand journey. Without further ado, let's dig deep into the world of landing pages.
 
Why should I create a landing page?
A landing page is the entry point to your online presentation and as such has the power to grab your visitors' attention. By having an effective landing page, you will stand head and shoulders above your competition and propel your business to success. Moreover, a landing page boosts your chances of being found by more people via search engines. When built properly, a landing page will bring better results than your homepage or any other page. If you want to improve your business substantially, make sure you leverage your landing page(s). After all, that's in your best interest.
 
The essential elements of an effective landing page
To make your landing page a success, ensure it contains the following elements:
The main headline and a sub-headline
The first thing your visitors will encounter on your site is the main headline. That said, your headline needs to be to the point if you want to get your message across with more impact. If you'd rather have a short main headline, then you'll need to add a supporting one that will include some extra info and extend your message.
A list of benefits
Provide more details on how you and your product(s) are going to solve your potential customers' problem. It will be easier for your visitors to reach a decision once you've described your offering and communicated its benefits.

Quality images and/or short video
Show your prospective customers what you're offering, don't just tell them about it. Showcase your business/product by providing compelling photos and video content. This way you'll add some extra flair to your landing page and step up your online game.
Customer testimonials
Your visitors need to see that both you and the service you offer are legit. Testimonials from your previous customers are a powerful way to start building trust and credibility with the potential ones. Make your customer testimonials stand out by adding pictures, names and links to these customers' websites.
A well-crafted call-to-action
Another important ingredient you need to pay attention to is a call-to-action button. Your CTA represents the main purpose of your landing page and, of course, you need your visitors to interact with it. Since these buttons come in different sizes, colors and shapes, you have to test them all the time to see which one fits the layout of your landing page.
How to create a landing page with Ucraft
Now that you've acquainted yourself with landing pages, their importance and necessary elements, it's up to us to guide you through the process of creating your very own landing page. Are you ready to learn how to create a landing page?
Registration
First things first, head over to Ucraft and click the hamburger menu in the upper right corner. Once you select the Landing Page Creator, you will be presented with a plethora of unique (and free!) templates: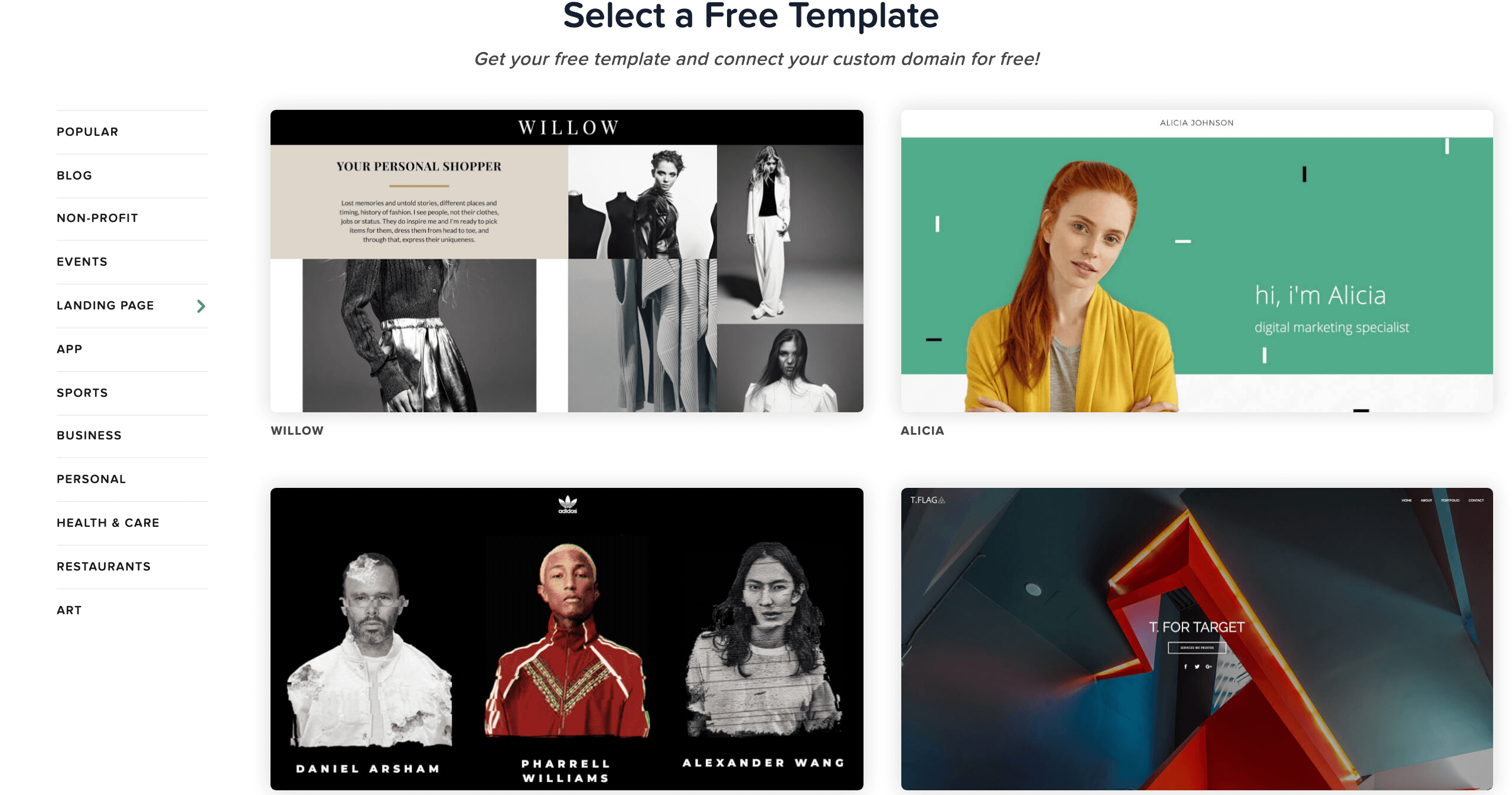 After you've chosen the one you like the most, you'll need to come up with a name that fully reflects you and your service.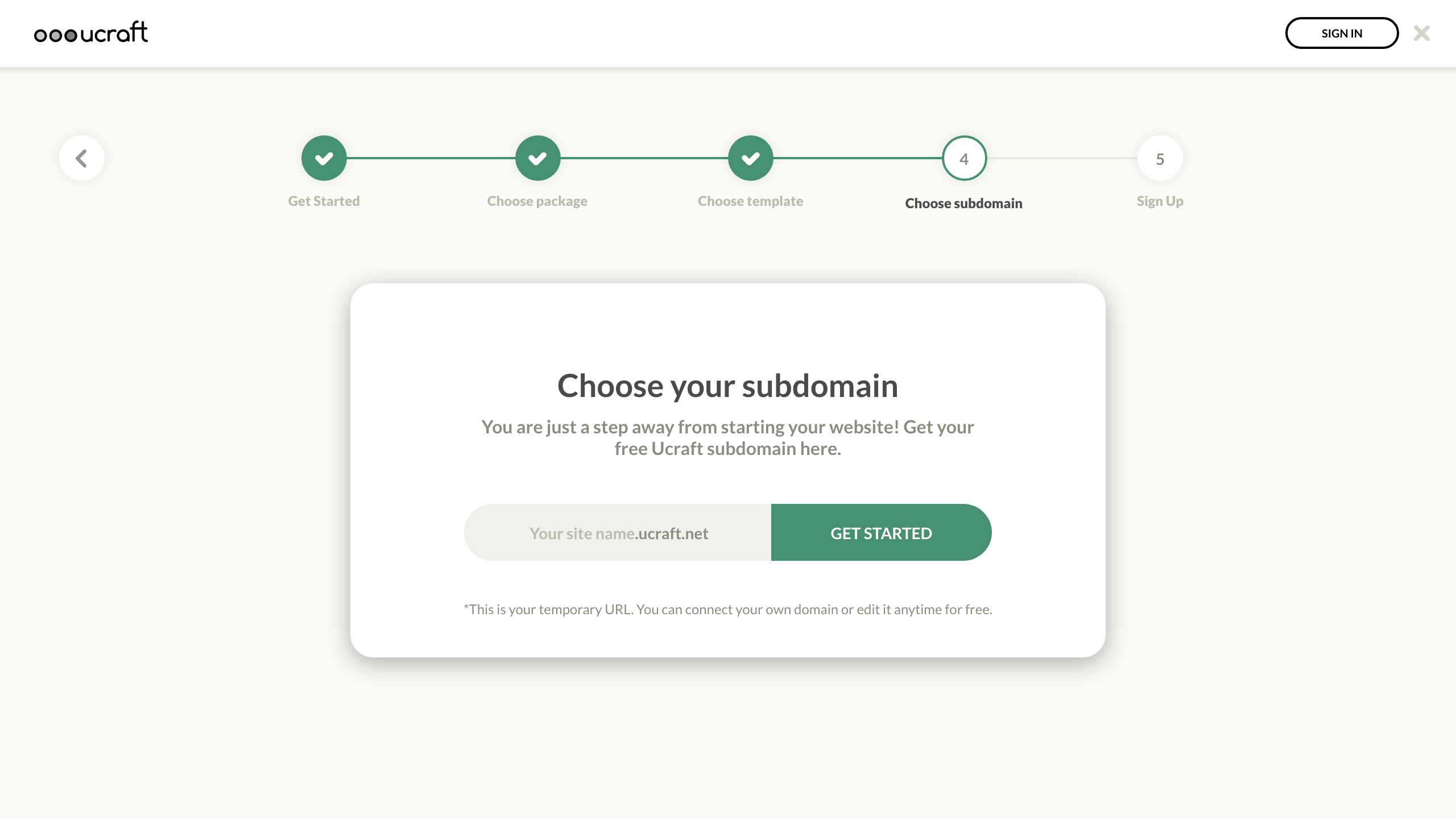 You're a few clicks away from 'how to create a landing page' to actually crafting one! Now you just need to create your Ucraft account by using either your Facebook or Google+ profile. Alternatively, you can fill out the registration form by entering your email address, name and password.
Signing up for a Ucraft account is totally free. Of course, if you want to have complete control over the builder, you can upgrade your account and enjoy the many benefits of your 14-day trial. Once your trial expires, you can choose one of the available plans starting from 10$ and continue unlocking the full potential of Ucraft.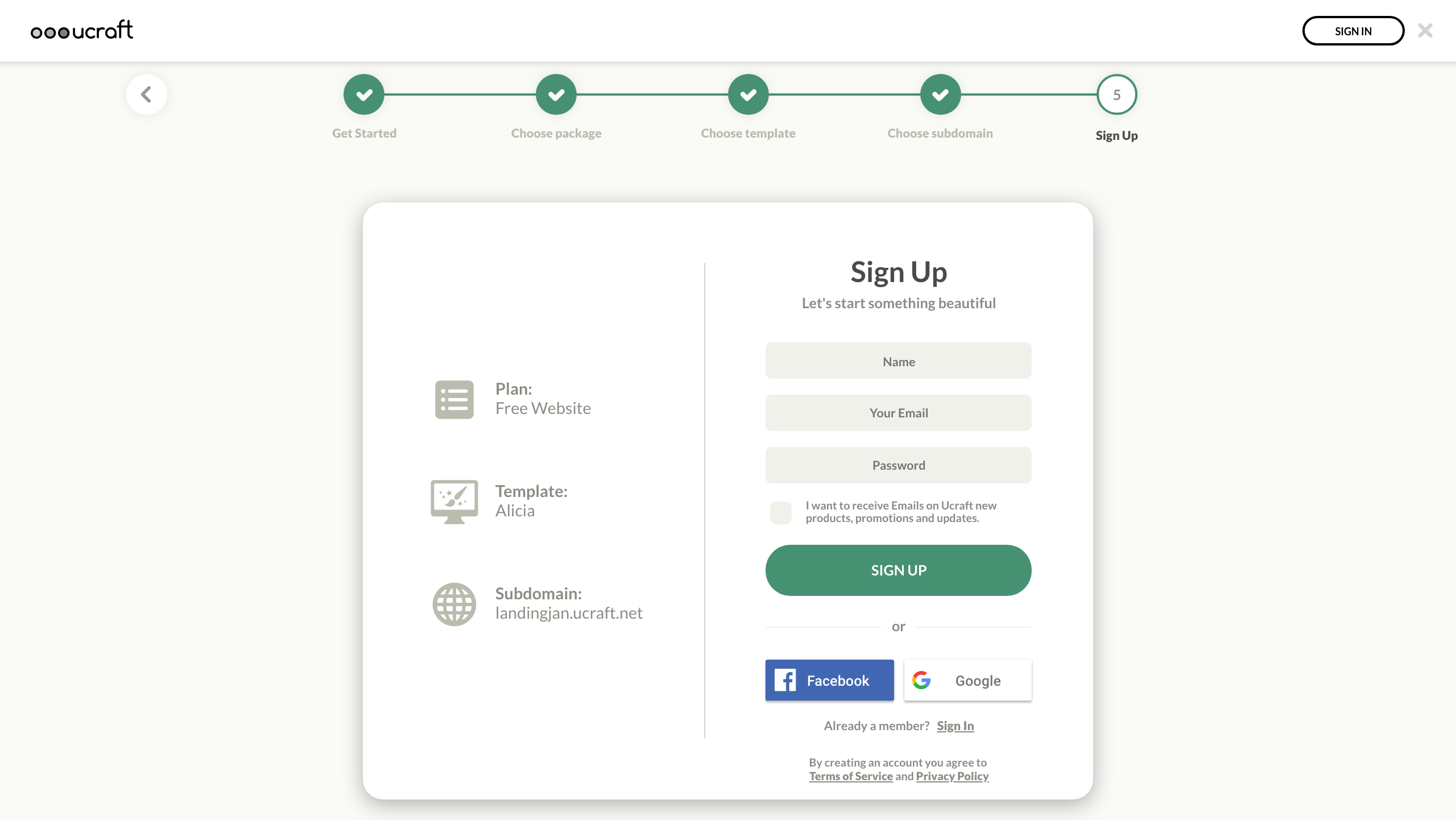 Hooray, your kick-ass new page has just landed! Wondering what to do next? It's time to get this party started by playing around with magnificent features and elements that will help you polish your page to perfection!
Website Builder
Each section/block of your page has its settings where you can upload either images or videos, change the existing text and add new content. In addition, you can also hide those blocks you deem unnecessary. High-quality images and videos, together with captivating storytelling, are the key to grabbing your visitors' attention. Let's take a look at what you can do with some of the sections of your new landing page. The first block is the header, and in order to make adjustments to it, you should click on the Block Settings icon in the upper-left corner. Here you can change the header position or hide the entire block.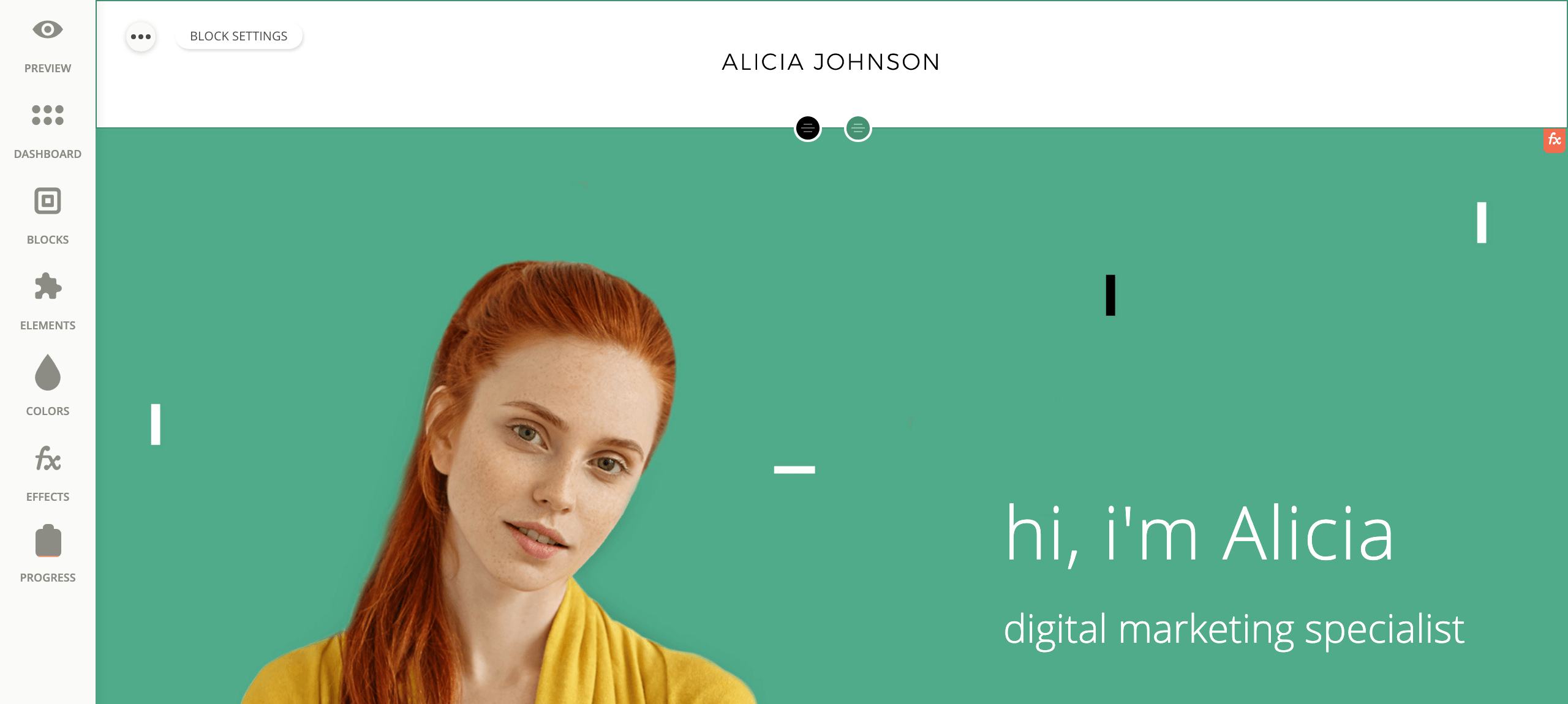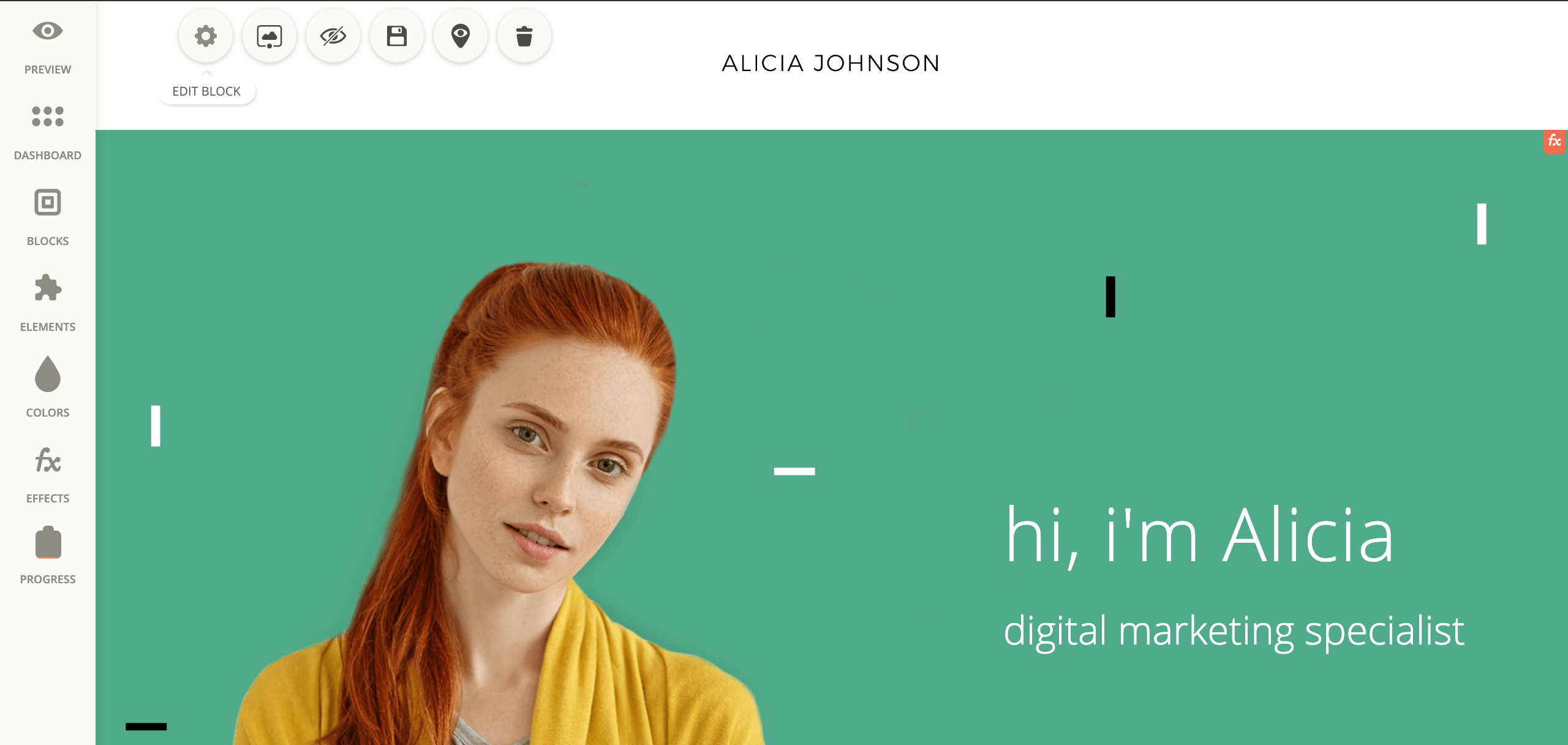 Furthermore, you can also add a background image or a video to the header by clicking on the Block Background icon.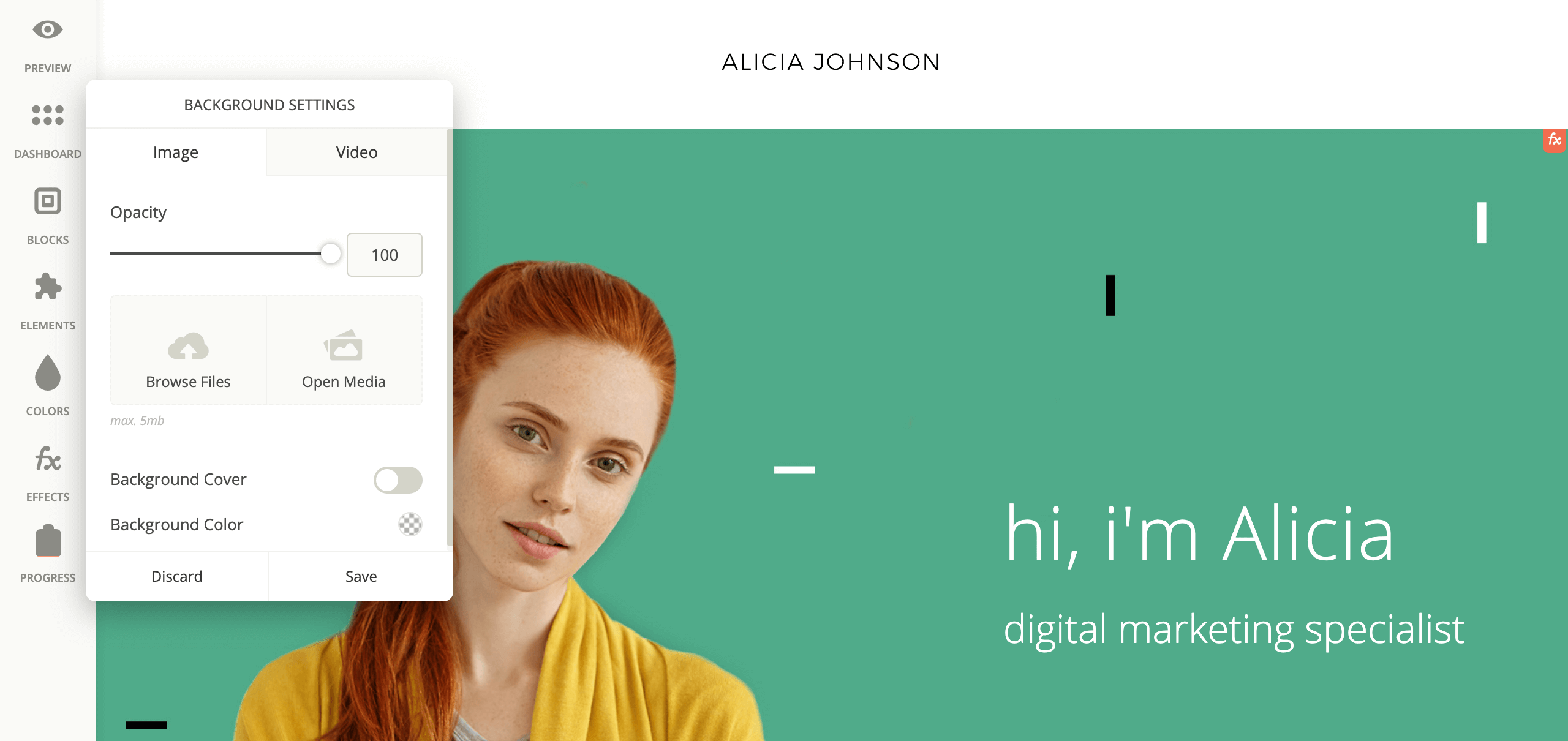 If you want to make changes to the slides, you may do so by clicking on the slide that's located on the main block of your page. You will then encounter six icons, including Edit Slides, Slider Settings and Vertical Alignments.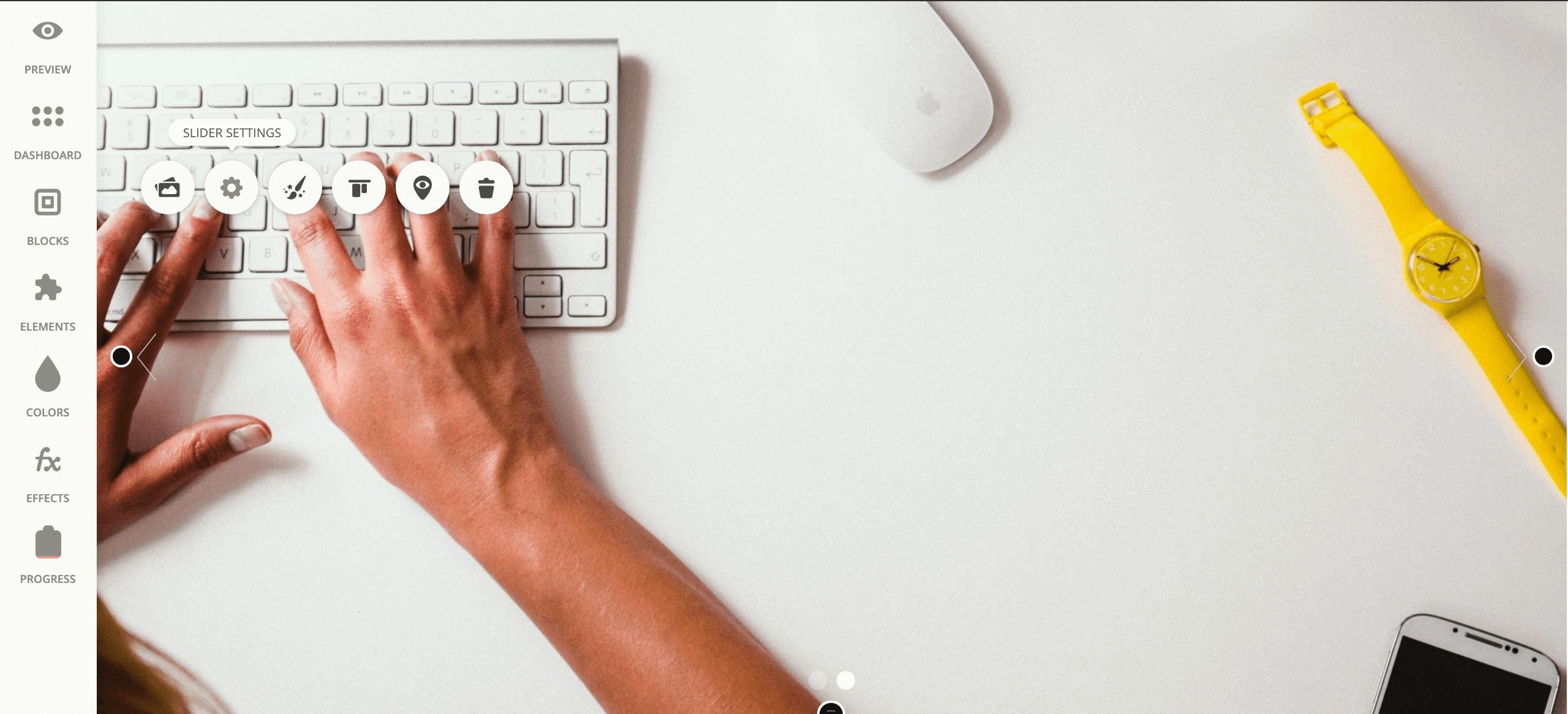 To edit the Slider type, change the animation speed or turn on/off autoplay, head to the Slider Settings. If you want to replace slides, see what the new ones are going to look like or delete them, click the Edit Slides icon, and you'll go directly to the Slider Item Manager.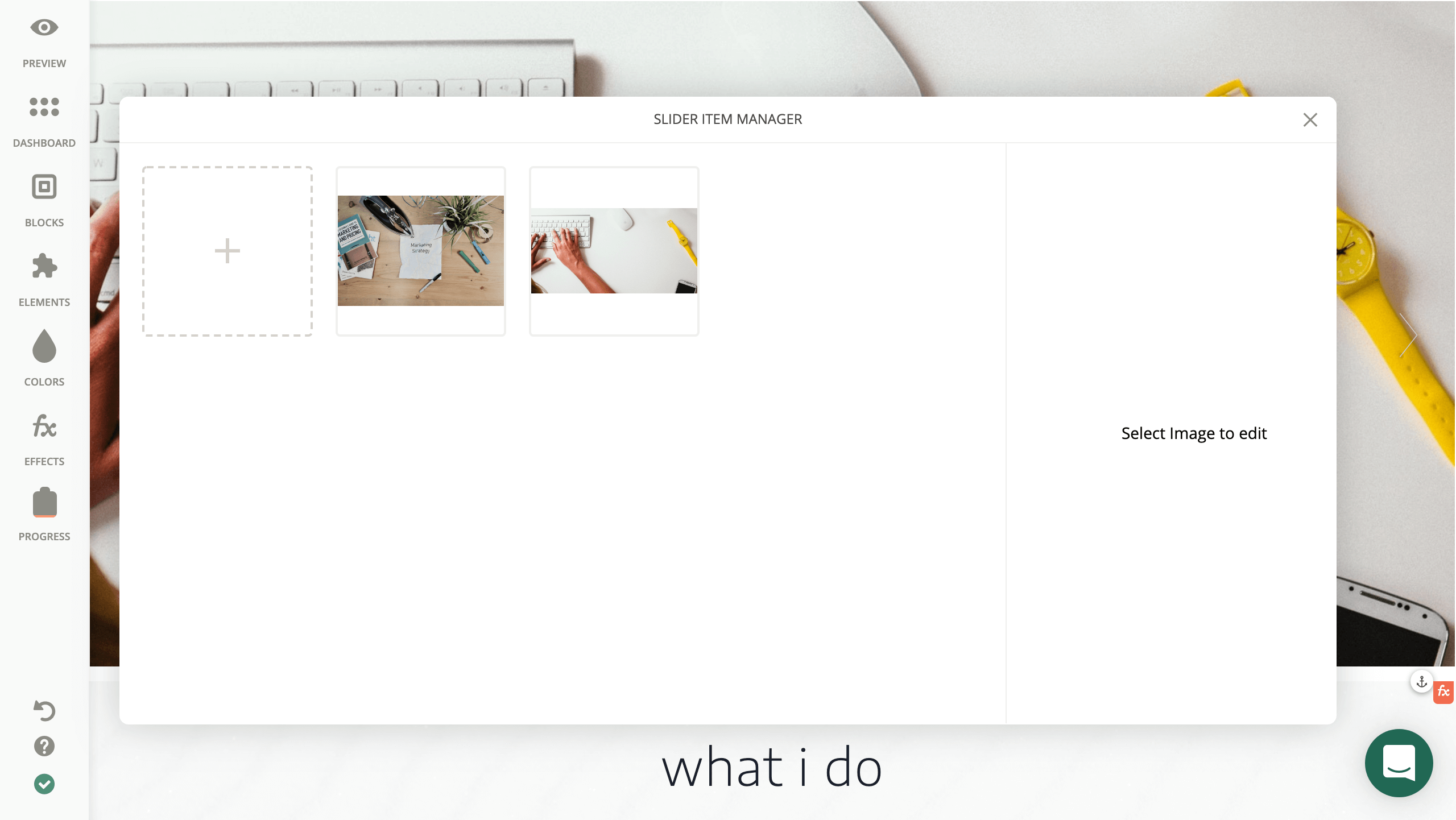 As previously mentioned, you can add your own content, change the existing one and adjust it to your preferences. Since your headline is the first thing your visitors will notice, you need to make it stand out. Simply double-click a text field to enter your new headline and make sure you try out different styles and formats until you find the perfect one.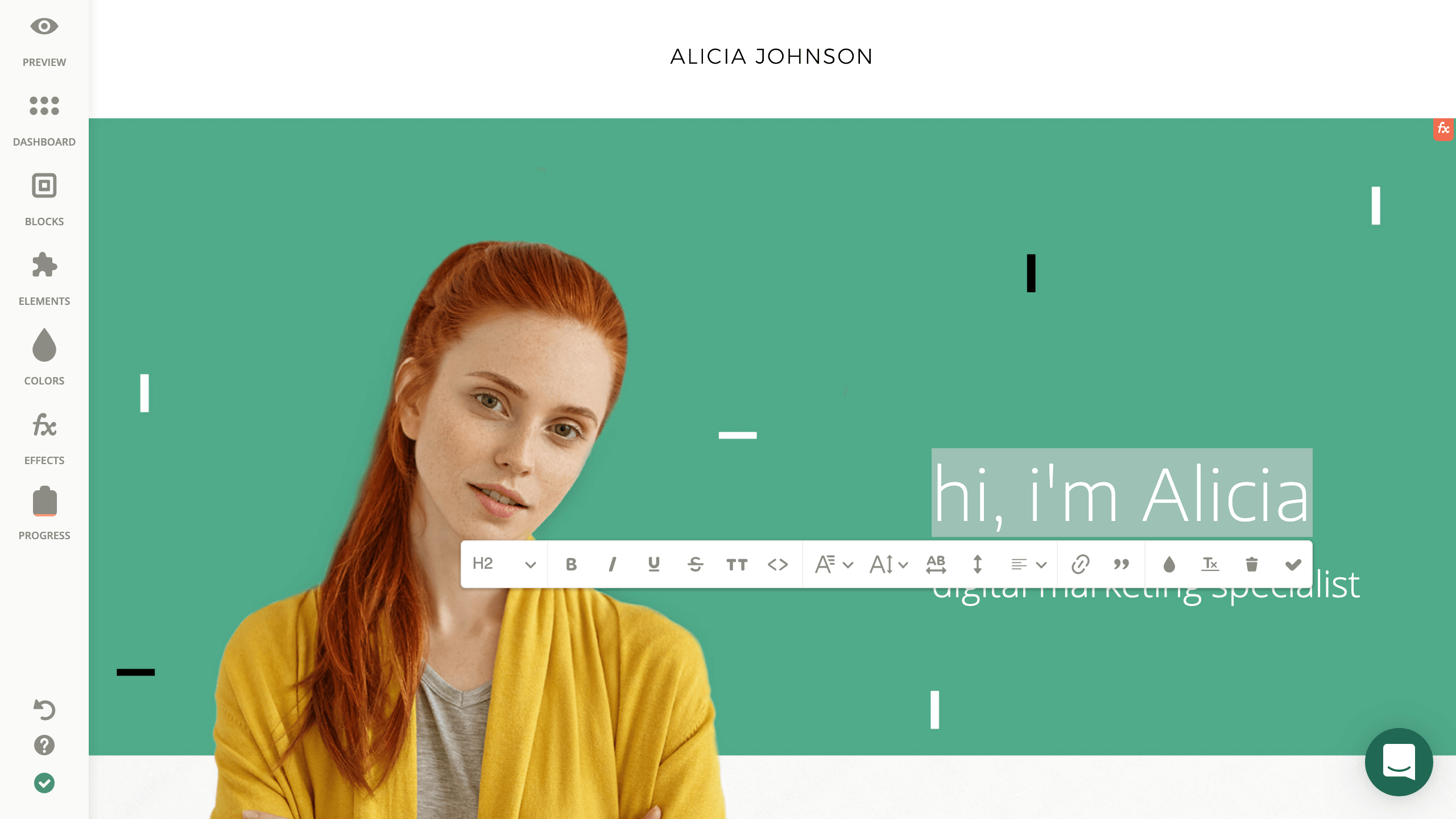 To check how far along you are in the process of creating a landing page and see what steps you still need to complete, tap the Progress Bar.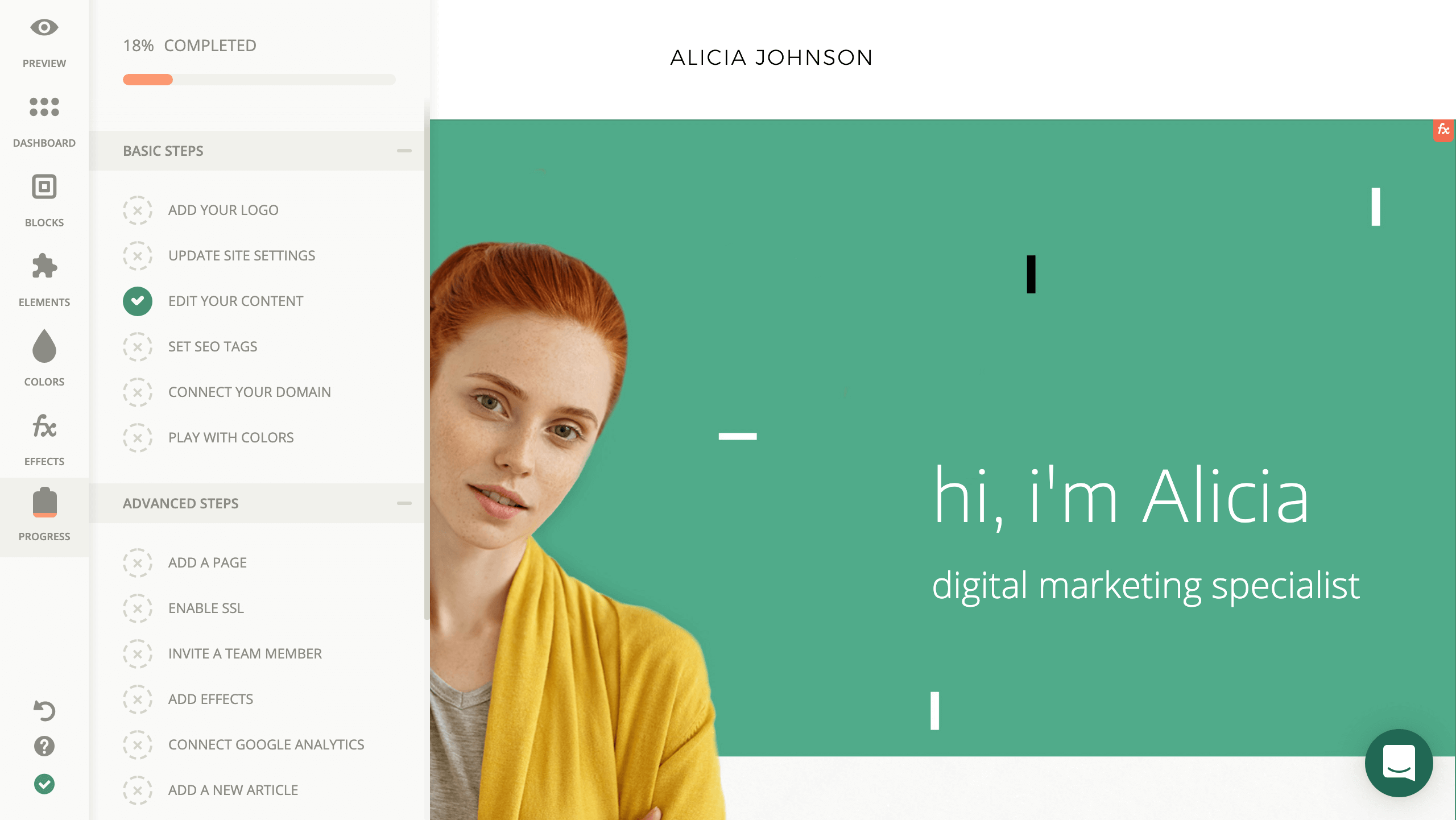 A successful business needs a good visual symbol. Bear in mind that this symbol is something people will remember you by, and if it's a great one, it will give you a competitive edge. If you don't have a logo, don't worry, that's where the free Logo Maker comes in handy.
Just click on your page logo and you'll be able to upload your existing logo or create a new one.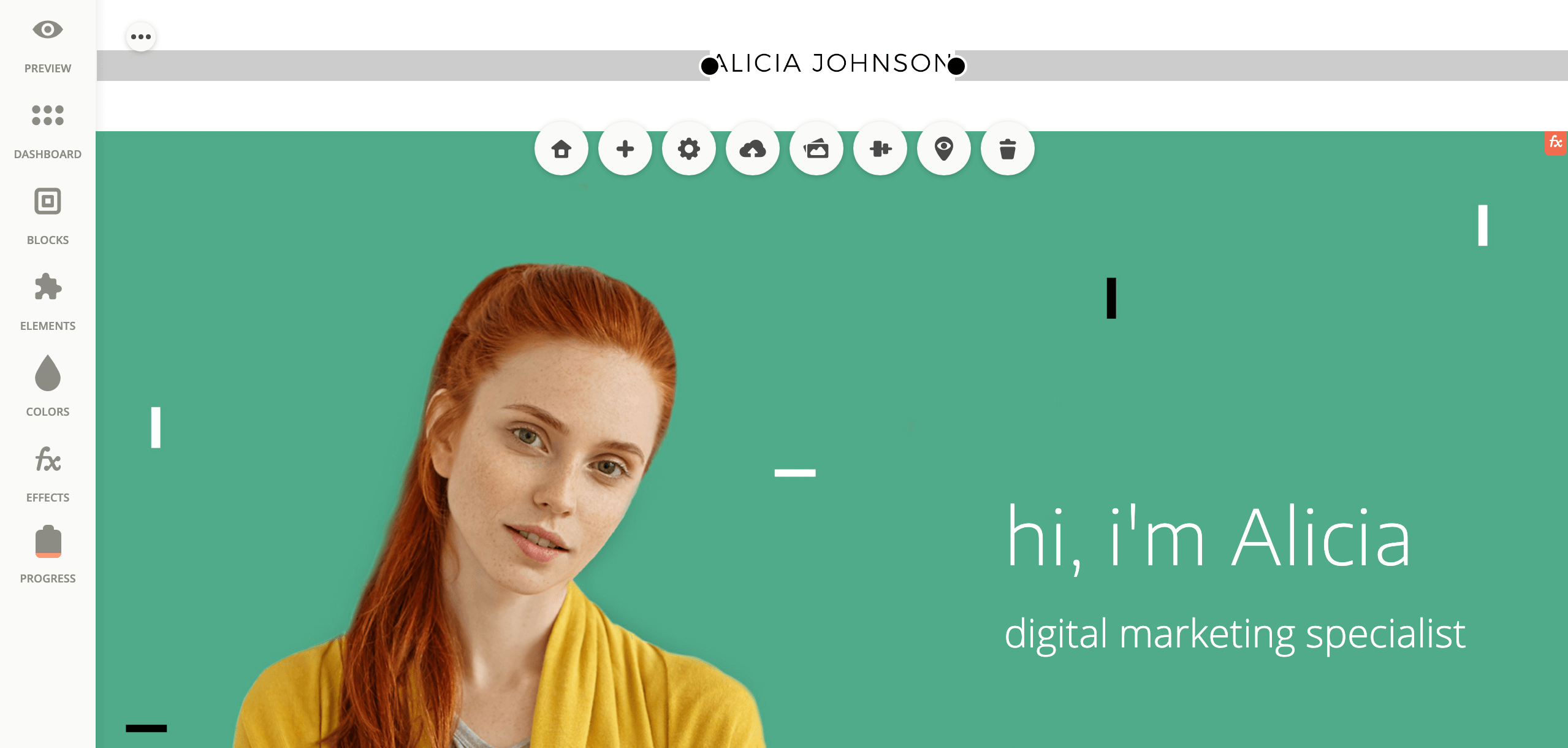 When making a logo from scratch, explore all the possibilities Logo Maker has to offer: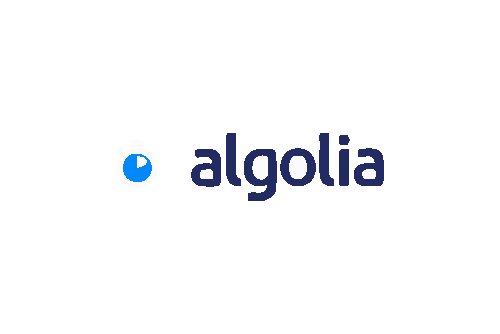 Optimizing your page for SEO is another crucial thing. To do this, just go to your Dashboard and pick the SEO Manager. Once there, move your mouse pointer to your main page and click Edit to write your Page Title and its Description: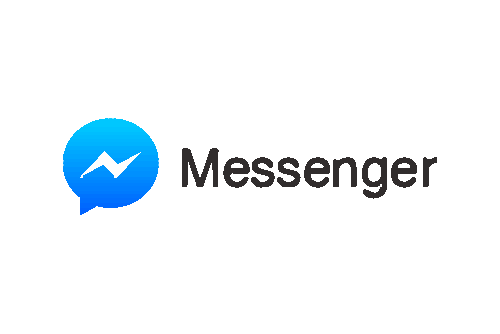 Moreover, connecting your existing domain to Ucraft is also possible for free. To access the Domain Manager, head over to your Dashboard and click Domain. When you open the Domain Manager, you can edit your Ucraft subdomain, connect the one you already have or buy a new one:
Not that we were counting, but creating a landing page took less than 30 minutes.
On your road to success, you need to equip yourself with all the essentials a good landing page can't be without. We've already discussed some of these must haves, so now it's all up to you and your preferences.
How to promote your landing page
Now that you've created a shiny new landing page, everyone needs to know about its existence, so the next logical step is to get it in front of as many people as possible. Not sure how to do this? Don't stress out, we'll break down some of the ways you can promote your landing page.
Social Media
This is probably the easiest way to spread the word about your page, so make sure you harness its power. Even if you're not a social media pro, I bet you know how to post content on major networks like Facebook, Twitter, Instagram and LinkedIn. Posting stunning visuals and compelling text is a good start to building your online presence. Oh, and don't forget to include a link to your landing page. This type of promotion is totally free, so take full advantage of it. However, since your exposure will be fairly limited, you might want to explore paid advertising on the aforementioned channels.
Guest Blogging
Reach bigger online audiences by making the most of guest blogging. On your journey to finding guest blog opportunities, you'll first have to answer the following two questions: 'Who is my target audience?' and 'What are my target customers reading online?'
Once you've checked that off your list, Google some established bloggers, reach out to them and ask to write a guest post on their site. Alternatively, they can write a review of your service/product. To engage their followers, you'll need to get your creative juices flowing. Channel your energy into this endeavour - it'll pay off!
Organic Search Engine Optimization
If you want to get Google to like your landing page, you have to optimize it for search engines. It's as simple as that. Yes, we all know that it's difficult to rank well, but that doesn't mean you shouldn't do everything in your power to craft a killer SEO landing page. Do your homework, research relevant keywords for your service and incorporate them in the content of your page, but make sure you don't go overboard and stuff your content with keywords - that's a no-no. A concise explanation of your page, better known as a meta description, is a must-have component that will make your page more attractive to searchers. Make sure you follow these valuable SEO tips to conquer the search results.

Go ahead and create a smashing landing page! Good luck!