With the decision to choose Ucraft and build your very own business website, it's time to roll up your sleeves and get it started. This is an important decision and like all important decisions, it will take some determined execution.
To start with, we congratulate you for picking our business website builder – you made a wise choice regarding templates, prices, features, integrations, and ease of use. Secondly, before we show you how to create a business website with Ucraft each step at a time, we want to make sure you came here with well-done homework. So let's begin with a quick recap, shall we?
The Website Building Checklist You Need before Creating a Website for Your Business
Take a deep breath and clear your head. The following website building checklist will help you shape your business website with little trial-and-error experiments. It will also help you create a big picture to follow at every step during your business website creation process.
1. Know the Purpose of Your Website
We will start on the premise that you know (very well) why you want to build a business website. For one, all successful businesses need a website. Have you asked yourself these questions, though?
Do you provide users with a unique service or a wide range of services across a specific industry?

Are you selling something in particular?

Do you want people to hire you as a freelancer in various domains?
If you have all the answers to these questions, it means you found your website's purpose. Knowing what type of website you want and why you want it will help you decide on the following:
The website's domain name, which should match your official business/brand name as much as possible;

The design you want – layout, templates, color schemes, mandatory website pages and sections to add, etc.;

Features and integrations to implement in your business website for various purposes, from easy customer support to email marketing and monitoring your website's performance;

The content you should create for online visibility, user engagement, leads, sales, etc.;

The opportunities you have to build a consistent brand image and identity, etc.
Most people start with just a business idea, so don't worry if you still have some things to figure out regarding branding or extended business plans. They will come to you. Building a website for your business is among the first steps to take, so let's move on with the checklist!
2. Understand How Our Website Builder Works and How It Can Help You
You are here, so we will assume you already made up your mind about using our website builder. The advantages are plentiful, and you can make the best out of all our tools, features, integrations, and, especially, our ready-made business website templates.
Here are some of the benefits Ucraft offers its users (that you will further offer to your visitors and business clients):
Mobile-responsive design. All our templates follow the best practices of mobile websites, so you don't have to worry about anything. Your users, in their turn, will have a great experience with the mobile version of your business website too, which translates into more leads and conversions.

Free SSL encryption. Business owners have many ways to build trust with their audience, but having an SSL secure website is the first step. This type of certificate guarantees users that their data is safe and they can do good business with you.

Full help and support from our team. The more support you get from our specialists, the better experience with your website and business you can offer your future clients.

Features you can use for current and future needs. For now, you might want to build a small business website to make a name for yourself. However, as you grow, you might consider developing the website into a multilingual one or implement team management tools for your staff. Please make a note of all Ucraft features you need so you don't forget about them.

Scalability. Beginner entrepreneurs usually start small with their business websites to realize they want more in a couple of months. Luckily, our website builder allows you all the scalability you can dream of with its pricing plans and advanced tools.
Before anything, we recommend wholeheartedly to preview a few business website templates and give each of them some thought before you decide on one.
3. Gather All Your Materials in One Place
You know you can create a personal website in under one hour with the Ucraft website builder, but a business website will take a bit more. So for better organization and speed, make sure you have all materials you need to use or upload to turn your template into a slick, modern, and highly converting business website. Here are some examples:
Your company's logo. All businesses feature their logo in the website header, so you need to have yours ready to upload as you start building the website. Use our free logo maker if you did not create a logo for your brand yet, and use an SVG image format.

Relevant images to make a stunning first impression. Either you use images and graphics for your website's header or to illustrate services, users' benefits, products, etc., you need to have them at hand. The Ucraft website builder allows you to integrate outstanding visuals with Unsplash or Canva. However, if you have custom images you need to show, prepare them for size and quality. While experts recommend businesses to use their personalized imagery, here are some free stock photo resources for inspiration. Vectors and icons will be of help, too.

Videos and other marketing materials. Most business websites use the power of video to showcase their services, how their products work, who their team is, what business story they have to tell, etc. If you created such videos, GIFs, or multimedia presentations, keep them close, as you will need them.

A few written blog posts. When you create a business website, you have to add a blog section to it. The best strategy is to have well-crafted written articles before you start building the website. Then, all you have to do is populate it with your content to gain more visibility with users and search engines.

Meta-tags for your website pages and blog posts. You probably know by now what pages/categories/sections your website will contain. Create a document listing all the meta titles and descriptions for each page and article on your new website. You will gain time and nail the best SEO practices from the get-go. Use a tool to check your meta tags' length so search engines don't truncate them in the SERP.
Do you think you are ready now to create a business website and build a name for yourself? Let's get started, then!
How to Create a Business Website with Ucraft in 5 Easy Steps
To start creating a website for your business with Ucraft, you need to log into your account first. From this point on, things are a breeze!
1. Choose the Best Business Website Template for Your Needs
This step will take some time, and you should give it your undivided attention. Even if our templates are fully customizable and you can use our drag-and-drop website builder to tweak them any way you like, the template you choose will set the tone.
For instance, the KYL template makes a great starting point for legal practice. If you look in its footer, you will see it has all the mandatory pages/sections and then some! Moreover, it already comes with the necessary CTA buttons to prompt user engagement and communication.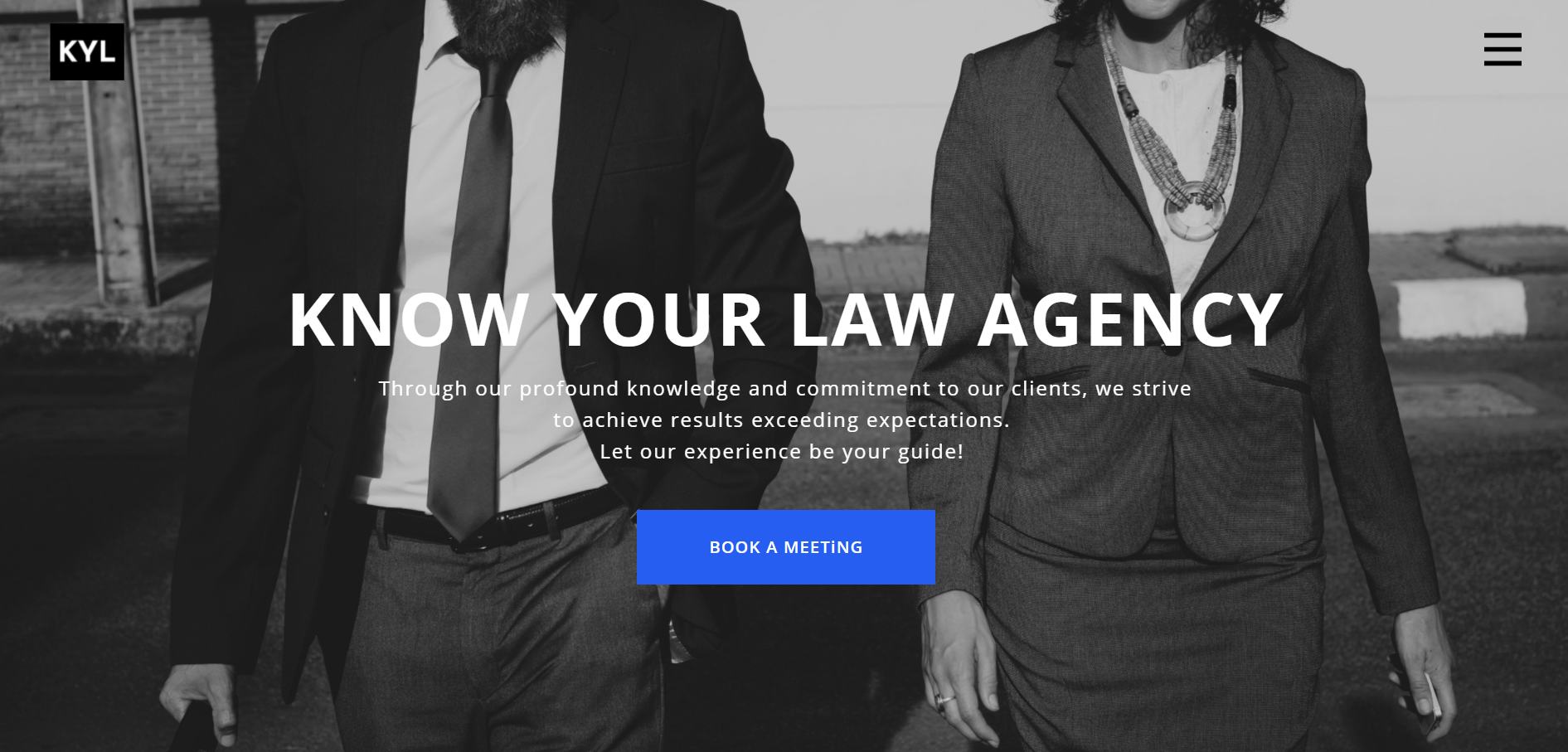 This business website template can serve more than attorneys and law agencies. You can tweak it for a consulting business, a marketing agency, etc.
2. Pick a Domain Name
Domain name picking and making it your own also need a bit of thought. Ideally, your domain name should match your business name or brand. The website address you choose is unique. Consider it as your business's fingertip. Moreover, the address itself needs to make a good impression on both users and search engines. Therefore, choosing it requires some attention to detail. Here are some tips before you move forward:
Make it easy to pronounce and spell. It is best to avoid slang, made-up words, or "rare" words people are not familiar with and cannot remember;

Keep it short. Some website domain names are very long, indeed, but there is a meaning behind all this. For example, a website domain along the lines of newyorkplumbing.com is lengthy, but it conveys the brand and its core business right from the start. Nevertheless, a short website domain is catchy for both people and search engines, so give it some thought. Use the acronym of your business name, for instance. Or, convey your brand's core message/value in a single memorable word combination, even if you registered your business under a longer, more generic name.

Keep the name broad. It is reasonable to create a company website bearing your name or your business's core. However, CarRepairs.com might be a bit too narrow, especially if you want to offer more than just car repairs in the next couple of years.

Choose the right extension for your needs. For example, experts will tell you that the .com extension is the best for building business websites.

Refrain from using numbers or hyphens. The most elegant solution is to create a words-only domain name. People and search engines love them more than anything.

Whatever you choose, make sure the name of your website rolls off the tongue. In other words, make your website domain name catchy and unforgettable so people can easily spread the word about it.
When it comes to domain names and using Ucraft as a business website builder, you need to remember a couple of things:
We offer free hosting for your website;

You can purchase a domain name right from your dashboard;

If you already have a domain name, you can connect it with Ucraft for free.
3. Design Your Website
Now that you have a domain name and everything is in place, it is time to design your website. In your dashboard, you will find plenty of tools, features, and customizations to personalize and optimize your chosen template just the way you want it.
The drag-and-drop editor allows you to add or remove sections depending on your needs. Don't forget to create a blog for your business website and add sections/pages to offer a unique, smooth user experience to all your visitors. If you are new to UX/UI website design principles, here are some guidelines to consider:
You don't have to worry about your new business website's layout, mobile responsiveness, or code functionality. You can now focus on:
customizing your template;

arranging the header and footer for seamless navigation;

adding your logo, photos, and videos;

creating sections or sub-pages;

inserting a compelling contact form;

choosing social media icons to display;

and populating your blog with exceptional articles.
Make sure you describe your services in detail and add compelling CTA buttons!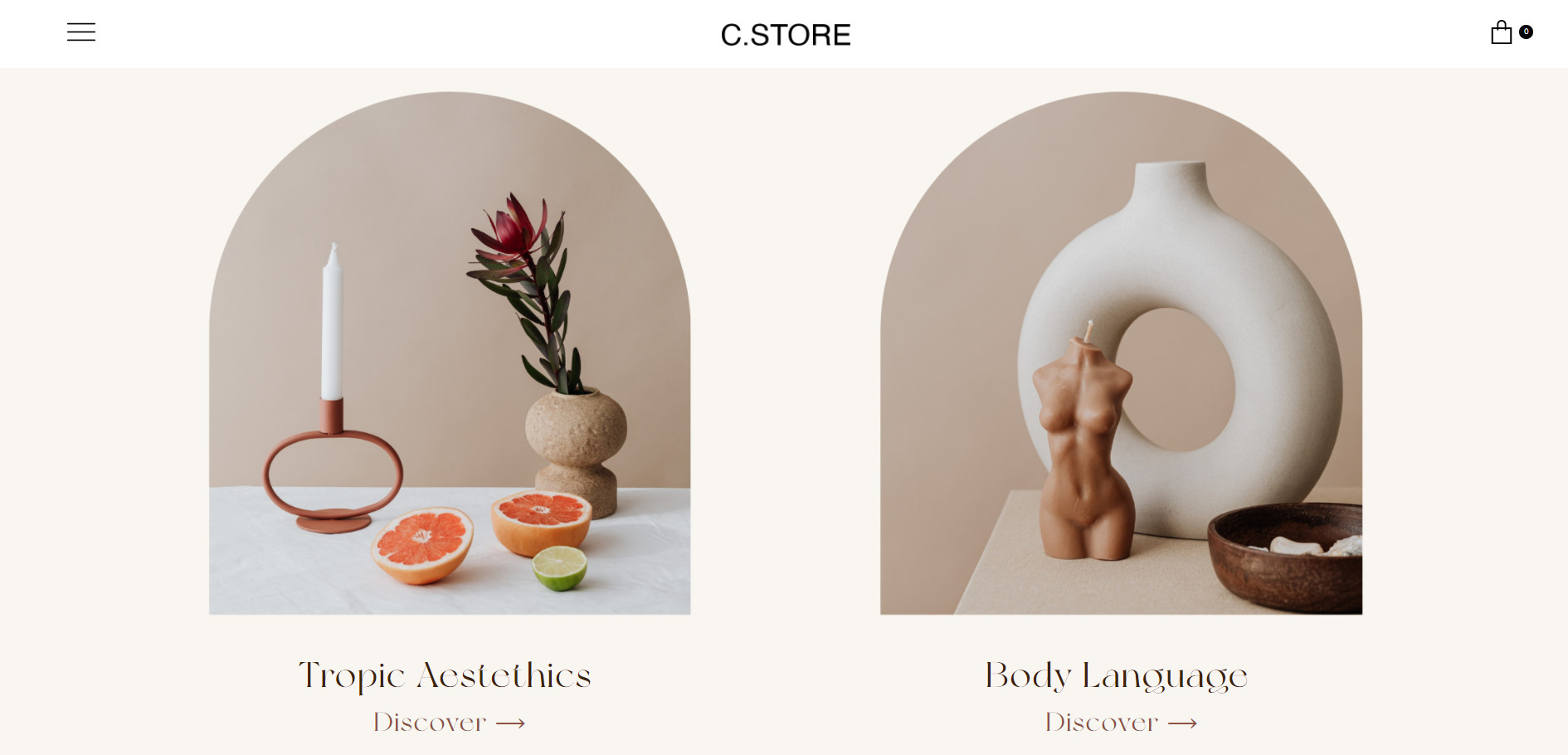 Also, don't forget to add some integrations to:
track your website's performance;

engage in marketing campaigns;

optimize content for search engines;

facilitate the creation of an online store;

add customer support tools, and so on.
Building a business website is not a race against time. You can test, preview, and customize every element until you are 100% satisfied with the result.
4. Check Everything. Again
Now, it is time to take a step back and check everything to ensure your website is in tip-top shape and ready to welcome customers and visitors. Here are some questions to guide you through the verification process:
Does your website feature all the elements of UX/UI design recommended by designers? Test your website on desktop and mobile to ensure it works smoothly.

Did you create all the mandatory website pages for your site? If anything is missing, now you have the time to add and tweak pages and their content.

Does your logo sit well on all pages and works flawlessly on all devices?

Are you sure all your pages follow Google's Core Web Vitals guidelines?

Are all the interactive elements on your website, animations, photos and videos, menus, sliders, and buttons working without error or delay?
If you are satisfied with the answers to all these questions, now you can move on to the next (and final) step!
5. Go Live!
Are you 100% satisfied? Then, nothing is stopping you from publishing your website and going live! That's it! You can now build a business website to make you proud and bring you profits!
How to Create a Business Website with Ucraft: Bottom Line
See how smooth everything was? Creating a business website gets faster and simpler by the minute, with no coding required. All you need to do is draft a plan, keep this guide close to make sure you don't forget anything and unleash the true power of the Ucraft website builder! Also, keep in mind that our support team is here for you 24/7, so if you need help, don't hesitate to contact us!
Now you are ready!