Over time, many webmasters begin noticing the reduced speed of page download, lowered position in search results and even appearance of pages duplicates. All these factors have an adverse impact on the user experience during browsing, as well as on conversion rates. Some webmasters believe that technical optimization is very costly; this is partly true since the processing of design, creating a mobile version and the transition to new engines require significant financial investments. But we are going to tell you about improvements which only require the effort of the site owner.
 
A must for all website owners
Negligent website owners believe that a website lasts forever, with no interventions. But this is not so, and the neglect of technical features leads to disastrous consequences.
Whether you build a website for free or pay someone for the task, it does not mean you can sit back, enjoy, and relax, waiting for the site to run smoothly with no webmaster's involvement. Most of the time, the simplest glitch in the Matrix can become a cascade of problems, which usually translate into poor metrics and lost revenue.
Over time, both technical and moral components of any web resource diminish. For this reason, it is necessary to maintain the site in working order regularly, comply with the latest technical requirements, follow the latest trends in web design, and update it completely at least every 2-3 years.
Internal site audit
First, you need to check the accuracy and convenience of the site's structure. Programs like ScreamingFrog or Netpeak Spider will help. Just enter the site's domain, and the program will analyze your pages. For example: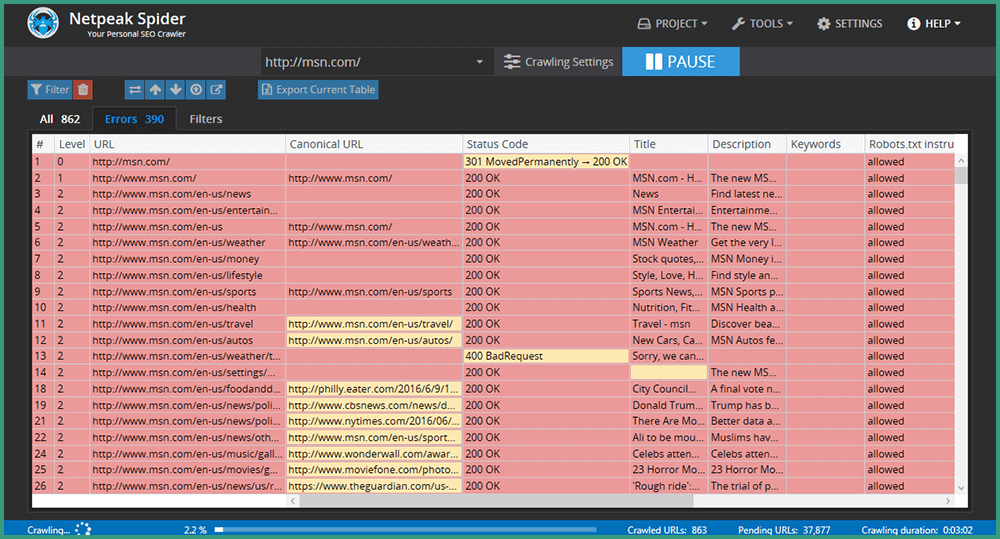 Swipe a resource analysis on the following points:
1. All pages must be distributed into the thematic groups. Each group should be accessed quickly from the site menu.
2. There is a golden rule – any page of the site must be available in 3 clicks. Well, in 4. Although this is the well-known maximum, some resources are still similar to the quest RPG.
3. If the structure of the site is complicated, do not forget about the 'bread crumbs.' It is an additional navigation, which helps the client to understand where they are and how to pass to another section.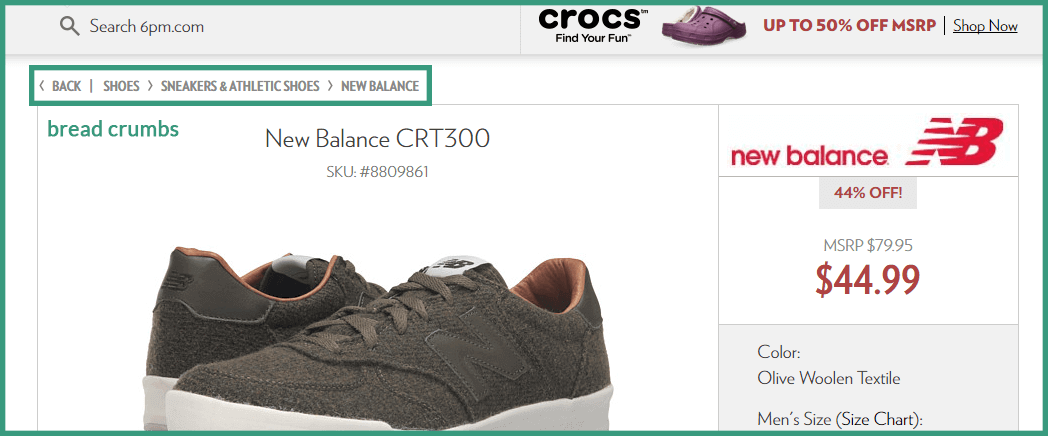 Bread crumbs on 6pm.com

4. Do not forget about the search tool on the site.
5. Do not make Flash-navigation. Search engines will not be able to find links to sections of your site.
6. Use internal linking between pages.
Content audit
Checking content optimization is a crucial stage. On this depends whether search engines could find the site for the keywords and how the site snippet will look like.
Here are the main points you have to check:
1. All or almost all texts on your website must be unique. Even if another resource copies your text, try to make search engines index your text as quickly as possible, increasing the chances of becoming a primary source. 
2. When optimizing texts, do not forget about tags. The main title should be enclosed in the H1 tag. Subheadings are H2, H3, etc.
3. The usefulness of text plays an important role. If it's not interesting for readers and they quickly close the page, that will negatively influence the page rankings.
4. Avoid keyword stuffing, and including meaningless phrases in your text for the purpose of putting in as many keywords into your text as possible. Search engines learned to detect this a long time ago.
5. That may sound obvious, but always check the text for errors before publishing. Typos look unprofessional, so either proofread the text yourself, invest in a proofreader or use special tools.
How to easily carry out content audit
Proofreading tools are an easy way to help you see and fix potential problem areas in your writing.

Let me introduce you to Hemingway App. It highlights common problems that get in the way of clear writing: long sentences, too many adverbs, too many instances of passive voice. You can see an explanation of each error type here. It will also suggest simple words for complex ones.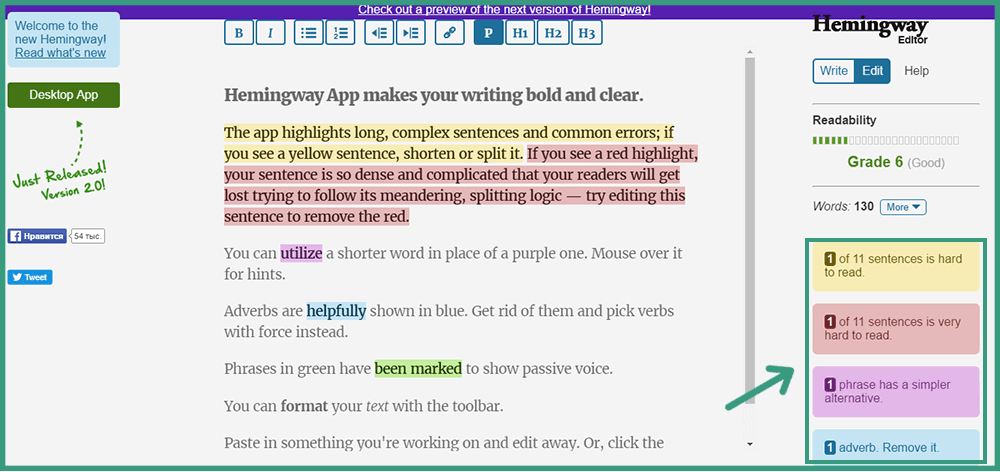 Another irreplaceable tool we use is Grammarly. It can check for contextual spelling, grammar, punctuation, sentence structure and style. It also includes a Plagiarism checker that can compare your piece to online resources and let you know if there is any plagiarized content.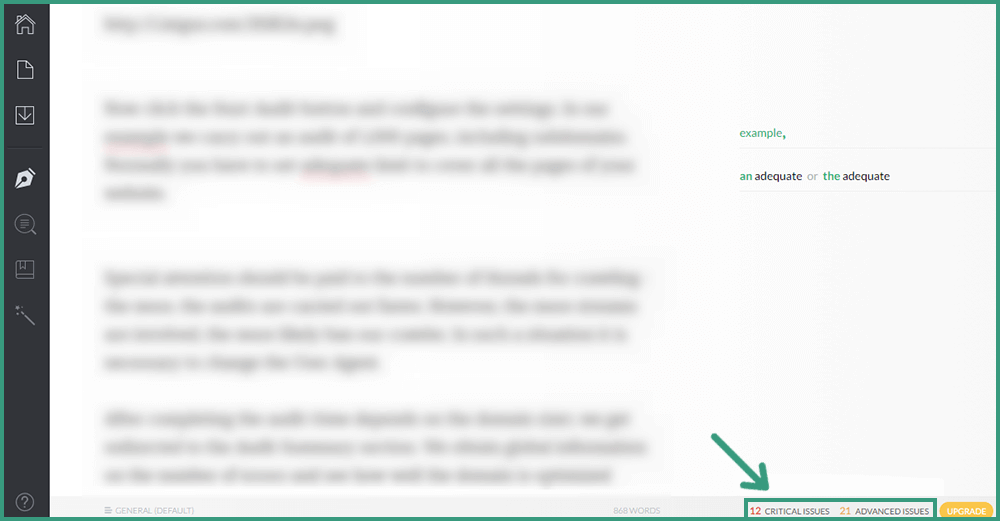 Technical audit
A technical audit includes measuring page speed, checking the site URLs, meta tags and titles, pages status, broken links, redirects and backlinks.
To carry out a technical audit, you need tools like Ahrefs, SEMrush, Serpstat, Appoptics etc.
In our example we use Serpstat, as its design is very intuitive and the price is very reasonable.
We selected hm.com as an example and carried out an audit of 1,000 pages, including subdomains. Normally you have to set an adequate limit to cover all pages of your website.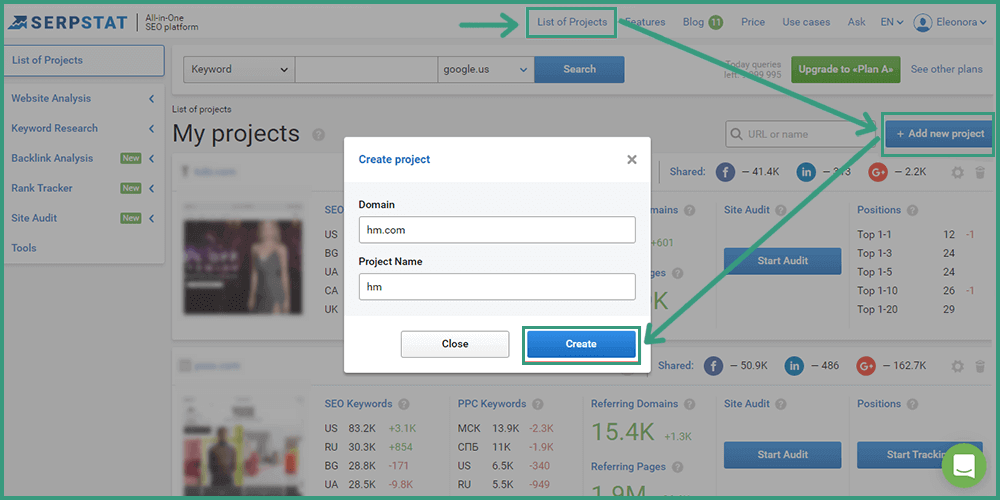 After completing the audit, we get the summary about the general condition of the site. All errors are divided into different groups depending on their solutions priority. The unique SDO score indicates how well the domain is optimized.


You can get the full list of links to pages with all errors.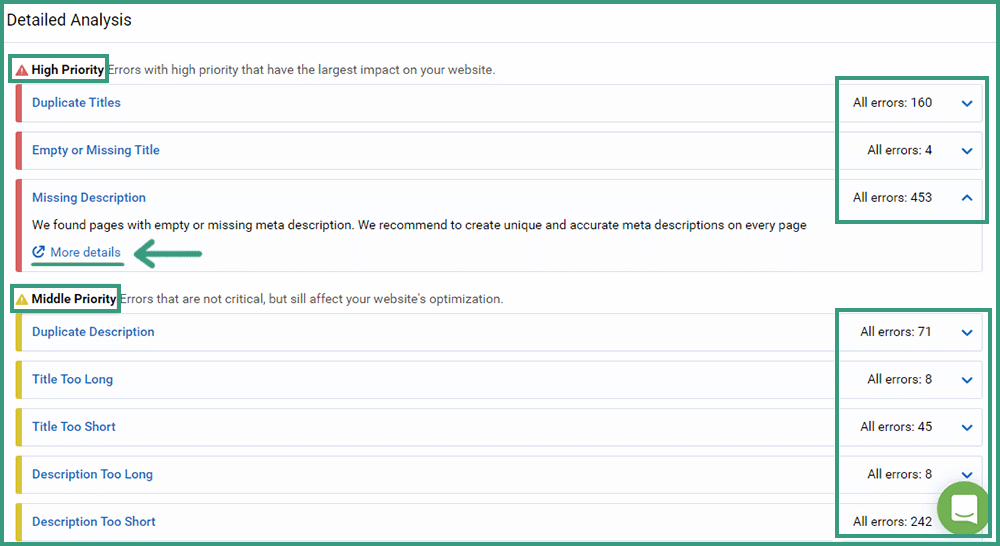 And an easy download list for further work.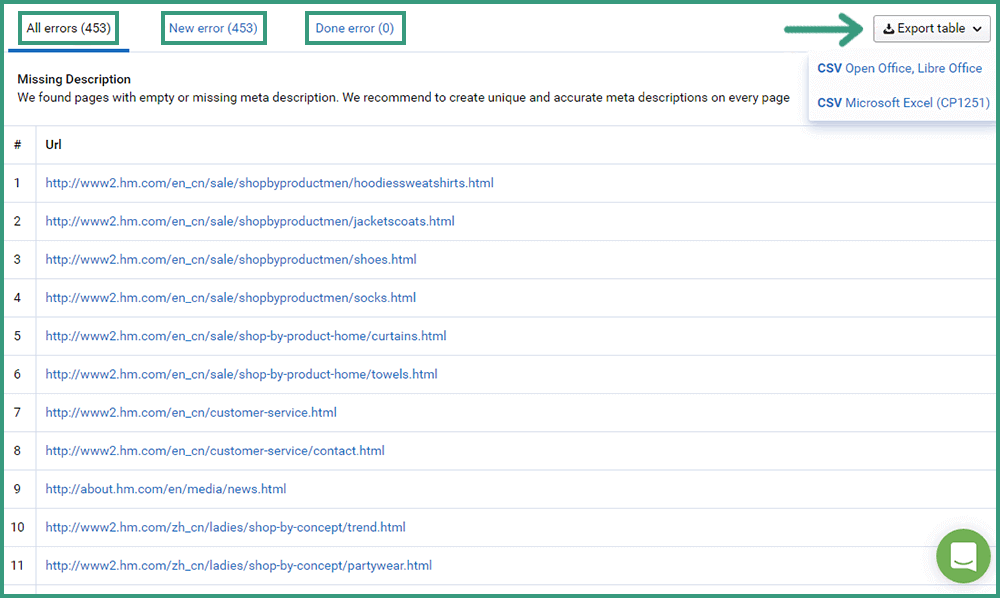 Also, don't forget to check backlinks. They are one of the most important sites ranking factors.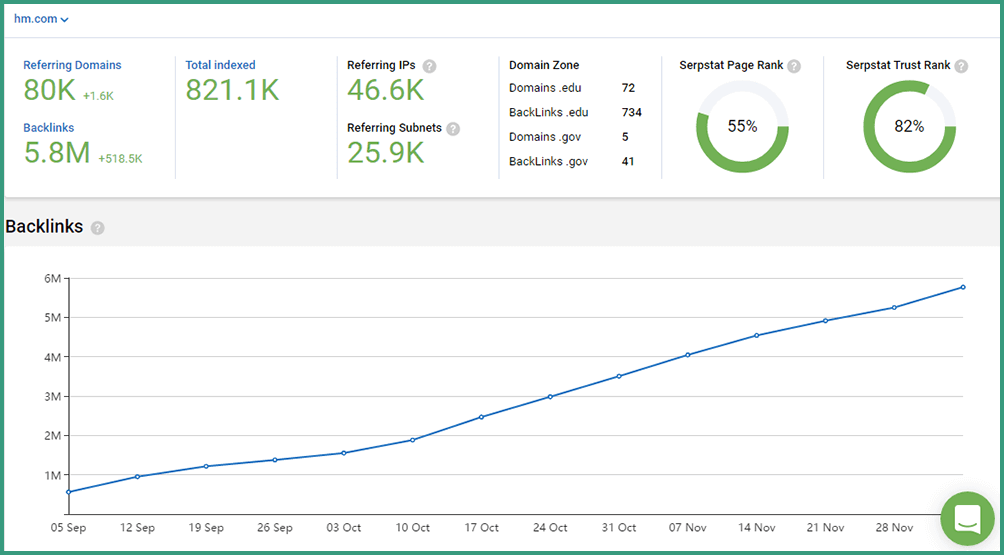 During the audit it is necessary to consider:
1. The number of incoming links.
2. The anchor list – it must be diverse.
3. Types of links – links without anchors or from images are also valuable.
4. Donors' TrustRank – better if the link sources were sites that already have some positive weight on the web.
P.S.
If you want to see your website at the top of SERP, you always have to keep a finger on the pulse. When the search engine algorithms update, your site must match the requirements. You also need remain up-to-date with the latest trends in web design and correct errors on the site regularly.
These are the keys to the success and long-term operation of the site.