Did you know that in 2017, consumers in the US spent $409 billion on online purchases? But wait, that's not the most surprising part. Out of this, $381 billion was spent on products from only the biggest online retailers. That's a whopping 93% of the total spend. Does it make you wonder? Why is eCommerce almost entirely ruled by the big brands? And how do you beat the eCommerce competition as a small store?

Many eCommerce stores lose out of the competition with big brands and are forced to be shut down. It is indeed quite difficult to coexist with huge eCommerce businesses. One common mistake that small eCommerce businesses make is focusing only on their pricing policy. But other than the pricing policy, there are other ways in which a small eCommerce store can compete with the big stores. In this post, we'll discuss 5 strategies that can help small eCommerce businesses stand out and compete with big brands.
1. Write Convincing Content

Other than website design, small eCommerce businesses need to focus on a writing fascinating content. Compelling and engaging content sells itself. To beat the competition, small eCommerce stores need to create a distinctive, alluring and enticing brand personality. This can be achieved through attractive and engaging content, tone of voice and rich visuals. Even if you have a small eCommerce store, it's possible to establish a really strong presence on Instagram. Visual content on Instagram can have a large impact on your potential customers and can drive traffic by convincing them to visit your website. Not only can this help you increase your organic traffic, but also your revenue.
For example, Grace And Lace is a small online women's apparel store. But despite being a small business, they have over 72K followers on Instagram. The store has grown into a full-fledged company with a studio and trademark designs.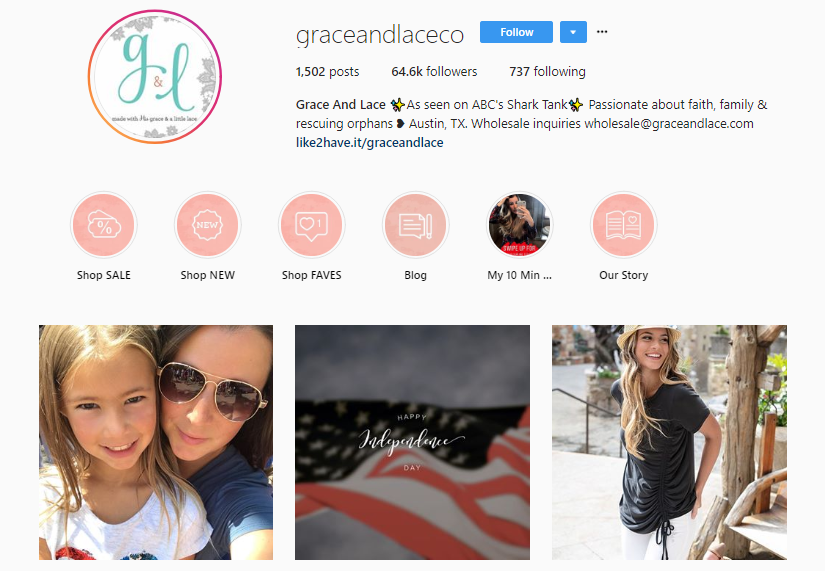 Image Source - Instagram
Attractive content is of utmost importance for small eCommerce businesses because it can boost conversion rates and improve search rankings. Great content also helps to win the trust of your potential customers. So, be creative when writing content for your website and continue experimenting. You can also use A/B testing tools to find out what is working and what is not.
For example, Barefoot Books is one of America's leading small eCommerce companies. It's an award-winning online store that sells children's books and CDs. The website uses attractive images that add value to the overall look of the website. Barefoot Books has managed to develop a unique brand personality, due to which they have generated $5 million in revenue as of May 2017.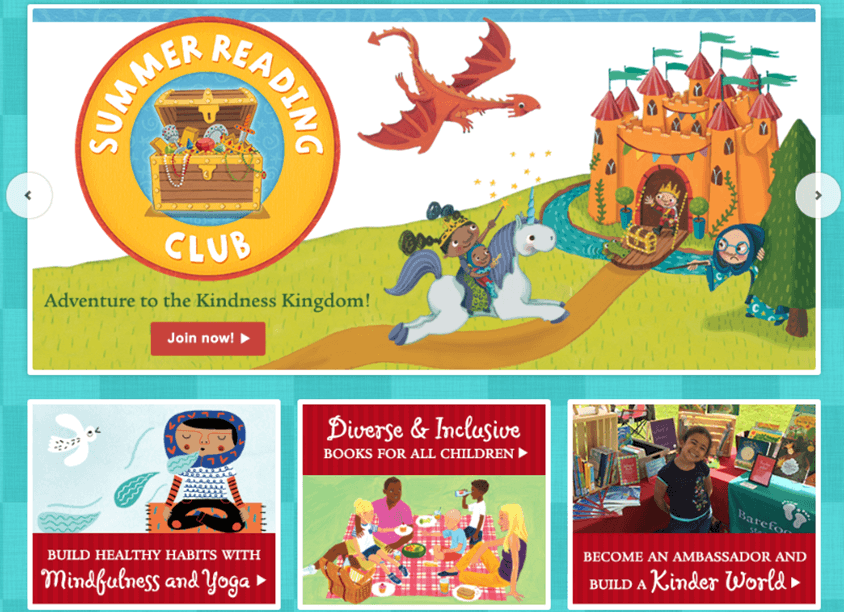 Image Source - Barefoot Books
2. Never Use Stock Product Descriptions

If you own a small eCommerce business and use stock product descriptions, you'll never get any SEO benefits from them. The competition is huge and the only way you can stay ahead is by being unique. Mostly, it's not possible for big eCommerce stores to write their own product descriptions. This is because they have a huge range of products on their website. They do realize the benefits of unique product descriptions but it's not a scalable option for them.

Small eCommerce businesses can take advantage of this fact and beat big brands. It can be quite tempting to use product descriptions shared by the manufacturer. Why? Because it's relatively simple and easy-to-use. But you shouldn't. For instance, the product description for iPad Pro on Argos looks quite nice and concise. But when you search for the product on Google, you'll see that this exact description has been used on more than 40 websites.
Image Source - Argos and Google
This is a stock product description, and something you definitely should avoid using. So invest some time and resources to rewrite such product descriptions. You can use the description provided by the manufacturer as a base and work on it. You need to ensure that you're adding something valuable to the descriptions. Also, make sure that it's different from that of others, and attractive as well. To help your potential customers better understand your products, consider adding quite a few images of the product. You can also add a video that shows how to use it, as well as a 360-degree product view. Think of out-of-the-box ways to present your product descriptions.
Another case: Dorco is a small eCommerce store that sells high quality and low-cost shavers and disposable razors for women and men. They also sell shaving accessories. The screenshot below shows the product description of one of their products - "Dorco Classic Razor."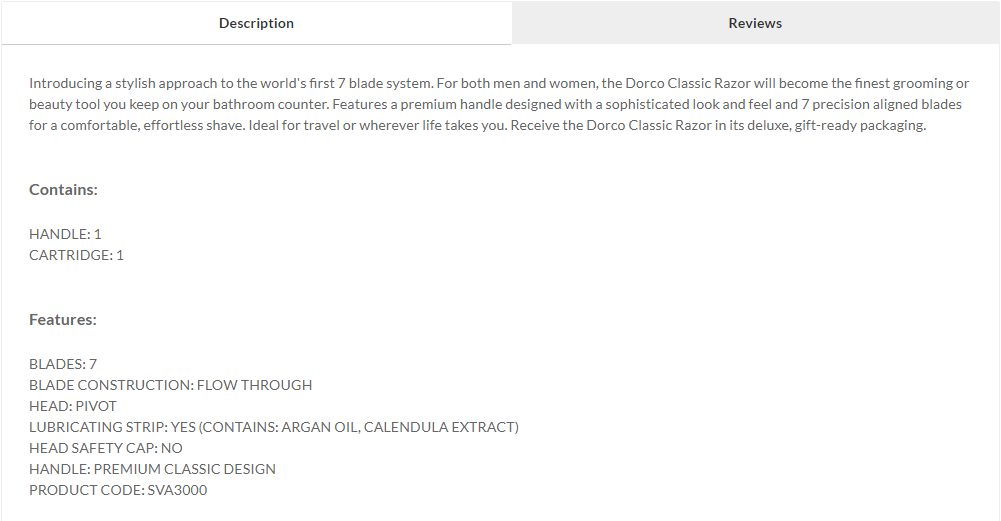 Image Source - Dorco
They have described the product in less than four statements and have mentioned what the product box will contain. Also, they have very clearly highlighted the features of the product in bullet points which makes it easy to understand.
 
3. Design an Attractive Website

It takes a creative mind with a great aesthetic sense to design an attractive website. However, a good-looking website alone won't help you in the eCommerce competition. You need to focus on creating a website that has logical and effective navigation. You must also ensure that you have a great on-site search function. Many small eCommerce stores overlook the importance of having an efficient on-site search capability. For example, Revelry is an online retail store for bridesmaid dresses. When a customer types "chiffon" in their search bar, it shows all their available products related to the word "chiffon."
To make it convenient for the customer, the results are organized into different categories. People can select the desired categories and narrow down their search for the product they are looking for.

Image Source - Revelry

Invest in creating an on-site search function which can support synonyms and plurals. Also, don't forget to include some of the keywords from the features of the products or merchandise. You can even use Google Site Search. Small eCommerce businesses can easily afford it and you can tailor it to support many types of page design.
Another aspect that many small eCommerce websites struggle with is their site speed. You should always optimize the images on your website. This will increase site speed and reduce your page load time. If your pages load quickly, not only can it help you rank higher for searches, but also provide better user experience. Do not overlook the smaller details of your checkout process. First, don't overcomplicate the checkout process. Limit it up to maximum one or two steps. Make sure that shipping costs are clearly visible on product pages (even before the checkout process begins).
Let's consider the same example of Revelry. Below is a screenshot of their checkout process. Once the customer fills in his/her address, it immediately shows the shipping charges for the product.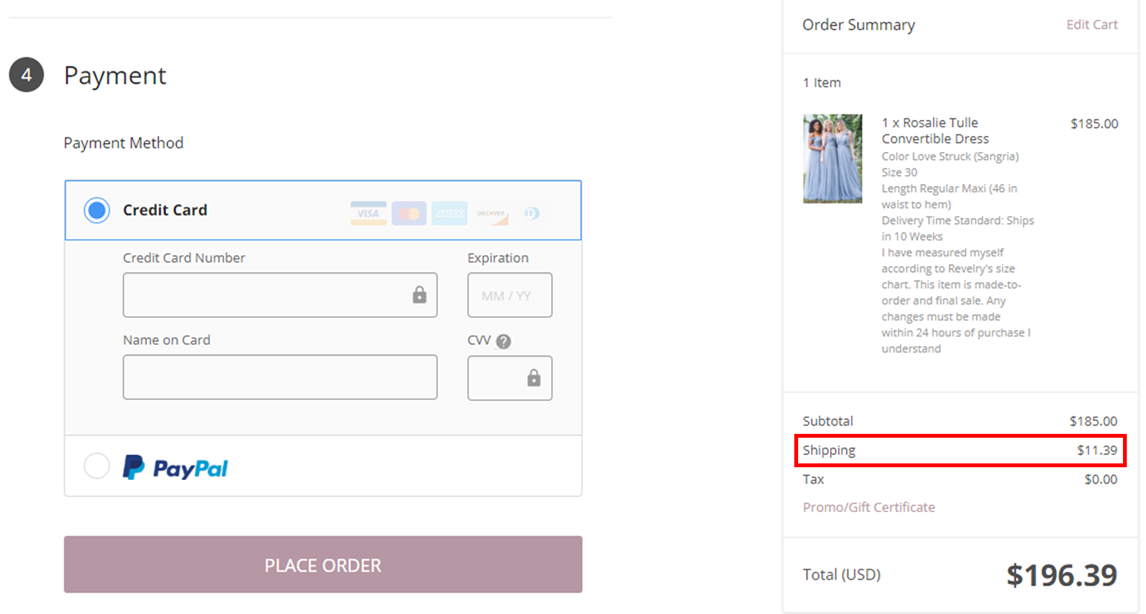 Image Source - Revelry
The customer can pay either with his/her credit card or through a third-party payment gateway. The process isn't complicated, doesn't involve too many steps, and is pretty intuitive.
 
4. Focus on the Right Keywords

Big eCommerce websites have an advantage when it comes to ranking because of two important reasons.
First, they are popular names, so they tend to generate higher conversion rates and CTR.
Second, they have high domain authority and so, rank among the top results of a search page.
However, for smaller eCommerce stores, it's extremely difficult to find a spot on page one of Google. Especially if the website has a low domain authority. So how do you combat this issue? Long-tail keywords are your solution. You must focus on finding relevant long-tail keywords that have a decent search volume and low competition. This can be your secret weapon to stay ahead in the eCommerce competition.
5. Leverage Influencer Marketing

Influencer marketing is one of the most cost-effective ways to compete with big brands. It can help small eCommerce stores gain the trust of their target audience and build credibility quickly. It can also help them increase brand awareness and boost conversions. Collaborate with influencers and ask them to talk about your products on social media. Ask them to write honest reviews of your products, share discount coupons, or run contests to give away your products.
You can also ask influencers if they're willing to publish your guest posts on their websites (if they have a decent domain authority). This can drive high organic traffic to your website and benefit your SEO efforts. A major challenge in influencer marketing, however, is to find relevant influencers. Nearly 68% of companies find it difficult to identify and connect with relevant influencers. Josie Maran Cosmetics teamed up with Kira Paran, a micro-influencer with 56K followers on Instagram, to promote their brand. The post gained 555 likes and many positive comments.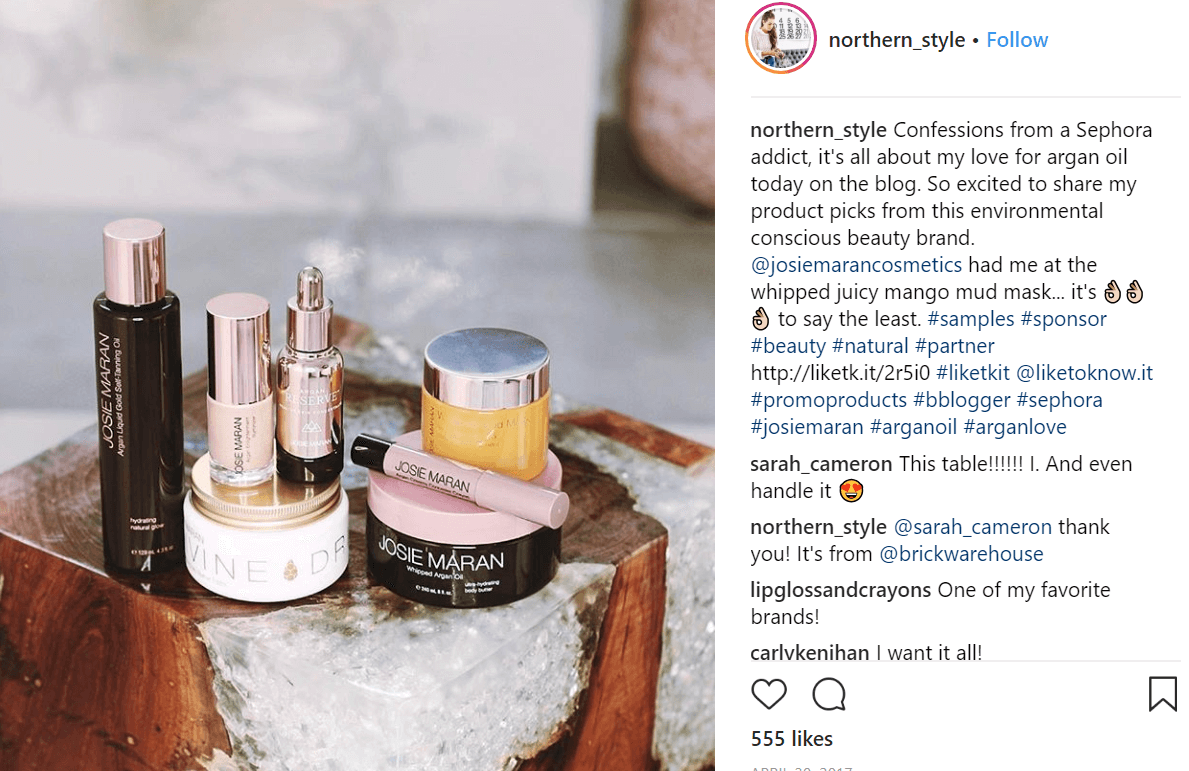 Image Source - Instagram
Are You Ready for the eCommerce Competition?

The above-mentioned tips are not the only effective and simple ways you can compete with big brands. Remember, create an easy-to-use website and use engaging content that's optimized for search engines. Don't use stock product descriptions - instead, invest time to describe the product in a unique style. You could also find useful reading about picking a customer service solution for your eCommerce business. Why not start with creating an eCommerce store first? Go ahead!