Running an eCommerce business can be challenging. Getting things off the ground is probably your first priority if you have just launched your store. Moreover, this issue is not exclusive to only beginners; more established eCommerce companies also need help to achieve consistent sales and improve customer loyalty. 

This is why it's essential to understand the different eCommerce marketing strategies available to you and how they can help you grow your brand and make your business successful. 

Let's start with the basics. What are we talking about when we refer to eCommerce marketing? What are the different channels and tactics, and why is it important to implement on-site and off-site strategies? 
What is eCommerce Marketing?

eCommerce marketing uses promotional tactics to drive more traffic to your website or store, convert visitors into paying customers, and ensure they return for more. Although the end goal is to have more visitors and paying customers navigating to your eCommerce website, your marketing efforts can occur online and offline - depending on the campaign.

Examples of popular eCommerce marketing channels that can help you boost your sales include email marketing campaigns, online marketplaces, search engines, comparison shopping engines, affiliate networks, paid advertising (or PPC), and social media platforms. 

Since channels are not identical and don't always cater to the same audience, you usually combine different ones depending on your goals. For example, while search engines can attract new customers, email campaigns reach users who have already provided you with their information - and social media can target both. 
Top eCommerce Marketing Essentials

You can use several marketing tools to promote your business, drive more sales, and ensure your customers return for more information and products. Below you will find an overview of the best eCommerce marketing tools and a few practical tips to try out in your own store.
1. Run PPC Campaigns

If you are researching eCommerce marketing strategies, you have probably heard of PPC campaigns. Pay-per-click campaigns assume that you (the merchant) pay an advertising fee for every click on your public ad. 

Most PPC ads are featured in a search engine's sponsored links, usually at the top of the page, giving websites a wider reach. To ensure your PPC ads are effective, you should always make them:

• Relevant: They should show users what they are searching for using the best keywords for a topic of interest.
• Targeted: You should choose the ads depending on the users' device and make sure they look great. 

PPC campaigns are a cost-effective eCommerce tool since you are only required to pay after an action has been taken (i.e., a click) and you gain a visitor to your website. This is a fairer deal than just buying ad space, which requires you to pay regardless of whether users click on your ad or scroll past it. 

One thing to keep in mind is that you should always be aware of your ROI, or Return on Investment, which can be calculated using the formula "ROI = Revenue - Costs / Costs x 100". Once you determine your ROI, you will be able to see how successful your PPC campaign really is.

Learn more about PPC Marketing
2. Invest in SEO

The world of search engine optimization is vast and full of opportunities. Once you set up your eCommerce store, a crucial next step is ensuring potential visitors can find it easily. You need to check if search engines are not only showing your content but also ranking higher up so it cannot be missed (you can wait for Google to discover your site or submit your pages to achieve this more quickly).

The way SEO works is relatively simple. Search engines use algorithms to recover data from their engine index and show good results for a query. When you optimize your pages around specific keywords that are important to your business, you are essentially telling Google your content is exactly what users are looking for. 

Ultimately, your goal using SEO should always be to rank in the top positions of a search engine. On average, 93% of online experiences begin with a search, and most customers will only care about the first five or so results - or at least only about the first page of Google. Therefore, optimizing your keywords is crucial to ensure people can find your eCommerce store - making SEO one of the most essential eCommerce marketing tips you can utilize for your online business.

Learn more about SEO Optimization
3. Embrace Email Marketing

Email marketing is a popular strategy for eCommerce businesses, even though some might consider it outdated. The truth is, experienced marketers know this tool can play a significant role in collecting leads and building a community around your eCommerce store.

There are four types of emails you can use to promote your products:

• Email newsletters: These are regular messages sent to your subscribers (weekly, monthly, annually, etc.) They aim to build relationships with your subscribers and turn them into customers. 
• Transactional emails: You send these emails once an action has taken place; for example, after a person buys a product, signs up for a newsletter, or lets them know their trial might be coming to an end. 
• Direct emails: These are messages you send directly to your subscribers to let them know about offers, new products, events, sales, etc. You can think of them as digital coupons or flyers. 
• Cold emails: Lastly, some businesses send cold emails to create new connections and get people's attention. This is a valid tactic if you are just getting started and want to introduce yourself or your company. 

About 90% of emails you send will arrive in a recipient's inbox, while just 2% of your Facebook followers will see a post in their news feed. This is why email marketing is still considered a great way to market an eCommerce business.

Learn more about Email Marketing
4. Focus on Your Sales Channels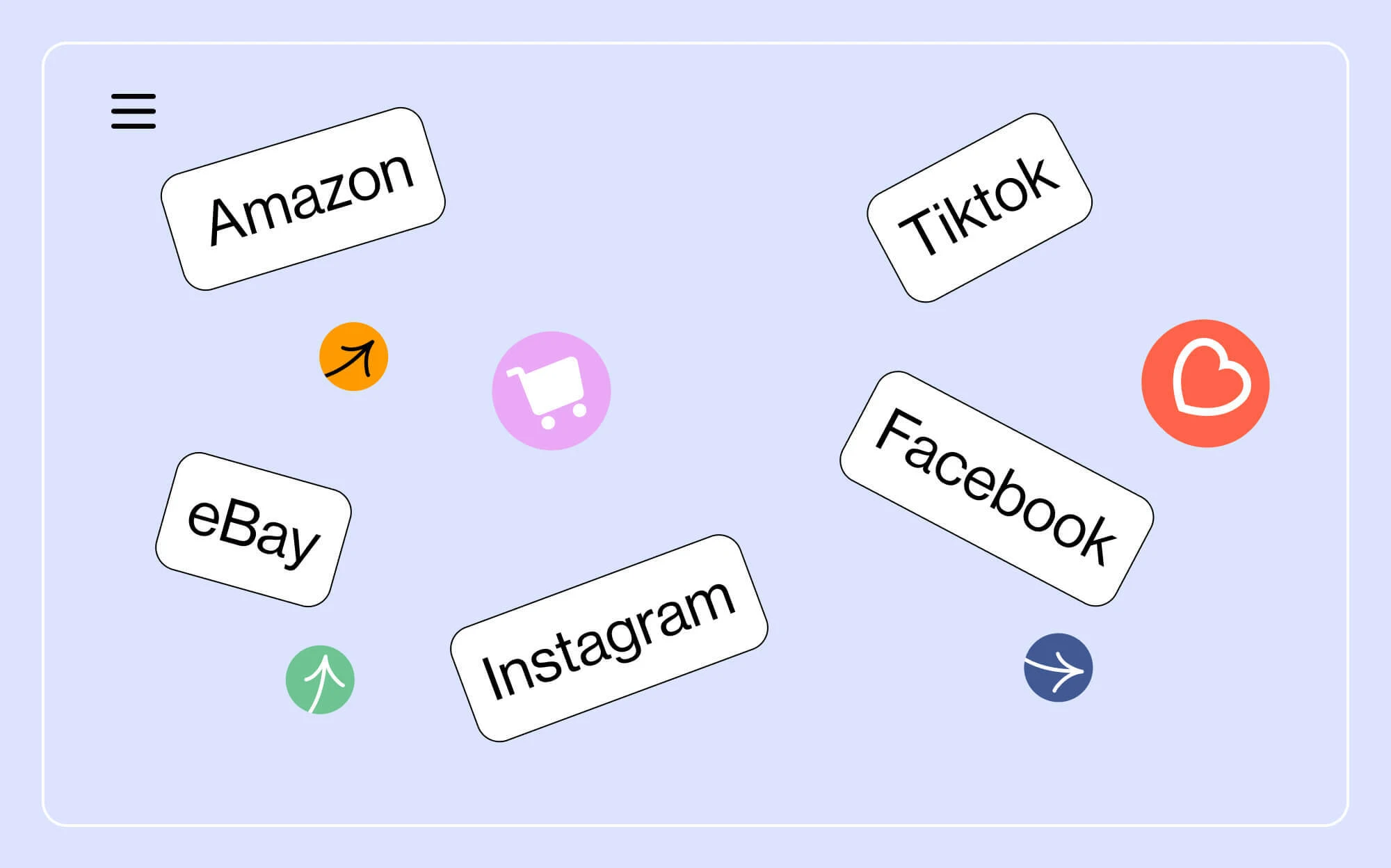 Even when you have created the best, most relevant, and valuable content, invested in SEO, and launched some PPC campaigns, this doesn't mean your eCommerce website can now be left unattended. In fact, the hard work is far from over.

No matter the number of eCommerce marketing channels you use, to create a seamless shopping experience, you will also need to set up sales funnels. Nowadays, purchasing products through multiple platforms is a hallmark of younger shoppers. Naturally, you want to take advantage of this trend, so you should always maximize the use of all sales channels to promote your business.

For example, you can make your products available through:

• Online marketplaces: Think of Amazon, eBay, Walmart Marketplace, etc. These platforms already have huge audiences and can give your product a lot of exposure.
• Social media: Instagram, TikTok, and Facebook all let you sell your products using a Buy button and payment links. In addition to a massive audience, they also provide good metrics to check how your products are doing.
• Retail and Wholesale: You can place your items in a store in a mall or present them in pop-up shops, farmers' markets, craft fairs, etc. The possibilities are almost endless. If you can produce in bulk, you can also sell to other businesses.
• Product comparison sites: Sites like Shopzilla and Pricerunner can help you promote your products and have them link to your eCommerce site.
• Dropshipping: This eCommerce model is all about selling things you don't manufacture yourself, so you don't have to worry about inventory and shipping. 

Learn more about your Sales Channels
5. Launch a Content Marketing Strategy

An essential component of learning how to market your eCommerce business more efficiently is creating and publishing valuable and relevant content to your audience. The goal of your eCommerce website is not only to rack in instant sales but more focused on helping customers become more familiar with a product, understand its benefits and eventually purchase it. 

Anyone can produce content; the key is giving your users valuable information linked to your business goals. Your content should, ideally, persuade a person to take final action, such as buying a product, but you can also use articles to educate and create more brand awareness.

Content marketing is made up of three phases:

• Creation: Create product descriptions, website content, and informative articles to accompany and better explain your offer.
• Publishing: Make sure all pages are available online, and users can see them from any device or browser.
• Promotion: Highlight your best content by promoting it using SEO, social media, etc. 
A content marketing strategy tends to be less expensive than other alternatives, but this doesn't mean it's not capable of having a massive impact on your channels. If your article has excellent keywords, it will improve your SEO. If it's relevant, it will do really well on social media and enhance your brand's reputation. 

This is why it's always a good idea to support your content planning with sound research, write for the audience you want to target, and set clear goals for your content marketing campaigns.

Learn more about Content Marketing
As we've identified above, there are several ways to promote your eCommerce site and your products. The key is to do your research, pick the strategies that go well with your business model, and combine them to gain access to a larger audience. If you do this efficiently, your sales will increase in time. 

Ready to build your online store? Check out Ucraft, our user-friendly website builder, which allows for the easy, stress-free creation of exceptional eCommerce platforms.