Welcome to the third and final part of our Ucraft SaaS Startup Guide series. In the first two parts, we discussed industry analysis for successful product creation, and then the subsequent development and launch stages for a SaaS product. If you haven't checked out the articles or want to refresh your memory, feel free to take a look:
Part 1: Analyzing Industry Demand to Create Useful Products
Part 2: Developing, Launching, and Fine-Tuning Your SaaS Product
However, there's one topic we still need to tackle, and that's how to market a SaaS product after the development and launch stages have been completed.
Due to their convenience, the demand for SaaS products is constantly growing, resulting in higher competition. Consequently, companies providing SaaS should be at the top of their game to thrive and not lose out to their competitors or fall entirely off the map. 
This is where a viable and actionable SaaS marketing strategy comes in. It allows businesses to directly reach the audience interested in their products and forge meaningful connections with customers over time. Therefore, it's essential to understand how SaaS marketing works and what strategies you can use to help your brand grow.
To help you with this, we've assembled a comprehensive guide on what it takes to build a successful SaaS marketing strategy, and we'll start by discussing the basics.
What is a SaaS Funnel?
In short, the SaaS funnel illustrates a customer's journey from discovering your product to deciding to sign up or make a purchase. On this path, it's necessary to consider all the customer's needs, questions, and motives for making the final purchase decision. That being said, applying the sales funnel concept means identifying how a customer decides to make a purchase and then using this information to build communication with them.
Remember, the SaaS sales funnel is more complex than simple eCommerce platform marketing: it has more steps, and most of the everyday actions take place in the CRM system instead of directly on the website.
How to Market Your SaaS Business Effectively?
Marketing your SaaS business is by no means an easy feat. It requires time, effort, resources, and careful planning. To help you navigate the world of SaaS marketing, we have gathered a list of SaaS growth techniques and channels to compete, survive, and thrive in the software industry.
Top SaaS Marketing Techniques
To begin marketing your SaaS marketing journey, you need to step back and understand the outcomes you want to achieve. After that, research and pinpoint some of the highest-performing SaaS marketing techniques and how to use them to achieve your goals.
To help you out, we've compiled a list of some of the most effective techniques below:
1. Implement a Content Marketing Strategy
Many veteran SaaS marketers use content marketing to build brand awareness, drive visitors to a website, and increase software subscriptions. In addition, it is essential to educate potential customers about your SaaS product so that they know exactly what benefits they'll receive. Research demonstrates that people are 131% more likely to buy from brands that have educated them through their content. 
2. Focus on Email Marketing
Although some people may claim that email marketing is no longer relevant, this is far from the truth! To this day, email marketing campaigns make up an integral part of any marketing strategy while also being a highly effective tool for sales. Whether you want to focus on customer retention or achieve exceptional ROI, email marketing can help you grow your SaaS business. However, once you decide to implement emails into your marketing strategy, you need to consider your brand requirements since this ultimately determines the tools you choose.
3. Don't Forget About Search Engine Optimization (SEO)
When it comes to increasing organic traffic to your website, SEO plays a fundamental role. Typically, you need to focus on two categories: on-page and off-page SEO. An effective combination of these two strategies has helped companies attract millions of visitors organically, and some of your most successful competitors have put a lot into their SEO strategy. You can do the same by conducting thorough keyword research and optimizing your website accordingly. Over time, you will also need to focus on key points such as website protection, bot integration, user experience, etc.
4. Offer Free Trials to Gain Subscriptions
Offering potential customers free trials is one of the fastest ways to get more software subscriptions. However, after a free trial, your customers may want to shift to purchasing a paid plan, which means you should keep a close eye on payment methods. Thus, the chances of a potential customer switching from a free trial to a paid one are pretty good if you play your cards right. If you plan on making multiple business transactions and receiving payments, consider online payment software for more organized operations. Free trials are a great tool to promote your product as they help users understand it better and show them why they need to sign up for the paid version.
5. Connect with Your Users
Once a user signs up for a free trial of your software, try to connect with them. This will help build trust towards your brand and allow the user to ask questions about the product. Use customer support tools like phone support or live chat to make that connection possible. Be sure to contact your customers before the last day of the free trial. At this point, the user is less likely to answer your call! Communicating in the audio chat is another way that works better than just chatting.
6. Offer a Free Demo
When you're selling SaaS, offering a free trial is not always enough. If the software is advanced, enable a free demo and show your potential customers the ropes. This will not only help them use your software but also give them more confidence and increase their chances of purchasing the product after the trial period ends.
Moreover, before offering a demo, make sure you have a chatbot solution readily available for users considering making a purchase.
7. Build a Solid Social Media Presence
Over 200 million businesses use Facebook to connect with customers, and 57 million companies are on LinkedIn. So, if your SaaS company isn't listed on social media platforms, you are missing out on many opportunities. Nonetheless, the choice of social media channel depends on where the target audience lives.
Let's say your target audience is active on Instagram or maybe even TikTok. You can conduct influencer marketing research and find influencers from your niche that will be happy to be sponsored by you or spread the word about your service. Likewise, you can also set up platform-specific ads and promoted posts to spread brand awareness. Hang on because we take a deeper dive into social media marketing further in this article.
Best SaaS Marketing Channels
As you work on your SaaS marketing strategy, a key aspect is the marketing channels you use. Depending on your goals, some channels may work better than others. Therefore you must know what exactly it is that you want to achieve. For example, if your target audience is not on Instagram, dedicating resources to that platform is not the best decision.
Below, we look at some of the widely-used channels for SaaS marketing.
1. SEO and Content Marketing
The first channel is SEO and content marketing. We combine these two as they are very often linked. SEO is the process of optimizing your website based on keywords people search for when they look for a similar product to yours. Properly optimizing your website will allow you to appear in search results of Google and other search engines when people look for keywords you are targeting.
Likewise, content marketing is the process of creating high-quality keyword-optimized content, such as landing pages and blog articles, that attract the attention of search engine crawlers.
SEO is a long-term promotional strategy that requires an investment of time and effort, but the results will benefit your brand in the long term. Therefore, you must develop a comprehensive SEO strategy based on your goals and business needs. Before you start developing your strategy, check the Google ranking of your website to see where your website stands.
2. PPC Advertising
The second channel is PPC or pay-per-click ads. As the name suggests, when running PPC ads, you pay only when someone clicks on the ad and is redirected to your intended website. One of the most popular forms of PPC is search engine advertising, such as Google, YouTube, and Bing ads. PPC is a great way to spread information about your product among target audiences and increase sales and conversions. 
3. Email and Retention Marketing
The third channel is email and retention marketing, which is commonly divided into three subcategories:
The first subcategory is internal retention marketing. This includes emails, push notifications, chatbots, and on-site chats for those users who left contact information. As mentioned previously, email marketing should not be underestimated. It is an excellent tool for marketers as it helps with customer retention and builds a bridge between customers and brands through catchy email subject lines and engaging content. All you have to do is choose the right email marketing tool that fits your budget. 
The second subchannel is external and cold sales, also known as Cold Email Sales.
The third and last subchannel of email and retention marketing you should know about is cross-promo with partners.

All these communications of internal retention marketing are aimed toward the following goals:
- Converting leads into buyers;
- Reducing churn and extending the subscription period;
- Increase in average earnings per client, ARPU (average income from one active user for the period);
- Stimulation by referral program and recommendation to other potential clients.
When it comes to email marketing, you must ensure email deliverability, SPF records, great messages, etc. These will complete your campaign and make it more efficient in the long run.
4. Social Media and PR
The fourth channel is social media marketing and PR. Here we are talking about organic reach on platforms like Facebook, YouTube, and different media outlets. Of course, your success will depend on the quality of the content you create and its distribution. Usually, this step involves creating content on social media and working with journalists, opinion leaders, and partners to showcase the benefits of your company and product.
5. Affiliates and Referrals
The seventh channel is affiliates and referrals, which involves working with partners and encouraging users to invite colleagues and friends. It also requires cooperation with influencers or users and offering them commissions in exchange for attracting customers. Here's an example of how it works: the person who wants to participate in your affiliate program gets a unique link to your schedule. Then, every time someone purchases the link, the referrer receives a small percentage of the sales.
Learn More About Ucraft Affiliate Program
Social Media Marketing Mini Guide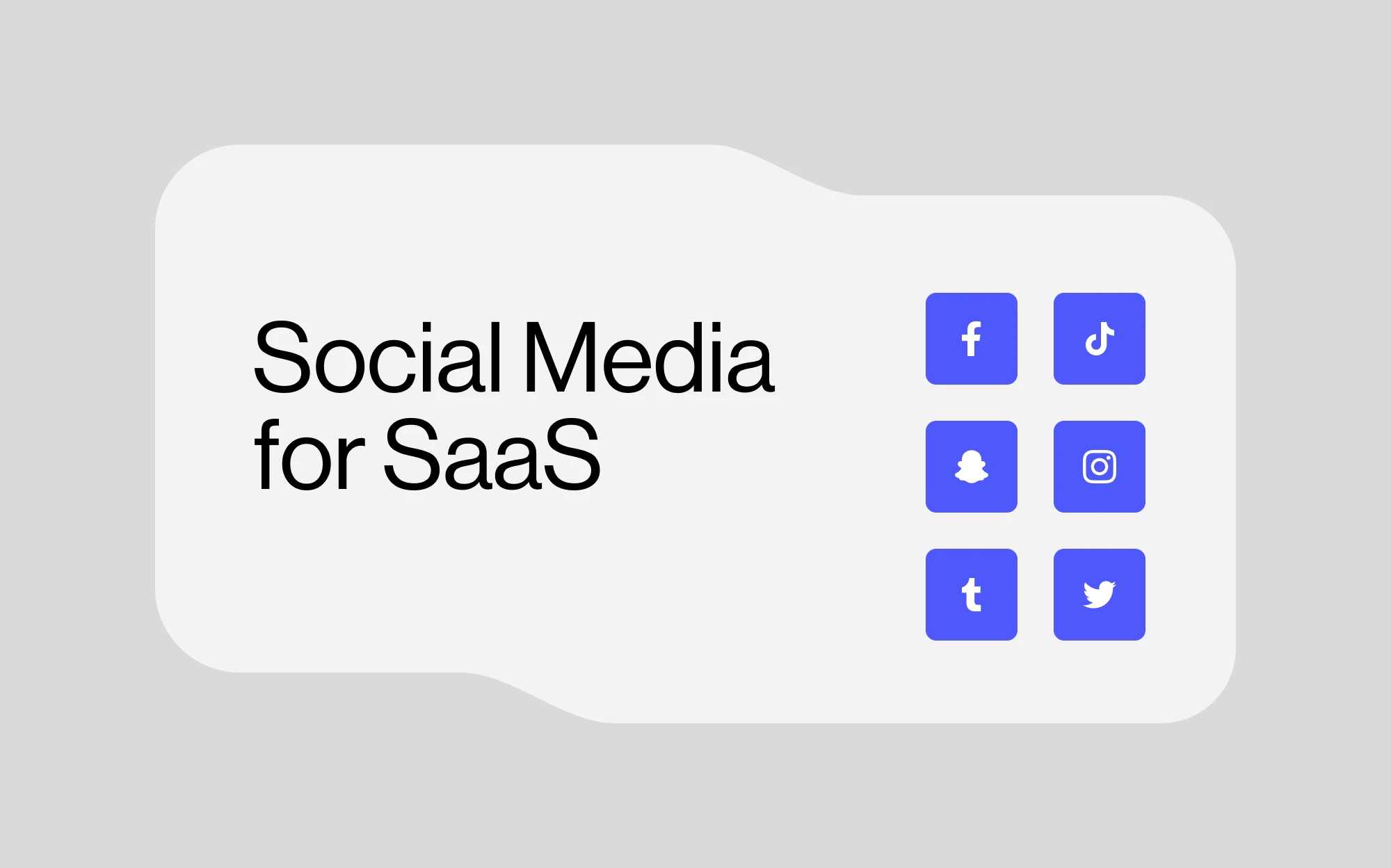 Social media plays a unique role in any marketing strategy, targeting business (B2B) or direct customers (B2C).
Empowering the proper social media channels, tools, and approaches can increase the digital presence of your SaaS product, reach the right audience, and raise your brand awareness.
Social media is also a great source of valuable information about your audience and how they interact and perceive your business.
The reason social media works well for SaaS companies is that your customers are already there. For example, millennials (people between the ages of 23 and 38) are considered the most influential consumers globally. They are very active on social media, and you take their interests into account to discover new products or improve your product.
1. Be Close to Your Audience
Before starting to build a social media presence, you need to choose which platforms are suitable for your SaaS product:
1. Find out where your audience is located;
2. Research and plan which channels you have the most potential customers through;
3. Of course, you only want to invest time and resources in those that promise a higher return on investment.
2. Choose the Right Social Platform
To choose the right social network for your business, you must thoroughly understand your target market and the product you offer.
Facebook
Facebook is a highly popular social media channel, ideal for B2B and B2C customers. While it's true that Facebook has an average of 1.82 billion people who use the social network daily, it has excellent tools for targeting audiences and creating effective ad campaigns. What's more, your very presence there will increase your brand awareness as customers looking for your brand will find some validation of your business. Facebook is also excellent for getting customer feedback and discovering gaps or inefficiencies. 
LinkedIn
If your SaaS product is primarily for other businesses, you must go to LinkedIn. A social networking site for professionals is a great place to connect with people from different industries and showcase your product or service.
YouTube
YouTube can be convenient for your SaaS business. You can create various sections such as tutorials, training courses, or any other valuable content you can share with your clients. If you've launched a new version of your software or developed new features, your customers will find watching videos easier than reading blog posts about it. And if you don't have the necessary technologies for making videos, start a podcast and upload it to YouTube.
Instagram
You might think there are better places to promote your SaaS product than Instagram, but you could be wrong. Instagram is now one of the most essential and fastest-growing social channels, making it a great place to present your product more engagingly. Known primarily as a visual platform, Instagram offers a plethora of ways to promote your brand there, from short video reels to influencer corporations. This popularity of the platform has given rise to many Instagram influencers in different niches, so one of the strategies you can use is influencer marketing.
Twitter
Twitter is where you can engage with your audience and build brand awareness of your SaaS product. In addition, you can share news about your company or publish articles from your blog.
Another good practice is following other industry leaders or brands and replying to their tweets or retweeting helpful information. If your brand voice permits it, you can even post a meme here and there to increase your chances of going viral.
SaaS Marketing Metrics and KPIs
Data is the life force of any business strategy, from marketing to finance. Any additional data can empower you to make better decisions and help your business grow faster.
To develop a profitable growth strategy and identify points of success, the team needs to understand what SaaS metrics and KPIs are, know their types, track them regularly, and learn how to obtain insights from analytics.
What's the Difference Between Metrics and KPIs?
A metric is a number you can count, for example, the number of active users, transactions, followers, etc. KPI is about percentage and is a critical performance indicator with a particular norm. So, for example, by comparing your actual indicator performance with the market average, you can summarize how your business performs.
Here are some critical metrics you need to consider when developing your marketing plan. They combine SaaS financial metrics, sales, customer success, and marketing metrics, providing insightful information for you to act on.
• MRR (Monthly Regular Income);
• Annual recurring income (ARR);
• Churn rates;
• Gross Profit, Cost, EBITDA SM, Rule 40.
This list of SaaS metrics lets you quickly gain insight into overall performance and where things will go.
Understanding Lead Generation and Customer Acquisition
Lead generation is about attracting potential customers by collecting their contacts and additional information. It is essential to understand that the lead is precisely the potential client who could interact with the company, not already doing it.
Since lead generation is considered a process of attracting potential customers, a person can become a lead only if they saw an advertisement for a product and became interested in it or otherwise showed interest in a company offering goods and services. Therefore, the more people are interested in a particular company's products, the more opportunities the company has to get the maximum number of customers.
Potential clients can be divided into three groups: cold leads, warm leads, and hot leads. They differ depending on how much the lead has formed a need for a particular product.
Lead Generation Workflow
The standard lead generation flow consists only of two aspects.
First is the source from which the stream of potential customers will come. It is essential to distinguish this so-called traffic from the lead itself. 
The second is the transformation of the existing traffic into conversions. Most often, companies will use their official websites or create separate landing pages for this purpose.
Customer engagement is the process of building long-term relationships between the brand and the customer. For example, almost any offer or business publication is crucial for attracting and engaging customers. And the fiercer the competition in a particular business area, the more innovative marketing plays a role in customer engagement.
How to Create and Manage a SaaS Marketing Budget?
For your SaaS marketing campaign to reach its goals, effective budgeting is the key. How much to spend on your marketing determines the successful image of your brand online. 
How Much Should You Spare for Your SaaS Marketing Budget?
Digital marketing has no set limits on how small or large your business should be. Therefore, before you determine the amount you would be setting aside for your marketing strategies, the following guidelines will help you make the correct decision.
1. Marketing Budget Benchmarks
The company should first determine its nature of service, whether it would be catering to the final consumers or businesses. If the business needs marketing to other companies, the budget should be 2% to 5% of the revenue. This allocated amount should double to 5%-10% if the business markets to consumers.
The above-mentioned average benchmark should be used and tailored around the goals and resources of the business so that an effective budgeting plan can be made. For example, if you have SEO, Social Media, and PPC in your marketing strategy, you must determine which channel requires the most investment.
Your marketing budget plan should include the following key factors:
2. Content Creation
In the digital sphere, content is still a big priority, resulting in most marketers spending a large portion of their budget on content creation. The section of creative content includes images, photography, videos, rental locations as props, graphic designing, copywriting, editing, translating, etc. Likewise, a good portion of SaaS companies are now focusing on user-generated content, which also requires time and resources.
The cost of content depends on how customized your content is. For example, free stock of photographs can be obtained from various free sites. However, for a personalized approach, you will need to hire a photographer.
3. Software and Tools
Tools and platforms are a part of most marketing campaigns. For social media campaigns, you'll need to use social media scheduling tools to ensure your content goes live at the right time. You'll also need design and editing tools, competitive analysis tools, SEO tools, etc. Make sure to calculate all of this and include them in your marketing budget.
Moreover, you should be as professional as possible when it comes to business operations regarding money, payments, and transfers. There are different options for making invoices online, creating payment sheets, and other activities.
4. Payment Options
When preparing your marketing budget, you must consider the payment options. As part of your marketing efforts, you will probably be working with many different brands and individuals, so ensuring a proper payment process is essential. However, this can be tedious, primarily if you work with overseas companies or freelancers: money transfers can take days, and taxes and payment fees can too.
Another critical aspect to take into account when considering your payment options is data security. Unfortunately, with the rise of payment methods, there was also a significant rise in data breaches and money leaks. However, this is one of the reasons many businesses have begun to accept cryptocurrency payments: because of safe and fast transactions. For example,  consider Coinbase, a high-profile cryptocurrency exchange platform available in over 100 countries for secure transfers. Besides, if you have other wallets, you can connect them to your crypto portfolio tracker to track your crypto assets from one place.
Bottom Line
SaaS marketing consists of different methods, tools, and techniques, so navigating through them diligently is essential. Keep in mind that the monthly increase in the number of visitors on your landing page means nothing if none of them end up becoming a lead and a client. And if you've doubled your customer acquisition efforts, but your churn rate has tripled, then you're in trouble.
Effective SaaS marketing is highly specialized, so understanding what you are dealing with is much more critical. And don't forget successful SaaS marketing depends on a solid understanding of your internal economy.
-
If you're interested in entering the SaaS industry, especially website building, but remain unsure of where to start, you can establish your own website builder business with Ucraft via our White Label program. Using our builder, you can design multiple websites for your clients, but the branding will remain 100% yours.