"Instagrammable" is not just a social media term anymore, casually thrown around. It has made the Oxford English dictionary, defined as "visually appealing in a way that is suitable for being photographed for posting on the social media application Instagram". 
This suggests that having a strong presence on Instagram is no longer just a choice for brands and businesses - it must be a staple in your digital box of weapons, so to speak. And if that is not enough, you should know that, compared to other social media platforms, Instagram has the highest audience engagement.
If, just a few years ago, businesses were discussing the idea of including Instagram into their social media strategies, now, the discourse has changed. It has become the prime channel to build your brand and engage existing and potential customers. Thus, learning more about how to get more followers on Instagram is a must for your marketing efforts. 
If you're here to power up your Instagram presence, you're on the right track. Let's dive in. 
1. Identify and Implement Your Style and Theme

Once you set a tone or theme, it can be challenging to alter it halfway through. Thus, the tone you set for your Instagram page should reflect what you want your audience to associate your brand with. What's the tone, you ask? It's your style, the overall mood and the feel of your feed. Are you going for a more dark, classic black-and-white kind of look? Or eccentrically colorful and bright? Or maybe more natural-looking images and a minimalistic style is what you're looking for? 
Regardless of the choice you make, you definitely need to decide on a color palette and the type and style of your photos/videos to share with your audience.
We believe examples are the best way of obtaining a clearer picture. So let's go over some Instagram accounts and understand the vibes they're sending out. Welcome to Ucraft's Instagram page. As you can see, we're all about creativity, eye-catching colors and artistic solutions.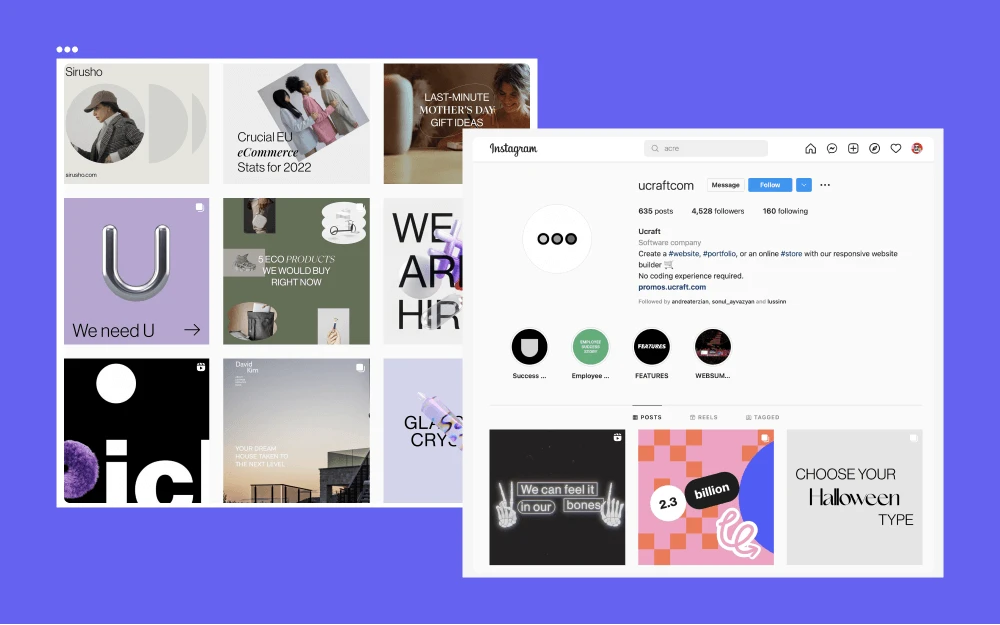 Now, if you take a look at each brand's Instagram feed you'll see a very distinct color scheme and get the overall feel. With that, brands are able to maintain a consistent message. So, what you need to do for your Instagram pictures, is to develop a unique style. An easy way to achieve this is to use similar filters, brightness/contrast levels and color schemes, since these aspects will act together to create your brand's signature look and feel. 
2. Create and Share Relatable Memes, Reels and Stories 
Relatable memes, shareable reels and humorous or heartwarming stories encourage your followers to engage with you and increase your follower count. This approach also adds up to your style and tone and gives you a wider pallet of ways to create your own style through memes and stories.
Moving on to the theme in your content: what is the core essence of your posts? Ask yourself, what do you want your account to be known for? Does your brand have any strengths or signature aspects worth showing off? For example: tight-knit employee culture, industry innovation, aesthetic office spaces, out-of-office activities, praise from others in the same sphere, partnerships, dedication to hard work, etc. 
Identify your strengths and signature aspects, whatever they may be, and post regular memes, reels and stories regarding those things. Keep in mind that your feed needs to be catchy and descriptive to hook your visitors the second they view your account.
3. Use Relevant Hashtags

Even though everyone wants to have a feed that is easy on the eyes and exudes a certain vibe, that's not enough for your brand. Users should also be able to find your Instagram account with no hassle, correct? So, do not forget about hashtags - the stronger and the more relevant, the better! Keep in mind that your hashtags should be: 
• Descriptive – i.e., convey brand's essence
• Categorized – refer to the industry you're in
• Expertise – show what your brand specializes in
• Community – reflect your community
• Location – display where you are located 

Generally, two-word hashtags are better targeted than one-word hashtags, like #websitebuilder. So better go for those.
4. Learn Perfect Timing 

Another crucial aspect of creating an engaged Instagram following is posting at the right time. One way of achieving this manually is analyzing what has and has not worked for your account in the past. 
But if you want more of a professional approach, find tools that can do that job for you. You will get a detailed analysis of your posting history and engagement in the optimization section. That way you can find the best time of the day as well as the best days of the week to post. 
5. Consider Influencer Marketing

With the rising power and popularity of influencers and influencer marketing, it's evident that working with these social media celebrities can really boost your engagement. Influencers usually have strong communities around their personal brands, allowing them to influence their audience to follow, like and even choose certain brands and businesses. This has become especially relevant following 2020, since more people are online now than ever before. 
A post, story or reel from an influencer describing how much they liked your product will drive their following to your Instagram account. And you will get users that are already interested in what you do to your zone.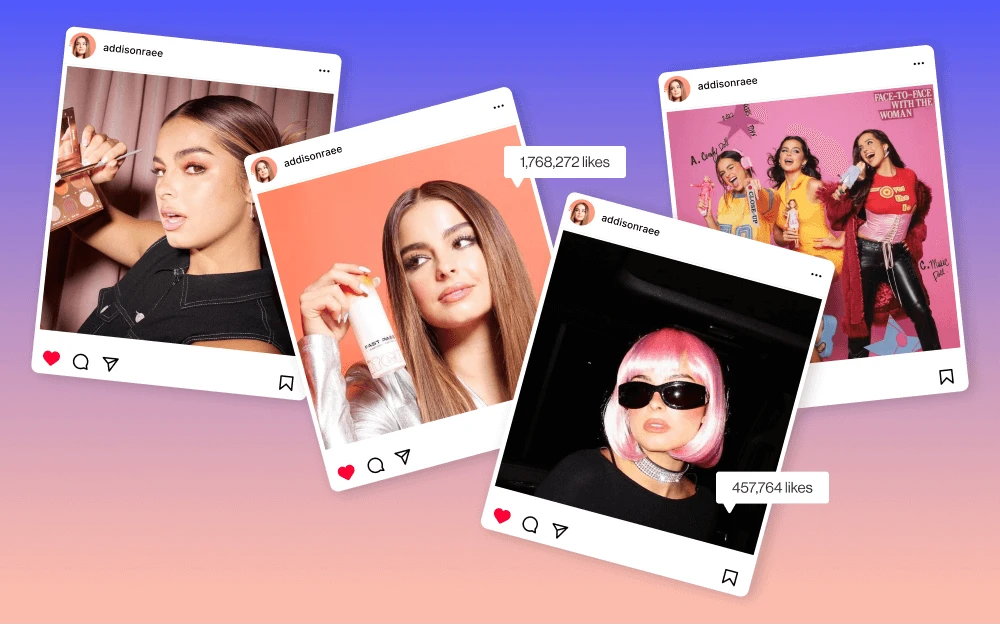 6. Implement Cross-Channel Promotion

When you're done creating your curated Instagram account with quality content and images, it's time to promote it on other networks. If you're here, you might have already checked out our SMM guide (if not, give it a read) and have other social media accounts like Twitter, Facebook, LinkedIn and other channels. If this is the case, use this to your advantage and link your Instagram account on your pre-existing social media channels.
Do not undermine the efficiency of cross-channel promotion: simply adding the Instagram social icon to other channels or, even better, on your website will drive your existing audience to check out what it is you're doing on the popular image and video sharing platform. 
If you don't have a website yet, we suggest you create one with Ucraft - an intuitive drag-and-drop website builder that doesn't require any coding or design skills. After your website is good to go, simply link your feed through an Instagram "Follow Us" icon which will redirect your site visitors to your Instagram account. And that's not all: you can also embed your Instagram feed directly onto your website. 
Wrapping Up! 

Instagram is a precious promotional tool and should not be taken for granted or saved for a later date - especially in the current social media climate! You can be sure that, with the right Instagram marketing plan, you can build an engaged Instagram following and drive awareness, traffic and sales to your brand. But make sure to stay true to your brand: share content that reflects your brand's personality, conveys certain emotions and makes your users feel like they are a part of your story.