When someone is looking for a new job, they often check LinkedIn for probable vacancies to send a CV. What if this "someone" is not a person, but a company. Companies, like people, are looking for opportunities with new partners, that is why making B2B marketing on LinkedIn has become a very important issue. First, you need to learn how to create a company page on LinkedIn. But don't get disappointed after creating a business account and smugly waiting for an abrupt growth of your sales, you'll get nothing. Because having a boat is not enough for a journey to the LinkedIn ocean. You need to learn how to sail it.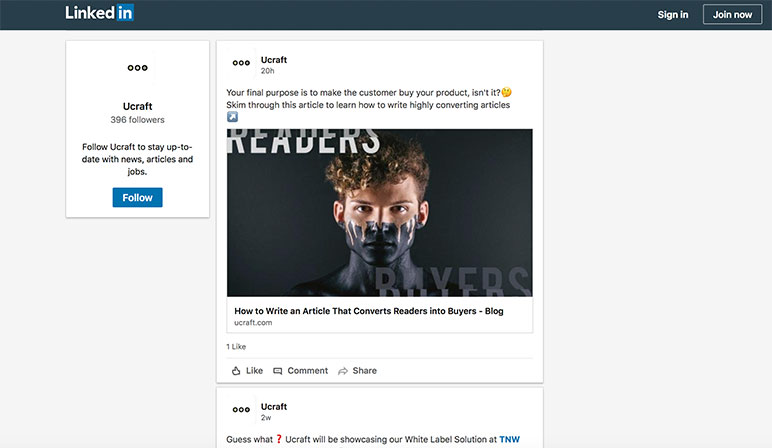 Here's an interesting fact: nearly 80% of all business' social media leads are generated via LinkedIn, and 94% of B2B marketers use LinkedIn to distribute content. With special tools and features, you can plan LinkedIn business strategies and make real conversions and lead generations. But first, you have to learn to sail and eventually become a shipmaster. And if you do not pay due attention to all the main laws (mostly, unwritten) of sailing a boat, your LinkedIn Business page will be lost in thousands of portfolio profiles. So, here are 7 best marketing solutions to promote B2B on LinkedIn, to engage more customers and to generate more leads.
1. Grab user attention with cool images
What do your eyes catch first: text or image? Visuals, right? And B2B company representative is only a human, after all. So you have to grab attention with an interesting image, spiced with a catchy and capacious message. But don't overload with words, remember to provide with specific and interesting information, and if users are interested, they will check the whole post. The same applies to the header image.
Note: When choosing the best style and design, always keep in mind your audience and industry preferences.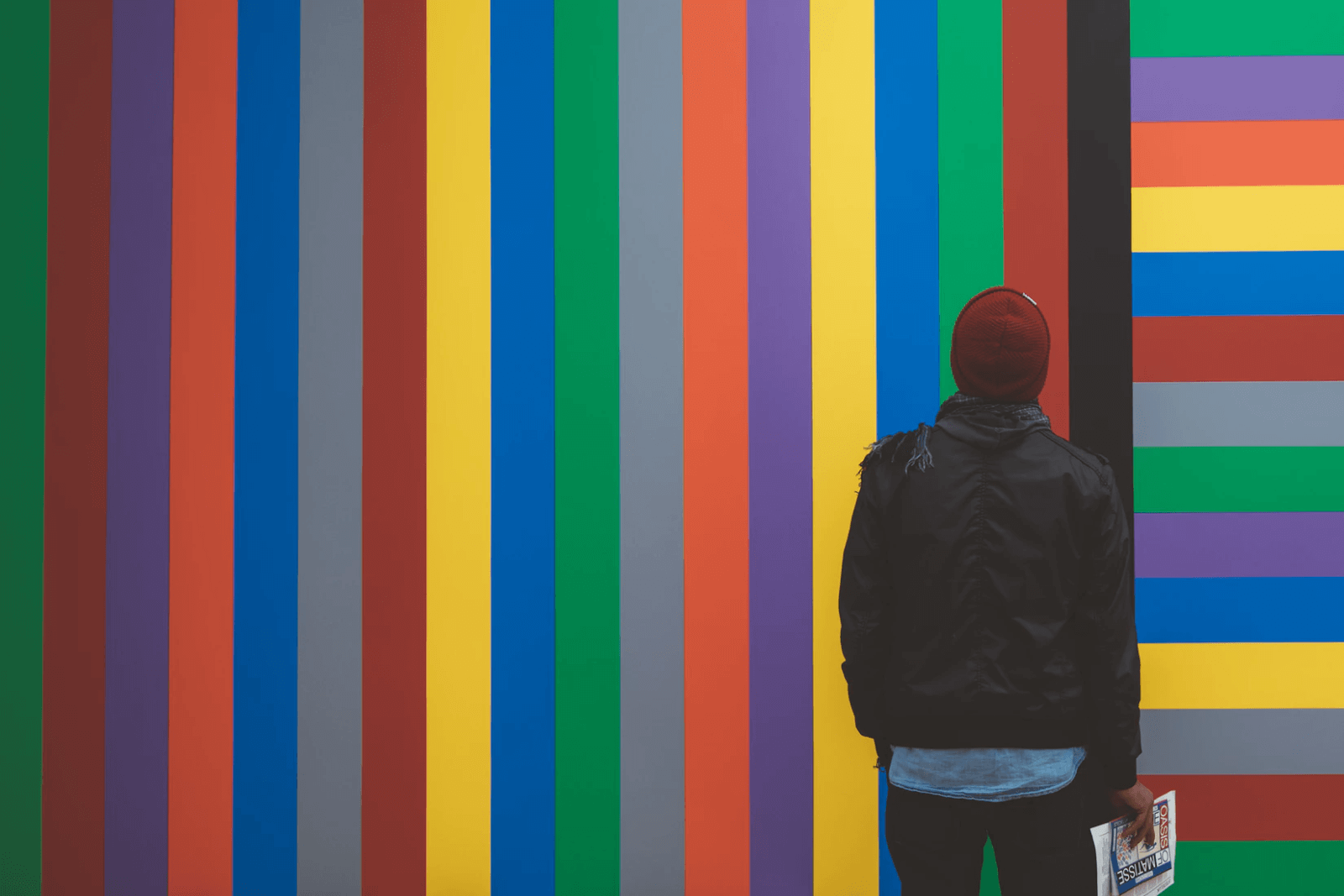 2. Let your info bring you leads
First, you have to think of your LinkedIn account not as another platform just to represent your business or company. It is an effective portal leading directly to your company website. Your priority here is to structure the page in such a way that anyone can easily teleport from this portal to your website or any other page you want. Conversion has to start from your company description and continue with the latest updates on specific products or services. Only a few B2B marketers remember about this simple, yet very effective trick.
Note: Having a LinkedIn Business page means that when your potential business partner wants to shorten the distance between you, your first step is to offer clickthroughs.
3. Your description must be simply perfect
Yes, the description is the face of your company. It is the part of the profile, that many users check in the first place. But LinkedIn B2B market doesn't like beautiful and abstract sentences. It's a mistake to put self-glorification in the first place: how many offices you've opened, how many employees you have, who are your partners.
B2B specialists want to know what you have for them. What are you offering? Be specific. Don't be shy, try to convert. And only after checking important information, users would want to know more about you: how reliable you are, how many partners and offices you have…
Note: The trickiest part is to try to intrigue the user with the first two lines, to make users click on "See more".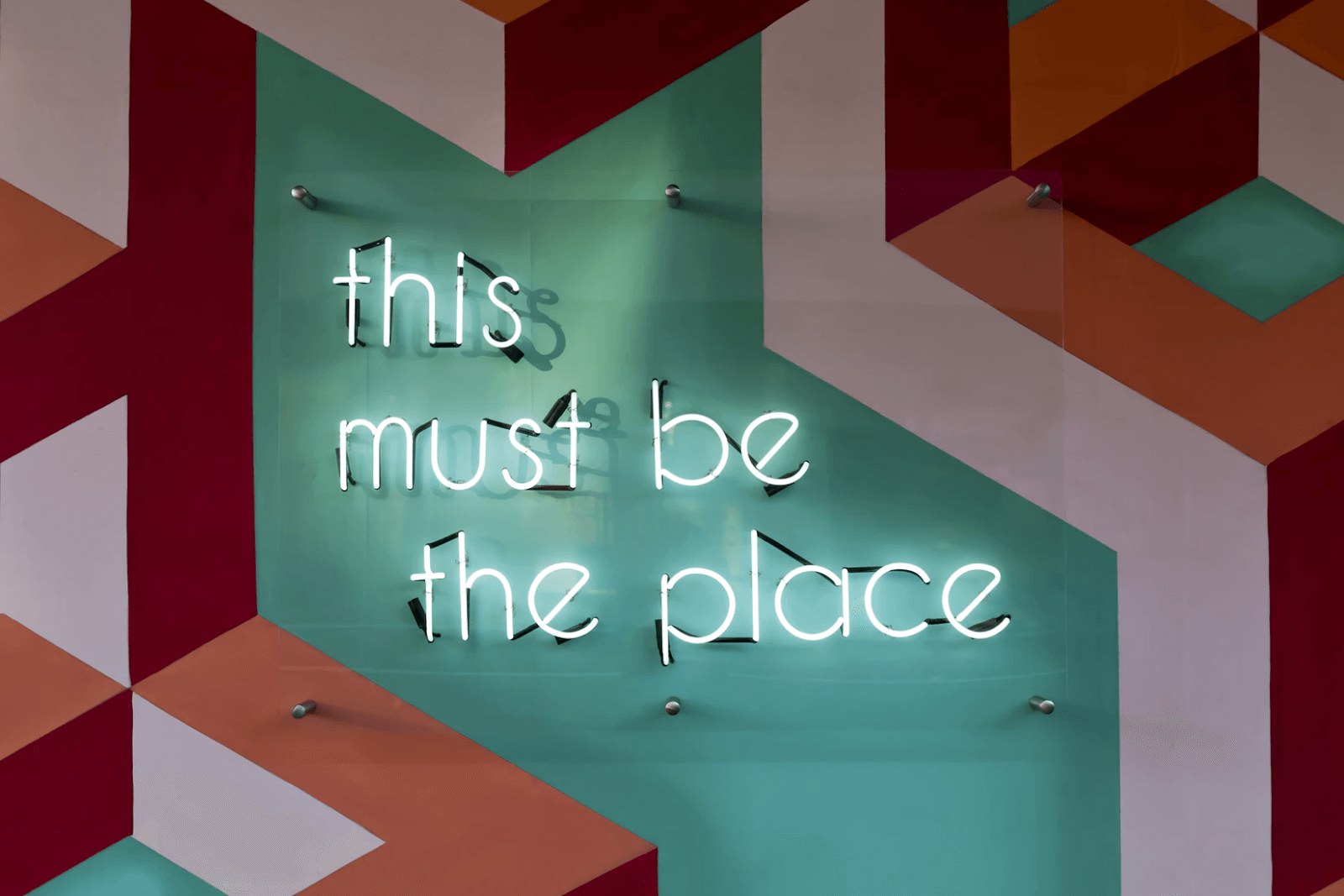 4. Do regular updates
To promote B2B on LinkedIn, you must understand the importance of updates. Being active means you always engage more and more audience while keeping an active feed. Provide regular updates, and soon you will also be making conversions and lead generations. Place clickthroughs on your updates, so companies can easily contact you or visit your webpage.
Note: By constantly updating your page with relevant information, you're constantly updating your business potential.

5. Create Showcase Pages

One of the best LinkedIn marketing solutions is Showcase Pages. The aim of these pages is to narrow your audience and target specific users with specific offers. This LinkedIn business page is a perfect niche for B2B marketing strategy. Basically, Showcase Pages are made to generate leads easily: if you know who are interested in what you offer, you can apply directly to them. Technically, Showcase Pages have a larger header image, give more space for backlinks and clickthroughs, narrow the audience to more specific users. It sounds like a good idea for B2B on LinkedIn, doesn't it? There are big companies with many Showcase Pages for making B2B marketing.
Note: "These pages are intended to develop long-term relationship with a specific audience." - says LinkedIn.

6. Use advanced search tools

Advanced People Search is another great tool for LinkedIn business expansion in the B2B market. It gives you the ability to find users based on a variety of parameters: location, language, current company, industry… You can change the filter options and see how the result is changing, depending on location or even past company. This can help you specify your audience more accurately.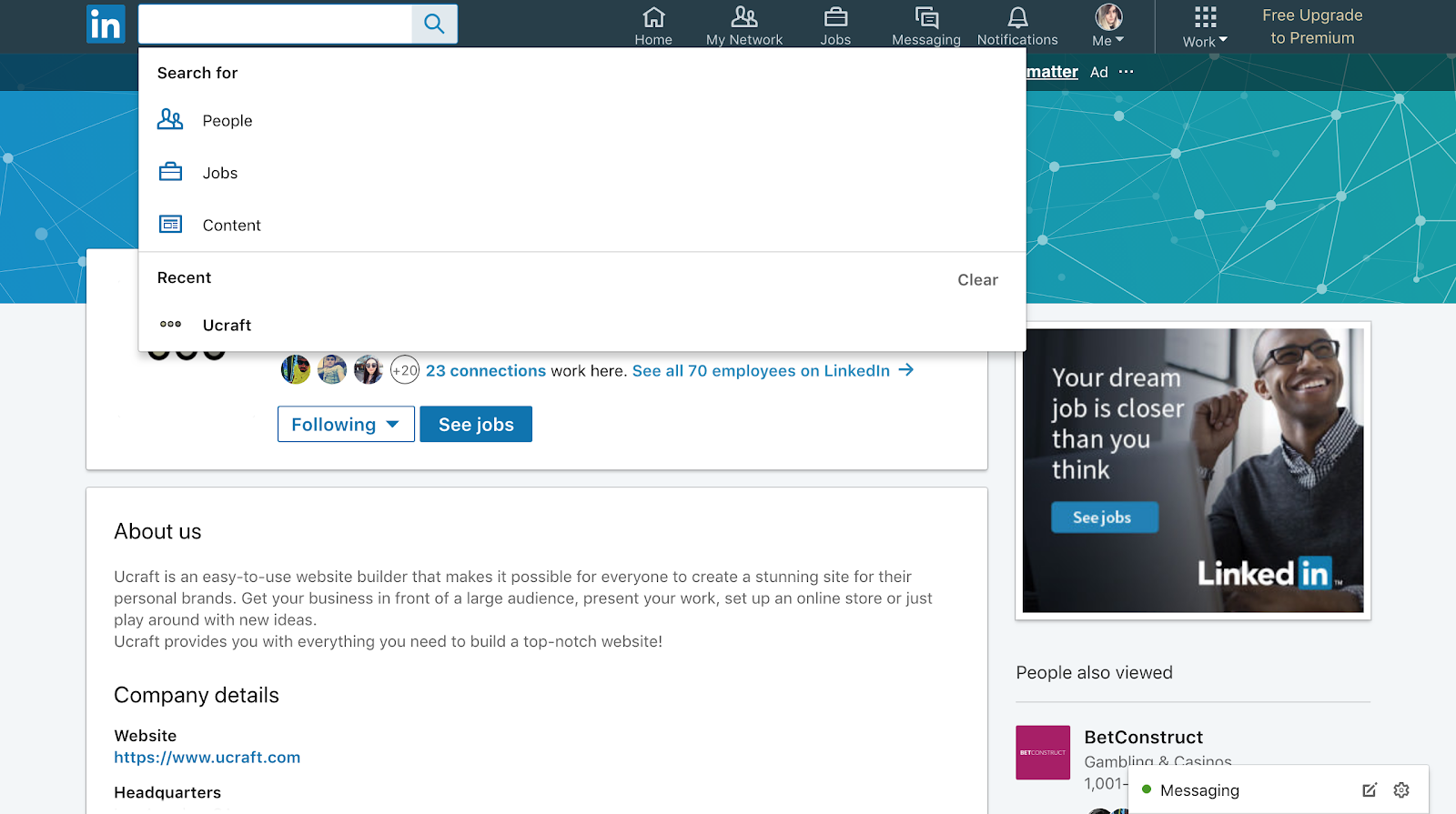 For example, you can search for people in a particular area, that are involved in, let's say, milk production. You can search even groups - there are more than 2 million on LinkedIn: a very effective way for lead generation and conversion.
Note: The chances, that you will find many groups, involved in the industries you're interested in, are very high.
7. Plan your strategy

To initiate new business relationships and find effective LinkedIn marketing solutions, you should clearly understand, who your target group is: where they live, what's their occupation, are they ready to cooperate? You have to conduct a competent policy of social networks: provide with timely information, share your blog posts, offer an expert opinion. As mentioned above, try to get involved in the groups, make new contacts, share information, discuss, convert.
Last note: When planning strategy, pay special attention to trends, company news, but never forget about the main goal: more conversions and lead generations!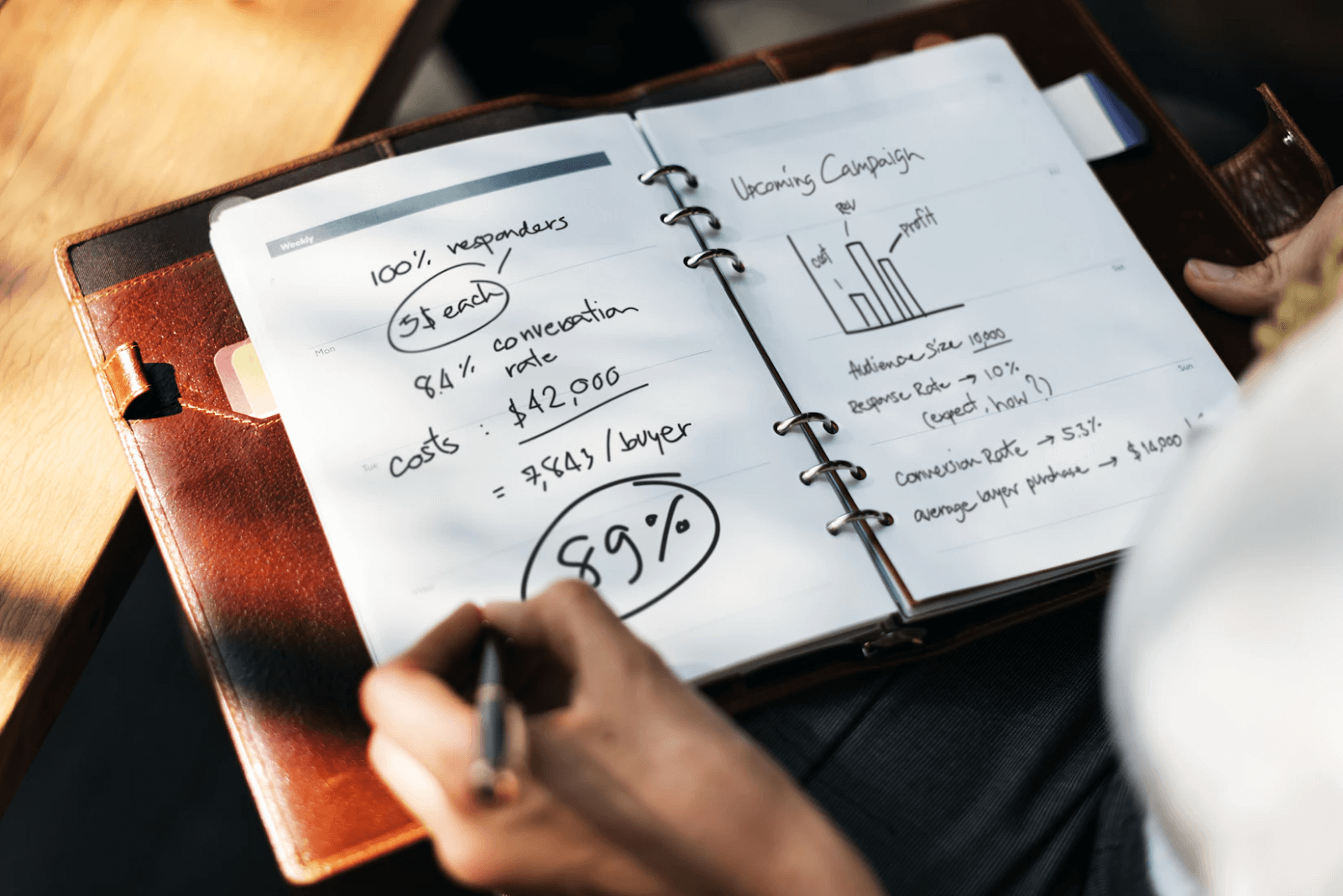 Conclusion

Learning to sail a boat is not so hard, you have to learn to keep your balance, feel the wind and be ready for adventures. LinkedIn allows you to sail for long distances and find new islands and continents to launch your business. For conversions you need a competent website with all the necessary features for the user: to promote B2B on LinkedIn, you should use the tools that fit your business best. But always keep a place for experiments and non-standard approaches, when reaching new partners and customers. Often a non-standard solution can bring more leads, than following the common rules.
Bon Voyage!